Avocado Chickpea Toast is an easy vegan breakfast or lunch for days when you don't have the energy to cook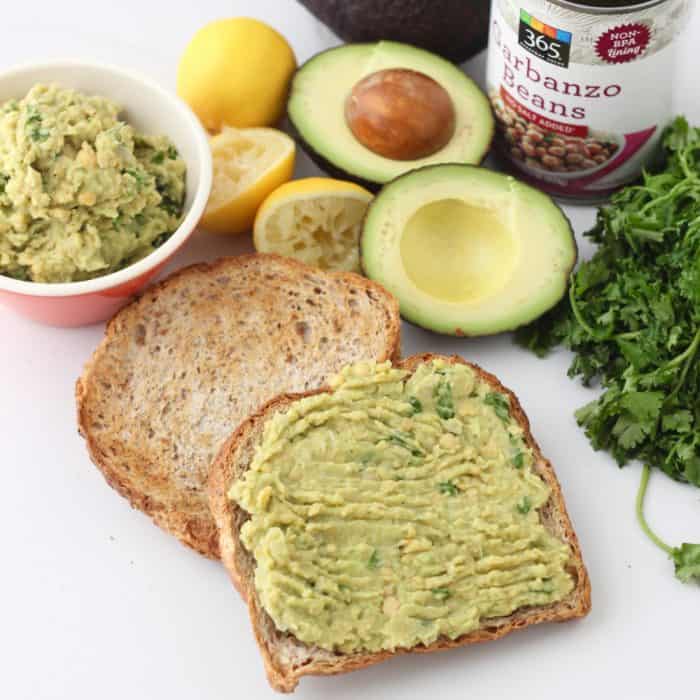 When you travel, do you pack exactly what you need and only that or do you bring one million different options of things to wear? I fall in the second category...
I spent this weekend in San Francisco for a bachelorette party which was so fun.
I have an over packing problem... plus, I went shopping so I had extra things in my bag on the way home. We're talking: me having to sit on the suitcase to get it zipped.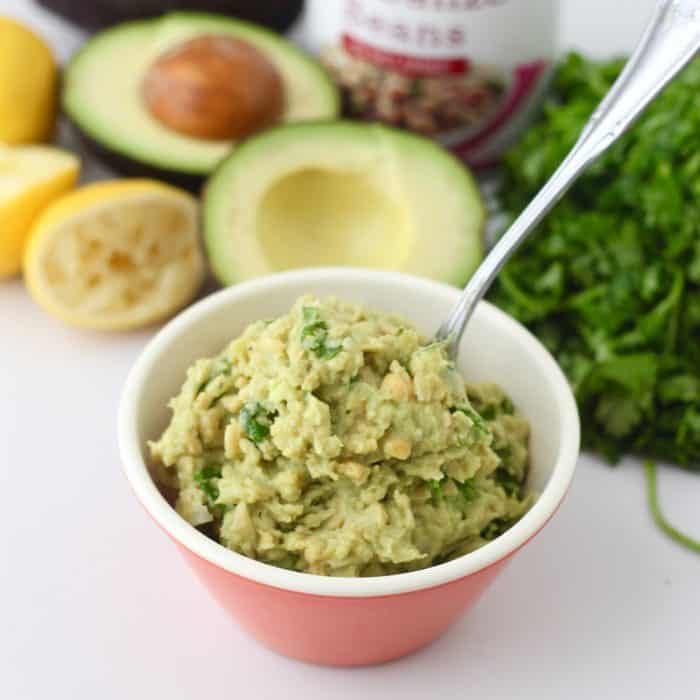 One of the shirts in my bag is covered in beads/sequins, and the TSA people needed to open my bag. So the guy said "hey, we're gonna open your bag." My response: "Careful. It's gonna explode there's so much stuff in there!"
Cue me slapping my hand over my mouth then awkwardly trying to pretend like I didn't just say "explode" in the security line at the airport.
Luckily, the guy had a sense of humor and/or didn't hear what I said.
Even more luckily was that he was able to shut my bag after checking it. I honestly still can't believe it fit into the overhead bin on the plane.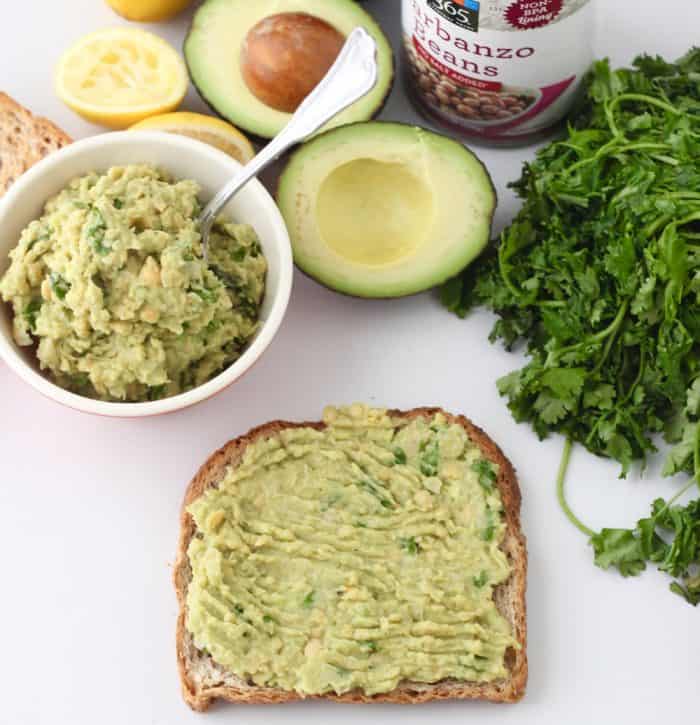 Anywho, I feel a little tired today. And I'm so ready to get back into normal life. After moving all last week then traveling for 5 days, I feel a little scattered.
Making sure I get extra veggies & lots of plant-based nutrients always help me feel better after traveling and/or when life is crazy.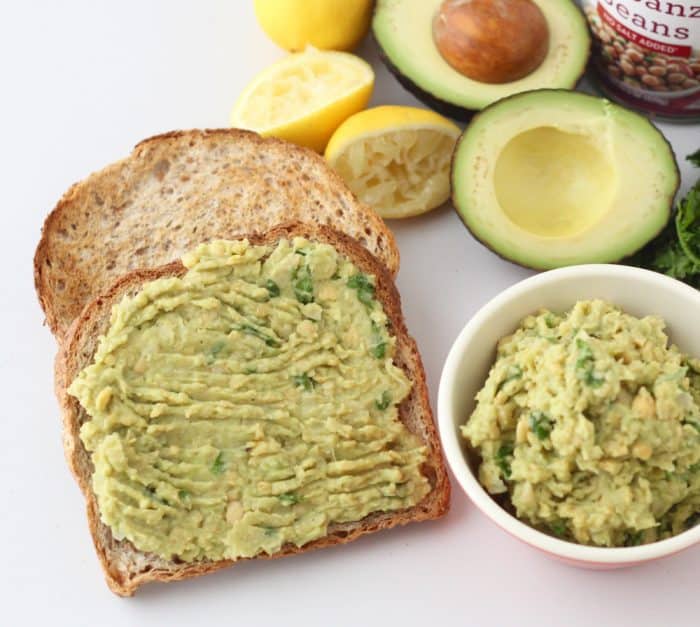 Since my brain power is slim to none, I have this easy & simple Avocado Chickpea Toast. Basically, I mashed up some chickpeas & avocado and put it on toast. Success.
This is a simple, filling, and tasty lunch or breakfast. I eat a little salad on the side and call it a day meal. I love that it only requires a few ingredients. You can also adjust the seasoning to your preference.
If you're not a cilantro fan, you can leave it out. Add more cayenne pepper for a spicier topping or use lime juice instead of lemon.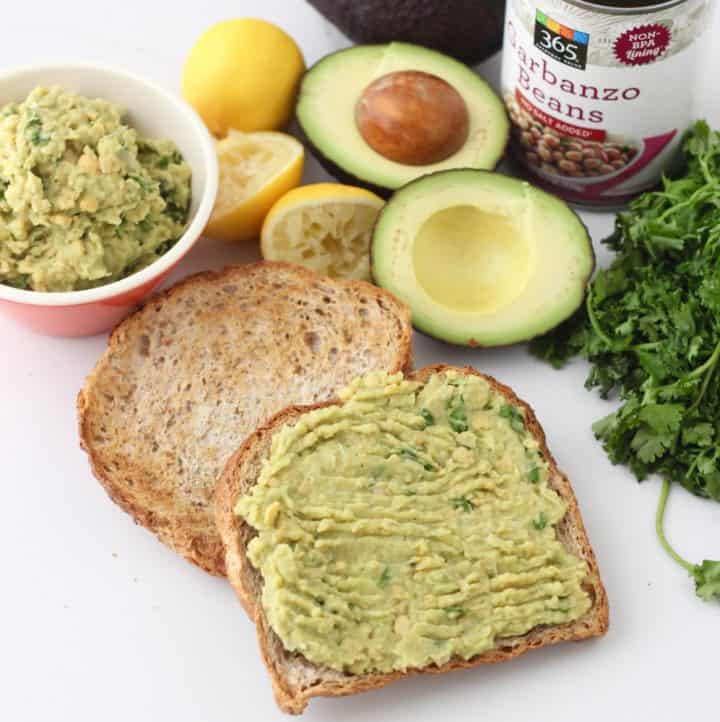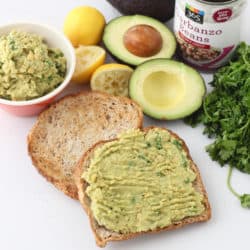 Avocado Chickpea Toast
Avocado Chickpea Toast is an easy vegan breakfast or lunch for days when you don't have the energy to cook
Print
Rate
Ingredients
5

slices

whole grain bread

15

oz

can chickpeas

no salt added, 1 1/2 cups

1

cup

avocado

1 medium

1

TBSP

lemon juice

2

TBSP

cilantro

1/4

tsp

salt

1/8

tsp

pepper

dash of cayenne pepper
Instructions
Toast the bread if desired.

Meanwhile, mash the chickpeas & avocado into a medium sized bowl.

Add in remaining ingredients and stir/mash until it is to your desired consistency.

Spread about 1/4 cup on each slice of toast and enjoy!
Notes
*You can keep the chickpea mixture in the fridge for up to 3 days. It will turn a darker color but still taste good. Do not top the toast until just before serving.
*Each serving is one slice of bread with about 1/4 cup avocado chickpea mixture
Did you try this recipe?
Be sure to leave a comment & recipe rating below. Bonus points for tagging @memeinge & #livingwellkitchen on Instagram! THANK YOU! xo
What to use in this recipe:
Meme