Chickpea Avocado Toast is an easy vegan breakfast, lunch, or dinner for days when you don't have the energy to cook. A higher protein avocado toast recipe that is simple and ready in less than 15 minutes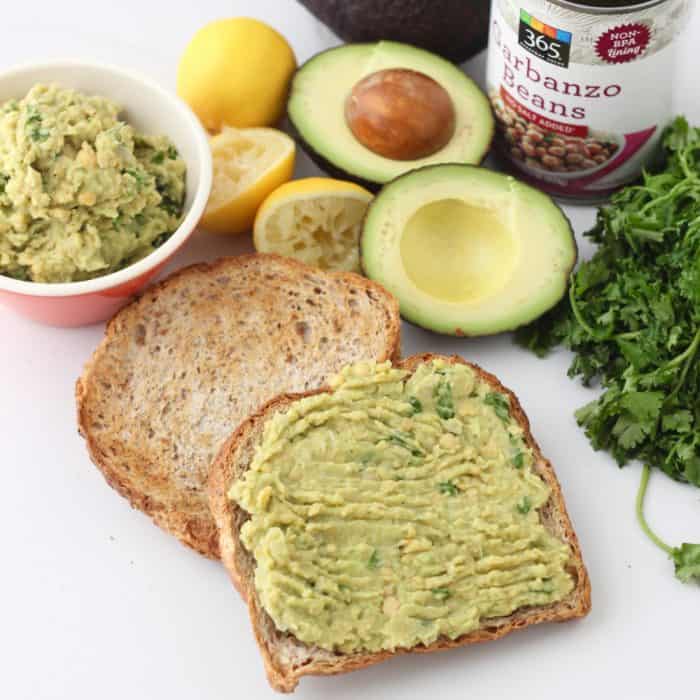 About Chickpea Avocado Toast
Feeling hungry but not in the mood to cook? This Chickpea Avocado Toast is perfect for that situation because there's really no cooking involved. You simply mash together some avocado and chickpeas, season it, then put it on some toast.
Avocado toast is notorious for being pricey, but this recipe is not. The entire recipe that serves 3-6 (depending on how hungry you are) costs less than $5.
Using the chickpeas in the mashed avocado helps stretch your avocado so one avocado can make 6 slices of avocado toast instead of just one or two.
This is a simple, filling, and tasty lunch or breakfast. I eat a little salad or some fruit on the side and call it a meal. I love that it only requires a few ingredients. You can also adjust the seasoning and/or toppings to your preference.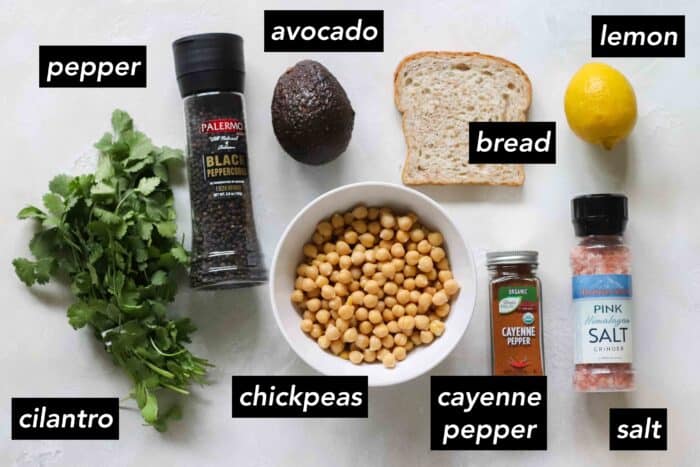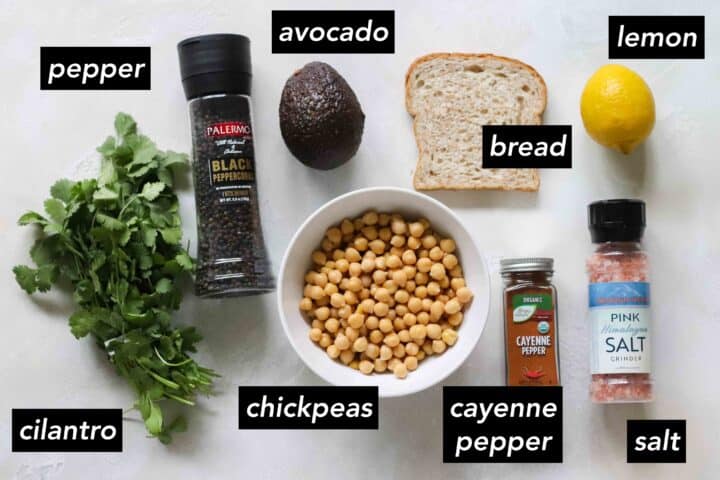 Ingredients
Bread: Any bread that you like will work well. I love a sturdy whole grain bread since it's holding the mashed avocado and chickpeas. If you need this recipe to be gluten-free, buy gluten-free bread.
Chickpeas: Cooked, canned chickpeas are so convenient and budget-friendly. Some chickpeas are sturdier than others. Bush's and Trader Joe's both have chickpeas that are creamier and easier to mash. Walmart's Great Value chickpeas are not as creamy and are harder to mash. If possible, I try to buy no salt added to keep the sodium from being high. You can also cook your own chickpeas.
Avocado: One medium-sized avocado is what I like to use for this recipe. You'll get about ½ cup of mashed avocado. If you want extra avocado flavor, then use a larger avocado or two small avocados.
Lemon: Lemon juice or lime juice help make the flavor and the color brighter. I highly recommend not skipping it if possible. I think citrus juice is so important to use in any avocado recipe. You could also use lemon or lime zest if needed, and bottled lemon juice works well too.
Cilantro: Fresh herbs like cilantro give the Chickpea Avocado Toast more excitement, and you can use basil or parsley if you want. You can also skip the herbs.
Spices: I like to use salt, pepper, and cayenne pepper or red pepper flakes in this recipe. Some other spice additions could be garlic powder, paprika, curry powder, chili powder, or cumin depending on the flavors you're looking for.
Extras: Some extra toppings you can put on this avocado toast with chickpeas include feta, goat cheese, gorgonzola cheese, nutritional yeast, bacon, a fried egg, nuts, seeds, or green onions. You could also add extra whole chickpeas or black beans.
Cost of Recipe
whole-grain bread 6 slices: $1.56
chickpeas 1 (15 ounce) can: $0.98
avocado 1 medium: $1
lemon ½: $0.25
cilantro 2 TBSP: $0.15
salt ¼ tsp: $0.01
pepper ⅛ tsp: $0.02
cayenne pepper dash: $0.01
TOTAL COST: $3.98 or $0.66/serving (Based on San Diego Sprouts 2021)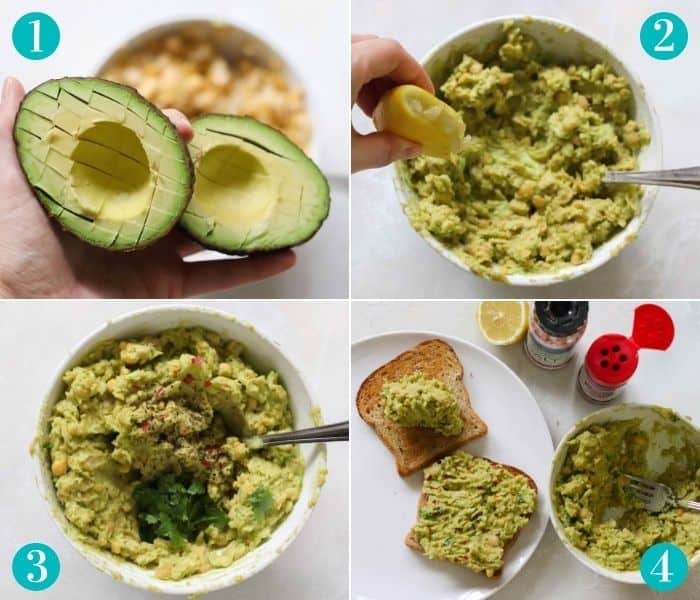 How to Make Chickpea Avocado Toast
Time needed: 15 minutes.
Making Avocado Chickpea Toast is incredibly simply and is ready in a flash. Plus, there's no cooking except for toasting the bread. Here's how to make Chickpea Avocado Toast:
Mash together the avocado and chickpeas.

Scoring the avocado before adding it to the bowl helps it mash with the chickpeas a little easier.

Squeeze in lemon juice to help it mash together a little easier.
Add spices and herbs.
Spread avocado-chickpea mixture onto the toast, and enjoy!
Recipe Tips
Variations
Ingredient Options
Cilantro: If you're not a cilantro fan, you can leave it out or a different fresh herb.
Spices: Add more cayenne pepper or red pepper flakes for a spicier topping. Other spice options are garlic powder, paprika, curry powder, chili powder, or cumin. Use about ⅛ teaspoon.
Lemon juice: Lime juice can be used instead of lemon. Also, lemon or lime zest will help give the bright citrus flavor, but it will not prevent the avocado from turning brown.
Flavor Substitutions
While this Chickpea Avocado Toast is delicious with only toast, avocado, chickpeas, and salt, you can always add herbs, spices, or any other toppings you like.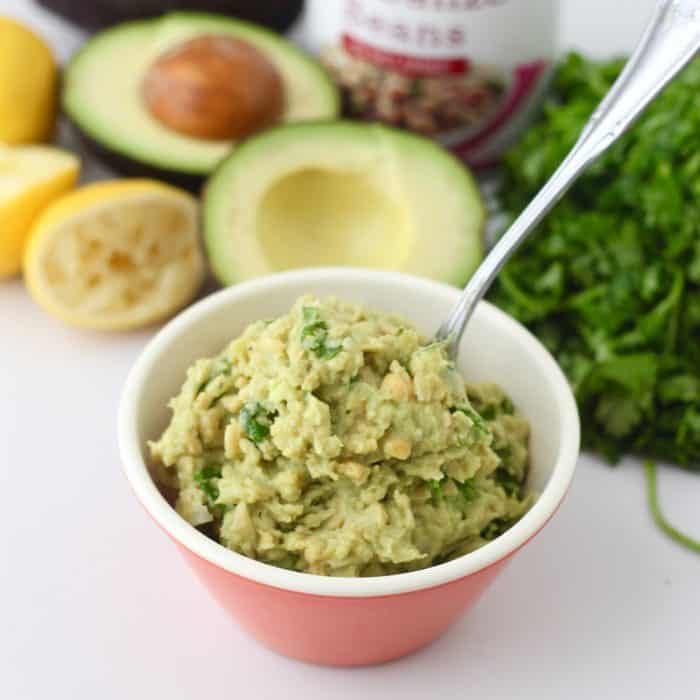 How to Make Allergy Friendly
Chickpea Avocado Toast is vegan, dairy-free, egg-free, nut-free, and soy-free. If you use gluten-free bread, then this is also gluten-free. Also, some bread has dairy in it, so check if you need it to be dairy-free.
Note that if you add toppings that aren't any of the above, that it'll change it.
Make Ahead Ideas
I don't recommend making this too far in advance because the avocado will turn brown. It will still taste good, but the color won't be as appetizing.
If you decide to make it in advance, keep tightly covered in the fridge to keep it from browning. After about 3 days, the flavor is kind of strange (you know how avocado can get...) so I recommend eating it as soon as possible.
Storage Suggestions
Store the avocado mixture in the fridge, tightly covered for up to 3 days. Do not top the toast until just before serving.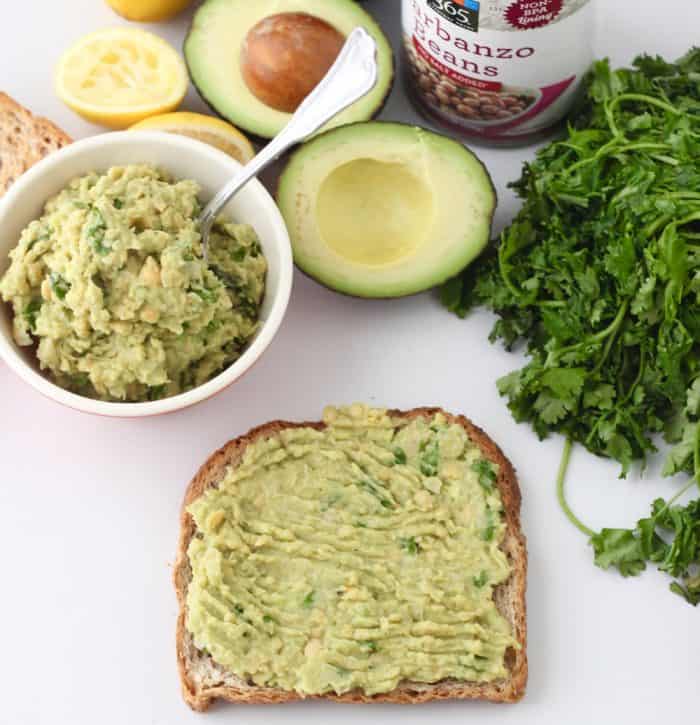 Frequently Asked Questions
Is avocado toast a complete protein?
Yes, depending on the type of bread you use, Chickpea Avocado Toast is a complete protein.
Nutrition Benefits
If you're looking to eat more plant-based meals, then I highly suggest this Chickpea Avocado Toast. One slice is high in iron and fiber, and two slices give you 18 grams of protein and 14 grams of fiber (which is about half of the recommended amount per day).
What to Serve with Chickpea Avocado Toast
This Avocado Chickpea Toast is a complete meal, but you'll probably want to eat at least two slices to get enough protein to feel full for longer. You can add a side of fruit or veggies if you want a little more. Plus, the fat in the avocado helps you absorb the vitamins in the produce.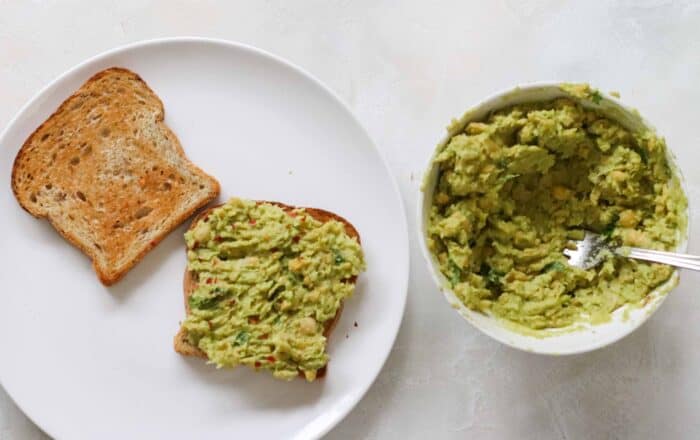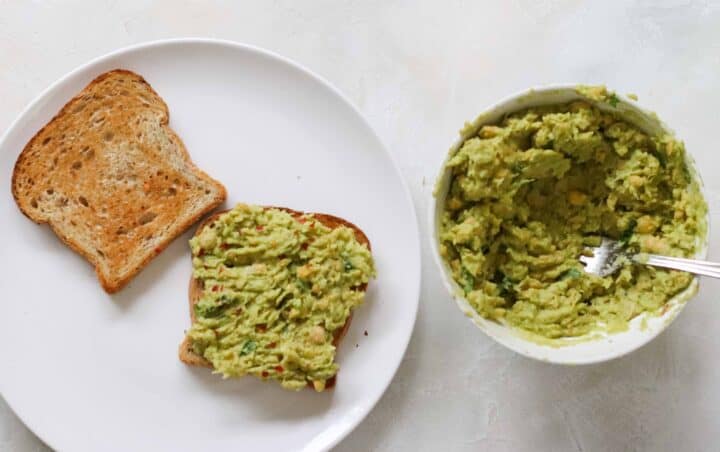 Final thoughts:
Chickpea Avocado Toast is one of my go-to recipes for the meals I need to eat but I'm too tired to cook or simply not in the mood. Plus, you only need 4 main ingredients and you can add extra toppings depending on what you have on hand.
Watch the Story
---
MORE EASY RECIPES YOU'LL LOVE: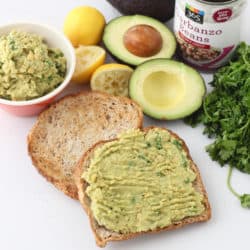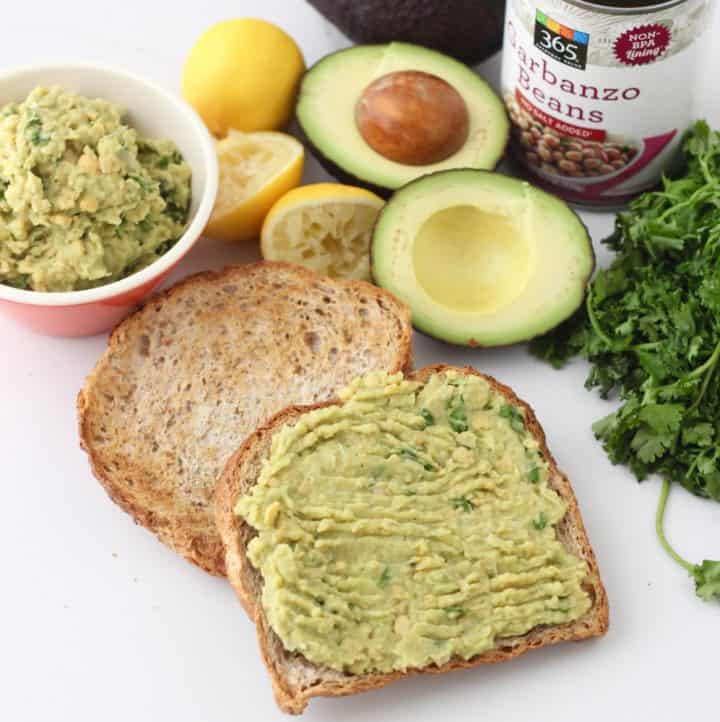 Avocado Chickpea Toast
Avocado Chickpea Toast is an easy vegan breakfast or lunch for days when you don't have the energy to cook
Print
Rate
Total Cost:
$3.98 or $0.66/slice
Ingredients
6

slices

whole grain bread

15

ounce

can chickpeas

no salt added, 1 ½ cups

1

cup

avocado

1 medium

1

tablespoon

lemon juice

2

tablespoon

cilantro

¼

teaspoon

salt

⅛

teaspoon

pepper

dash of cayenne pepper
Instructions
Toast the bread if desired.

Meanwhile, mash the chickpeas & avocado into a medium sized bowl.

Add in remaining ingredients and stir/mash until it is to your desired consistency.

Spread about ¼ cup on each slice of toast and enjoy!
Notes
*You can keep the chickpea mixture in the fridge for up to 3 days. It will turn a darker color but still taste good. Do not top the toast until just before serving.
*Each serving is one slice of bread with a heaping ¼ cup avocado chickpea mixture.
What to Use in This Recipe
Did you try this recipe?
Be sure to leave a comment & recipe rating below. Bonus points for tagging @memeinge & #livingwellkitchen on Instagram! THANK YOU! xo
[showhide type="post" more_text="Click here for Avocado Chickpea Toast Nutrition Facts" less_text="Clear Nutrition Facts"]
*
Nutrition Facts
Avocado Chickpea Toast
Amount per Serving
% Daily Value*
* Percent Daily Values are based on a 2000 calorie diet.
*
[/showhide]
Meme
This post was originally published on May 9, 2016. Text, recipe, and photos have been updated.
Doesn't this recipe look good?! You should probably share it: