Healthy, easy baked Pesto Salmon recipe with lemon. Only five ingredients for this tasty, rich, and satisfying salmon dish that's ready in under 20 minutes.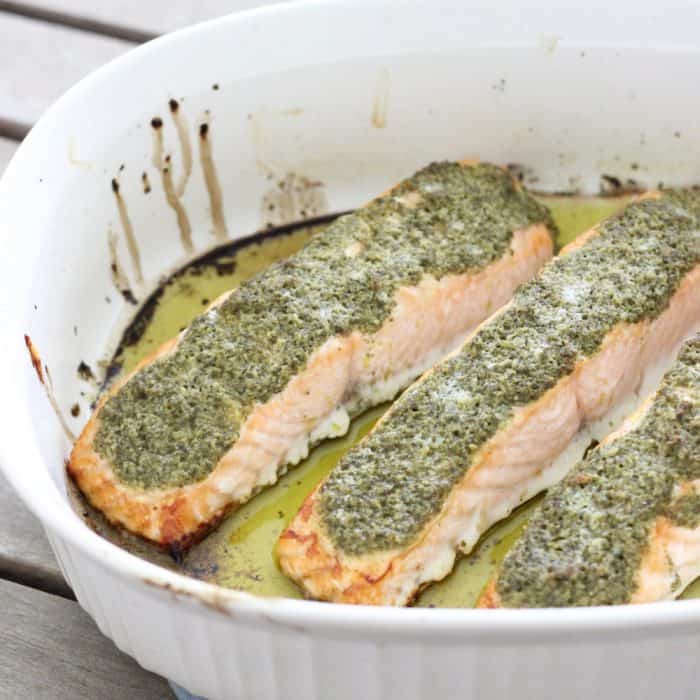 About Baked Salmon with Pesto
Need an easy recipe that requires very little work and very little oven/cooking time? Then this Pesto Salmon is for you! This super easy recipe is simply salmon fillets covered in pesto and lemon juice then baked. It's flavorful, easy, and delicious.
Pesto and salmon work so well together, and the richness of the two is cut with a little lemon juice to brighten the flavor.
Not only is it ridiculously simple, but there is also practically no work involved. You just spread pesto on salmon fillets and pop them in the oven.
Bonus: This Baked Pesto Salmon recipe requires only a few ingredients: salmon, lemon, salt, pesto, and olive oil. And if you use skin-on salmon, you'll only need four ingredients as the olive oil is only needed for skinless salmon to prevent it from sticking.
Extra bonus: You can easily turn this baked pesto salmon recipe into a one-pan meal by roasting veggies and potatoes at the same time.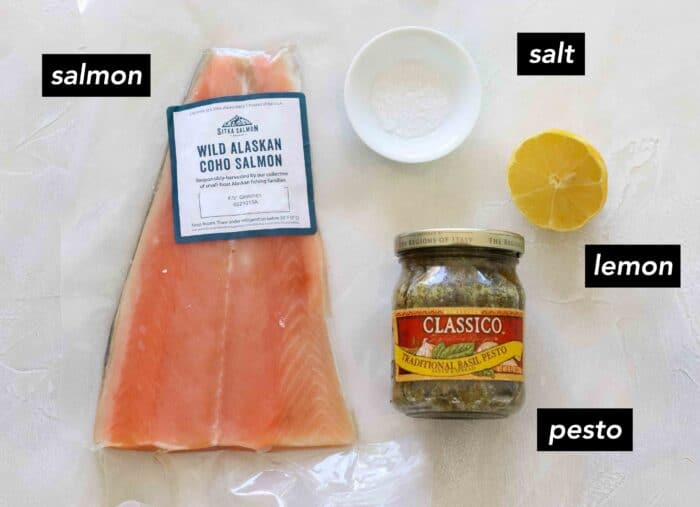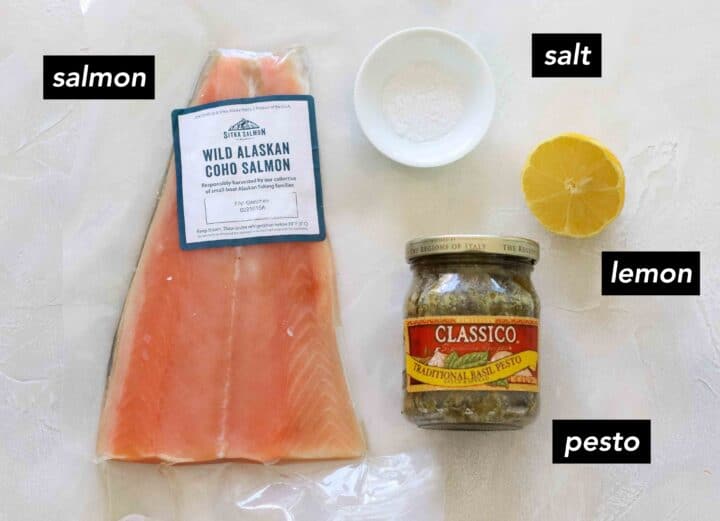 Ingredients
Salmon: You can use salmon fillets with or without skin. And both fresh and frozen salmon will work. If you are using frozen salmon, thaw, and pat dry before using.
I prefer wild-caught Alaskan salmon or farmed Atlantic salmon in an indoor recirculating tank or farmed Chinook salmon in a Marine net pen. When picking salmon, I like to look for a label that shows that the fish has been eco-certified by the Marine Stewardship Council and/or Aquaculture Stewardship Council.
One of my favorite sources of salmon is Sitka Salmon.
Pesto: Any pesto will work. For a quicker preparation time, use store-bought. For a more budget-friendly option, use a homemade one like spicy pesto, mint & feta pesto, or roasted tomato pesto.
P.S. If you have leftover pesto, you should most certainly try out this equally easy pesto pasta and this Mediterranean Meatball Flatbread.
Olive oil: You only need olive oil when you're using skinless salmon fillets. Avocado oil can also be used. When using fillets with skin, skip the olive oil since the salmon has enough natural oils already in it to keep it from sticking.
Lemon: Fresh lemon juice is preferred, but you can also use bottled lemon juice (as you can see in the video) since it's easy to keep in the pantry or fridge. Either will work, but you really need the lemon in my opinion. If you forget, feel free to use another citrus juice; even white or red wine vinegar could work.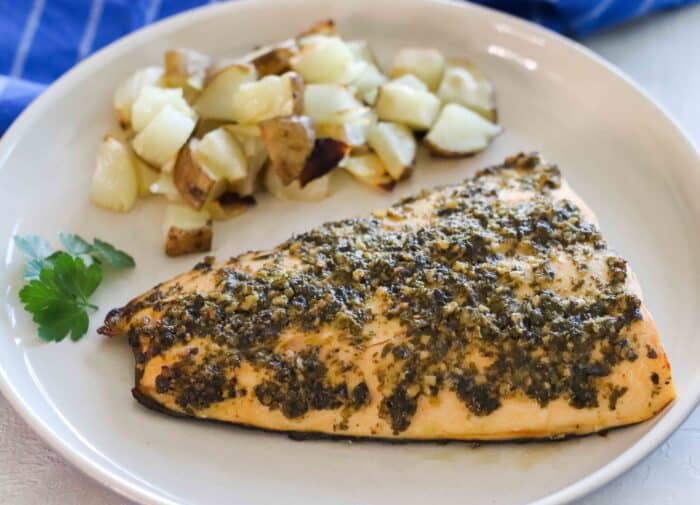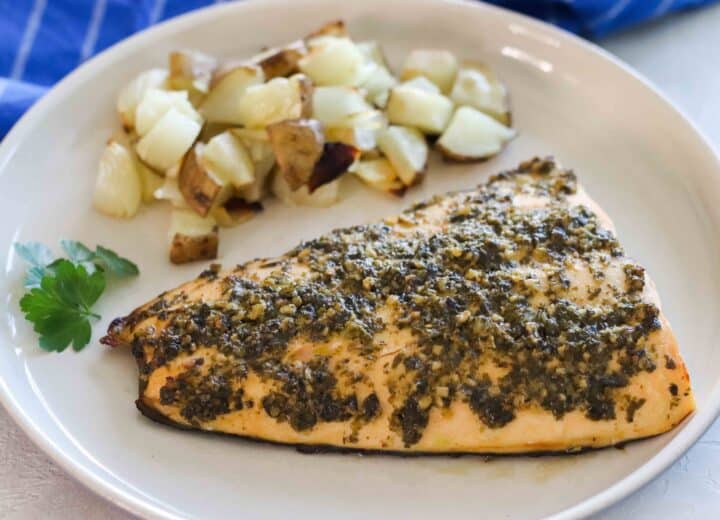 Recipe Cost
salmon 4 skin-on fillets: $8.99
pesto 4 tablespoons: $1.40
lemon 4 teaspoon: $0.50
salt: $0.01
TOTAL COST: $10.90 or $2.73/serving (Based on San Diego Grocery stores 2022)
Note that this is not the recipe; it's simply to show the cost breakdown of ingredients. Be sure to scroll down to the full recipe to see the specific ingredients and directions.
How to Make Pesto Salmon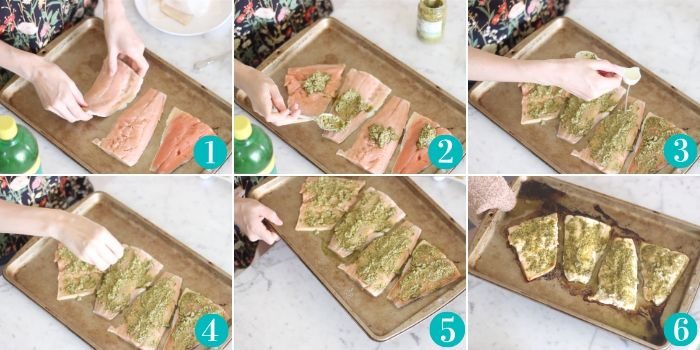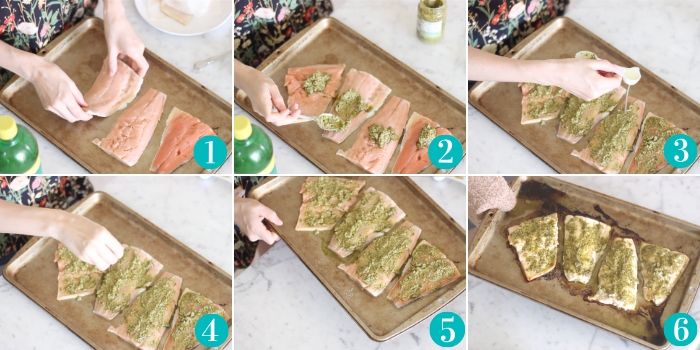 Time needed: 20 minutes.
This salmon with pesto recipe is incredibly simple. Here's how to make Baked Pesto Salmon
Place the salmon on a baking sheet or in a baking dish skin-side down.

If you use skinless, rub one side with oil and place it oil side down.

Top with pesto.
Squeeze lemon juice over pesto.
Sprinkle with salt.
Transfer to the oven to bake.

Broil for a few minutes at the end of cooking.

Remove from oven.

Enjoy!
Pesto Salmon Recipe Tips
Variations
Ingredient Options
Since there are only 4 main ingredients (with one being salt), there isn't much you can do to control or substitute ingredients. However, you can vary the type of pesto you use.
Changing the pesto changes the dish. There are so many great pesto options to vary the flavors, and pretty much all pesto types are delicious with salmon and lemon. Tomato pestos, mint pesto, or an olive-type pesto would be delicious on the salmon as well.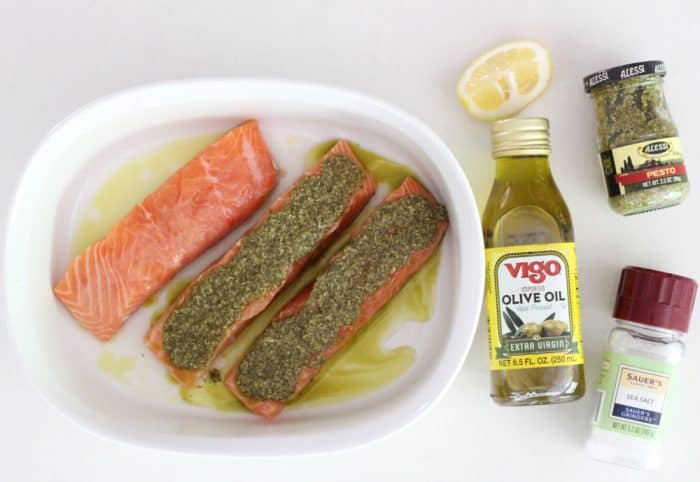 How to Make Allergy-Friendly
This baked salmon with pesto recipe is naturally gluten-free, egg-free, and soy-free (depending on the pesto you buy). You can look for a dairy-free or vegan pesto if needed, and some pestos are nut-free.
Be sure to check the ingredients list and allergy notifications on the ingredients you use.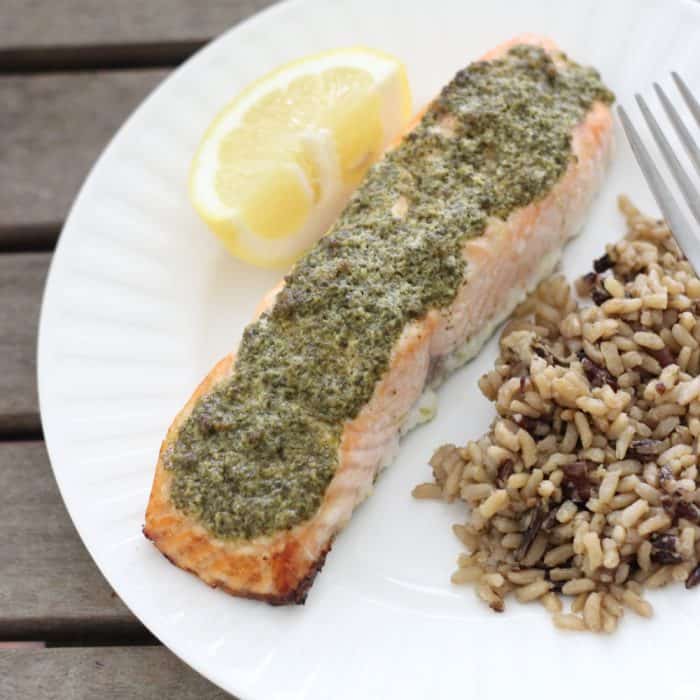 Make-Ahead Tips
This is so quick and easy to prepare that you don't really need to do anything in advance. If you buy store-bought pesto, you obviously don't need to do any preparation. However, you can make pesto in advance if desired. I like using this recipe for a budget-friendly spicy pesto.
Storage Suggestions
Store leftover Pesto Salmon in an airtight glass or plastic container in the fridge for up to 3 days. I do not recommend freezing the cooked salmon as the texture will be undesirable when thawed.
I'm not a huge fan of reheating cooked salmon because it can turn tough and overcooked, especially in the microwave. However, this is actually pretty tasty when it's cold.
But if you don't mind it being a little overcooked, you can easily reheat it in the microwave at 30-second intervals until warmed through.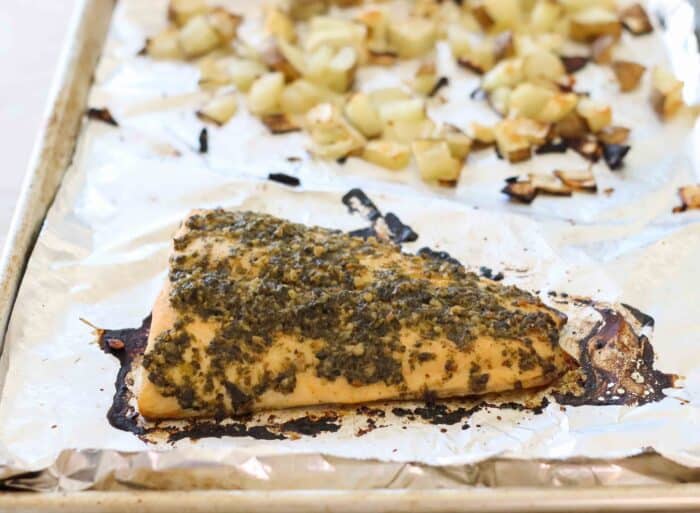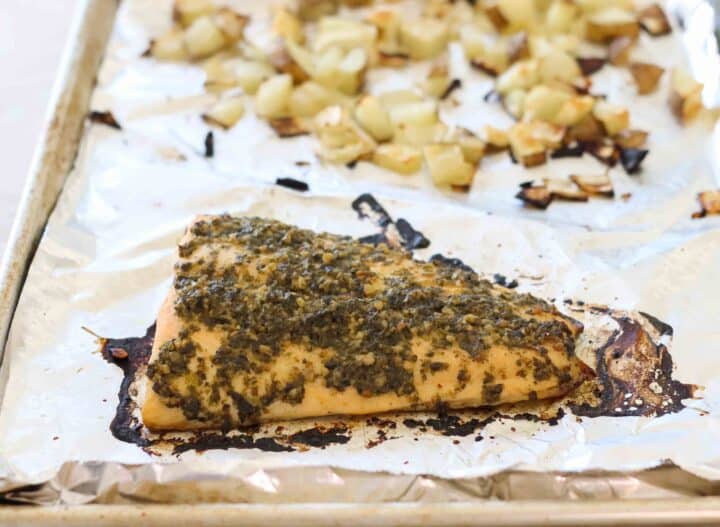 Frequently Asked Questions
How to Scale this Recipe
This recipe is easy to cut in half or multiplied. Basically, you need per salmon fillet:
one tablespoon of pesto
one teaspoon of lemon juice
dash of salt
one teaspoon of olive oil (if using)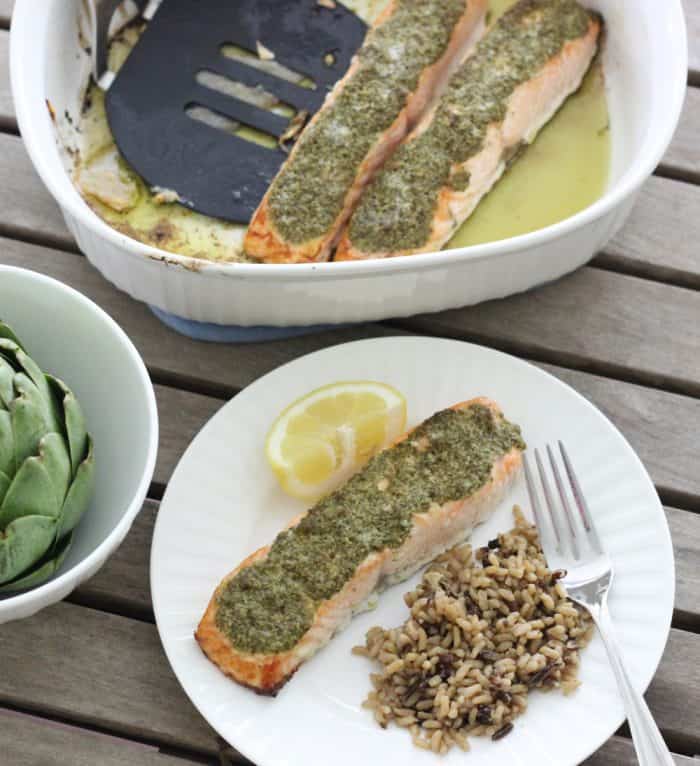 Baked Pesto Salmon Nutrition Benefits
Salmon is an excellent source of Vitamin D, Vitamin B12, and omega-3 fatty acids, which are beneficial for your heart, brain, and more. Packed with phytochemicals and vitamins, pesto gives a lot of flavor in a small amount. And it also is higher in fat so it can help your body absorb nutrients in the foods it is paired with.
What to Serve with Pesto Salmon
Serve the Pesto Salmon recipe with veggies and a source of carbohydrates like rice, quinoa, potatoes, or bread.
Other great options that cook in less than 20 minutes are Vegan Creamed Spinach, Sautéed Broccolini, 5 Spice Baby Bok Choy, Broiled Parmesan Tomatoes, Sautéed Green Beans, and Rosemary and Garlic Carrots.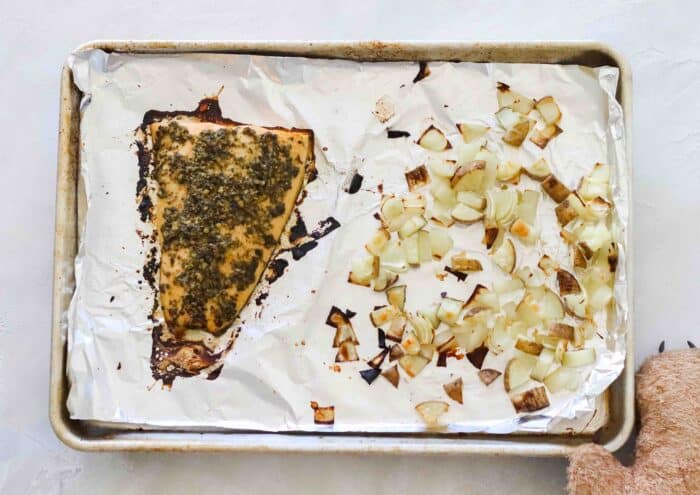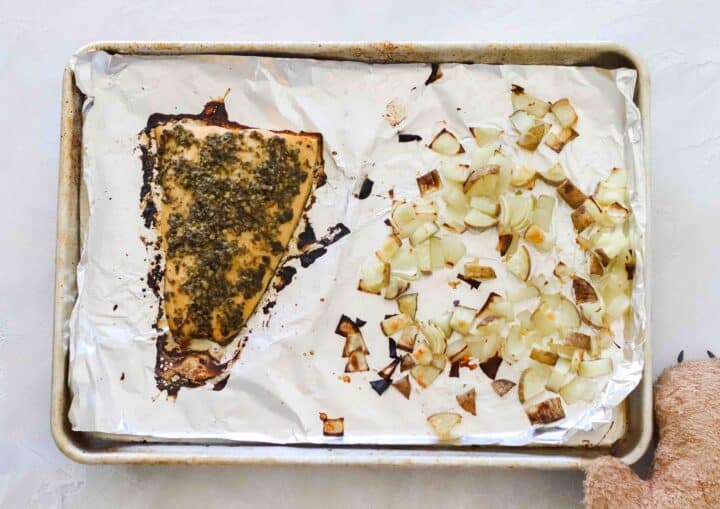 Make This a One Pan Meal
This baked pesto salmon recipe can be turned into a one-pan meal in a few simple steps. Along with the salmon in the oven, you'll roast some veggies and potatoes.
Almost every vegetable tastes yummy roasted. Some good options include bell peppers, onions, mushrooms, tomatoes, and carrots.
A rough estimate is two use about 1-4 servings of veggies per person. A serving would be about 1 carrot, ½ onion, ½ bell pepper, 4 ounces mushrooms, a handful of cherry tomatoes, or 2 Roma tomatoes. Or roast extra and use it for pizza or salsa.
For carbohydrates, you'll use about ¼ to ½ pounds of potatoes (or 1 small/medium) per person.
To make this a one-pan meal:
Preheat the oven.
Chop the potatoes and veggies.
Toss the potatoes and veggies on a baking sheet with a drizzle of oil and some salt.
Roast for 15 minutes.
Meanwhile, prepare the salmon. Either add it to its own baking sheet/dish or if there is room, you can put it on the same baking sheet as the veggies.
Stir the veggies. Put the salmon in the oven. And follow the directions for cooking the salmon.
Note: Be careful when broiling that the veggies don't burn. You might want to take them out of the oven for this or cover them with a sheet of foil.
Final thoughts:
This baked salmon with pesto is so simple and delicious that you should go ahead and run to the store to grab a few salmon fillets. Or maybe you're lucky enough to have some in the freezer, and you probably have all the other ingredients in your kitchen. Then you'll have this tasty, rich, and satisfying salmon ready in under 20.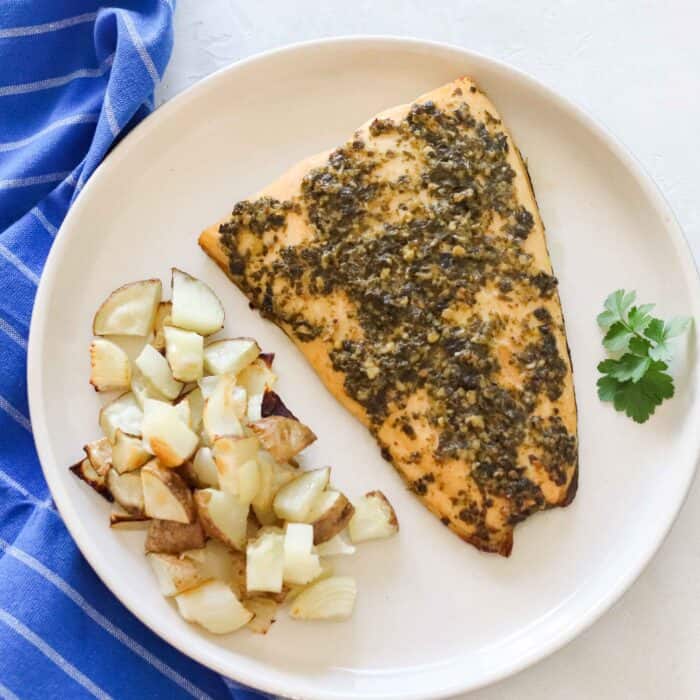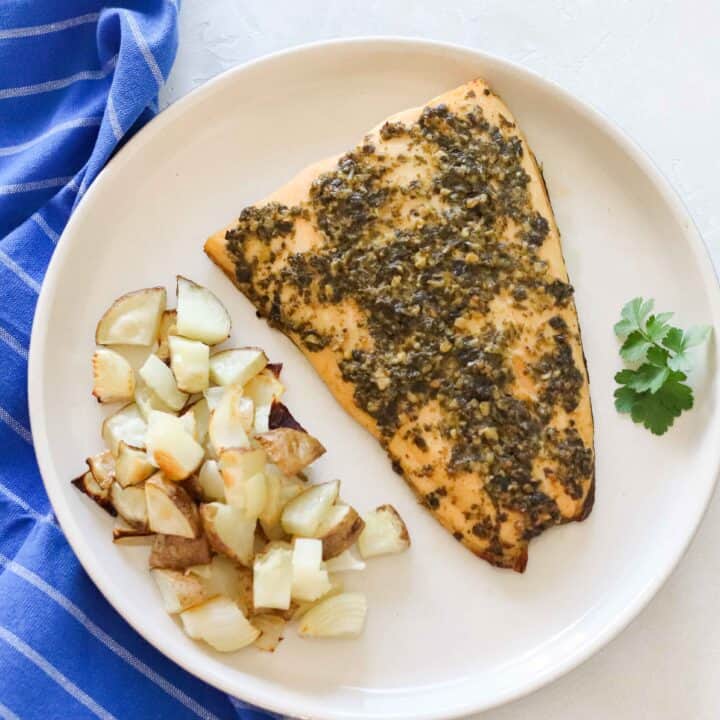 MORE SALMON FILLET RECIPES YOU'LL LOVE: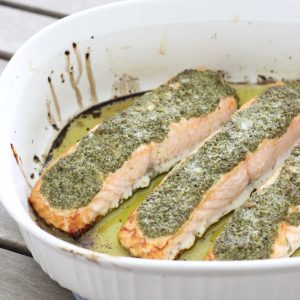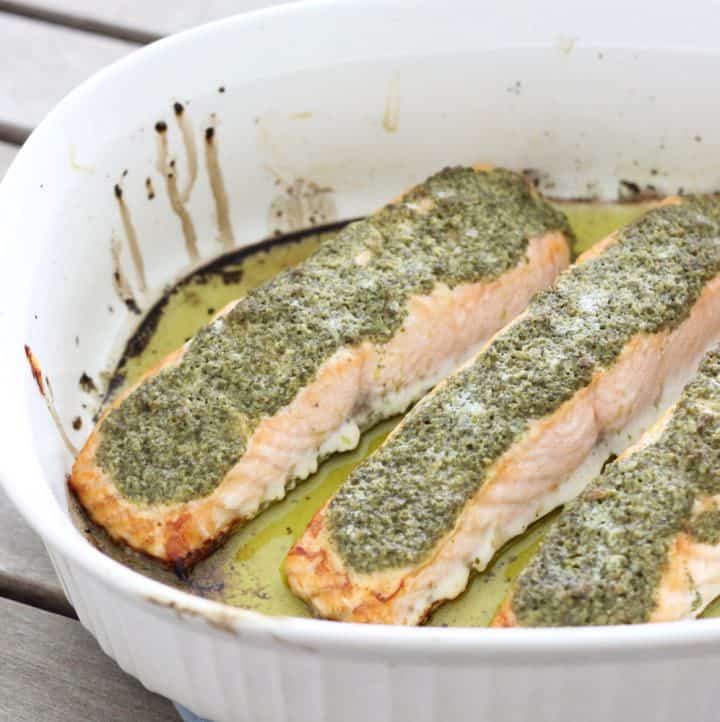 Easy Pesto Salmon
Healthy, easy oven baked Pesto Salmon with lemon. Only five ingredients needed for this tasty, rich, and satisfying salmon dish ready in under 20 minutes.
Print
Rate
Ingredients
4

(4-6 ounce)

salmon fillets

4

teaspoons

olive oil

optional

4

tablespoons

pesto

4

teaspoons

lemon juice

⅛

teaspoon

salt
Instructions
Preheat the oven to 400*F.

Rub one side of the salmon with olive oil (this step is only for skinless salmon).

Arrange the salmon fillets in a baking dish or baking sheet with the oiled/skin side down.

Rub one tablespoon of pesto over the top of each salmon fillet. Squeeze the lemon juice over pesto. Sprinkle the salmon with salt.

Transfer salmon to preheated oven and bake for 10 minutes. Turn the oven to broil and broil the salmon for 5-8 minutes until salmon is done and pesto is lightly browned. Enjoy!
Notes
*You can use skin-on or skinless salmon:
Place the salmon skin-side down in the baking dish. If using salmon with skin, you don't need to use olive oil.
If using skinless salmon, rub one side with oil and place the salmon on the baking sheet or dish oil-side down.
What to Use in This Recipe
Did you try this recipe?
Be sure to leave a comment & recipe rating below. Bonus points for tagging @memeinge & #livingwellkitchen on Instagram! THANK YOU! xo
Meme
This pesto salmon recipe post was originally published on May 30, 2016. Text, recipe, and photos have been updated.
---
Pesto Salmon Nutrition Facts
Nutrition Facts
Easy Pesto Salmon
Serving Size
1 salmon filet
Amount per Serving
% Daily Value*
* Percent Daily Values are based on a 2000 calorie diet.
Doesn't this recipe look good?! You should probably share it: