Learn how to make your own alcoholic popsicles with this Boozy Mango Pineapple Popsicle recipe that has only 4 ingredients, including tequila. These pops are great for an easy, make-ahead frozen summer treat!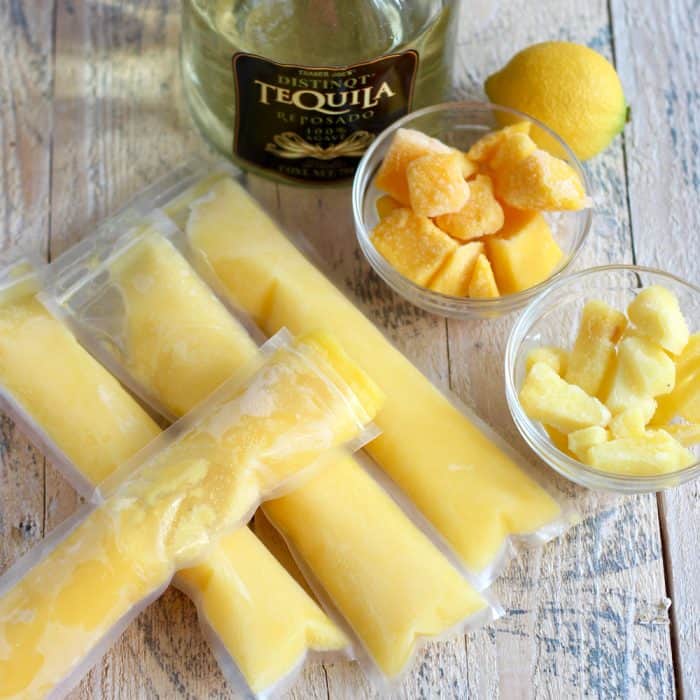 About Boozy Mango Pineapple Popsicles
With summertime just around the corner, it's time to start thinking about popsicles. And after I'd impulsively purchased those little popsicle bags from Amazon a while back, I decided I wanted to try them by making alcoholic popsicles.
I'm always in the mood for popsicles... [they're ranked up there with ice cream cake or peach cobbler as my favorite desserts]
Sadly, so many times that I make homemade popsicles I end up with icy, bricks of frozenness, and it's not cool.
But not these delightful boozy popsicles! Not these beauts at all.
Why this adult popsicle recipe works
These boozy popsicles are simply tequila, mangos, pineapples, and citrus juice. That's it!
Thanks to the tequila, you don't end up with frozen bricks of popsicles. And that makes me so happy because oftentimes you need to add a lot of sugar to homemade popsicle recipes to keep them from turning into flavored ice.
The alcohol keeps them just the right amount of softness.
Other than the fact that these are wildly delicious, they are wildly easy! You only need four ingredients, and all you have to do is throw them in a blender, pour them into popsicle molds, and freeze.
They are a fabulous dessert to make ahead of time and/or to keep in the freezer when you need a boozy treat or have guests. Popsicles can hang out in your freezer until you're ready!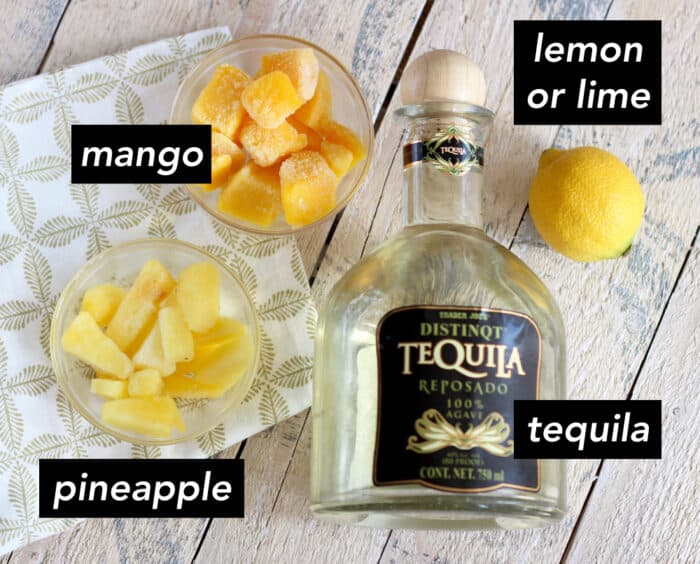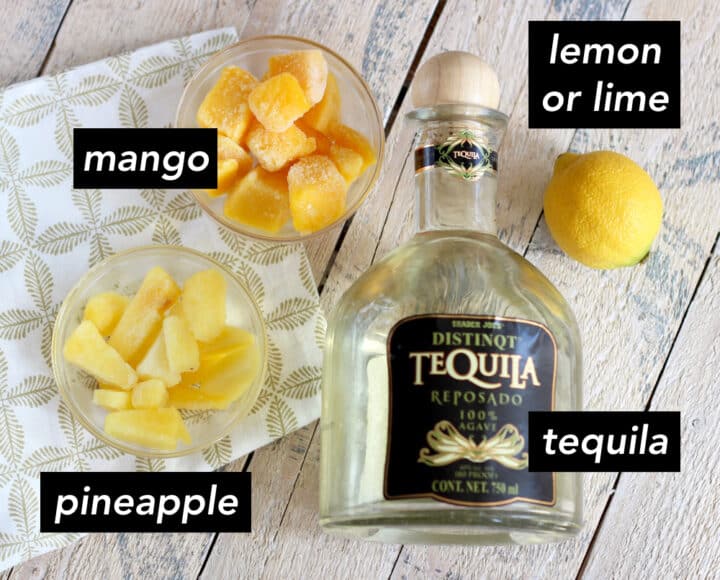 Ingredients
Mango: It's easiest to use frozen chopped mango, but you can also cut a fresh mango and freeze for at least 4 hours.
Pineapple: Like the mango, it's easiest to use already frozen and chopped pineapple. But freezing chopped fresh pineapple or canned pineapple will also work well.
Tequila: Good options for these boozy popsicles include Blanco or Silver Tequila or Reposado or Gold (which is a mix of Blanco and Reposado).
Lime: Fresh lime juice or lemon juice are preferred, but any 100% citrus juice could work. Bottled lime or lemon juice can also be used.
Cost of Recipe
mango 1 cup: $0.50
pineapple 1 cup: $0.75
tequila 4 ounces: $4
lime 3: $0.99
TOTAL COST: $6.24 or $1.56/serving (Based on San Diego Sprouts 2021)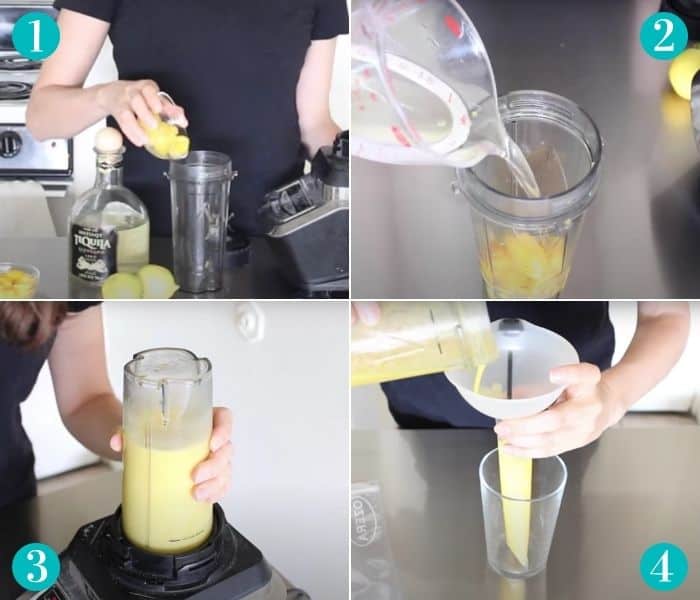 How to Make Boozy Popsicles
Time needed: 6 hours and 10 minutes
This recipe could not be easier. All you do is blend the ingredients together then transfer to popsicle molds, and pop in the freezer.
Add the pineapple and mango to a blender.
Pour in tequila and lime juice.
Blend.
Transfer to popsicle molds or bags, and freeze.

Enjoy!
Recipe Tips
Variations
Ingredient Options
Fruit: You could use any fruit you like. Bananas and berries would be tasty. I like having at least two types of fruit in the popsicles. Changing the fruit will obviously change the flavor of the boozy popsicles, but I'm sure they'll still be tasty.
Alcohol: In place of the tequila, rum or vodka could be used. Again, this would alter the flavor.
Alternative Prep & Cooking
Make a smoothie: While these are delicious as popsicles, you could honestly just turn these into a smoothie. Add the ingredients to a blender along with 1 cup of ice. Blend and enjoy immediately from a glass instead of pouring into popsicle molds and freezing.
Something to note: they are strong, so you might want to add a bunch (about 2-3 cups) of ice to make this a larger drink without an overwhelming amount of alcohol 🙂
Make a mocktail version: For a mocktail option, substitute tequila with equal parts pineapple juice, mango juice, or any other 100% fruit juice.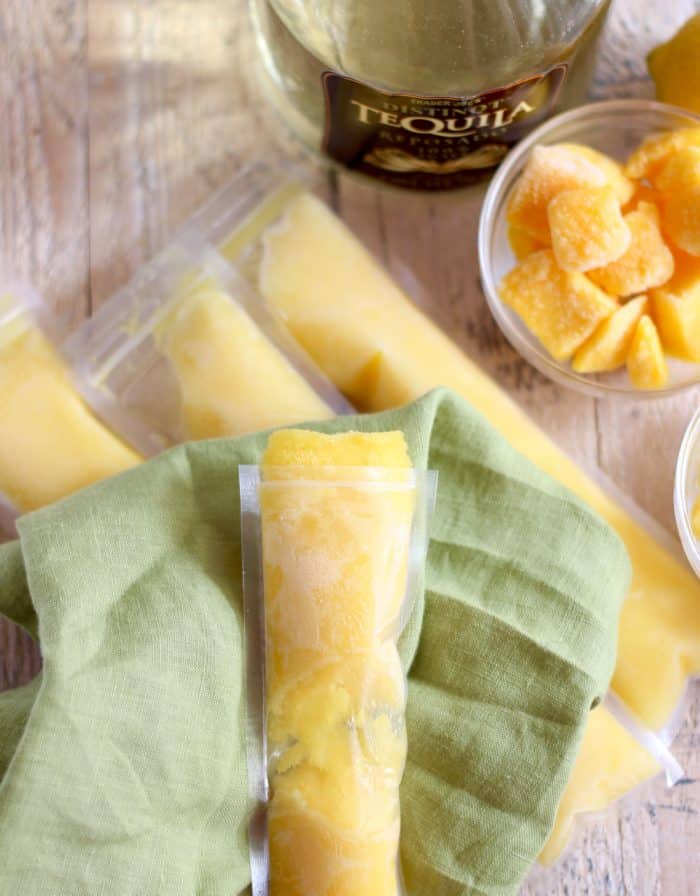 How to Make Allergy Friendly
Boozy Mango Pineapple Popsicles are gluten-free, dairy-free, egg-free, soy-free, nut-free, and vegan. Be sure to check your ingredients to make sure if needed.
How to Fix a Mistake
Too thin: If you add too much tequila or lime/lemon juice, add more mango and/or pineapple.
Too thick: Add more lime or lemon juice or tequila or a little fruit juice (like pineapple juice or orange juice).
Make Ahead Ideas
These are already a recipe that you must make ahead of time.
Storage Suggestions
Store in the freezer for up to 3 months.
Frequently Asked Questions
Nutrition Benefits
First, these have alcohol which doesn't offer a ton of benefits and is best consumed in smaller amounts. So while I don't condone drinking a ton of alcohol, these adult popsicles are a more nutritious option when you do because they are made with fruit and no added sugar. Meaning you get all the benefits that fruit has to offer like vitamins, phytochemicals, and fiber.
What to Serve with Boozy Popsicles
I highly recommend serving these after a meal to help slow the effects of the alcohol. If you're enjoying these in the summer, some of my favorite warm-weather main meals include Asian Lettuce Wraps, Zucchini Lasagna, Avocado BLT, Chicken Salad, and Ranch Burgers.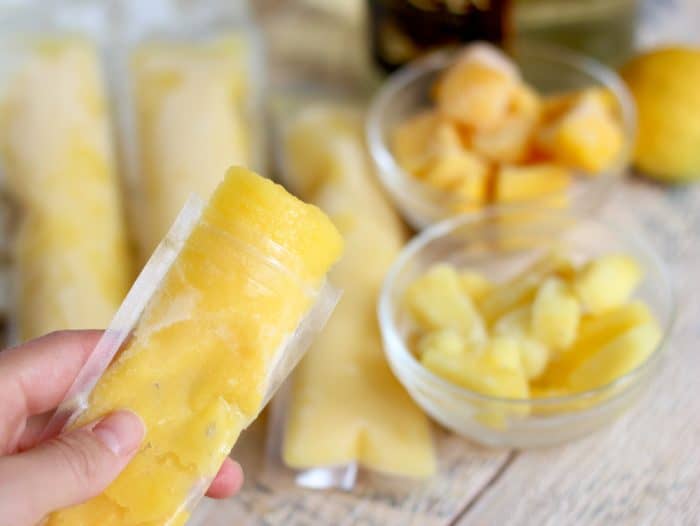 Final thoughts:
I am officially obsessed with these popsicles. You get a delicious dessert that doubles as a cocktail, and you can prepare these in a flash (don't forget that you have to freeze them though, so plan for the freezing time).
Plus, they have some bonus nutrients thanks to the fruit. And you don't have to worry about the popsicles freezing hard as bricks like other homemade popsicles do.
Seriously, these are quite possibly my favorite dessert to keep in the freezer. Great for guests or for simply adding a little extra to your warm-weather desserts.
---
MORE BOOZY RECIPES YOU'LL LOVE:
---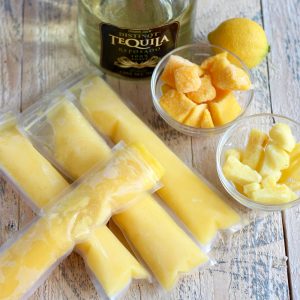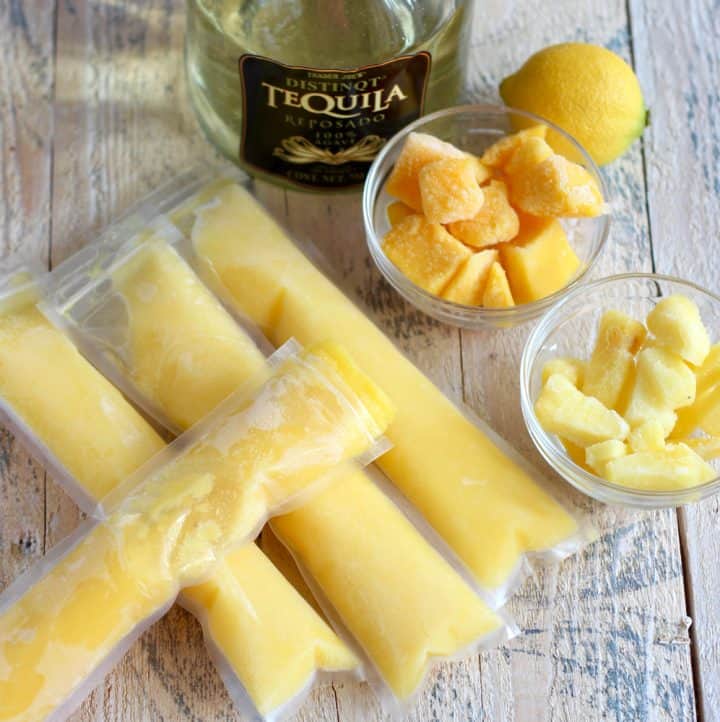 Boozy Mango Pineapple Popsicles
Learn how to make your own alcoholic popsicles! These Mango Pineapple Popsicles have only 4 ingredients & are great for an easy, make ahead summer treat
Print
Rate
Total Cost:
$6.24 or $1.56/popsicle
Ingredients
1

cup

mango

frozen

1

cup

pineapple

frozen

½

cup

tequila

½

cup

lime juice

or lemon juice
Instructions
Add everything to a blender and blend until smooth
Notes
*For a mocktail option, substitute tequila with equal parts pineapple juice, mango juice, or any other 100% fruit juice.
*I used these for the popsicle molds. Look for ones that hold about ½ cup (4 ounces) per popsicle
*These keep well in the freezer for up to 3 months.
What to Use in This Recipe
Did you try this recipe?
Be sure to leave a comment & recipe rating below. Bonus points for tagging @memeinge & #livingwellkitchen on Instagram! THANK YOU! xo
[showhide type="post" more_text="Click here for Nutrition Facts" less_text="Clear Nutrition Facts"]
*
Nutrition Facts
Boozy Mango Pineapple Popsicles
Amount per Serving
% Daily Value*
* Percent Daily Values are based on a 2000 calorie diet.
*
[/showhide]
Meme
This post was originally published on May 22, 2017. Text, recipe, and photos have been updated.
Doesn't this recipe look good?! You should probably share it: