Make a batch of chicken taquitos to keep in the freezer when you need a quick snack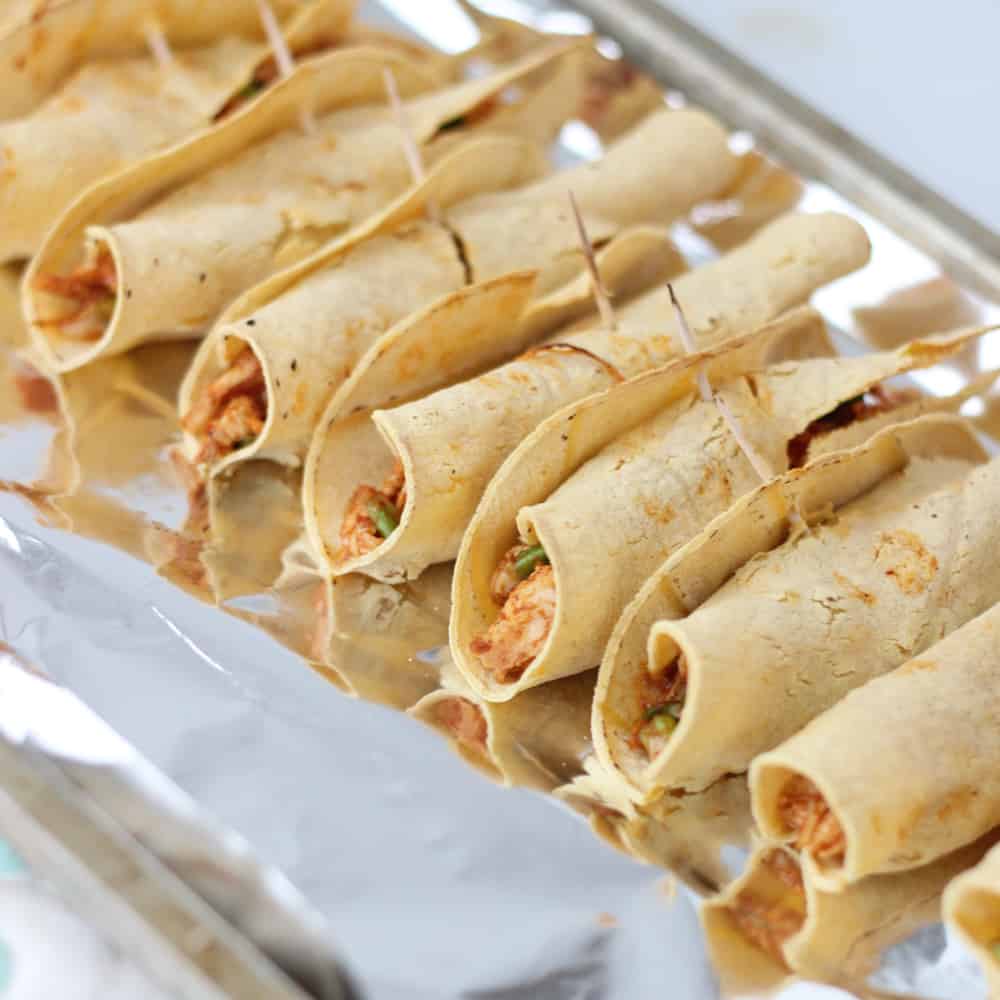 The freezer is one of the best tools for planning ahead. You can make batches of meals, snacks, breakfasts to have them at the ready. Or if you're not as prepared, at least you can freeze leftovers for another time.
It's no secret that I am obsessed with keeping my freezer full. In fact, I recently just did a little freezer inventory and realized that while I have lots of good things in there, I don't have any easy things on hand.
When I say "easy things" I mean meals or snacks that can be reheated in 5-10 minutes and enjoyed without me having to cook. Even someone that loves to cook can have moments where they can't cook.
Maybe I'm too hungry to think. Maybe I'm too tired to cook. Maybe I just don't feel like cleaning up my inevitable mess.
For whatever reason it is, it's nice to have things in the freezer.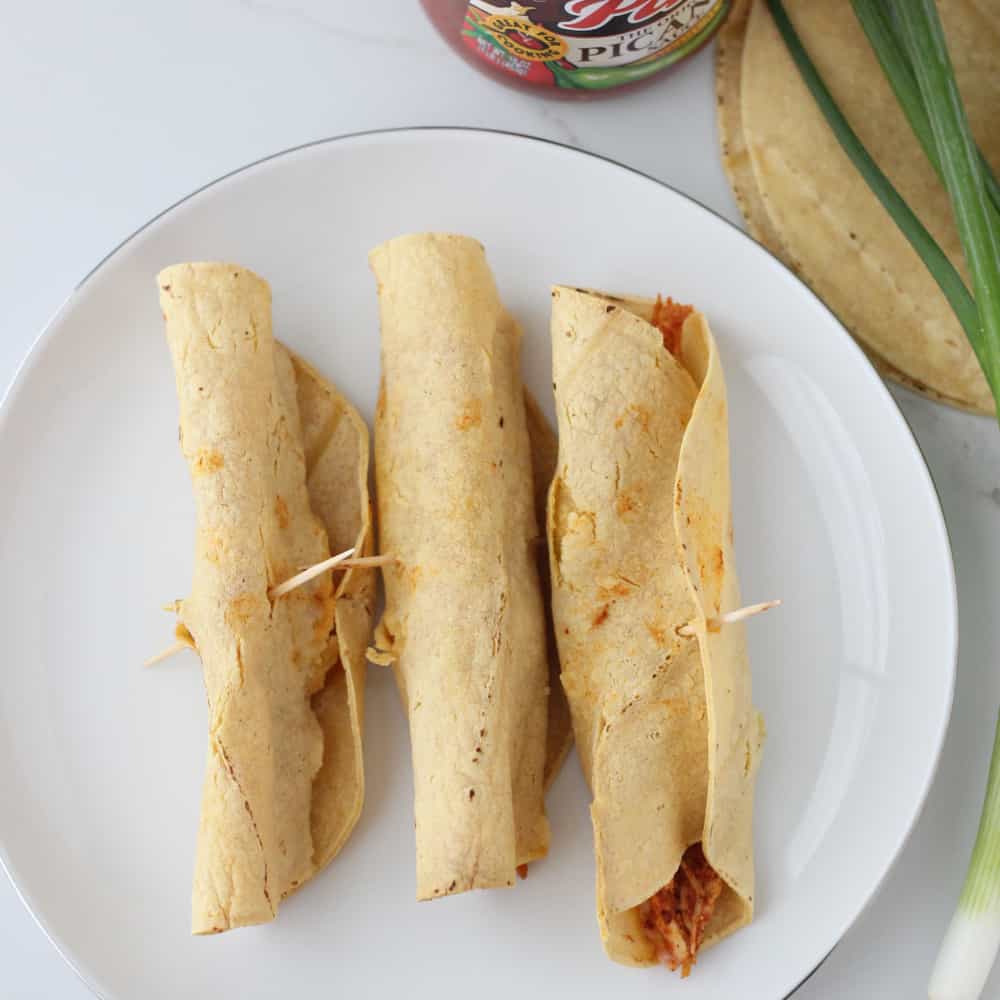 A few things I've recently had in the freezer were Gluten-free Crab Cakes, Greek Quinoa Turkey Burgers, and Sausage, Goat Cheese, and Dried Plum Pizza. I loved having healthy quick meals at the ready, and I knew I needed to make more freezer snacks/meals.
Luckily, for this month's Recipe ReDux, we are doing freezer meals. I was having one of those days on Sunday where I was unable to come up with anything creative.
Then I remembered my chicken taquitos that I always make for the freezer.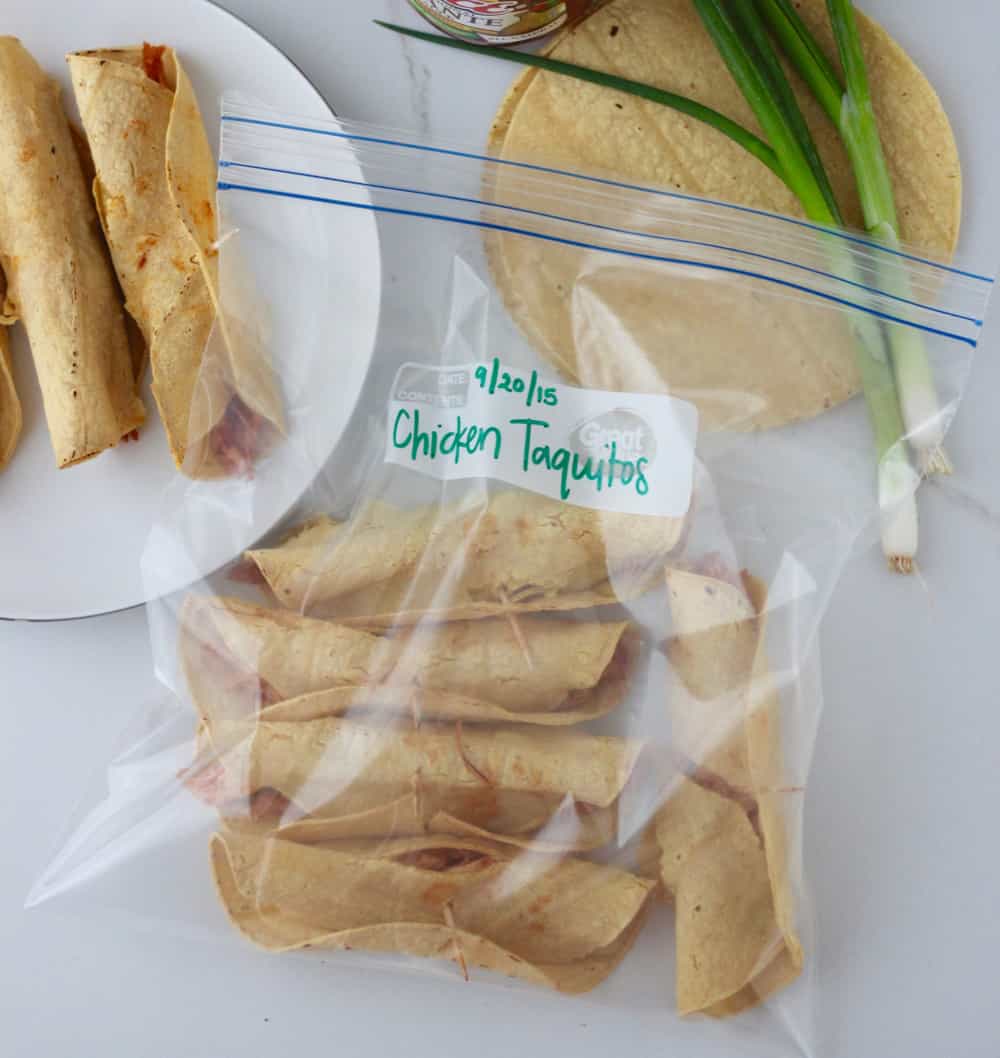 Back to the lazy Sunday... I didn't have the energy to really focus on making these pretty. I was more focused on making a batch to keep in the freezer for the rest of the week. They taste good even if they aren't perfectly rolled up.
Funny enough, my previous recipe post has better rolled and baked taquitos but that photo is so close up and not very pretty (ah!). So here are my messy yet just as tasty and easy and perfect for the freezer.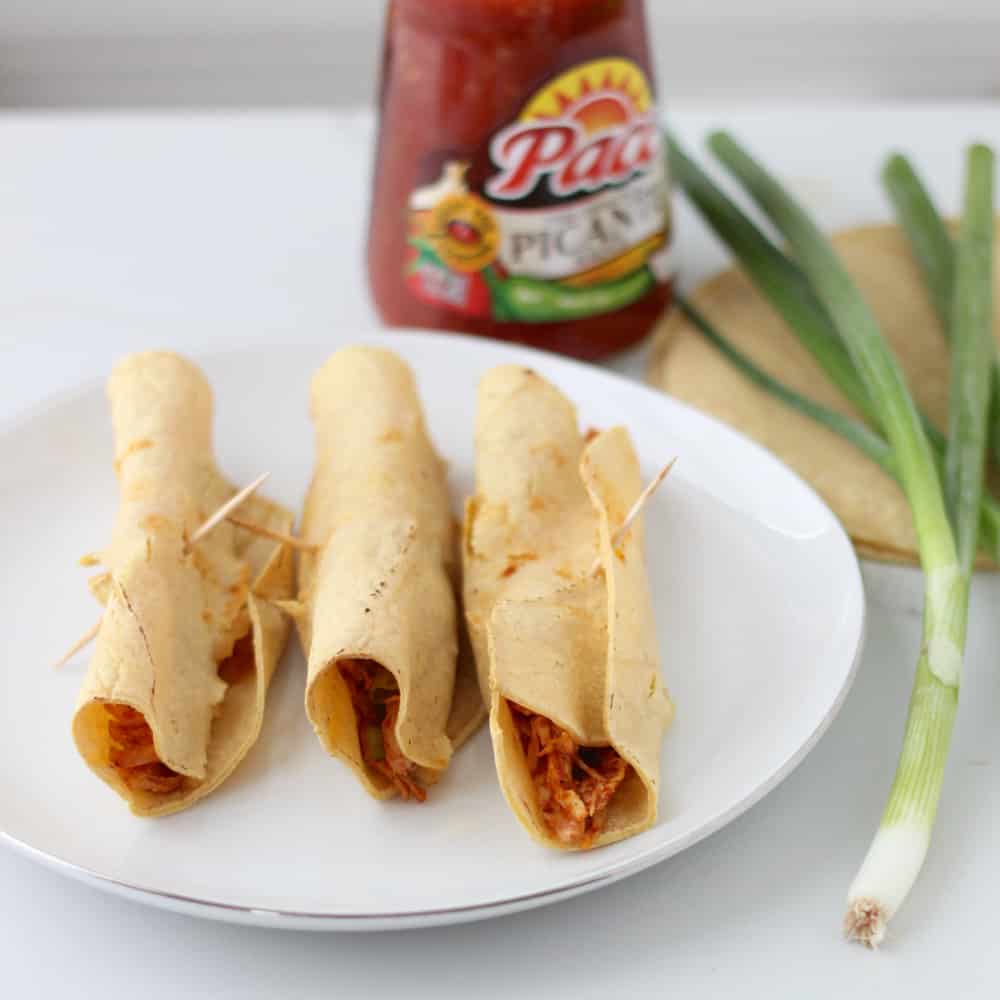 If you're feeling up for it, make a double batch and then you'll have lots of freezer snacks for the future.
You can thank yourself later.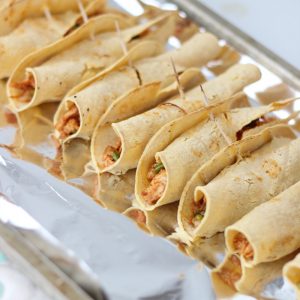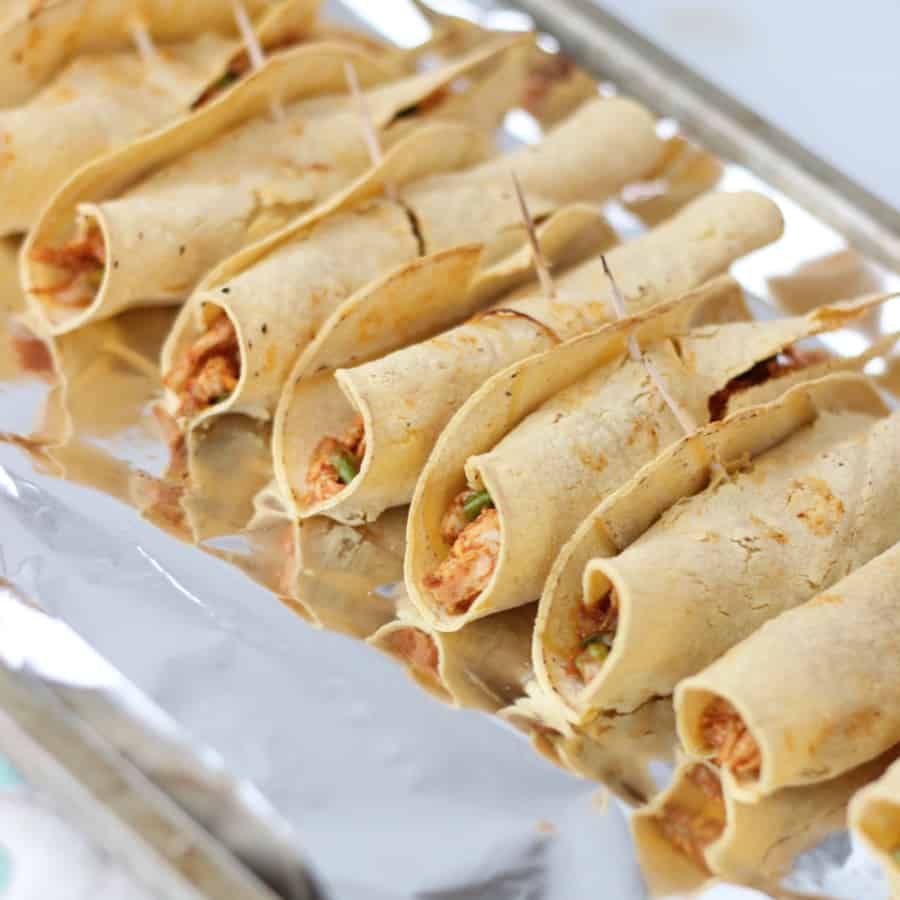 Freezer Chicken Taquitos
Make a batch of freezer chicken taquitos for a quick snack or meal
Print
Rate
Ingredients
8

ounces

cooked chicken

about 2 cups

½

cup

salsa

2

ounces

cheddar cheese

about ½ cup, shredded

½

teaspoon

chili powder

¼

teaspoon

cumin

¼

teaspoon

paprika

¼

teaspoon

garlic powder

⅛

teaspoon

cayenne pepper

⅛

teaspoon

salt

10

small

corn tortillas
Instructions
Preheat oven to 375*F. Line a baking sheet with foil (for easier cleanup)

Stir together the chicken, salsa, cheese, chili powder, cumin, paprika, garlic powder, cayenne pepper, and salt.

Warm up the tortillas (wrap in a wet paper towel and microwave for about 45-60 seconds). Fill each tortilla with about 3-4 tablespoons of the chicken mixture and roll up. Secure with a toothpick or put on baking sheet seam-side down. Repeat with remaining tortillas and chicken mixture.

Bake for 15 minutes. Enjoy immediately, or let cool completely and put in freezer zip top bag or container.
Notes
*For extra, feel free to add chopped green onions or chives - about ¼ cup or 3-4 green onions. Add along with the cheese and salsa.
*

To reheat, microwave for 60-90 seconds until warmed through. Or put on a baking sheet and bake at 375°F for 10-15 minutes.
*Based on this recipe from Hungry Girl
Did you try this recipe?
Be sure to leave a comment & recipe rating below. Bonus points for tagging @memeinge & #livingwellkitchen on Instagram! THANK YOU! xo
Meme
Looking for other freezer-friendly meal ideas? Here you go...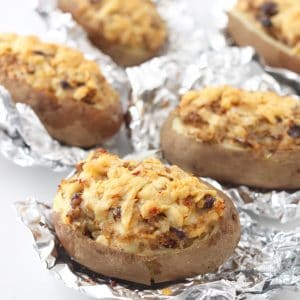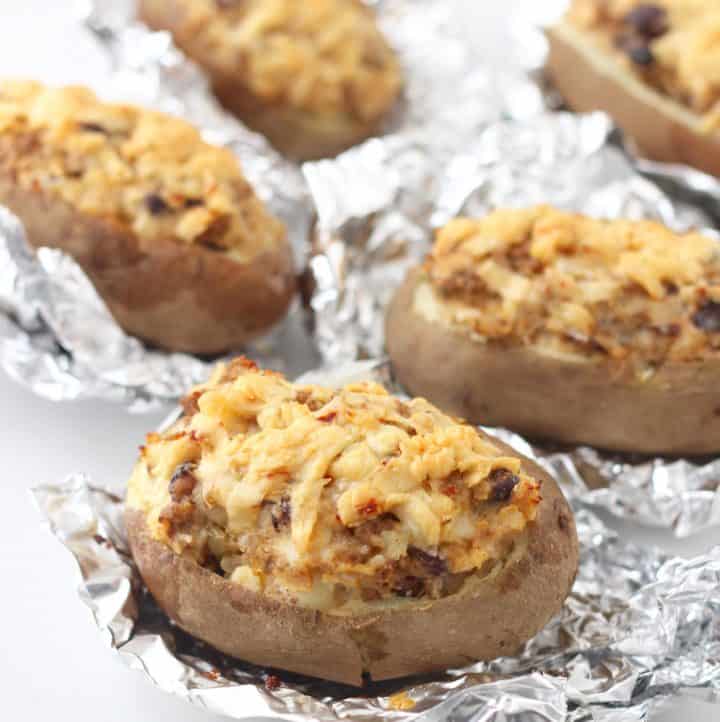 Twice Baked Taco Potatoes (gluten free)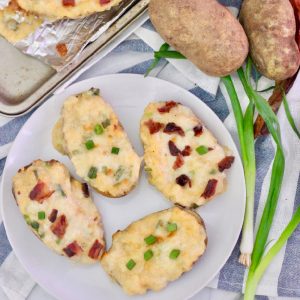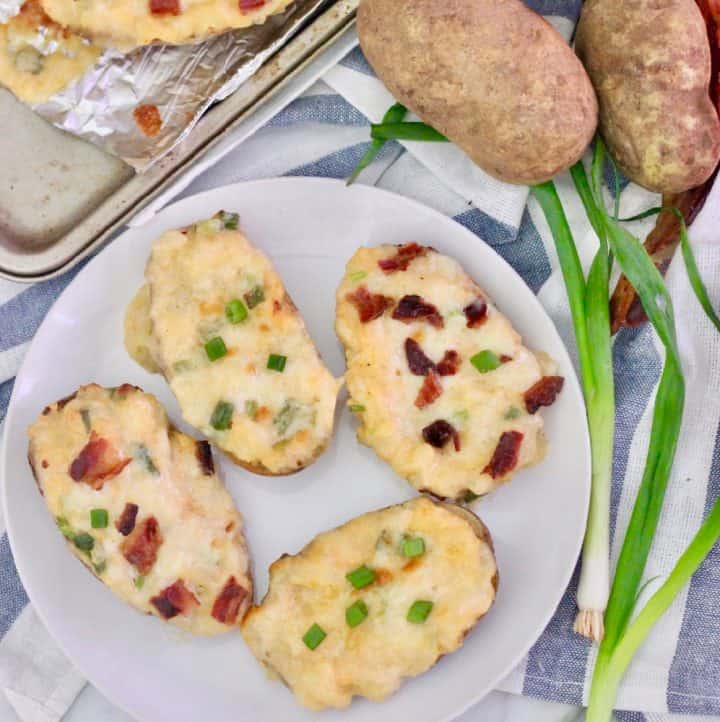 Or the original: Twice Baked Potatoes (gluten free, can be vegetarian)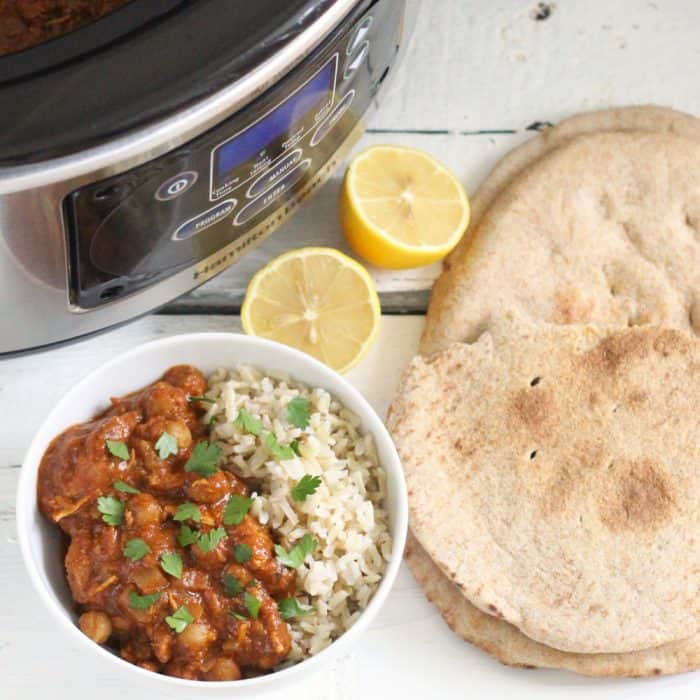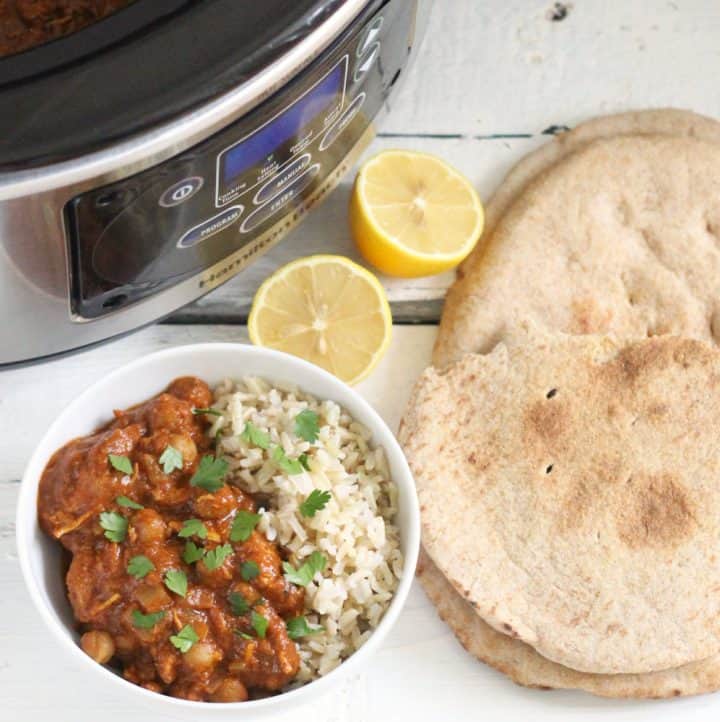 Slow Cooker Chicken Tikka Masala (gluten free, dairy free, can also be vegetarian/vegan)
Avocado Salmon Burgers (gluten free, dairy free)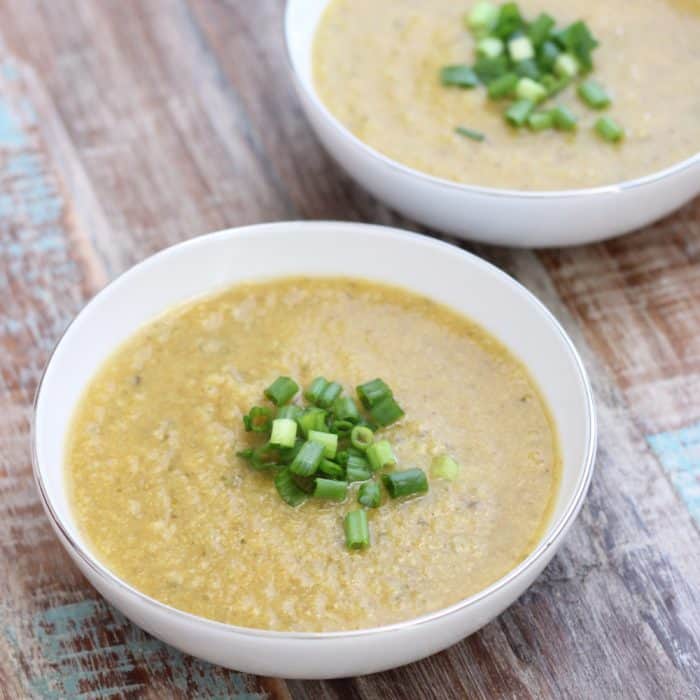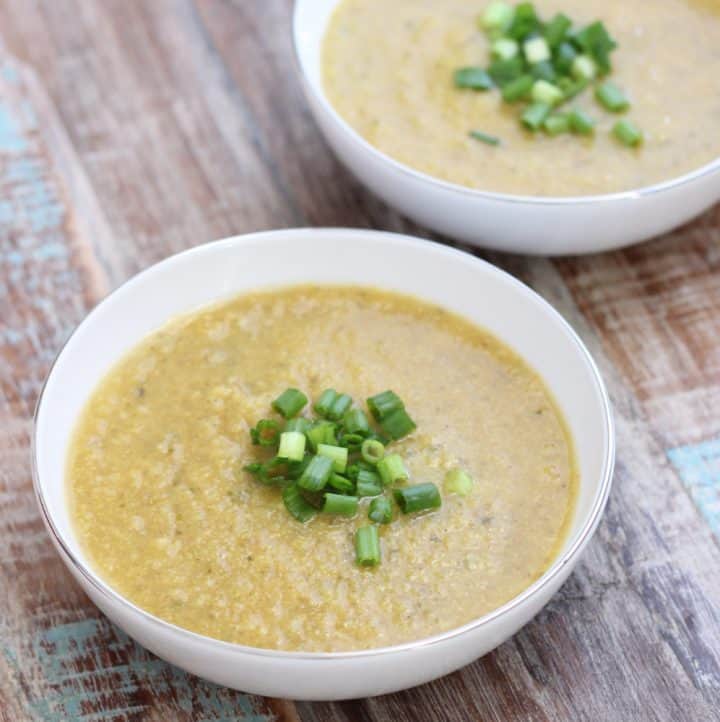 Roasted Garlic Cauliflower Soup (gluten free, dairy free, vegetarian/vegan)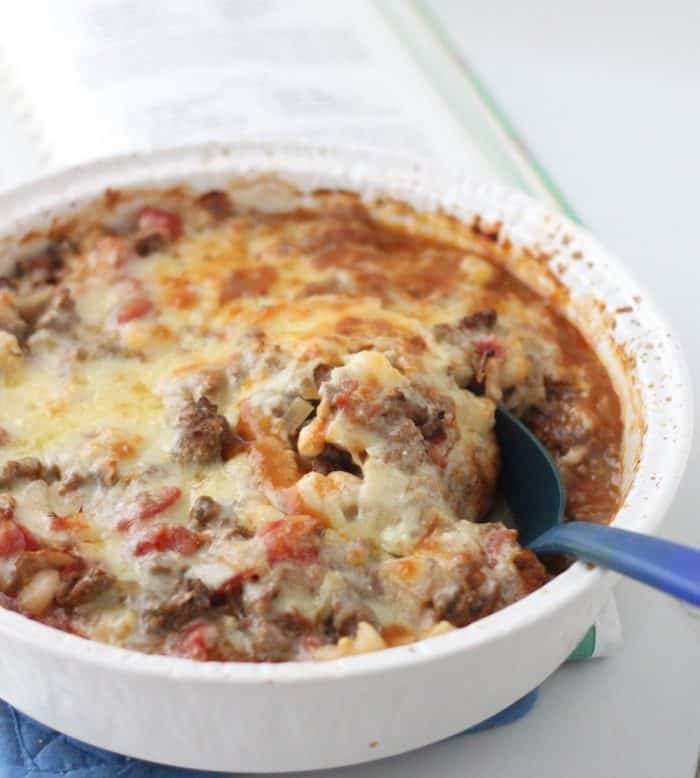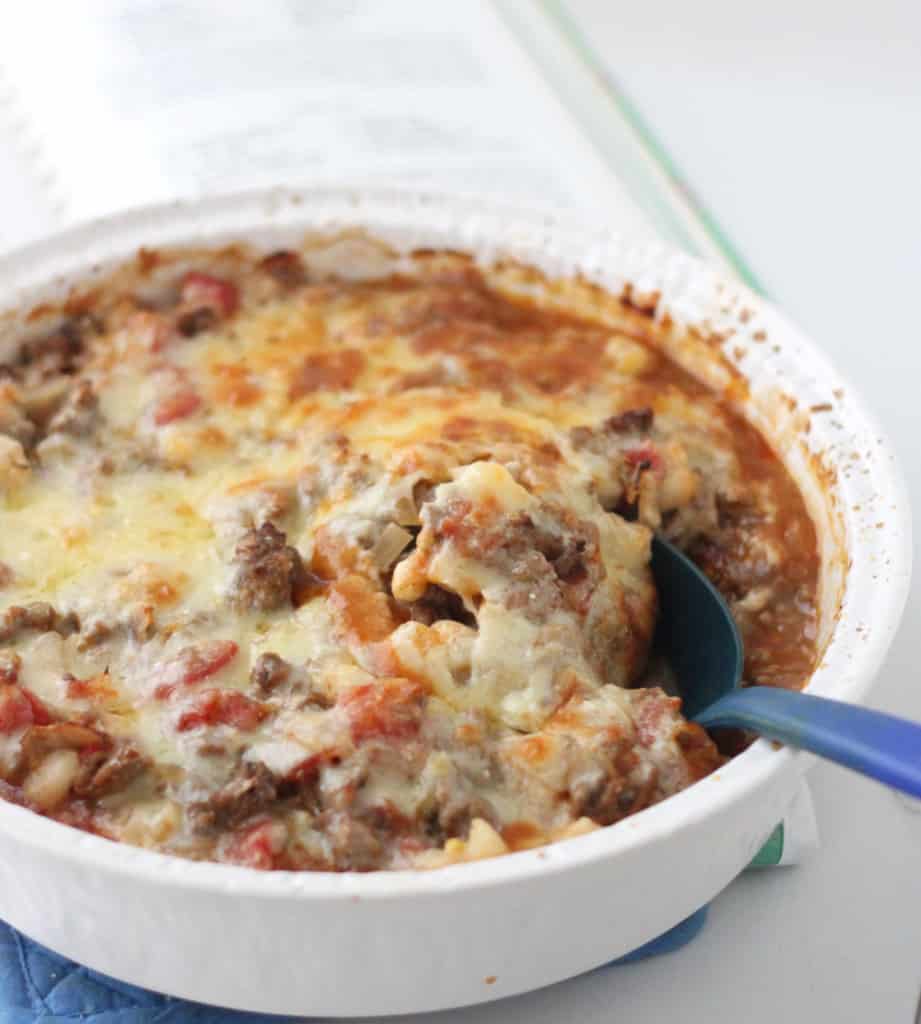 Beef and Hominy Casserole (gluten free, can be dairy free)
Pin for later: