This easy Chicken Apple Curry recipe has sweet apples and onions to balance the spiciness of the curry powder for a flavorful, nutritious gluten free weeknight dinner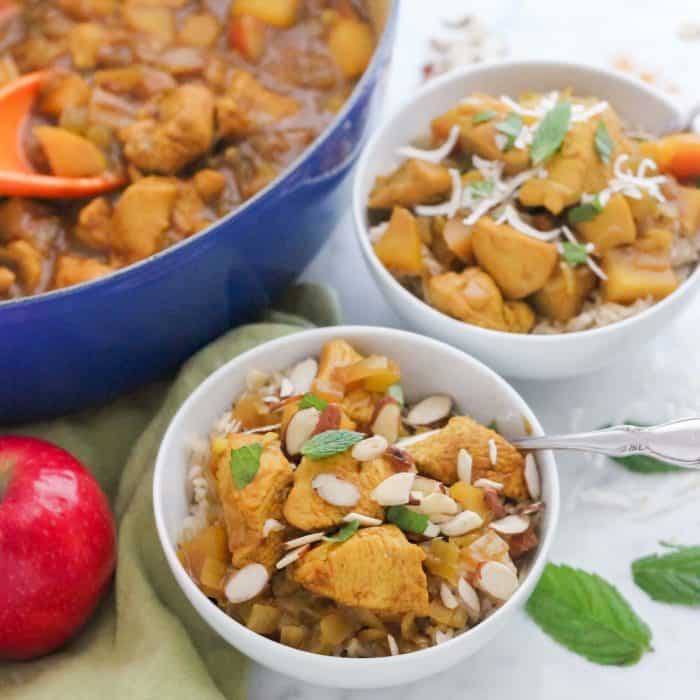 About Chicken Apple Curry
Adding fruit to main meals is not something I typically do. I've simply never been a fan. However, a few years ago my aunt suggested I try her mom's recipe for Chicken and Apple Curry. So I decided to give it a go, and I am so glad that I did!
Chicken Apple Curry is easy, budget friendly, and incredibly delicious. The sweet apples balance out the spicy curry powder, but it's not overly sweet. What's so great about this recipe is that you don't need any special ingredients. No coconut milk or curry paste. You simply need curry powder which is likely already in your spice cabinet.
What is Chicken and Apple Curry
Chicken and Apple Curry is a fragrant chicken dish that has bites of chicken simmered in a sauce seasoned with onions, celery, apples, and curry powder. It's a warming meal and especially satisfying when served over rice to soak up all the sauce.
There are many types of curry recipes, and this one is very basic with only 10 ingredients that you can find in any grocery store. However, definitely don't let basic bore you into skipping this recipe. This dish is anything but boring!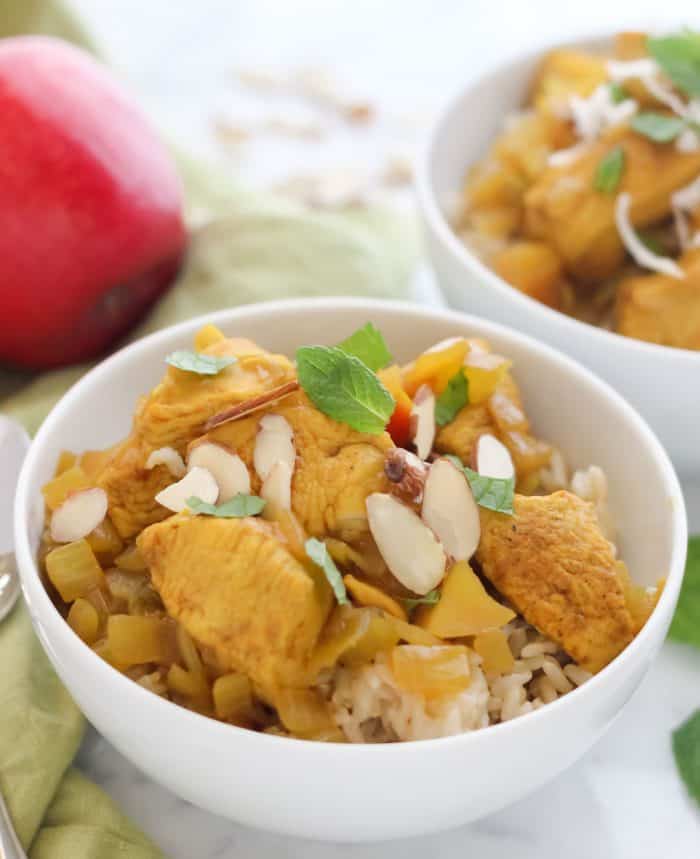 Ingredients
Oil: Olive oil is typically my go-to oil when cooking. Avocado oil, coconut oil, and butter all work really well in this chicken curry.
Veggies: The veggies in this healthy chicken curry are onions, celery, and garlic. You'll need two large onions, but you can also use 3 small/medium onions if you don't have large ones. I use yellow onions but red or white onions can be used as well.
There is only one stalk of celery in the dish, but I really like the subtle addition of flavor it adds. In a pinch, you could use celery salt in place of the salt if you don't have celery to still give your curry the taste of celery without needing the celery.
Additionally, garlic powder can be used in place of the garlic cloves. Or use garlic salt in place of the salt.
Apples: Fuji apples were the apples I used to test the recipe. You could also use Golden Delicious or Braeburn apples. I don't recommend using Red Delicious apples as they do not hold up well when cooking.
Chicken: This healthy chicken curry calls for boneless, skinless chicken breast. You can also use tenders or tenderloin because they are simply a strip of chicken breast. Another more budget-friendly alternative is to use boneless, skinless chicken thighs. These have more fat than chicken breast. However, they shouldn't make the chicken curry too greasy. No matter what you use, you'll cut the chicken into about ½ to 1 inch pieces of chicken.
Curry powder: Simply buy a the curry powder from the grocery store. Curry powder is typically a mix of coriander, cumin, turmeric, ginger, dry mustard, black pepper, cinnamon, cardamom, and/or cayenne pepper. You can make your own if you prefer (I found this recipe that you could try), but it is incredibly easy to find curry powder in the spice aisle of every grocery store.
Broth: I typically use chicken broth and prefer homemade chicken broth or low sodium or no salt added store bought broth or stock. Other options are vegetable broth or water. To be honest, I often use water because I forget to buy broth. Be sure to use cold water or broth when whisking it with the cornstarch.
Cornstarch: The cornstarch is used to thicken the sauce, and it's an ingredient easily found in the store (usually on the baking or spice aisle). Just buy a basic box of cornstarch; it usually lasts quite a while in the pantry.
Rice: Any type of rice is great with the healthy chicken curry. I often use brown rice because I prefer the taste, but use whatever you like or have in the pantry. I like to start cooking it before I begin cooking the curry so I know it will be ready to eat when the curry is done. And the warm curry sauce will reheat the rice if it cools a little after cooking. Note: this is my preferred cooking method for rice on the stove. I also like cooking it in the Instant Pot®.
Toppings: Fresh mint and parsley adds a little freshness & brightens the flavor. Other toppings I love are plain yogurt, shredded unsweetened coconut, chopped peanuts, cashews or almonds, and chopped green onion.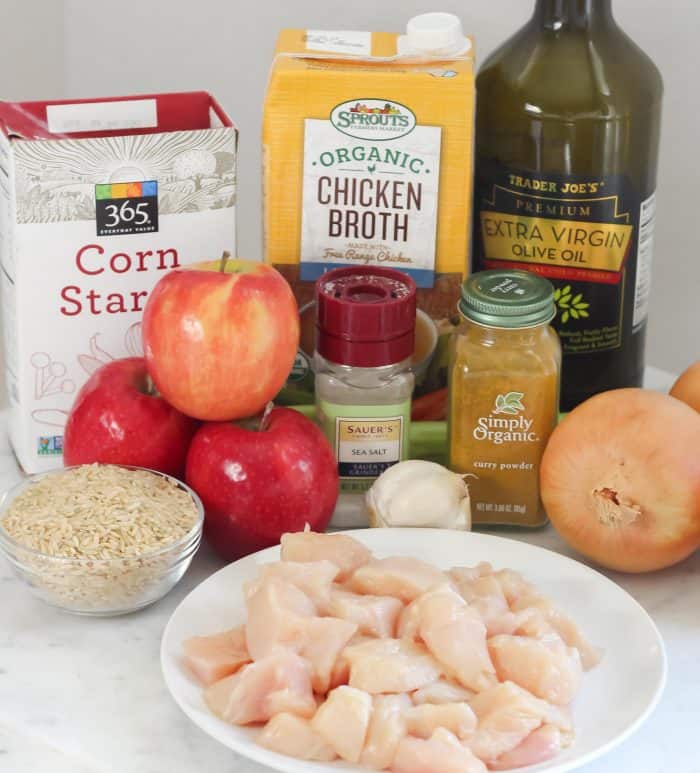 Cost
olive oil 1 tablespoon: $0.24
onions 2 large: $1.70
apples 3 small: $1.54
celery 1 stalk: $0.14
garlic 3 cloves: $0.18
chicken breast 1 pound: $4.59
curry powder 2 tablespoons: $1.56
salt ¾ teaspoon: $0.01
chicken broth 2 cups: $1.14
cornstarch 1 tablespoon: $0.06
TOTAL COST: $11.16 (Based on San Diego Sprouts 2019) or $2.79/serving
How to Make Healthy Chicken Curry


Time needed: 40 minutes.
This recipe is wonderfully easy to prepare as you can see in the photos; there are only a few steps. Here's How to Make Chicken Apple Curry
Sauté the onions and celery in the oil.
Cook until translucent and lightly golden in color.

Should take about 7 minutes.

Add the apples and garlic.

Stir and cook for 3 minutes.

Push the mixture to the sides.
Add the chicken, and let sit for about 3 minutes; then sprinkle with salt and curry powder.

Stir to combine everything.

Pour in most of the broth.

Stir the mixture well, scraping any bits off the bottom of the pot. Let simmer for at least 5 minutes.

Just before you are ready to serve, whisk together cornstarch and cold broth or water.

Pour into the pot. Simmer until the sauce has thickened about 5-10 minutes.

Serve over cooked rice and desired toppings.

Enjoy!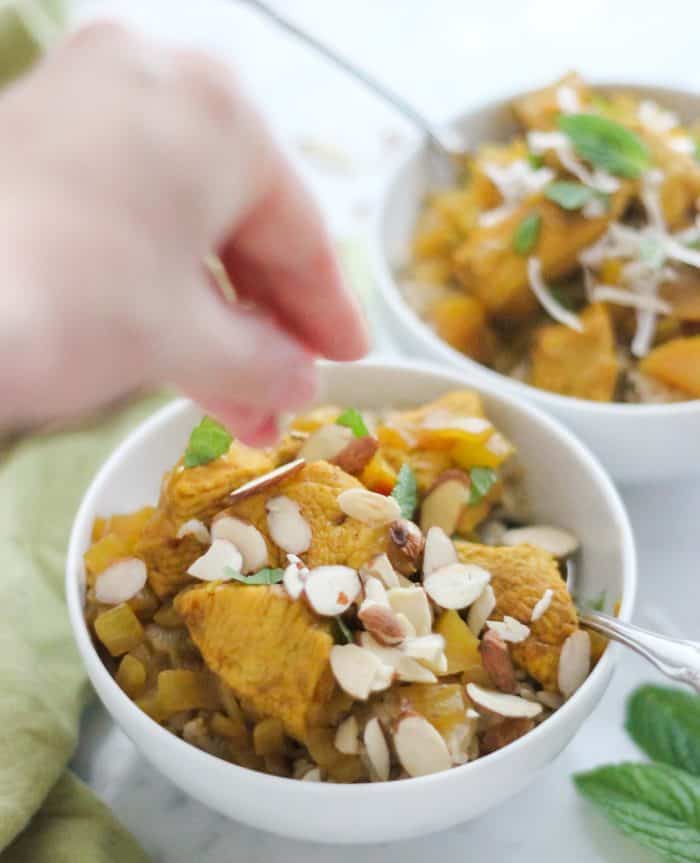 Tips
Variations
Ingredient Options
Celery: use celery salt in place of the salt and omit the celery if desired. Or skip the celery altogether if needed.
Garlic: replace the garlic cloves with ¾ to 1 teaspoon garlic powder. Add to the dish with the curry powder and salt.
Chicken: chicken thighs can be used in place of the chicken breast. Use the same amount and cut them into pieces like you would with the chicken breast.
Cornstarch: you can use arrowroot powder or all purpose flour in place of the cornstarch if needed. For arrowroot powder, use the same amount as you would cornstarch. For flour, you'll need to use twice the amount of flour. If you use arrowroot powder, it will still be gluten free; however, if you use all purpose flour, it will no longer be gluten free unless you use a gluten free all purpose flour.
How to Make Allergy Friendly
Chicken Apple Curry is already gluten free, dairy free, egg free, soy free, and nut free. Obviously this is all depending on the ingredients and toppings you use, so be sure to check the ingredients in the food you are using.
How to Fix a Mistake
If the sauce gets too thick: simply add extra broth or water in ¼ cup increments. Stir the liquid in until it reaches your desired consistency. Let cook for a few more minutes, then enjoy.
If the sauce is too thin: usually cooking the sauce for a little longer can help the sauce thicken. Another option is to add another 1 tablespoon + ¼ cup water. Pour in and let cook for 5-10 minutes until it thickens.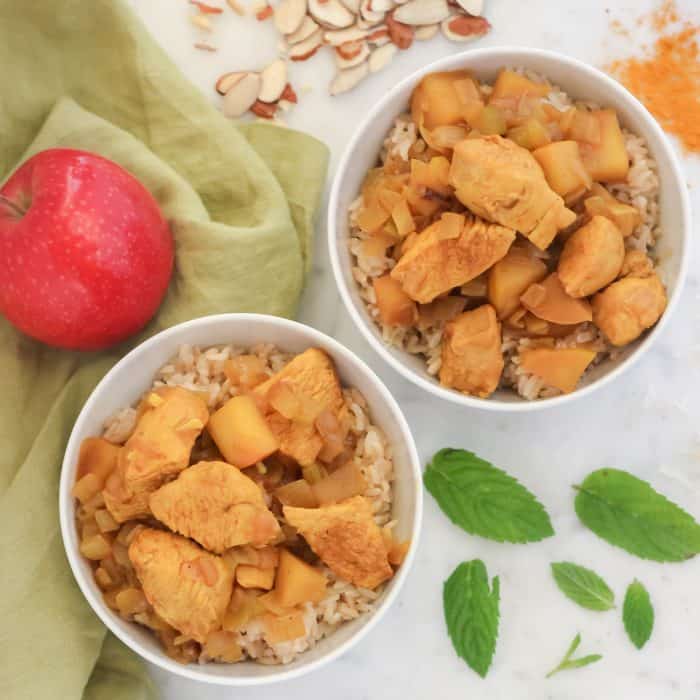 Make Ahead Ideas
To help decrease the prep time, you can chop the veggies, apples and chicken; store separately in airtight containers in the fridge for up to 24 hours until ready to use.
I think the sauce would be ok if you made it ahead of time, but I'd wait to add the cornstarch mixture until just before serving to make sure it doesn't break down after too much cooking and cause your sauce to be too thin.
Storage Suggestions
Keep the sauce in an airtight container in the fridge for up to 4 days and in the freezer for up to 4 weeks. When freezing, I recommend freezing in smaller serving sizes to help decrease the amount of time it takes to defrost the Chicken Apple Curry Sauce. Additionally, if it's in smaller sizes then you don't have to defrost all of the sauce at one time.
To reheat, add to a saucepan and heat over medium until the sauce is warmed through. You might want to add a few tablespoons of water or broth when reheating if needed. Or add to a microwave safe bowl and heat in 45 second intervals, stirring between, until warmed through.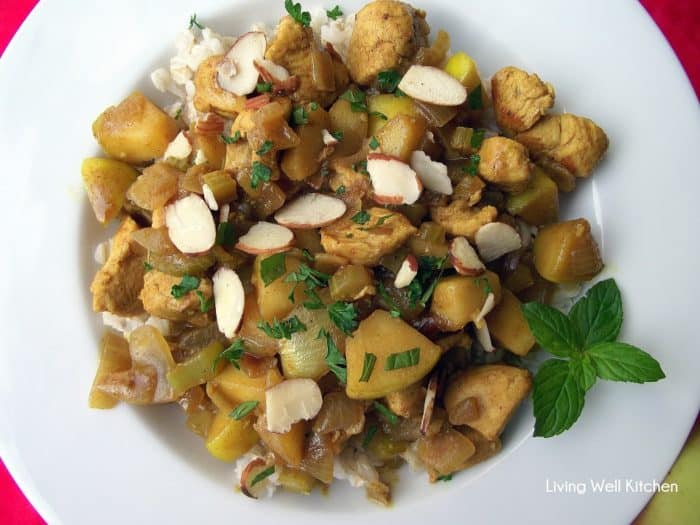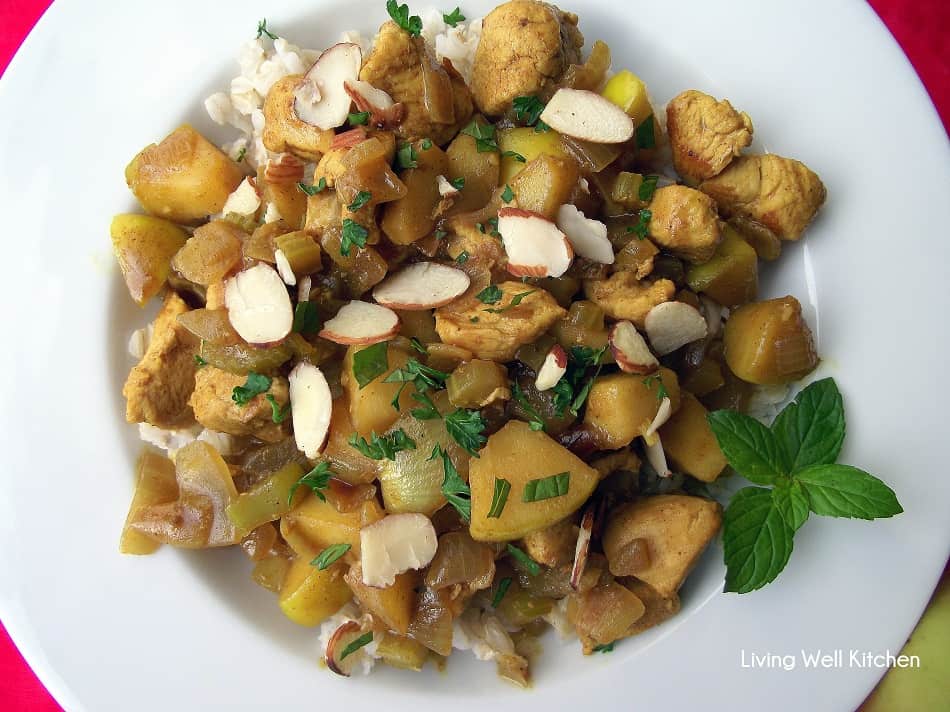 (This is a beautiful photo I took in 2012 when I first shared this recipe)
Frequently Asked Questions
Do you need curry paste for Chicken Apple Curry?
No, the beauty of this recipe is that all you need is curry powder which is easy to keep in the pantry.
Can you freeze Chicken Apple Curry?
Yes, this Chicken Apple Curry recipe freezes quite well. It's worth noting that dishes with cornstarch can sometimes become thinner when defrosting from frozen, but the curry will still taste delicious.
You can either eat it as it is with a thinner sauce. Or you can transfer the sauce to the stove and heat over medium. Once it is warm, whisk 1 tablespoon cornstarch with ¼ cup cold water or broth and stir in. Simmer for about 5-10 minutes until the mixture has thickened. [Basically do the same thing you did when originally thickening the sauce.]
Is chicken curry with rice healthy?
Yes, it can be! Depending on what "healthy" means to you, chicken curry can be a nutritious and delicious dinner. Here are some of the health benefits of this recipe...
Nutrition benefits
Curry powder is full of spices which are anti-inflammatory and high in antioxidants. For example, curcumin, a compound in turmeric, has been linked to numerous health benefits including cancer prevention, improvements in brain health, and anti-depressive effects.
Also, you get a ton of fruits and veggies in this chicken curry -- about 1.5-2 cups per serving which means you get about half of the recommended amount of fruits and veggies to eat in a day.
The protein in the chicken helps rebuild tissues in your body and keeps you satisfied. While the fiber from the veggies and apples aids in digestion.
What to serve with this dish
Personally, I like to serve this chicken curry over rice to soak up all the delicious sauce. However, you can serve it with whatever carbohydrate you like best; quinoa, polenta, bread would all be great.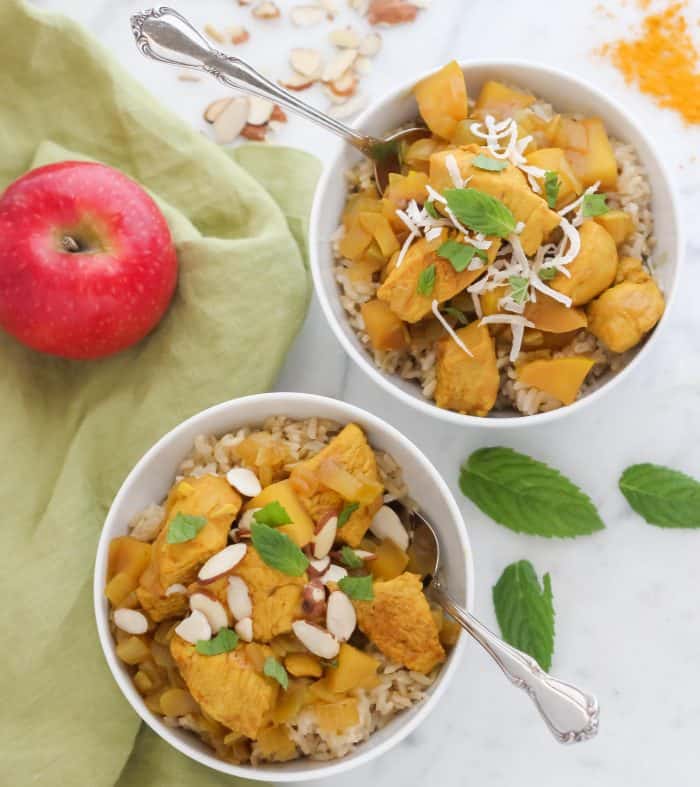 Final thoughts
Even if you aren't a fan of adding fruit into savory dishes, you need to try this. The apples lend some sweetness to the curry and adds another dimension of flavor to the recipe.
This recipe is a definite keeper; plus, it's ready in under 45 minutes.
MORE CURRY RECIPES YOU'LL LOVE:
---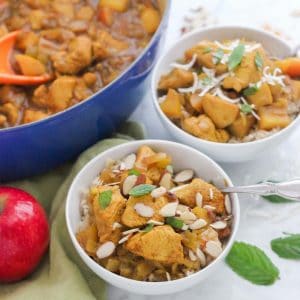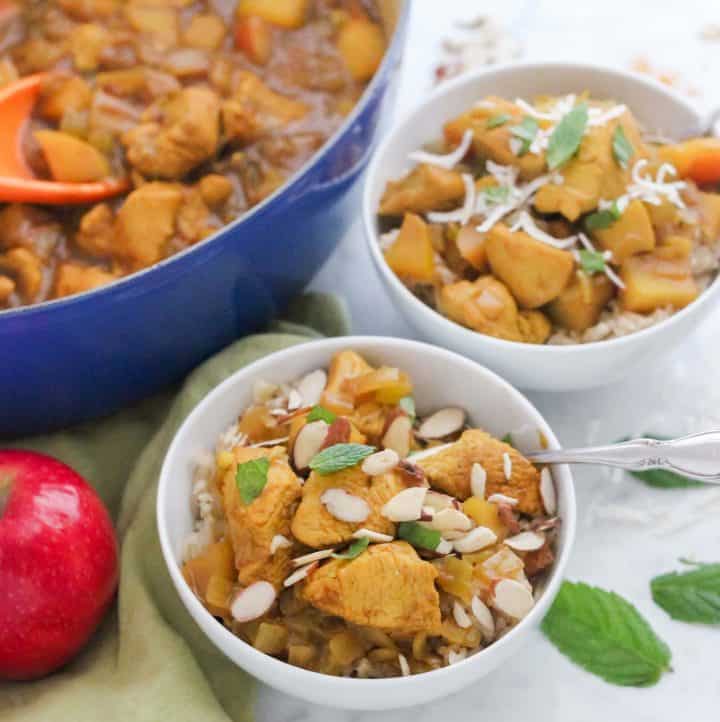 Chicken Apple Curry
This easy Chicken Apple Curry recipe has sweet apples and onions to balance the spiciness of the curry powder for a flavorful, nutritious gluten free dinner
Print
Rate
Ingredients
1

tablespoon

olive oil

2

large

onions

chopped

1

stalk

celery

diced

3

small

apples

chopped

3

cloves

garlic

minced

1

pound

boneless, skinless chicken breast

chopped into 1 inch pieces

2

tablespoons

curry powder

¾

teaspoon

salt

2

cups

broth

or water, divided

1

tablespoon

cornstarch

4

cups

cooked rice

for serving
Instructions
Heat oil over medium-high in a large skillet with high sides or Dutch oven. Stir in onions and celery, and sauté until softened, about 7 minutes.

Stir in apples and garlic, and cook for 3 minutes. Push everything to the outside of the skillet.

Put chicken in the middle of the skillet. Sprinkle everything with curry powder and salt. Cook for 3 minutes, then stir.

Pour in 1 ¾ cup chicken broth, and scrape up any bits that have gotten stuck to the bottom of the skillet. Turn heat down to medium, and simmer for at least 5 minutes, stirring occasionally.

About 5 minutes before ready to serve, whisk together cornstarch and the remaining ¼ cup broth until no lumps remain. Pour into skillet, stir, and simmer until the sauce has thickened, about 5-10 minutes.
Notes
*Makes about 6-7 cups Chicken Apple Curry.
*Recipe tested using Fuji apples.
*Use cold broth or water when whisking with cornstarch.
*Toppings to add: plain yogurt, fresh mint or parsley, shredded unsweetened coconut, chopped peanuts, cashews or almonds, and chopped green onion
*Nutrition facts do not include rice or optional toppings.
What to Use in This Recipe
Did you try this recipe?
Be sure to leave a comment & recipe rating below. Bonus points for tagging @memeinge & #livingwellkitchen on Instagram! THANK YOU! xo
[showhide type="post" more_text="Click here for Nutrition Facts" less_text="Clear Nutrition Facts"] *
Nutrition Facts
Chicken Apple Curry
Amount per Serving
% Daily Value*
* Percent Daily Values are based on a 2000 calorie diet.
* [/showhide]
---
Meme
This post was originally published November 13, 2012. Text, recipe, and photos have been updated.
Doesn't this recipe look good?! You should probably share it: