A white Bundt cake that can be colored to celebrate any holiday, plus it's super easy & hard to mess up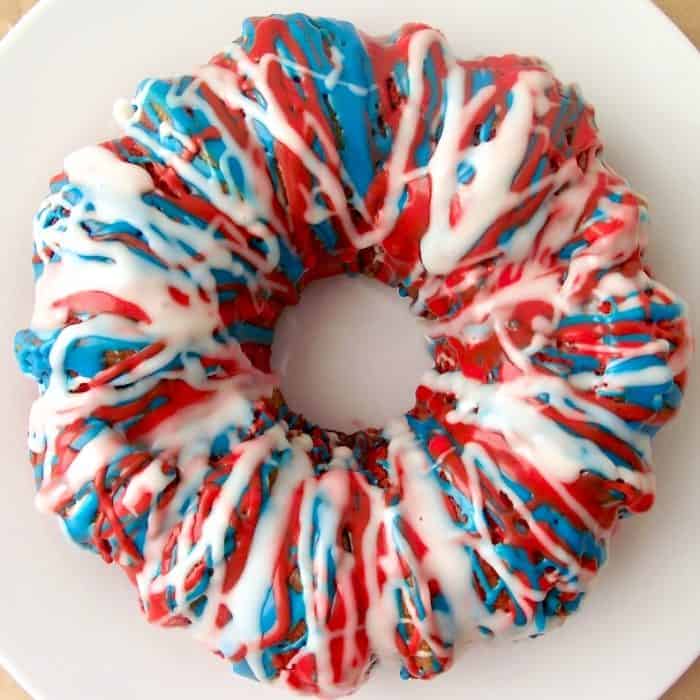 Here is the best cake that almost wasn't.
This thing is practically idiot proof. I messed it up about 4 different times, and it still turned out right.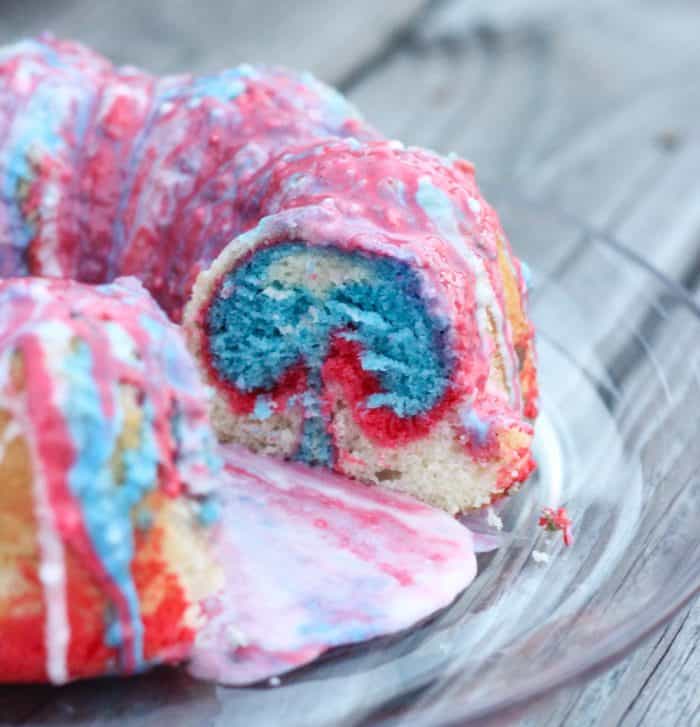 I know it looks complicated, but it's really not.
Yes, it takes a little more time than your average boxed cake but holy cake it is so so worth it.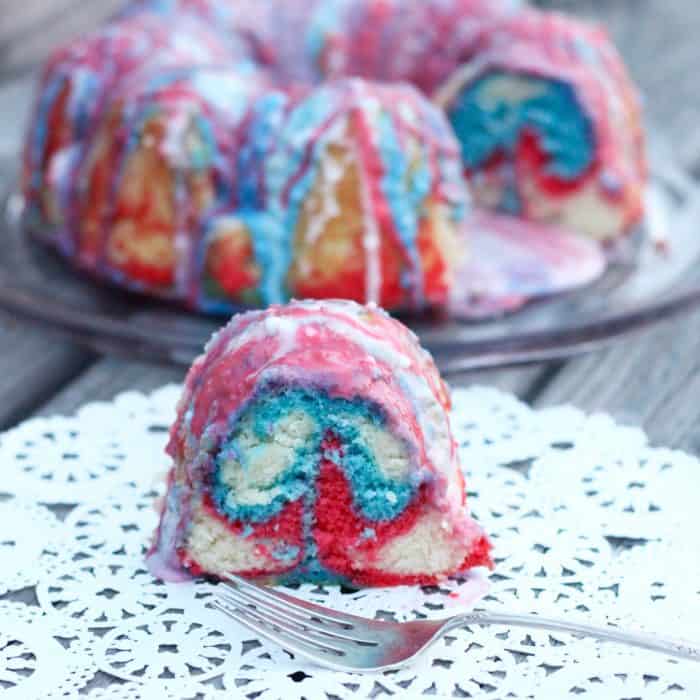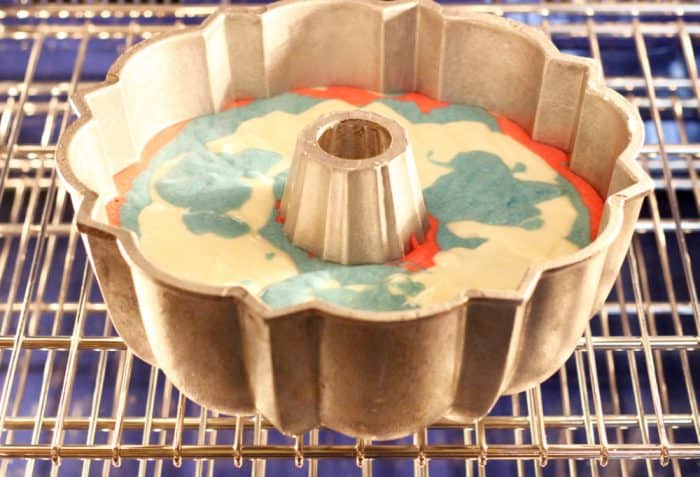 Since I don't use boxed cake mix, I found a recipe for a white cake from Baking Bites. And it is hands down the best cake I've ever made.
It's really worth taking the extra 15 minutes to make your own. I promise.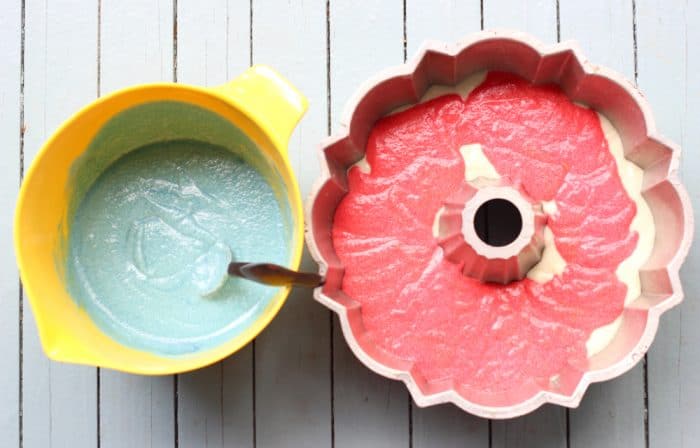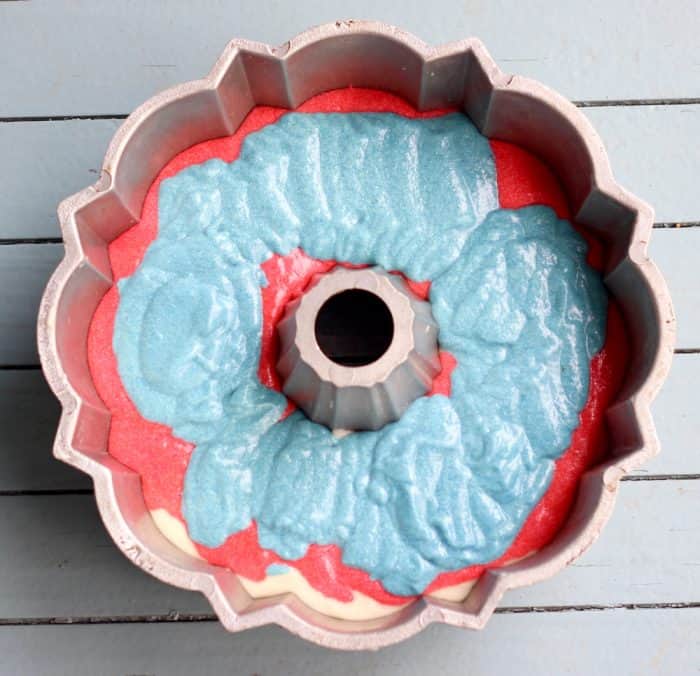 Even if you aren't a seasoned cake baker, I think you can do this! I really do
And it's soo exciting when it turns out.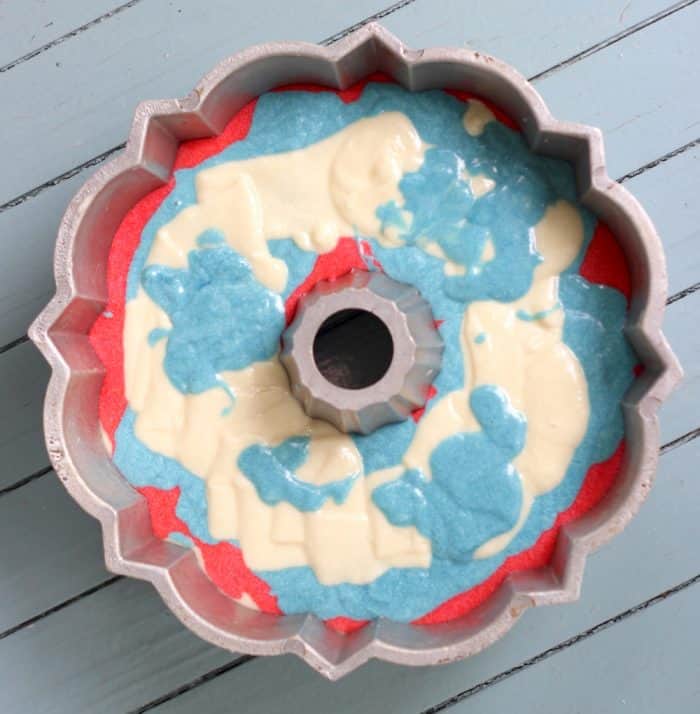 Be sure you do a couple of things:
Sift the flour.
Grease the pan well and sprinkle the sides with flour.
And don't forget to split the batter into three bowls to color them - I forgot to do that... I stuck the cake in the oven while it was all just plain white. Two minutes later, I freaked out and realized I forgot to color it!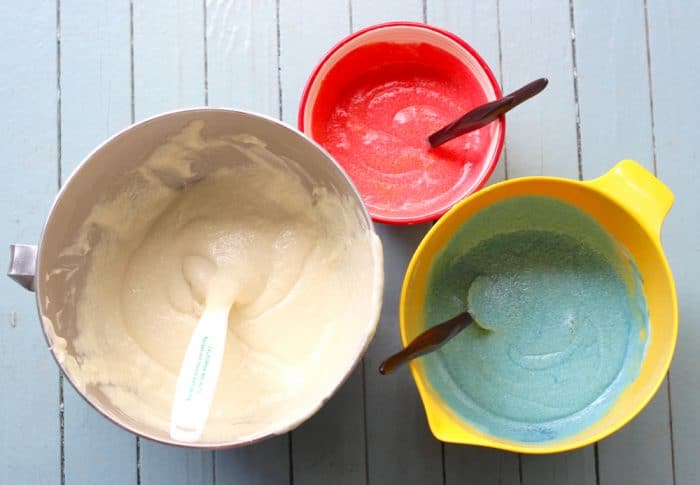 Like I said...the firecracker cake that almost wasn't...
Needless to say, it still turned out pretty, and some of the cake even stuck to the pan (since I forgot to grease & flour it, oops}. Luckily, the icing covers all your mess-ups.
I'm giving up trying to convince you to make this because how can you not want to make this adorable & delicious cake?!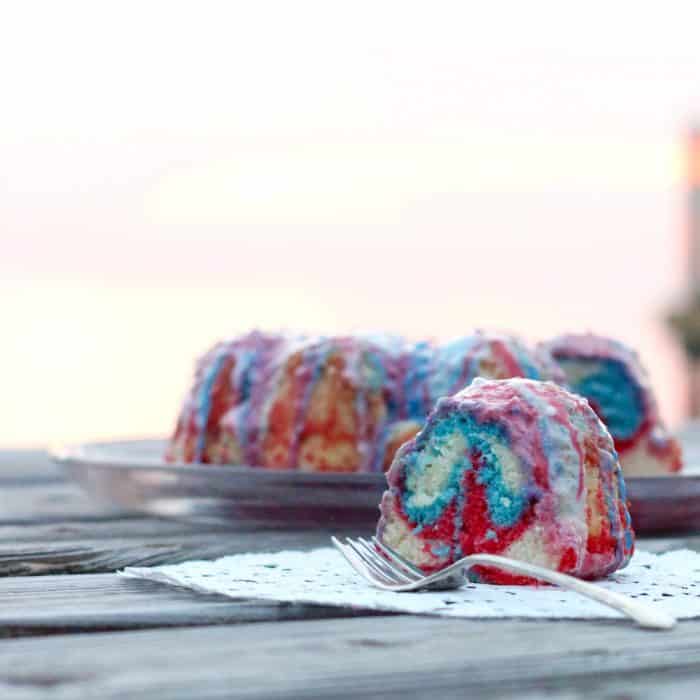 Here's the recipe: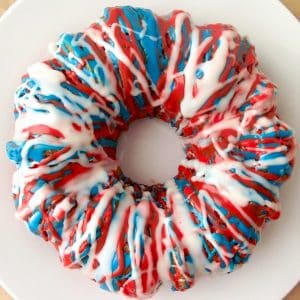 Firecracker Cake
A white Bundt cake that can be colored to celebrate any holiday, plus it's super easy & hard to mess up
Print
Rate
Ingredients
For the Cake
1

cup

milk

room temperature

6

egg whites

¾

teaspoon

almond extract

1 ¼

teaspoon

vanilla extract

2

cups

unbleached all-purpose flour

¼

cup

cornstarch

4

teaspoon

baking powder

1

teaspoon

salt

1 ¾

cup

sugar

¾

cup

butter

room temperature
For the Icing
1 ½

cups

powdered sugar

1.5 to 2 cups

¼

cup

milk

½

tablespoon

butter

room temperature
Instructions
For the Cake
Preheat oven to 350F. Grease and flour a Bundt pan; set aside.

Whisk the milk, egg whites, almond extract, and vanilla extract together. Set aside.

Sift the flour, cornstarch, baking powder, and salt together. Do it at least twice. This is key to make a light, not dense, cake.

In the bowl of a mixer, add the sifted flour mixture and the sugar. Mix on low then add the butter.

Mix on low until it looks like wet sand. It'll take about a minute.

Next add in most of the milk mixture. Set aside about ½ cup milk mixture.

Mix on medium for 1.5 minutes. Add in the remaining ½ cup milk mixture, and mix for 30 seconds. Don't overmix.

Split the batter into 3 bowls. Leave one bowl white, add blue food coloring to one bowl, and add red food coloring to another bowl.

Pour all the red batter into the prepared cake pan. Pour the white batter on top. Pour the blue batter on top. DO NOT STIR, just pour them all in there and let them do their thing.

Put in the oven and bake for 30-35 minutes, until a cake tester comes out clean.

Let cool in the pan sitting on a cooling rack for 15 minutes. Run a knife around the edges of the cake. Then invert the pan onto the cooling rack and gently remove the cake from the cake pan onto the cooling rack. Let cool about 30-45 minutes.

Put the cake on your serving plate on top of some waxed paper. I like to cut three sheets of waxed paper and position them to cover the plate. Sit the cake on top of the waxed paper. This helps keep the plate clean once you're finished icing the cake.
For the Icing
Whisk together the powdered sugar, milk, and butter. You want the consistency to be thin enough to drizzle but not runny. Add more milk to thin it or more sugar to thicken it.

Split the icing into three bowls and color one red, one blue, and leave one white.

Drizzle one color of icing all of the cake however you want. Let harden for about 5 minutes before drizzling with another color. Repeat until the cake is iced, making sure that you let each color harden before switching to the next color.

Once the cake has been iced, gently remove the pieces of waxed paper.

Now admire and enjoy your beautiful firecracker cake!
Did you try this recipe?
Be sure to leave a comment & recipe rating below. Bonus points for tagging @memeinge & #livingwellkitchen on Instagram! THANK YOU! xo
Nutrition Facts
Firecracker Cake
Amount per Serving
% Daily Value*
* Percent Daily Values are based on a 2000 calorie diet.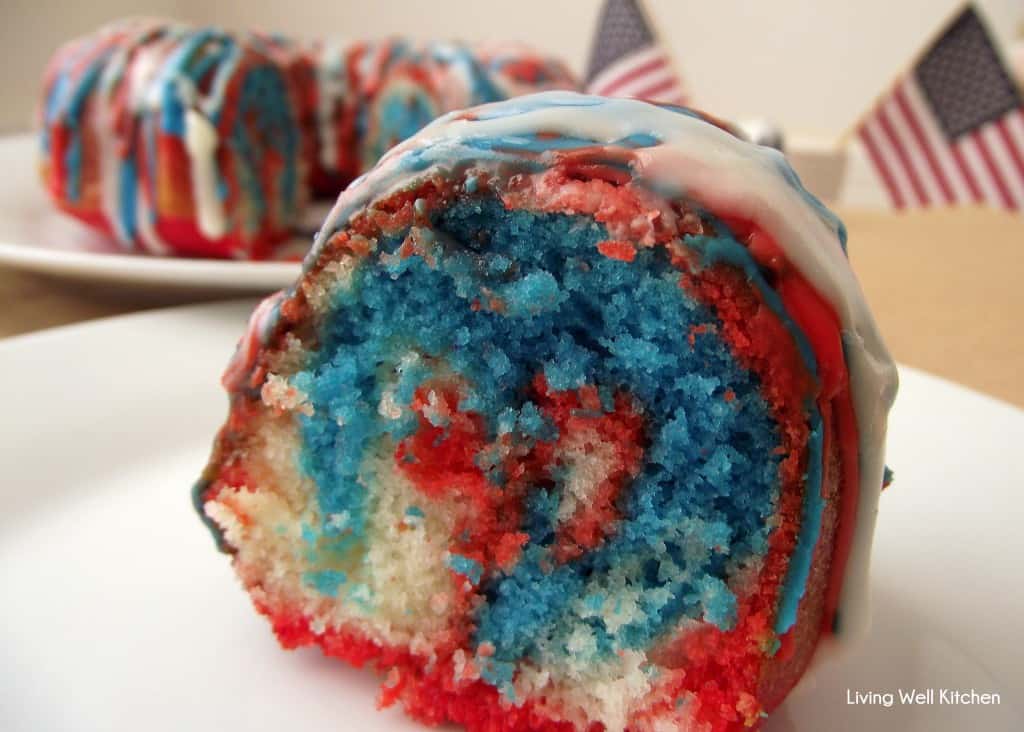 Photos from the original recipe: