Salsa Lentil Soup is an easy, budget-friendly, vegan soup made with mostly pantry ingredients. High in fiber and protein.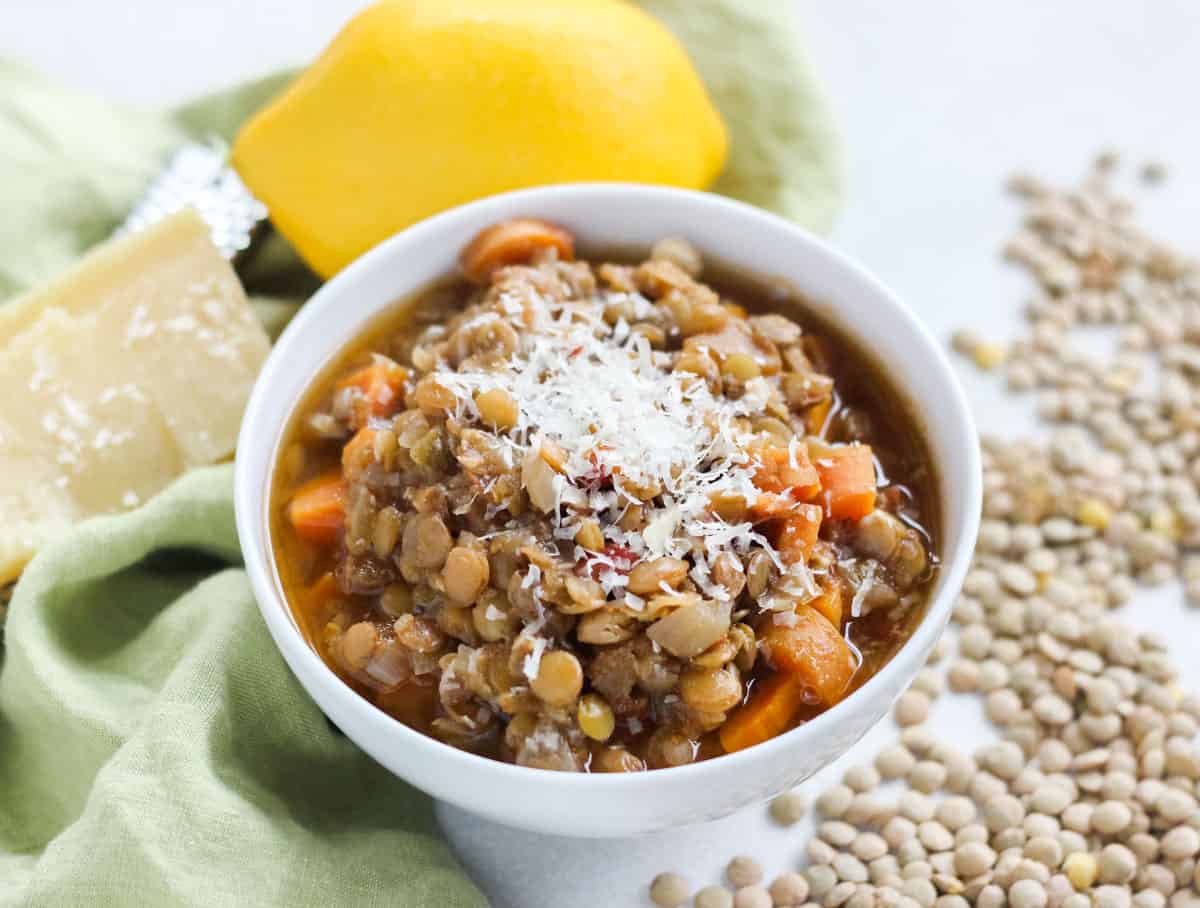 About Lentil Salsa Soup
Salsa can be a lifesaver for making easy, low-effort meals like Salsa Tuna Salad, Instant Pot Salsa Chicken, White Bean Turkey Chili, or Slow Cooker Salsa Verde Pork.
Pair the salsa with lentils, which happen to be one of my favorite budget-friendly sources of protein, and you get this tasty Salsa Lentil Soup.
I love this soup because it's simple, makes a large batch, tastes great as leftovers, and is budget-friendly.
Plus, it uses mostly pantry ingredients to save you a trip to the store.
It's also great for using any veggies or herbs that need to be used before they go bad. So feel free to play around with the ingredients.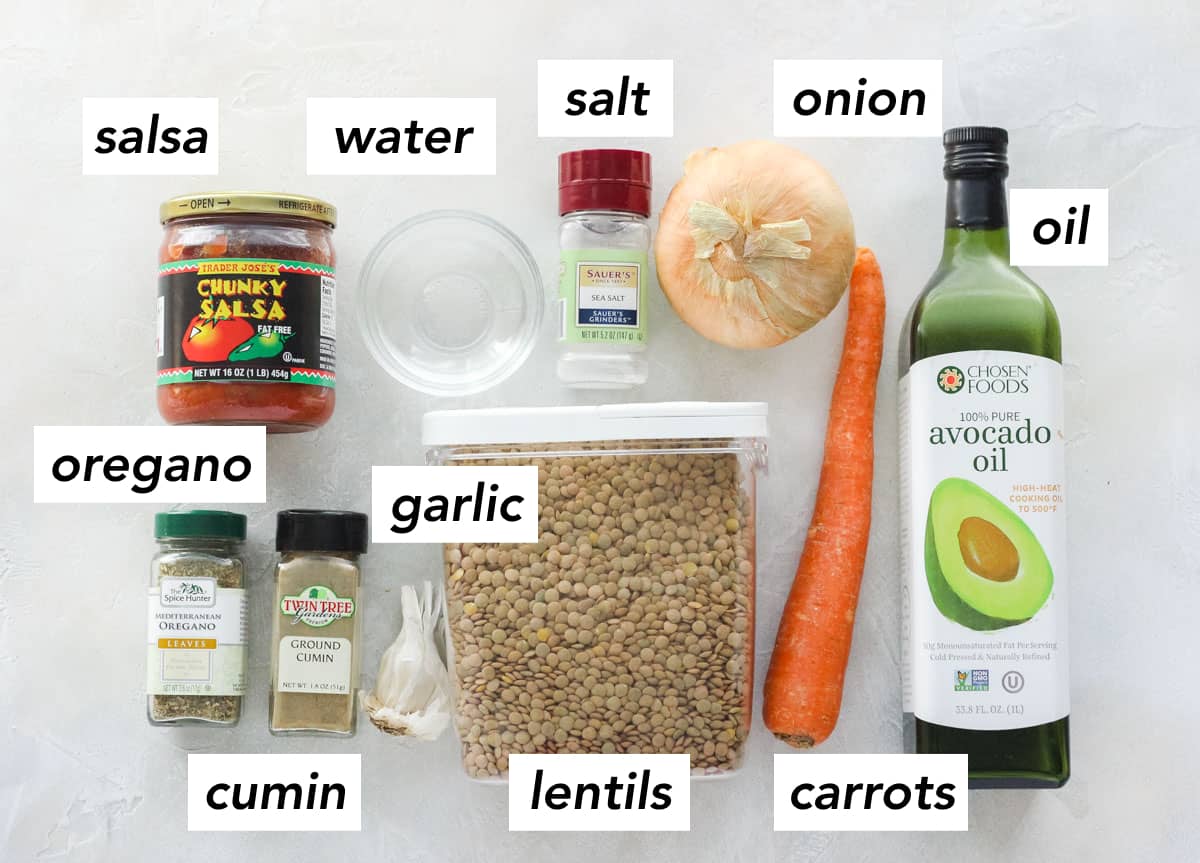 Ingredients
Oil: Olive oil, avocado oil, or canola oil are all good options. Butter or bacon grease are alternatives but the soup will no longer be vegan. Coconut oil could be used as a last resort but might give the soup a hint of coconut flavor.
Veggies: In this salsa soup recipe, you'll use onions and carrots. Bell peppers can also be added or used in place of an onion or carrot.
Spices: Dried oregano and cumin give the soup its flavor.
Liquid: For the most flavor, use broth. Vegetable broth is best for a vegan soup, or you can use chicken broth or beef bone broth if you want a little more protein.
However, you can use all water (instead of 4 cups of broth + 2 cups of water) to save money, reduce the sodium, or if you don't have any broth.
Lentils: Green lentils are preferred because they typically hold their shape better than red lentils. But red lentils are fine to use; simply note that your lentils will likely break down more. There's no need to soak the lentils before adding to the soup.
Salsa: Any type of salsa you like works well in this soup. Note that the salsa gives the soup most of its flavor, so make sure it's a salsa you enjoy. I wouldn't recommend a salsa with fruit since it likely won't be as good in a soup but use whatever you have.
Toppings: Fresh herbs like parsley or cilantro are great for topping. You can also top the salsa soup recipe with sour cream or plain yogurt, cheese, nutritional yeast, avocado slices, jalapenos, or anything you want.
Recipe Cost
olive oil 1 tablespoon: $0.24
onions 2 medium: $1
carrots 3 medium: $0.60
garlic 3 cloves: $0.18
cumin 2 teaspoons: $0.26
dried oregano 2 teaspoons: $0.16
broth 4 cups: $2.28
water 2 cups: $0
lentils 1.5 cups: $1.47
salsa 2 cups: $1.52
TOTAL COST: $7.71 or $1.93/serving (Based on San Diego grocery stores 2023)
Note that this is not the recipe; it's simply to show the cost breakdown of ingredients. Scroll down to the full recipe to see the specific ingredients and directions.
How to Make Salsa Lentil Soup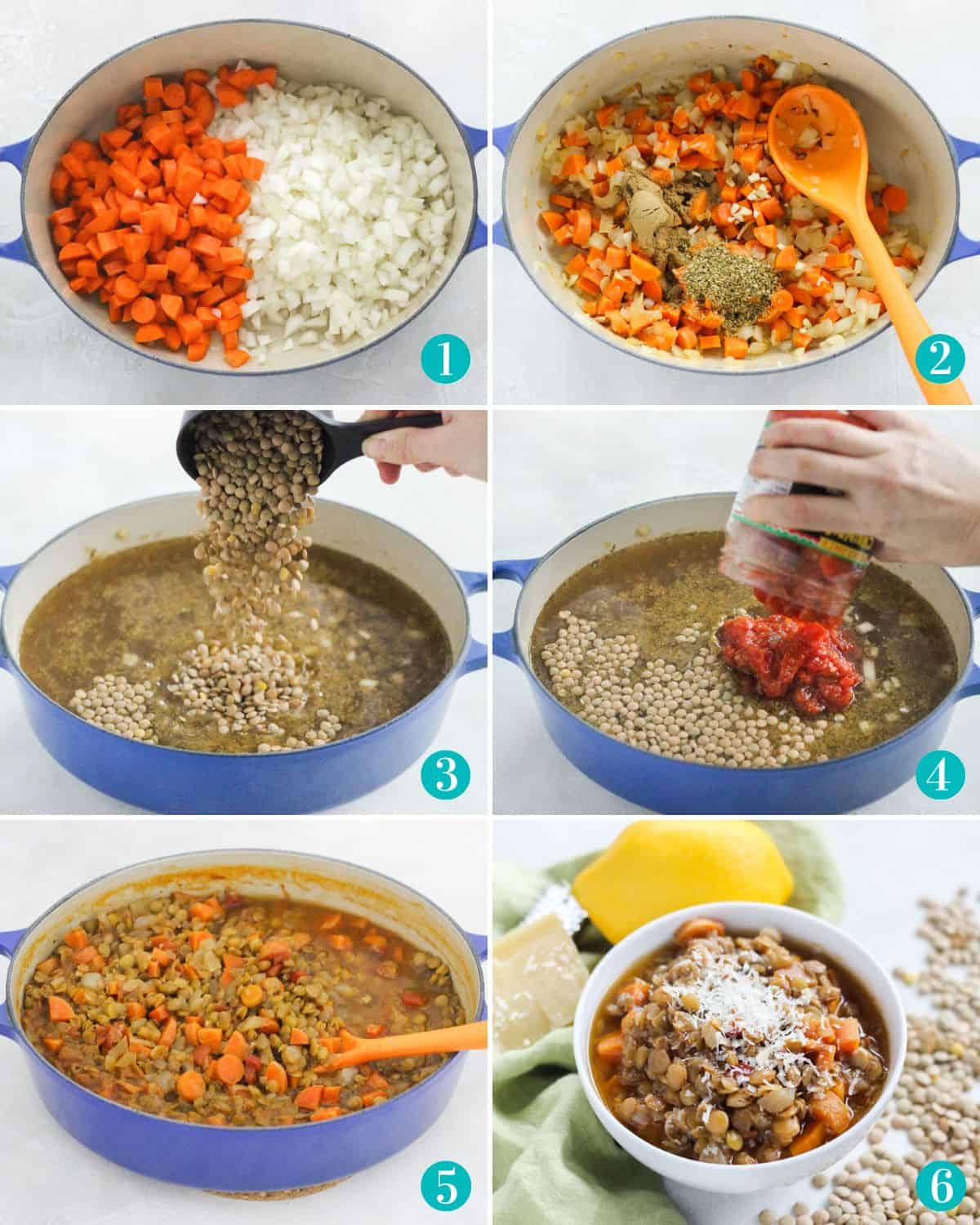 Time needed: 55 minutes.
How to make a simple lentil soup using pantry ingredients like salsa.
Sauté the veggies.
Add garlic and spices.

Stir until fragrant.

Add broth and water along with the lentils.
Stir in the salsa, bring to a boil. And simmer.
Simmer, until the lentils are cooked.

Be sure to stir occasionally. Add more liquid if needed.
Recipe Tips
Variations
Ingredient Options
Veggies: Bell peppers or celery can be added or used in place of onions or carrots.
Dried oregano: Salt-free Italian seasoning can be used in place of dried oregano.
Cumin: Chili powder can be used in place of cumin.
Flavor Substitutions
Salsa: Change the flavor of the soup by changing the salsa. You can use spicy salsa, mild or medium, or try a salsa verde.
How to Make Allergy-Friendly
This lentil salsa soup is already gluten-free, dairy-free, egg-free, soy-free, and nut-free. It's a vegan, vegetarian salsa soup recipe.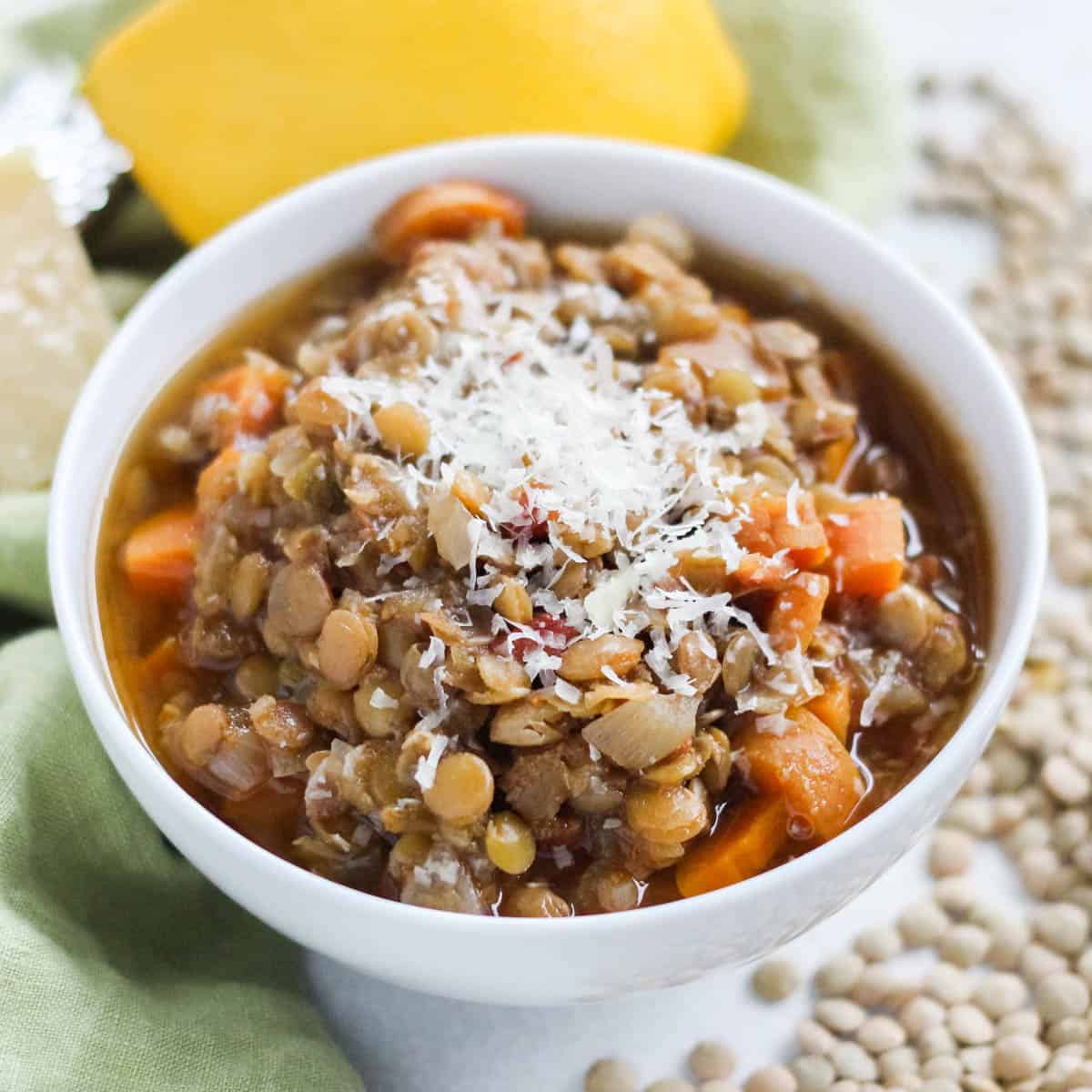 How to Fix a Mistake
Lacking flavor: Add a tablespoon or two of lemon juice, lime juice, red wine vinegar, or white wine vinegar.
Another option is to add ¼ cup of red wine. If you add wine, simmer the soup for at least 10 extra minutes.
Make-Ahead Ideas
Like most soups, this salsa lentil soup is delicious as leftovers. To prepare in advance, simply follow the directions and store in an airtight container in the fridge, and reheat when ready to enjoy.
Storage Suggestions
This soup can be kept in the refrigerator for around 5 to 6 days or in the freezer for up to 2 months.
If you are storing it in the freezer, I recommend storing the soup in smaller containers so you can defrost only the amount you need. This helps decrease the time it takes to defrost the salsa soup as well as prevent you from having to reheat more than you need.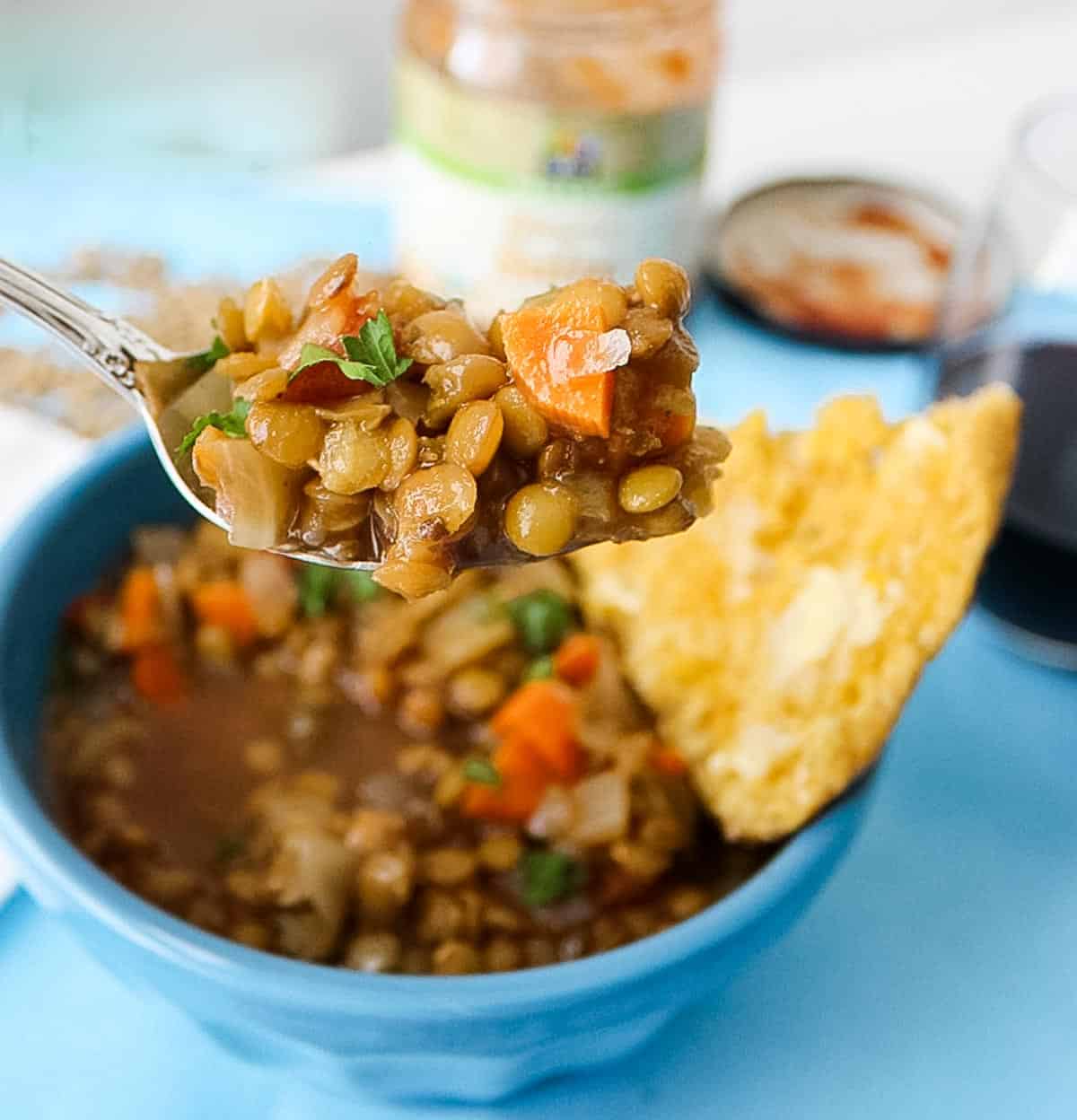 Frequently Asked Questions
Do you have to soak lentils before making soup?
You do not need to soak lentils before adding them to the soup.
Can you overcook lentils in soup?
Yes, it is possible to overcook lentils in soup. They will hold their shape less and likely be mushy. But there isn't anything wrong with eating them if they've been cooked for a long time. It's simply a possible change in texture.
What happens if you eat too much lentil soup?
Because lentil soup is very high in fiber, it can lead to gas and bloating if you consume large amounts of it.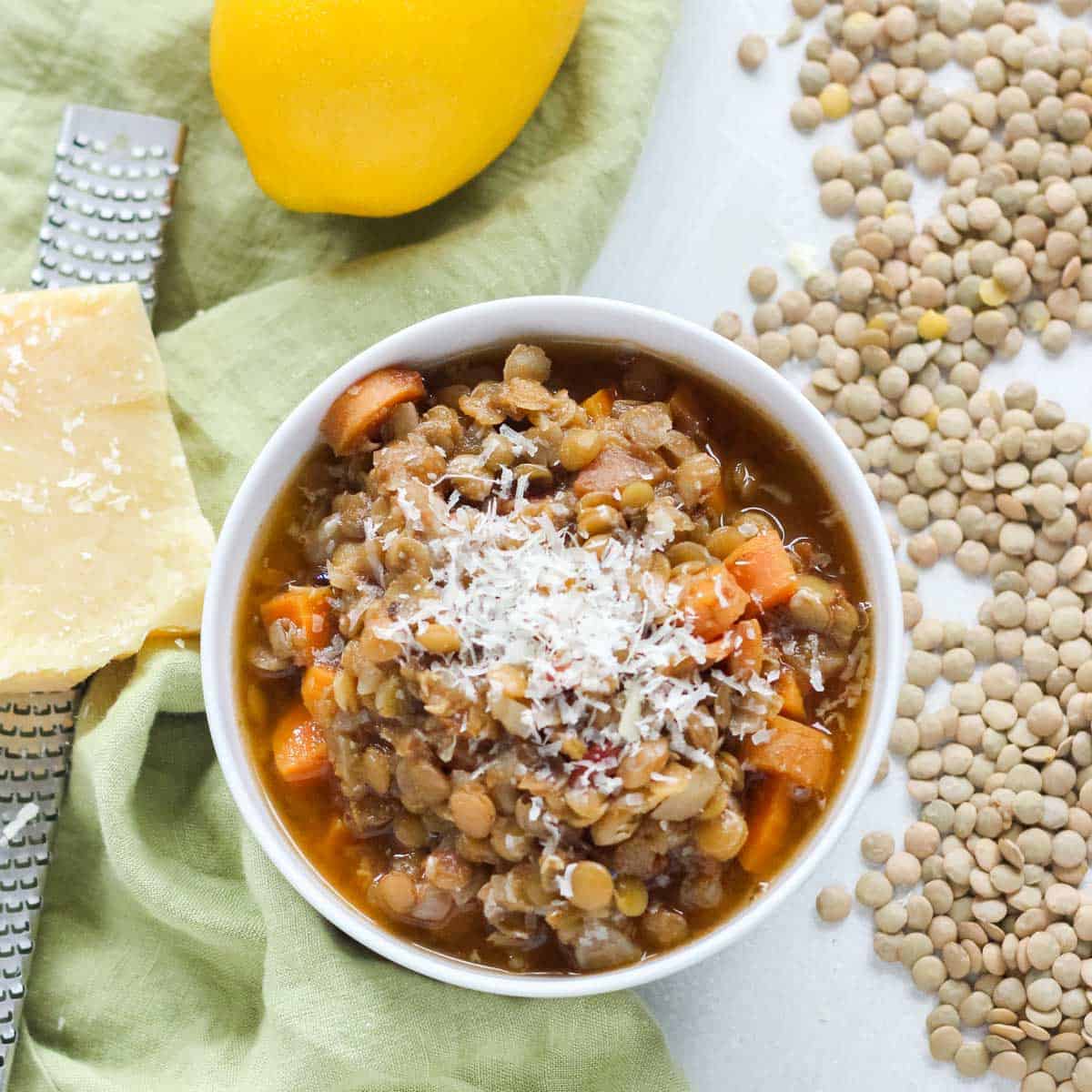 Nutrition Benefits
This salsa soup is super filling with 14 grams of protein and 18 grams of fiber which is 75% of the recommended amount to get in a day.
One serving of salsa lentil soup provides 111% RDA of Vitamin A, 28% RDA of iron, and 24% RDA of potassium.
It's also a good source of Vitamin C with 11% of the RDA.
Something to note is that the sodium is on the higher side like most soups often are.
Salsa is typically high in sodium. However, you can use homemade low sodium salsa with canned tomatoes.
Another way to help reduce sodium is to use water or homemade vegetable broth without added salt.
What to Serve with Salsa Lentil Soup
This lentil salsa soup is great served with a slice of cornbread. You can also serve it alongside crackers, with tortilla chips, or over rice.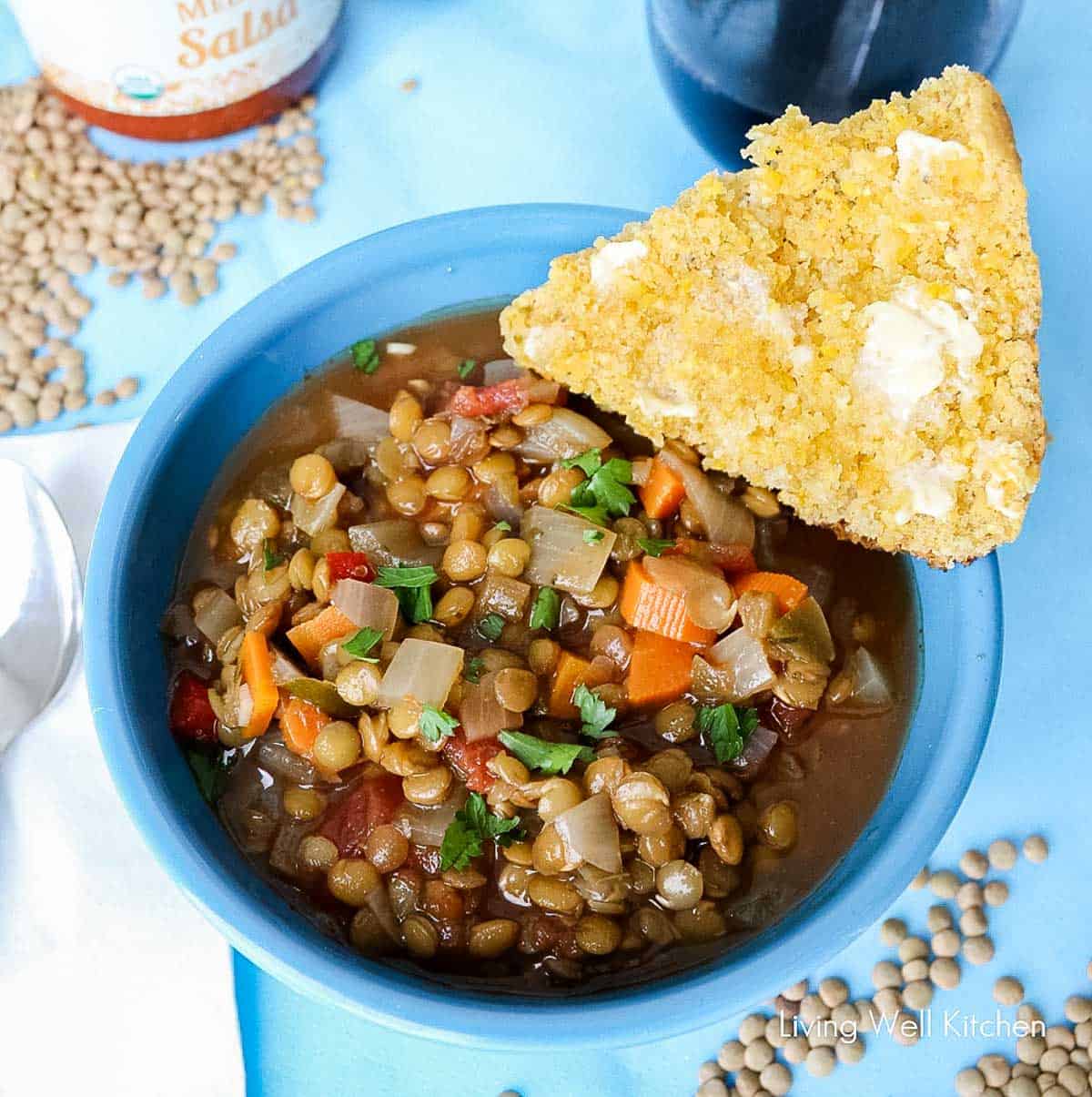 Final thoughts:
Maybe you never knew you'd need salsa soup recipes in your life, but this Lentil Salsa Soup proves you do.
It's great when you are trying to use up any veggies in the fridge and don't feel like going to the store since the majority of the ingredients can be found in the pantry.
Plus, it's budget-friendly and can be personalized based on what you like and how you want to serve it.
MORE BUDGET-FRIENDLY SOUP RECIPES YOU'LL LOVE: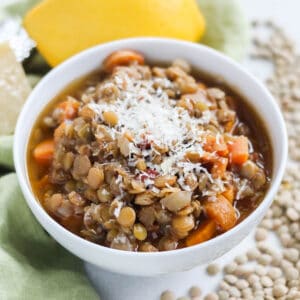 Salsa Lentil Soup
Salsa Lentil Soup is an easy, budget-friendly, vegan soup made with mostly pantry ingredients. High in fiber and protein.
Print
Rate
Total Cost:
$7.71 or $1.93/serving
Ingredients
1

tablespoon

olive oil

2

medium

onions

diced

3

medium

carrots

diced

3

cloves

garlic

minced

2

teaspoons

cumin

2

teaspoons

dried oregano

4

cups

vegetable broth

or chicken broth, unsalted

2

cup

water

1 ½

cups

dried green lentils

rinsed

2

cups

salsa

fresh chopped parsley for serving

optional
Instructions
Heat the oil in a large soup pot over medium-high heat. Sauté the onions and carrots until softened, about 7 minutes.

Stir in the garlic, cumin, & oregano and sauté, stirring constantly for 30 seconds.

Add in the broth, water, lentils, and salsa. Stir well.

Bring to a boil, partially cover, and reduce to a simmer.

Simmer for 30-45 minutes until the lentils are tender. Be sure to stir occasionally while simmering.

Serve and sprinkle with parsley if desired.
Notes
*

Refrigerate leftovers for up to 5 days or freeze for up to 2 months.
*Makes about 9 cups of soup.
*To reduce the sodium, you can use homemade low sodium salsa and homemade vegetable broth without added salt or water for the broth.
What to Use in This Recipe
Did you try this recipe?
Be sure to leave a comment & recipe rating below. Bonus points for tagging @memeinge & #livingwellkitchen on Instagram! THANK YOU! xo
*This lentil salsa soup is based on a recipe from the Healthy Kitchens, Healthy Lives September 2008 Conference
Meme
This post was originally published on March 4, 2013. The text, recipe, and photos have been updated.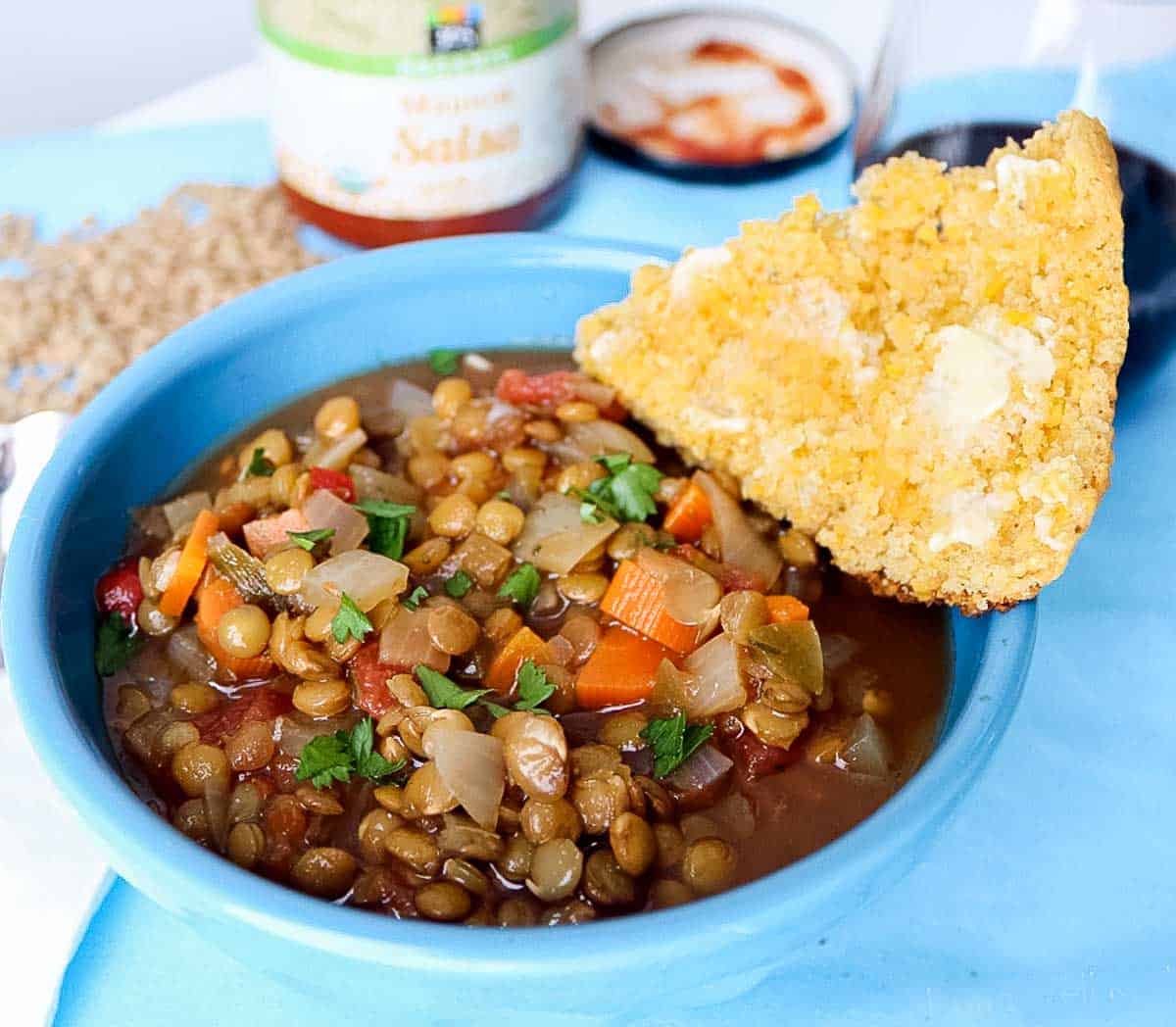 ---
Lentil Soup Calories
Nutrition Facts
Salsa Lentil Soup
Amount per Serving
% Daily Value*
* Percent Daily Values are based on a 2000 calorie diet.