White Bean Turkey Chili ready in 30 minutes is the best for a quick, adaptable, tasty dinner. Gluten-free, dairy-free soup that's simple enough for a weeknight meal but delicious enough for entertaining.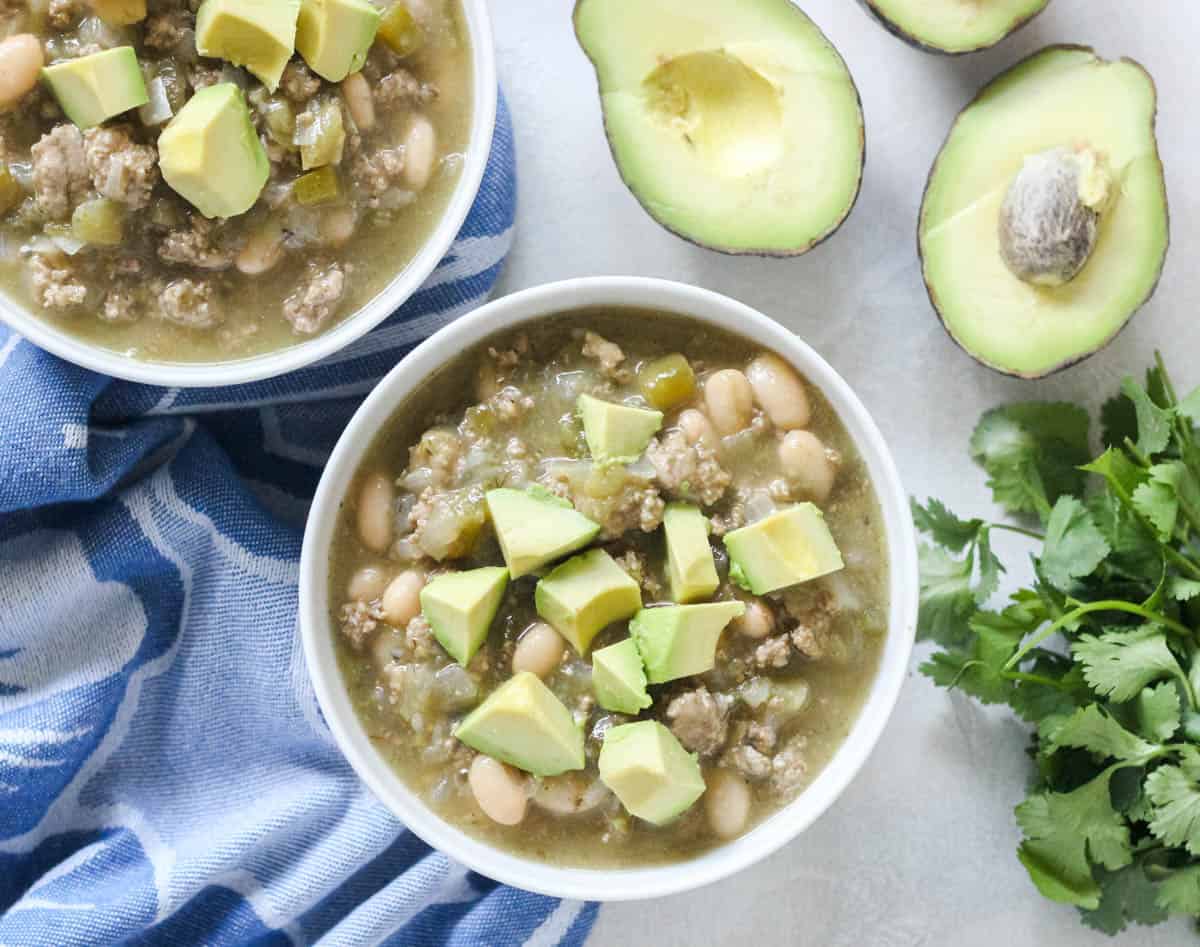 About White Bean Turkey Chili
Soups are fabulous for filling, satisfying, and healthy meals when the weather starts to get even the slightest bit of a chill.
It's so nice that everything is cooked in one pot (love a good one-pot meal!) and how easy it is to get a balance of protein, veggies, and fiber in one bowl.
This White Bean Turkey Chili is no different, and it's a rockstar recipe in my opinion because it's delicious, easy, quick, and gets rave reviews.
It's super fast to make but still tastes wonderfully home-cooked. It's a spicy but not make-your-eyes-water-and-nose-run type of spicy.
And my favorite part: it's full of vegetables and oh so filling. Plus, it freezes beautifully and is very budget-friendly — less than $3/serving!
Bonus points for the fact that it is incredibly adaptable to what you have on hand with the type of salsa you use, the veggies you add, and even the protein you choose.
So if you're looking for something quick to make for a delicious dinner tonight, this is it.
It's an easy, one-pot, comforting meal you can feel good about serving your family or even just for yourself to have a nourishing meal in the fridge or freezer ready to enjoy at any time.
Also, I highly suggest doubling the recipe to freeze for later or to serve for guests during cold weather months.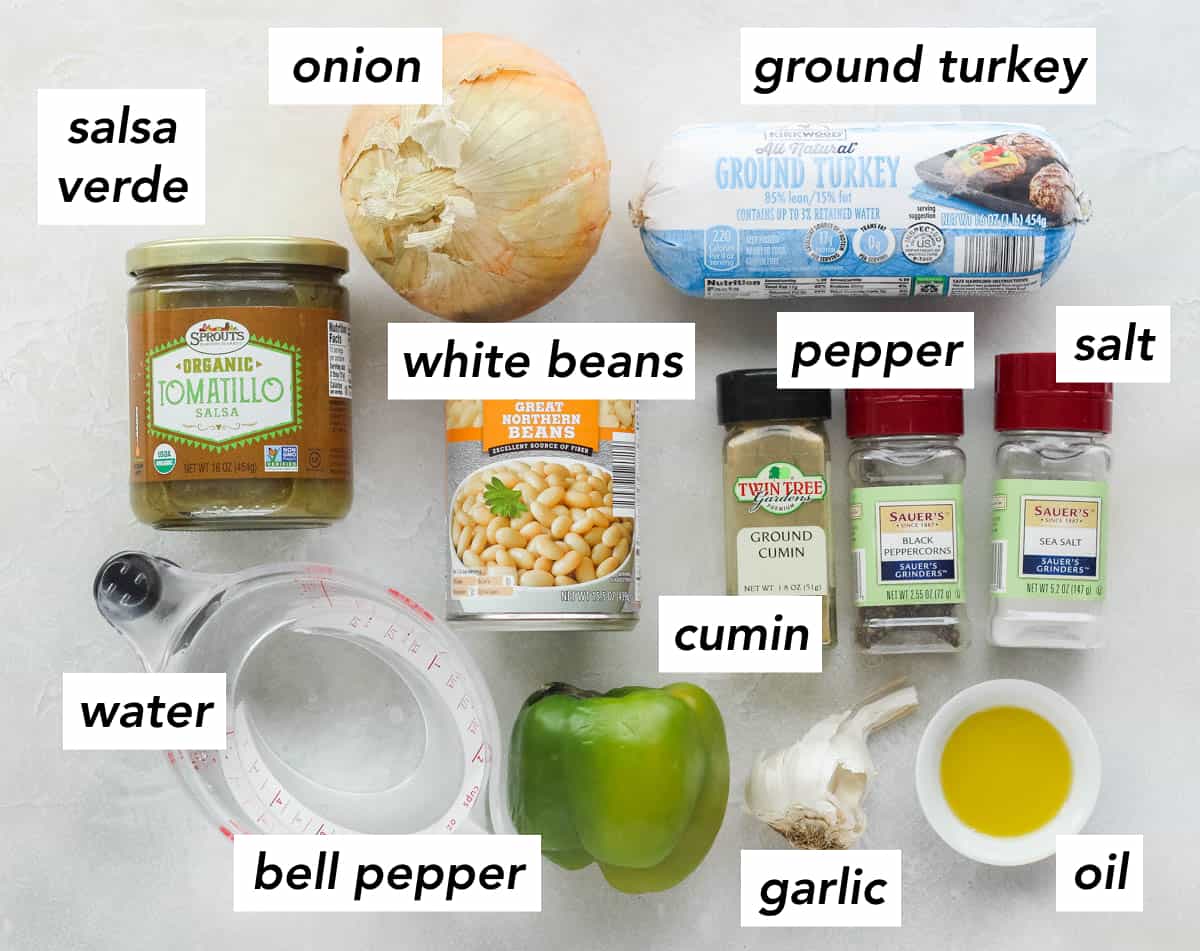 Ingredients
Oil: I typically use olive oil, but avocado oil and even coconut oil will work in this chili recipe since you are only using one teaspoon. The small amount of oil adds a touch of flavor and ensures that the turkey and vegetables do not stick to the pot.
Ground turkey: Regular ground turkey (that is usually noted as 85/15) is what I like to use as it is budget-friendly and has a good amount of flavor. Turkey breast also works very well in this chili but it has a little less flavor and it can be dry if you only cook the chili for 15 minutes. You can also use ground chicken in a pinch.
Note that if you use ground turkey breast, you'll want to increase the oil to one tablespoon instead of one teaspoon. I also like to cook the chili a little longer if using turkey breast so the flavors have time to infuse the turkey and keep it from being dry and/or flavorless.
Onion & Bell pepper: Like most soups and chilis, I add onion and bell pepper. I typically go for a yellow onion and green bell pepper because they are more budget-friendly, but any color onion (white, yellow, or red) and any color bell pepper will work well in this White Bean Turkey Chili.
Garlic: The garlic clove adds a little more flavor to the chili, but you can always substitute it with garlic powder if needed.
White beans: Simply use any type of white bean you like. I typically go with Great Northern Beans or White Kidney Beans/Cannellini Beans. You can also use Navy Beans or even Garbanzo Beans in a pinch.
Honestly, any bean will work so you can also use black beans, kidney beans, or pinto beans you can; obviously, it will no longer be White Bean Turkey Chili but that doesn't matter.
Salsa verde: Salsa verde is a salsa made with tomatillos, and it's the green salsa you see next to the tomato-based salsas in the store. You might see this salsa can be labeled as salsa verde, green salsa, or tomatillo salsa.
Salsa verde has a slightly sweeter, tangier taste than red (tomato-based) salsa, and it is delicious. Be sure to check the spiciness level of the salsa; they are similar to regular salsas.
Broth: Chicken broth bumps up the flavor - vegetable broth or beef broth are other good options. Homemade or storebought are both great, but you can also use water. The broth will give the chili a little bit more flavor but it's not noticeable enough to stress if you forget it.
If you use water, be sure to taste the chili before serving. You might want to add another ¼ teaspoon of salt or garlic powder to add some more flavor.
Spices: To give extra flavor to the chili, add cumin, salt, and black pepper. Cumin can be omitted, and you can substitute cayenne pepper or red pepper flakes for the black pepper. Or omit it if you want a more mild chili.
Toppings: Some of my favorite toppings for White Bean Turkey Chili are sliced or diced avocado, plain yogurt or sour cream, shredded cheddar cheese, or chopped cilantro.
Recipe Cost
olive oil 1 teaspoon: $0.08
ground turkey 1 pound: $4.99
onion 1 medium: $0.68
bell pepper 1 medium: $0.98
garlic 1 clove: $0.06
white beans 1 can: $0.99
salsa verde 16 ounces: $1.98
broth 2 cups: $1.14
salt ¼ teaspoon: $0.01
black pepper ⅛ teaspoon: $0.02
cumin 1.5 teaspoons: $0.19
TOTAL COST: $11.12 or $2.78/serving (Based on San Diego grocery stores 2023)
Note that this is not the recipe; it's simply to show the cost breakdown of ingredients. Scroll down to the full recipe to see the specific ingredients and directions.
How to Make White Bean Turkey Chili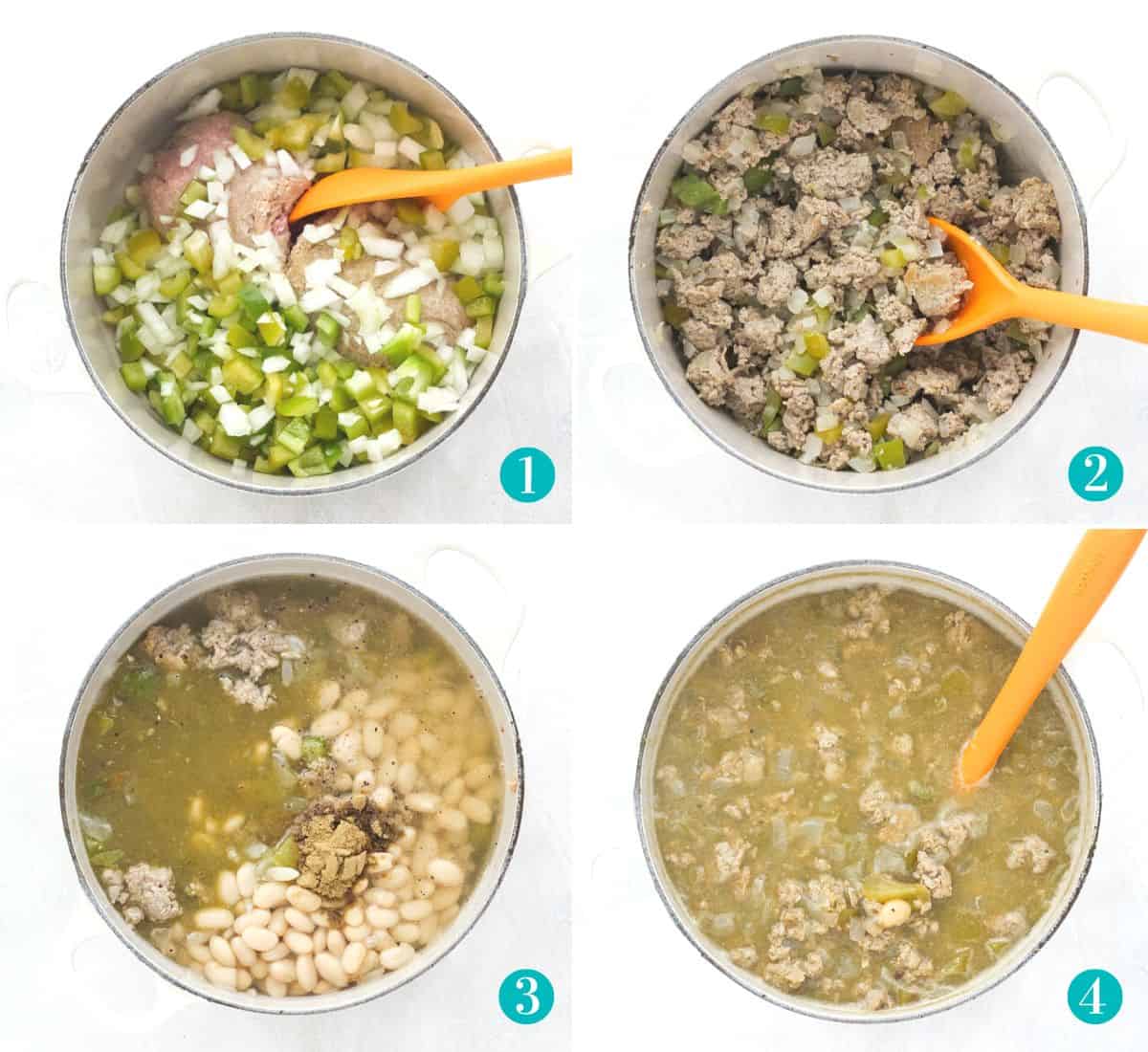 Time needed: 30 minutes.
This recipe is so simple and ready in no time. Here's how to make it:
Add oil, ground turkey, diced onions, and bell peppers to the soup pot.

Cook, crumbling the ground turkey with a spoon until the turkey is done, about 10 minutes.

Add in the garlic.

Stir until fragrant, about 30 seconds.

Pour in the broth, beans, and spices.

Stir well.

Bring to a boil, and reduce heat to simmer.

Simmer for 15-20 minutes or until ready to serve. Enjoy!
Tips for Making White Turkey Chili
Variations
Ingredient Options
Turkey: For the ground turkey, you can use ground turkey breast or regular ground turkey. If you are using turkey breast, I recommend increasing the oil from 1 teaspoon to 1 tablespoon, so the turkey doesn't stick to the pot. Also, you can substitute ground chicken or ground beef if needed.
Broth: Water is an easy substitute for the chicken broth in the recipe and one that I make often. You can also use vegetable broth or beef broth.
Garlic clove: Use ¼ to ½ teaspoon garlic powder in place of the garlic clove if desired.
Veggies: If you do not like bell peppers, omit them and add an extra onion. Vice versa if you want to skip the onion.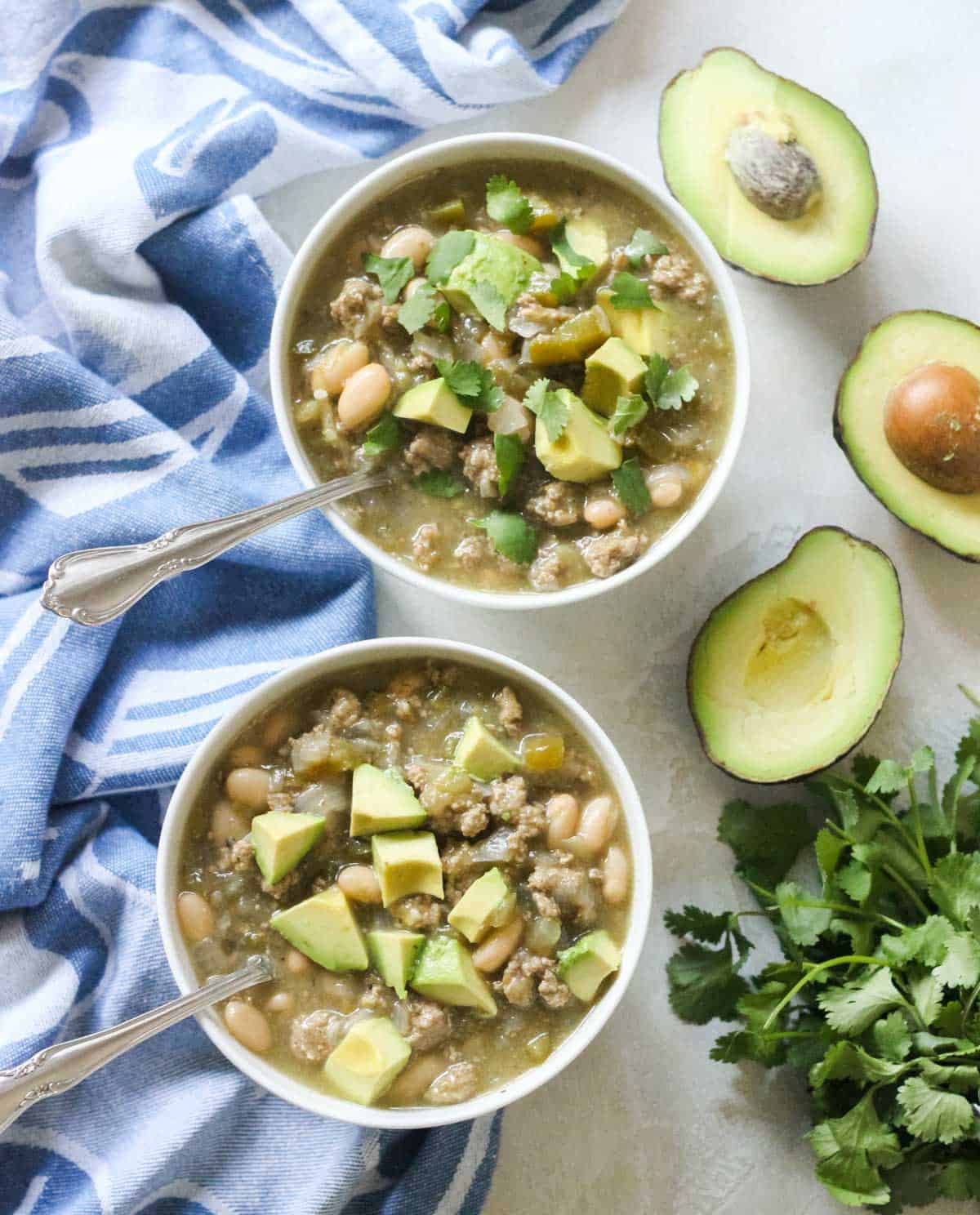 How to Make Allergy Friendly
Already gluten-free, dairy-free, egg-free, nut-free, and soy-free, Turkey White Bean Chili can fit almost any dietary preference.
However, if you want to make this vegetarian/vegan, you can add an extra (15-ounce) can of white beans to add protein and substance to the chili.
Flavor Substitutions
Salsa: Additionally, you can use a different type of salsa to change the flavor. Regular tomato salsa will work. And you can also use mild, medium, or spicy salsa depending on your heat preference.
Cumin: Because there are few ingredients, there isn't much you can do to change the flavor. However, you can omit the cumin if you don't like it because the salsa already maximizes the flavor in this salsa verde turkey chili recipe.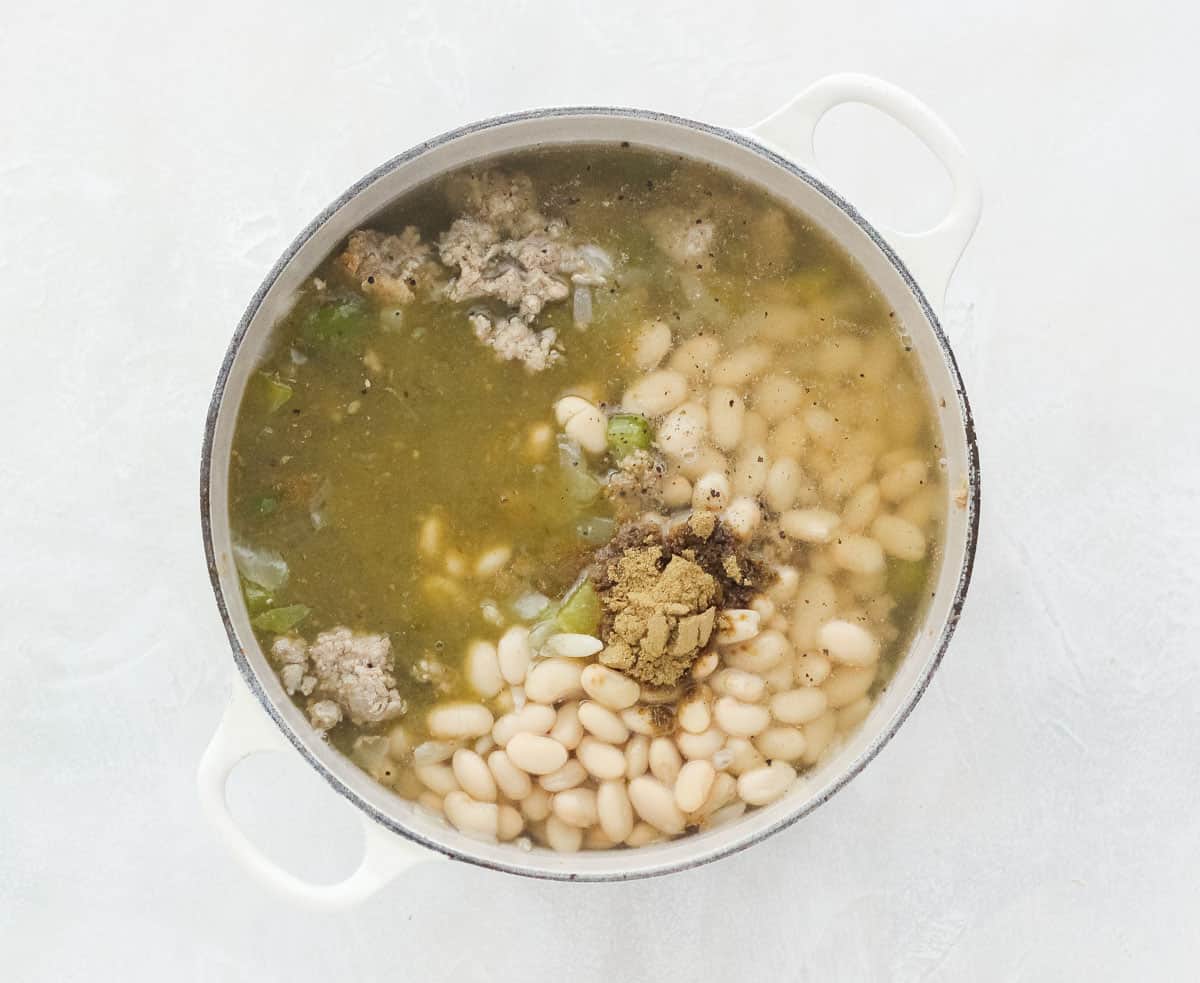 How to Fix a Mistake
Can't find salsa verde: That's ok! You can use any type of salsa. It might not be a white-based chili if you use regular, tomato salsa. However, it'll still be delicious.
Forgot to sauté the onions or bell peppers: Add them into the chili whenever you realize you forgot to add them. Then cook for an additional 20 minutes to allow them to soften.
Make Ahead Ideas
As with almost every soup or chili, this White Bean Turkey Chili is fabulous to make ahead of time. Simply make as directed and keep in an airtight container in the fridge or freezer.
Another option for making ahead of time is to chop the onion, bell pepper, and garlic in advance and store them in the fridge (up to 3 days) or freezer (up to one month) until ready to use. You can add them to the recipe when directed straight from the fridge or freezer.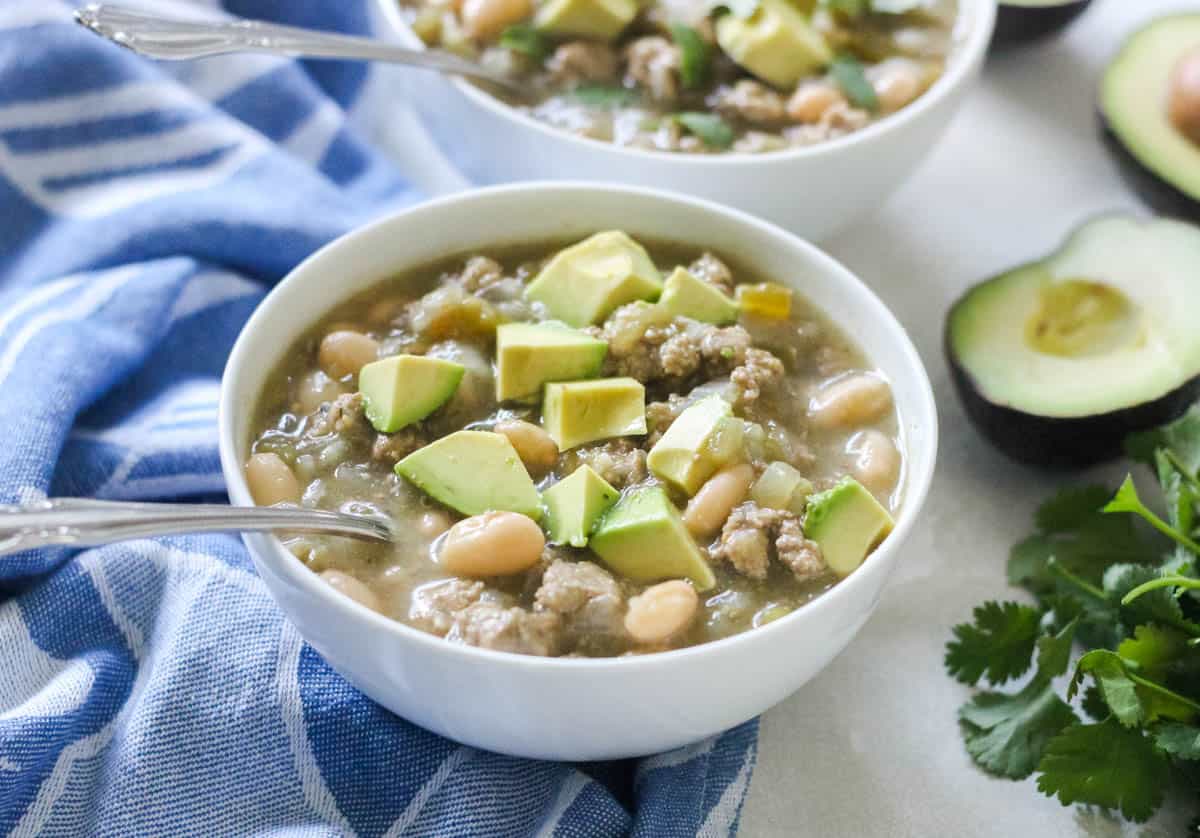 Storage Suggestions
Store in an airtight container in the fridge for up to 5 days or in the freezer for up to 6 weeks.
When freezing, I like to freeze in smaller containers. This helps so you only need to defrost the amount you are consuming at that time and not a huge batch of chili.
To reheat from the fridge: you can add to a soup pot and reheat over medium heat, stirring occasionally, until warm. Or add to a microwave-safe bowl and reheat at 60-second intervals, stirring in between, until warm.
To reheat from the freezer: you can put the container in the fridge 12 hours before eating to defrost completely.
Or defrost in the microwave in 2-minute intervals at 30% power (or according to the microwave directions).
I like to transfer to a soup pot when the chili is able to release from the container. Then, add a little bit of water to the pot with the frozen soup. Reheat it over medium-low, stirring occasionally, until warmed through.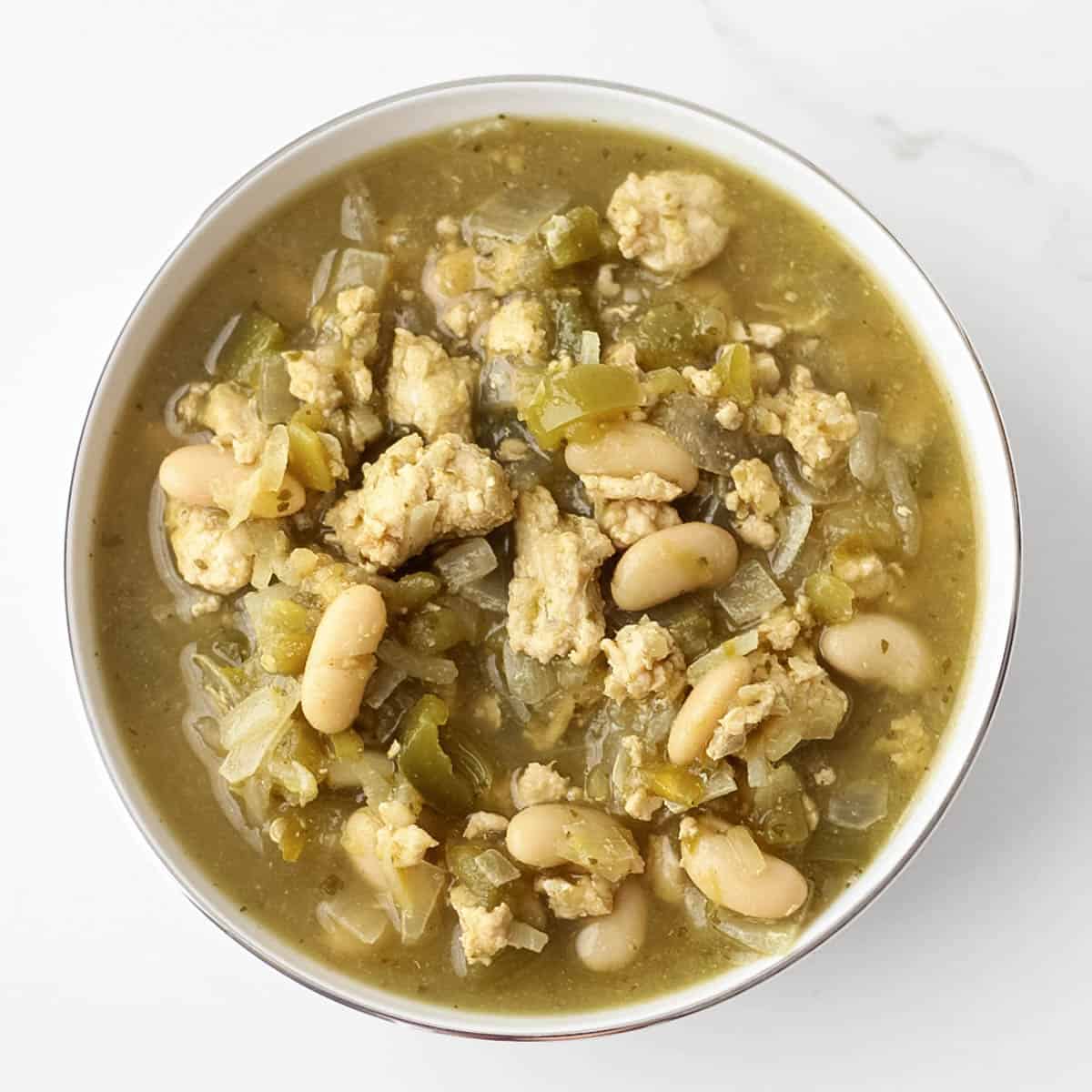 Frequently Asked Questions
Which white beans are best for chili?
Great Northern Beans, White Kidney Beans, and White Cannellini Beans are all great for chili. You can also use Navy Beans or Garbanzo Beans (Chickpeas).
Should you rinse beans before adding to chili?
If you are trying to decrease the sodium content in your chili, rinse the beans before adding.
Otherwise, you can add the liquid if you want. It will make the chili a little thicker than if you simply add water. However, it's not a noticeable difference, so it really doesn't matter.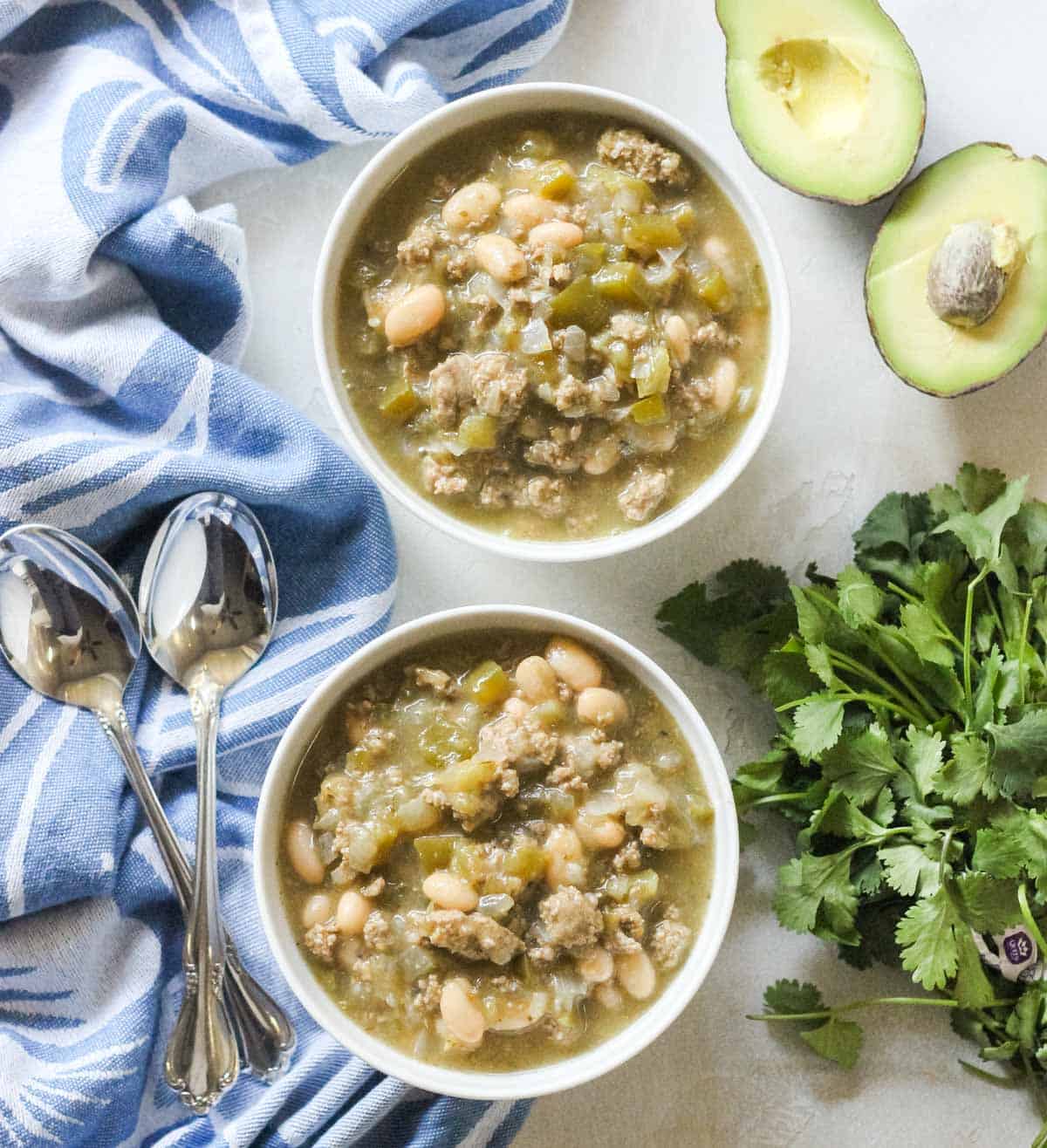 Nutrition Benefits
Beans and veggies provide you with fiber and nutrients. Bell peppers, onions, tomatillos, and garlic are all full of health benefits (click the links to read more about them).
The turkey and beans give the chili satisfying protein to keep you full. Plus, soup is hydrating for colder months when it's typically harder to remember to drink enough water throughout the day.
What to Serve with White Turkey Chili
Add extra flavor by topping a bowl of this healthy white bean turkey chili with fresh herbs like cilantro or parsley, plain yogurt or sour cream, and/or sliced avocado.
Honestly, it's a complete meal on its own with the turkey & beans providing protein, beans providing fiber and carbohydrates, and the salsa, bell peppers, and onions giving you a hefty dose of veggies in each serving.
If you want to add something extra, serve it with cornbread or a tasty dessert that's easy to throw together like these Almond Butter Banana Cookies.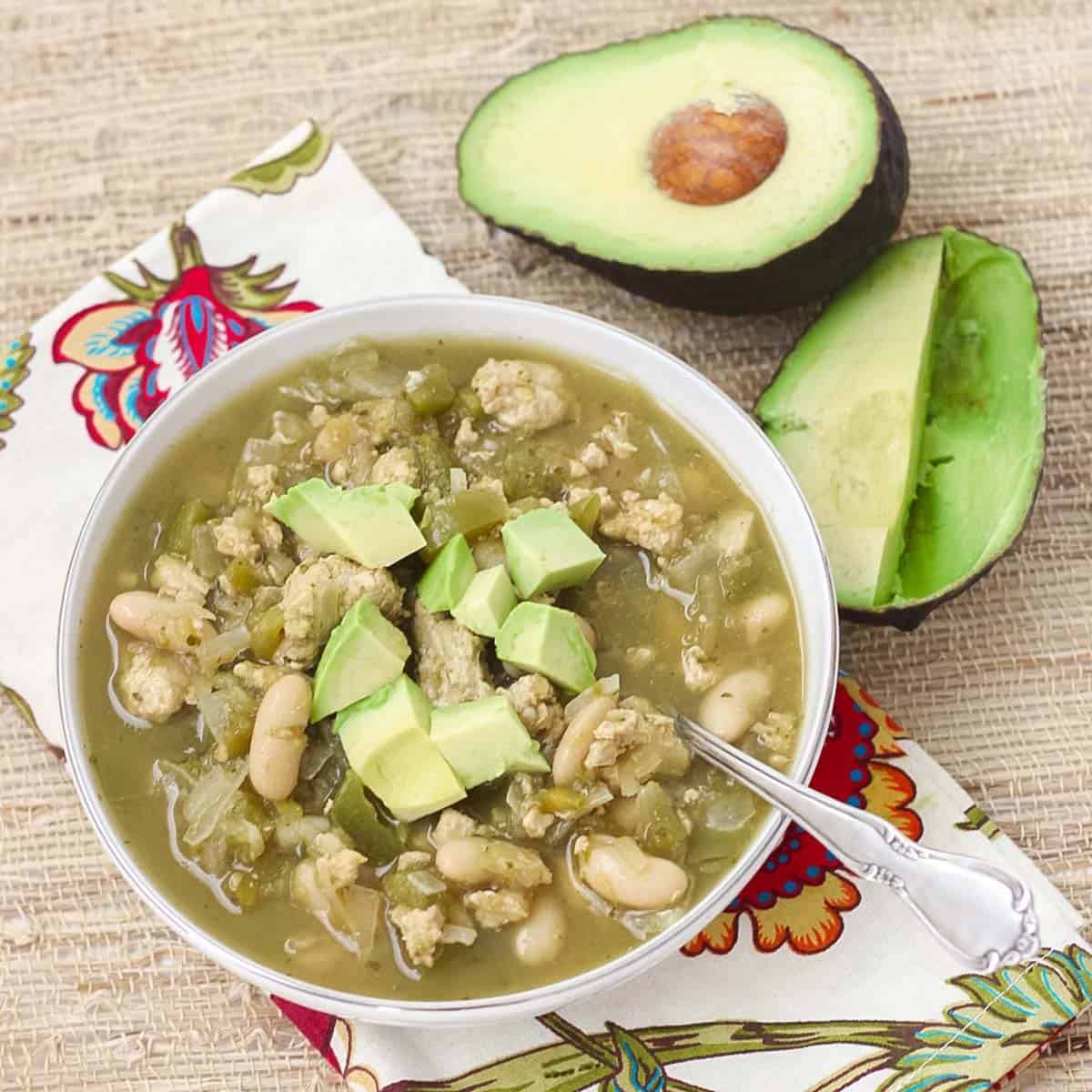 Final thoughts:
This reliable White Bean and Turkey Chili recipe is one I go back to time and time again because it's simple, quick, and delicious. And I can adapt it to whatever I have in my kitchen.
In fact, I try to keep the ingredients for it in my freezer/pantry so I can make it whenever I need an easy and filling dinner. Plus, I love that it freezes well and can be doubled to serve a crowd or have leftovers for later in the week.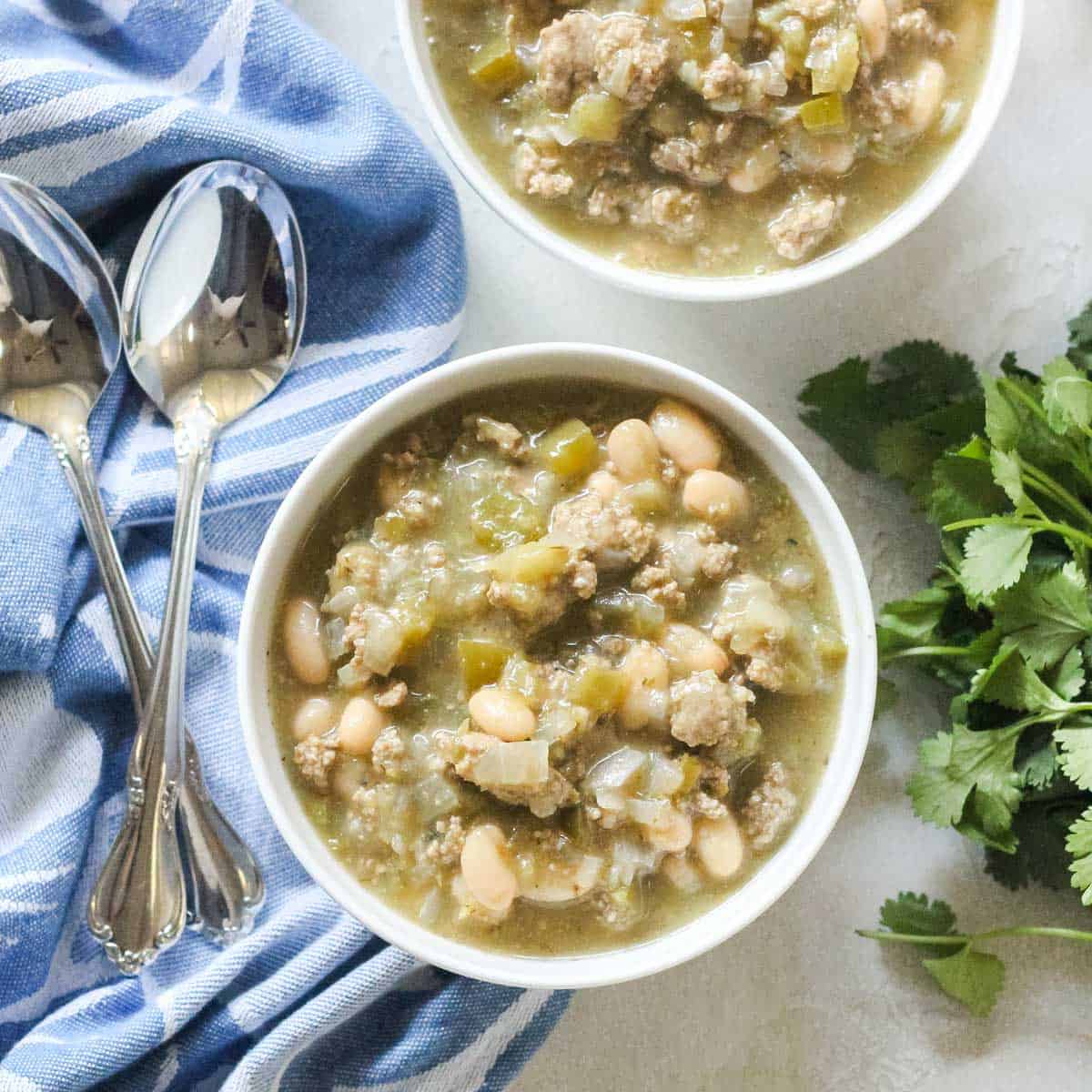 MORE CHILI RECIPES YOU'LL LOVE: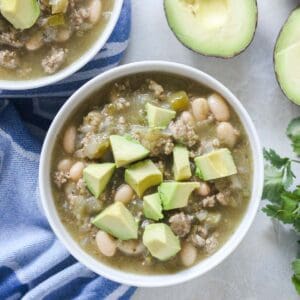 White Bean Turkey Chili
White Bean Turkey Chili ready in 30 minutes is the best for a quick, tasty, adaptable dinner. Simple enough for a weeknight meal and delicious enough for entertaining.
Print
Rate
Total Cost:
$11.12 or $2.78/serving
Ingredients
1

teaspoon

oil

avocado or olive oil

1

pound

ground turkey

1

medium

onion

diced

1

medium

green bell pepper

diced

1

clove

garlic

minced

1

(15 ounce)

can white beans

rinsed and drained

16

ounces

salsa verde

2

cups

chicken broth

or water

1 ½

teaspoon

cumin

¼

teaspoon

salt

⅛

teaspoon

black pepper

or cayenne pepper
Instructions
Heat a large soup pot or Dutch oven over medium heat.

Add oil, ground turkey, onion, and bell pepper. Cook, crumbling meat until turkey is done and onion and bell peppers have softened, about 10 minutes.

Add garlic. Stir for 30 seconds.

Add beans, salsa, water (or chicken broth), cumin, salt, and pepper. Simmer, partially covered, for 15-20 minutes, stirring occasionally.

Serve soup into four bowls and serve with toppings, if desired
Notes
*Makes 8 cups soup.
*Water, beef broth, or vegetable broth can be used in place of chicken broth. To keep the sodium from being very high, look for no-salt-added broth.
*Regular salsa can be used in place of the salsa verde (also known as green salsa or tomatillo salsa).
*Use mild salsa for a less spicy soup. Medium salsa will make your soup pretty spicy.
*To reduce the spiciness of the soup, you can also omit the pepper. Or add an extra can of rinsed & drained beans to balance the spice.
*Any type of bean can be used.
*Feel free to omit the salt and add it after serving, as desired.
What to Use in This Recipe
Did you try this recipe?
Be sure to leave a comment & recipe rating below. Bonus points for tagging @memeinge & #livingwellkitchen on Instagram! THANK YOU! xo
Meme
This post was originally published on October 10, 2012. Text, recipe, and photos have been updated.
---
Turkey White Bean Chili Nutrition Facts
Nutrition Facts
White Bean Turkey Chili
Amount per Serving
% Daily Value*
* Percent Daily Values are based on a 2000 calorie diet.