Pumpkin soup with bacon is simple, nutritious, and delicious! A quick, budget-friendly recipe using mostly pantry ingredients like canned pumpkin and apple sauce.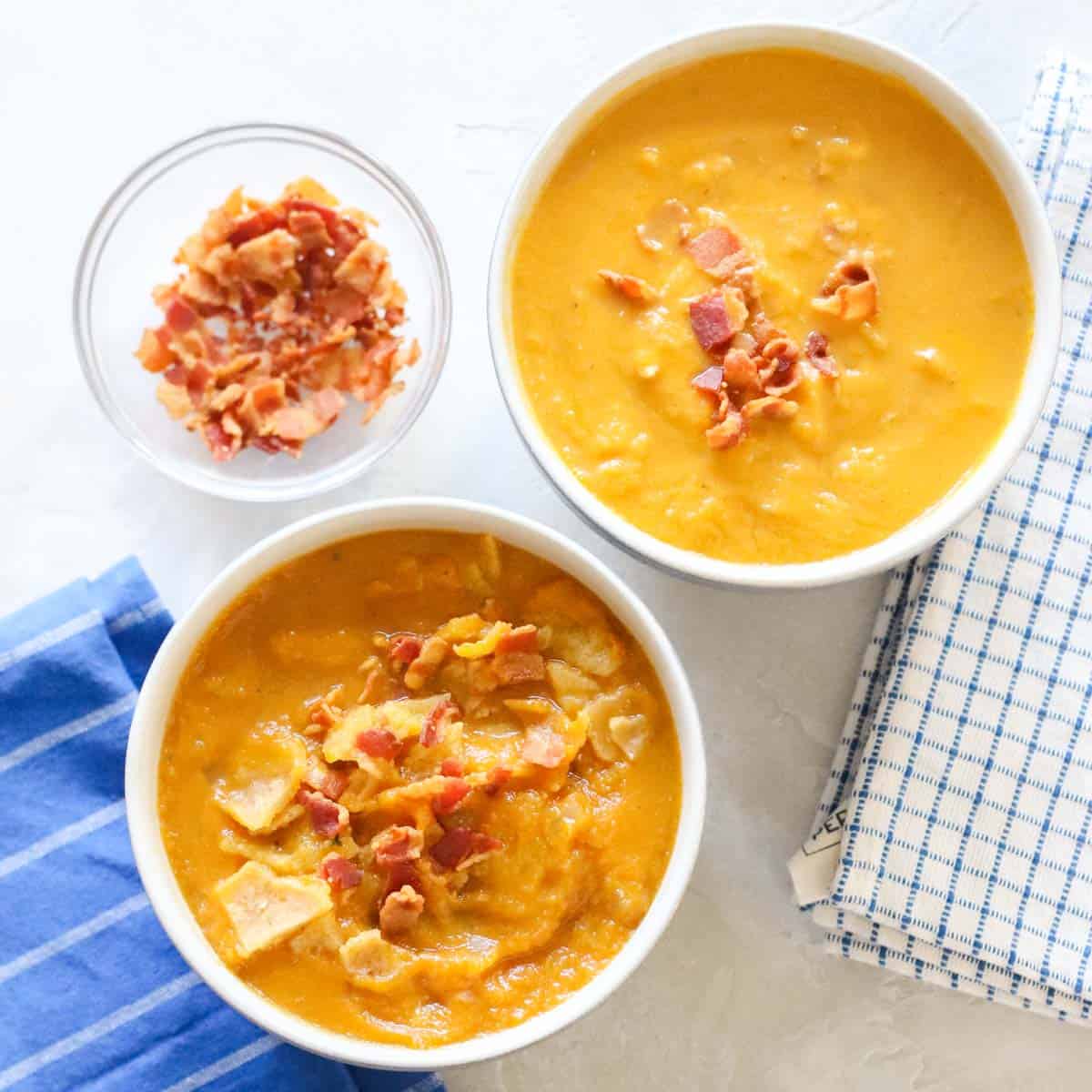 About Pumpkin and Bacon Soup
If you're looking for a savory pumpkin recipe that is simple, budget-friendly, and quick, you will love this pumpkin and bacon soup.
It's also full of nutrients thanks to pumpkin puree, onions, garlic, applesauce, and spices.
And of course, it's quite tasty.
Thanks to the spices, balance of sweet and savory, and bacon, this pumpkin apple bacon soup has tons of flavor despite being ready in about 35 minutes.
While most soup tastes better after cooking for a while, this soup is delicious in minutes.
For ease and quickness, there's no need to blend this soup. However, if you want an extra creamy soup, you can use an immersion blender or transfer to a blender to make the pumpkin bacon soup smooth.
Ingredients
Bacon: To get maximum bacon flavor, you'll cook the bacon in the soup pot. Then use the bacon grease to sauté the onions.
Onion: Use one large onion or two small/medium-sized onions. White, yellow, sweet, Vidalia, and red onions are all good options. If you want to save time, use about 2 cups of frozen diced onions.
Garlic: Fresh garlic or garlic powder are both good options. Use whatever you have available.
Broth: For the liquid in this soup, use vegetable broth, chicken broth, or water. No salt added or low sodium is best, so your soup isn't too salty. However, you can start with less salt and add more if needed.
Pumpkin: Since it's pumpkin and bacon soup, you'll need pumpkin puree. This recipe keeps things simple by using canned pumpkin puree. You'll need one large (29-ounce) can or 2 (15-ounce) cans. Make sure to double-check that you're using 100% pumpkin puree.
Applesauce: Sometimes, pumpkin soup can be bitter, and adding sugar balances that. That being said, applesauce provides natural sweetness to counteract the bitterness. Because you don't want your soup to be too sweet, no-sugar-added applesauce is best. Yet, regular applesauce is fine.
Spices: For this pumpkin soup with bacon, you'll use ground ginger, paprika, black pepper, cayenne pepper, and salt.
Yogurt: An optional ingredient, yogurt is added for a little creaminess and extra protein. It's not a mandatory ingredient and is great with or without it. Note that using greek yogurt will give a tangy taste that some might not love. It's best to serve this on the side for the option to add if you want.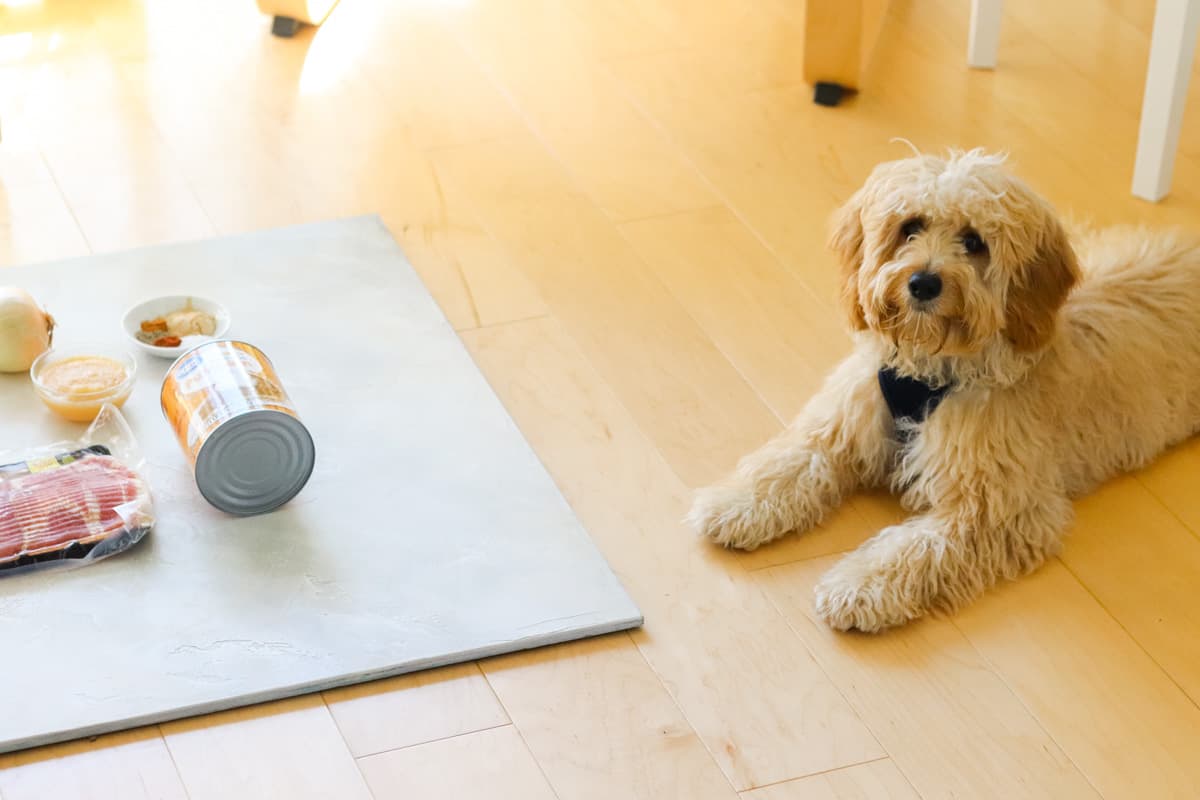 Cost of Recipe
bacon 4 slices: $1.50
onion 1 large: $0.68
garlic 2 cloves: $0.12
broth 4 cups: $2.28
pumpkin 29-ounce can: $2.58
applesauce 1 cup: $0.84
ground ginger 1 ½ teaspoons: $0.17
paprika ½ teaspoon: $0.08
salt ½ teaspoon: $0.01
black pepper ¼ teaspoon: $0.02
cayenne pepper ¼ teaspoon: $0.02
Greek yogurt ¼ cup: $0.28
TOTAL COST: $8.58 or $2.15/serving (Based on San Diego grocery stores 2022)
Note that this is not the recipe; it's simply to show the cost breakdown of ingredients. Be sure to scroll down to the full recipe to see the specific ingredients and directions.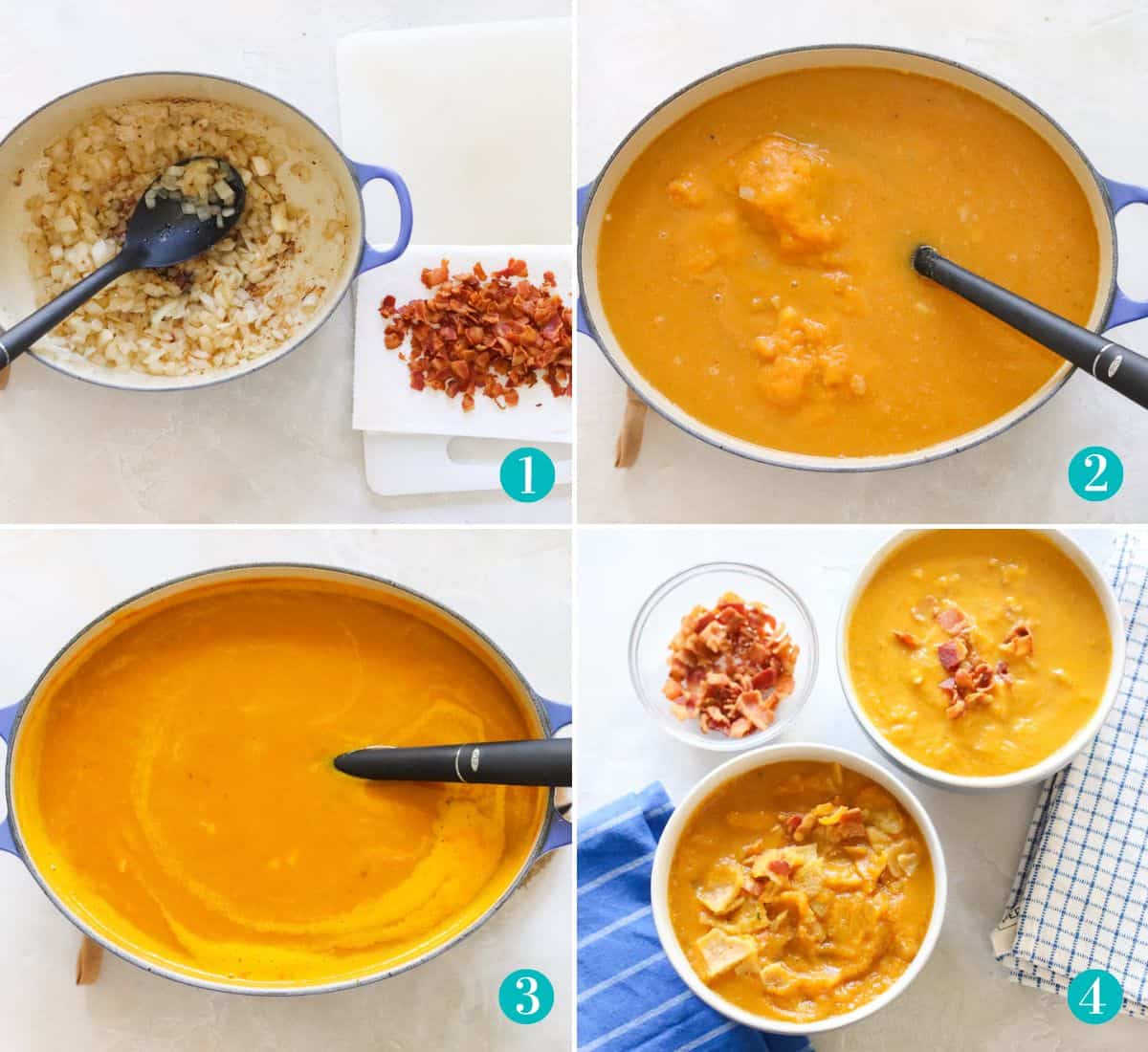 How to Make Pumpkin Soup with Bacon
Time needed: 35 minutes
This easy pumpkin bacon soup has minimal prep work and comes together in under 45 minutes. Here's how to make it.
After frying the bacon in a dutch oven or soup pot, sauté onions in the bacon grease.

Remove the bacon from the pot and set aside to drain. Leave most of the bacon grease in the pot for sautéing the veggies.

Add the garlic, spices, pumpkin, applesauce, and broth to the pot.

Stir and bring to a boil.

Reduce heat to simmer, and cook for about 10 minutes.
Remove from heat, serve, and enjoy!

You can puree the soup with an immersion blender if desired. Be sure to sprinkle cooked bacon over the soup when serving.
Recipe Tips
This soup is best when cooked quickly and enjoyed.
If you are simmering the soup for longer than 10 minutes, add an extra 1 to 2 cups of water.
Variations
Ingredient Options
Broth: Water, vegetable broth, or chicken broth will all be delicious.
Ginger: For this pumpkin and bacon soup recipe, you can use fresh ginger if needed. Use 2 tablespoons of fresh minced ginger.
Cayenne Pepper: Red pepper flakes are a good alternative to cayenne pepper.
How to Make Allergy-Friendly
Pumpkin soup with bacon is already gluten-free, egg-free, soy-free, and nut-free. If you do not add the yogurt, it'll be dairy-free.
For a vegetarian version, skip the bacon. Sauté the onion in 1 tablespoon of oil (avocado or olive oil). For a smoky flavor, use smoked paprika in place of the paprika.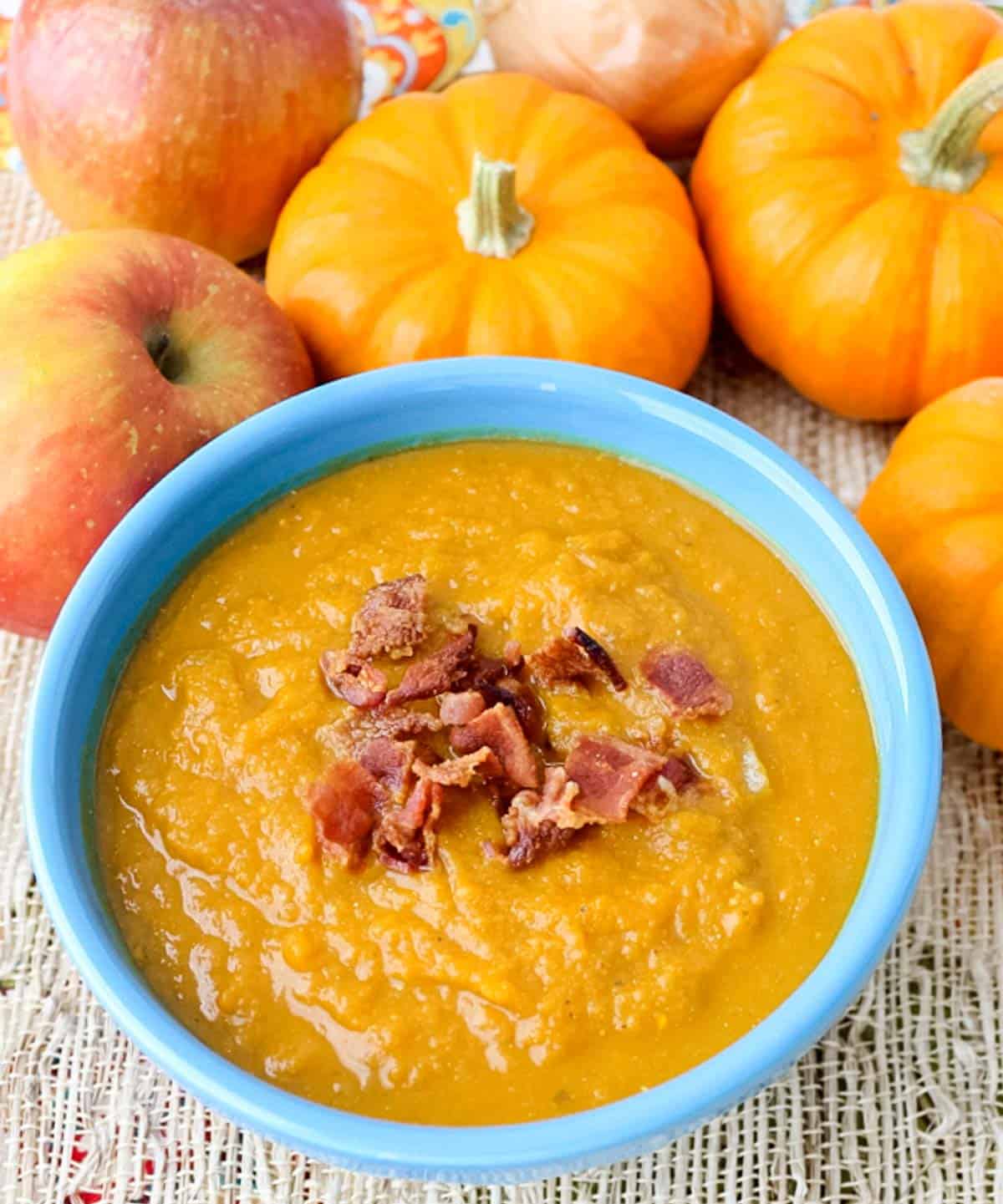 How to Fix a Mistake
Too thick: Add an additional 1 or 2 cups of water, and simmer for 5 minutes.
Too thin: Cook for another 15-30 minutes to allow it to cook down.
Not enough flavor: Add an extra ⅛ teaspoon of salt, a squeeze of lemon juice, one tablespoon of white wine vinegar, or ¼ teaspoon of red pepper flakes.
Make-Ahead Ideas
Like most soups, you can cook this pumpkin and bacon soup recipe ahead of time. Simply prepare as directed but do not add the optional yogurt and store the bacon in a separate container.
You can make this up to one week in advance.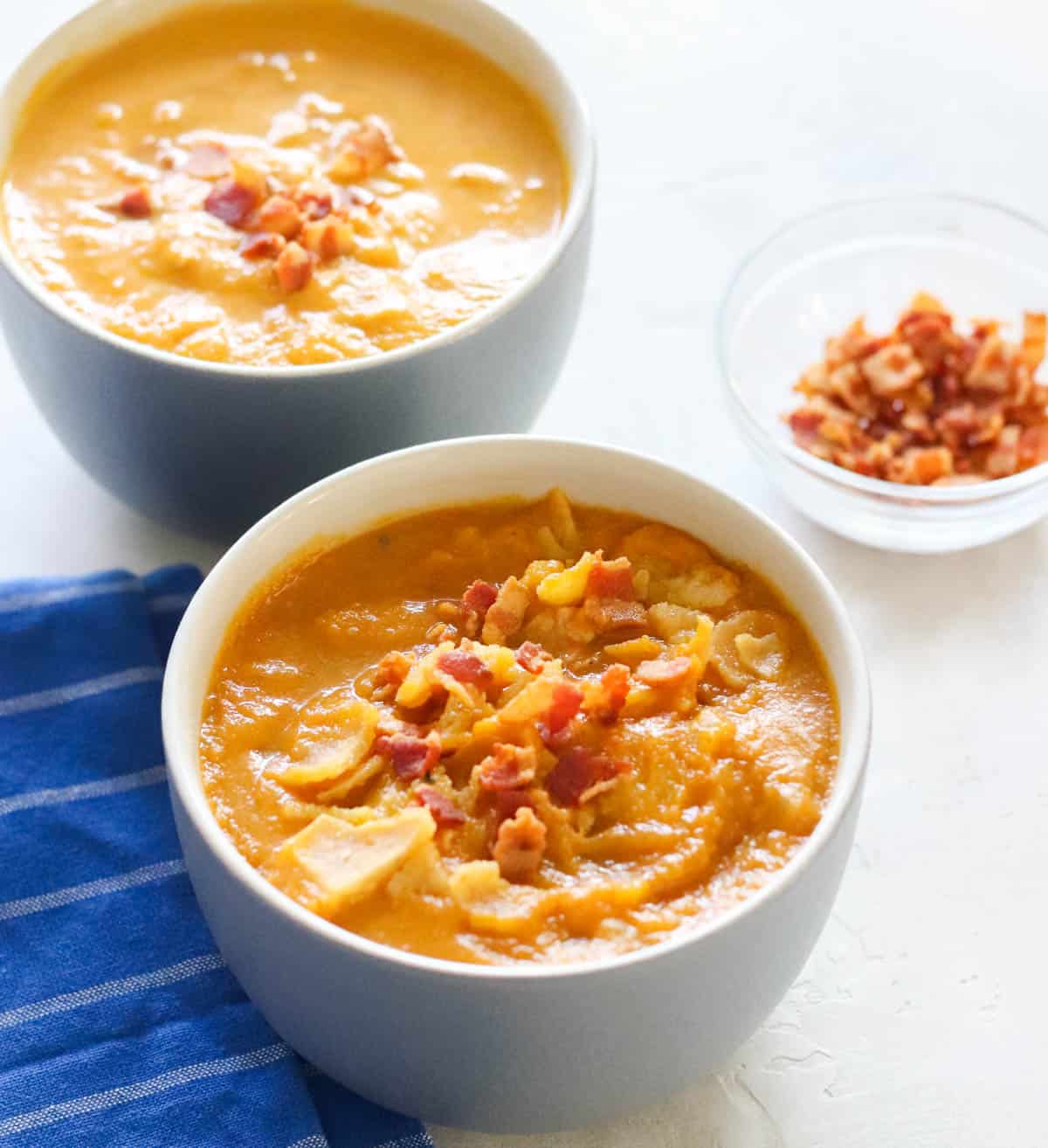 Storage Suggestions
Keep in an airtight container in the fridge for up to one week and in the freezer for up to 6 weeks.
The bacon should be stored in a separate container since it will soften soon after being added to the soup. Cooked bacon keeps in the fridge, tightly covered, for up to 4-5 days. It can also be frozen and tightly wrapped for up to 4 weeks.
Reheat in the microwave or on the stovetop over medium heat. If needed, add a little water to keep it from being too thick.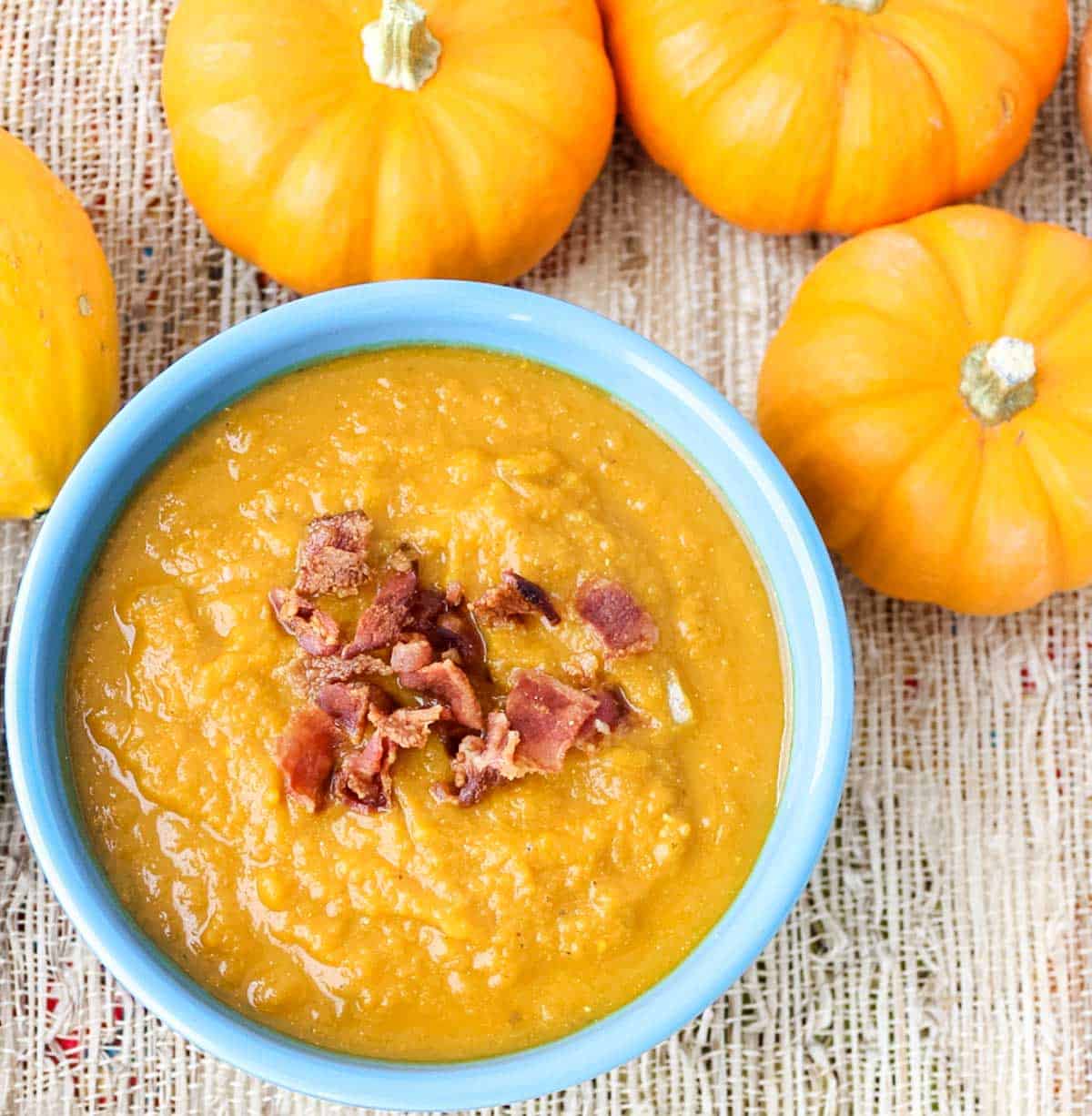 Frequently Asked Questions
How long does pumpkin soup last in the fridge?
This pumpkin bacon soup lasts for up to about 1 week in the fridge. Be sure to shake or stir before serving because the soup will separate a little when settled.
Nutrition Benefits
Each serving (2 cups) of this pumpkin soup recipe with bacon has about 2 full servings of vegetables & fruit. This means you get a ton of nutrients like 8 grams of fiber, antioxidants, and phytochemicals. A serving provides an excellent source of Vitamin A, Vitamin C, Potassium, and Iron.
Without the yogurt, you get about 10 grams of protein per serving. Adding the yogurt increases the amount to 12 grams of protein per serving.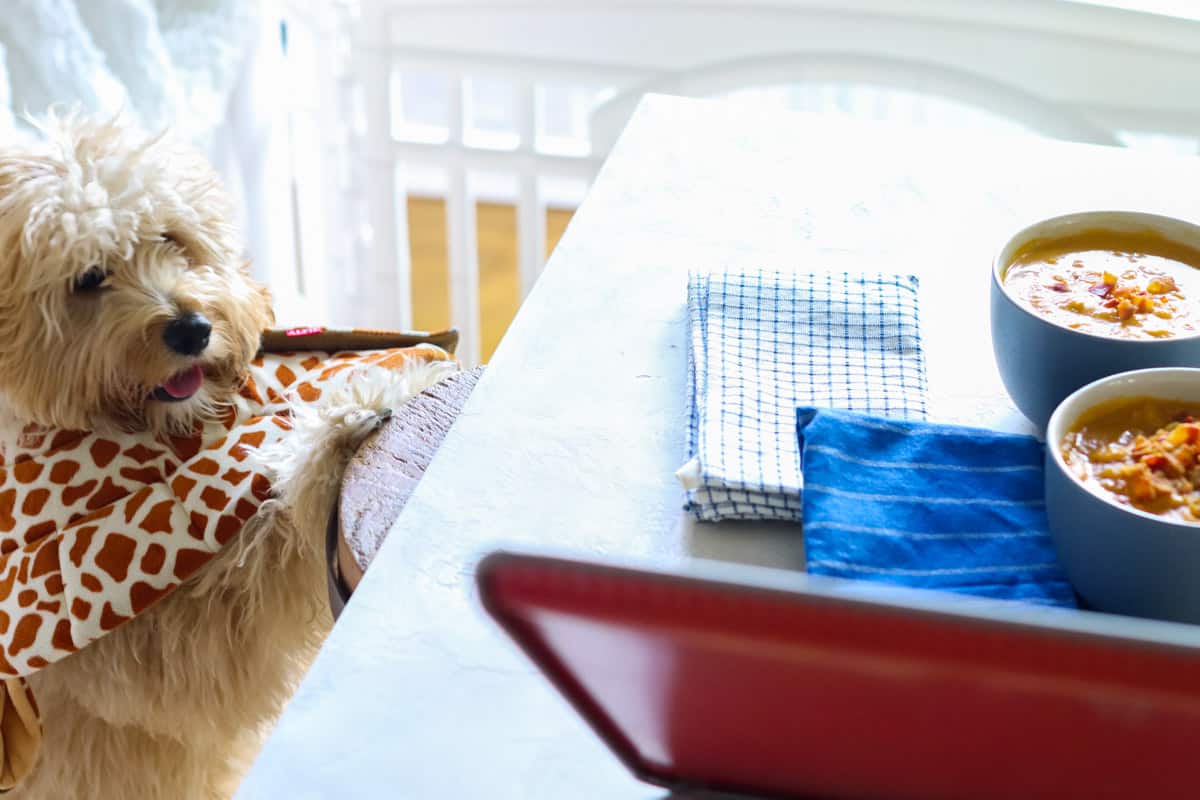 What to Serve with Pumpkin Soup with Bacon
While this is a thick and hearty soup, it likely won't be enough for a full meal.
If you want extra protein for this soup, you can top the soup with chicken, tofu, cheese, black beans, or chickpeas.
Sprinkle with pita chips, croutons, or crackers for more contrasting textures.
And add a grilled cheese or a twice-baked potato for something filling.
Final thoughts:
Perfect for a weeknight dinner, this easy pumpkin and bacon soup comes together with minimal prep work and is ready in under 45 minutes.
Thanks to sauteing the veggies in bacon grease and topping the soup with bacon, you get double the bacon flavor. It helps this light, veggie-filled soup to be more satisfying and delicious.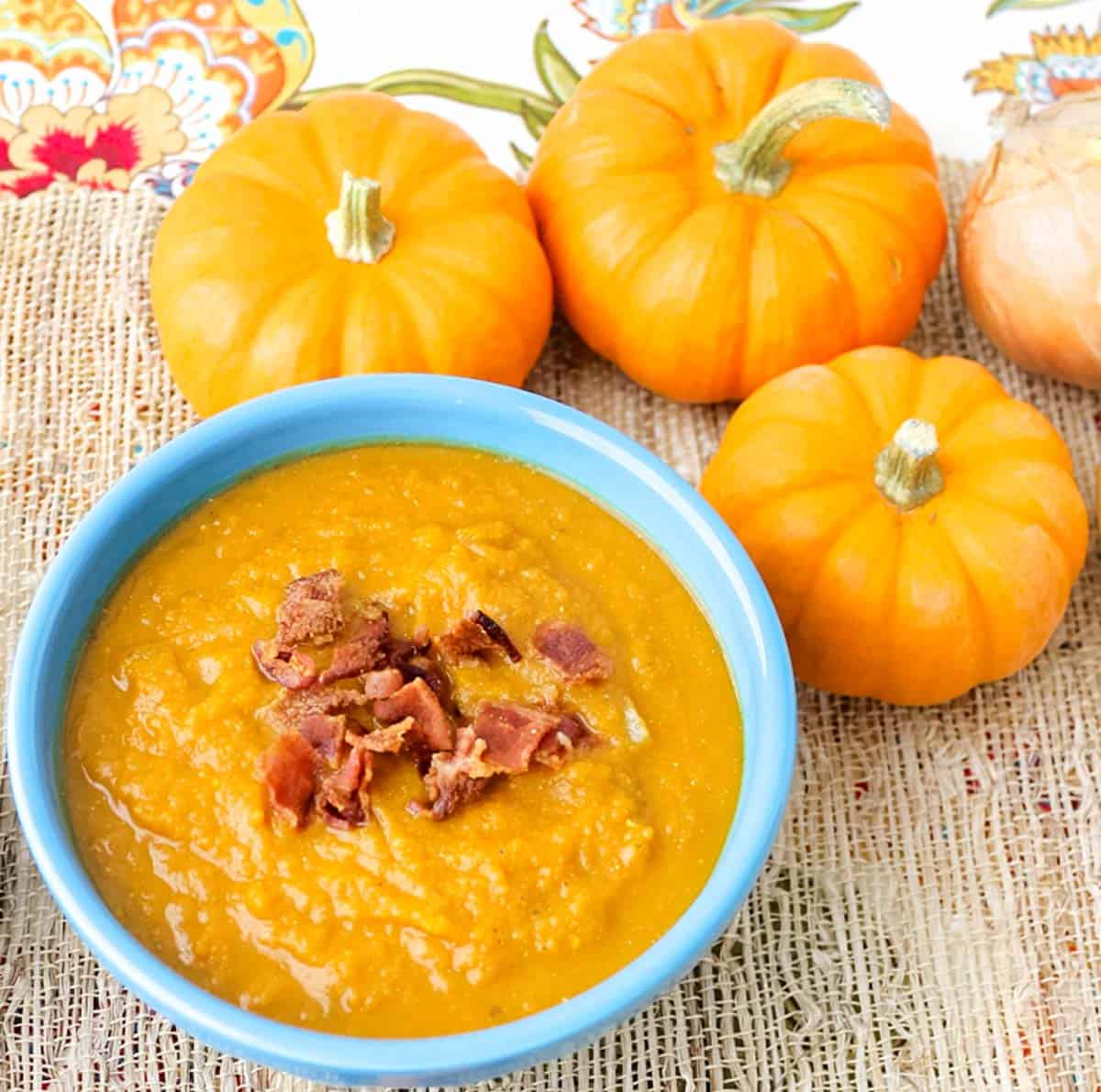 MORE SAVORY PUMPKIN RECIPES YOU'LL LOVE: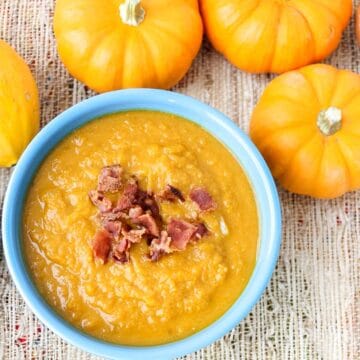 Pumpkin Soup with Bacon
Simple and quick pumpkin soup with bacon is filling, nutritious, and delicious! For this recipe, you only need a few ingredients including canned pumpkin and apple sauce for maximum fall flavor.
Print
Rate
Total Cost:
$8.58 or $2.15/serving
Ingredients
4

slices

bacon

chopped

1

large

onion

diced

2

cloves

garlic

minced

4

cups

broth

low-sodium chicken or vegetable

29

ounce

can 100% pure pumpkin

1

cup

applesauce

no sugar added

1 ½

teaspoon

ground ginger

½

teaspoon

paprika

½

teaspoon

salt

¼

teaspoon

black pepper

¼

teaspoon

cayenne pepper

¼

cup

plain Greek yogurt

optional
Instructions
In a Dutch oven, cook the bacon over medium heat. Drain on a paper towel and set aside. Wipe out some of the bacon grease, leaving about 1 tablespoon in the pot.

Add onion to Dutch oven with bacon grease. Sauté the onion over medium-high heat until softened, about 7 minutes. Add garlic and stir constantly for 30 seconds.

Stir in broth, pumpkin, apple sauce, ginger, paprika, salt, pepper, and cayenne pepper. Stir well to completely combine. Bring to a boil. Reduce heat to low and simmer for 5-10 minutes, stirring occasionally.

Remove from heat and stir in Greek yogurt if using. Serve in bowls and sprinkle with cooked bacon. Enjoy!
Notes
*Makes about 8-9 cups of pumpkin soup.
*Use 2 (15-ounce) cans of pumpkin puree if you don't have a 29-ounce can.
*If you are simmering the soup for longer than 10 minutes, add an extra 1 to 2 cups of water.
*If you want an extra creamy, smooth soup: After cooking, remove from heat and use an immersion blender or transfer to a blender.
What to Use in This Recipe
Did you try this recipe?
Be sure to leave a comment & recipe rating below. Bonus points for tagging @memeinge & #livingwellkitchen on Instagram! THANK YOU! xo
Meme
This post was originally published on October 17, 2013. Text, recipe, and photos have been updated.
---
Pumpkin Soup with Bacon Nutrition Facts (calculated with yogurt)
Nutrition Facts
Pumpkin Soup with Bacon
Amount per Serving
% Daily Value*
* Percent Daily Values are based on a 2000 calorie diet.