Lentil Chili recipe that is vegan, vegetarian, budget-friendly, and gluten-free. Option to make in the Instant Pot or on the stovetop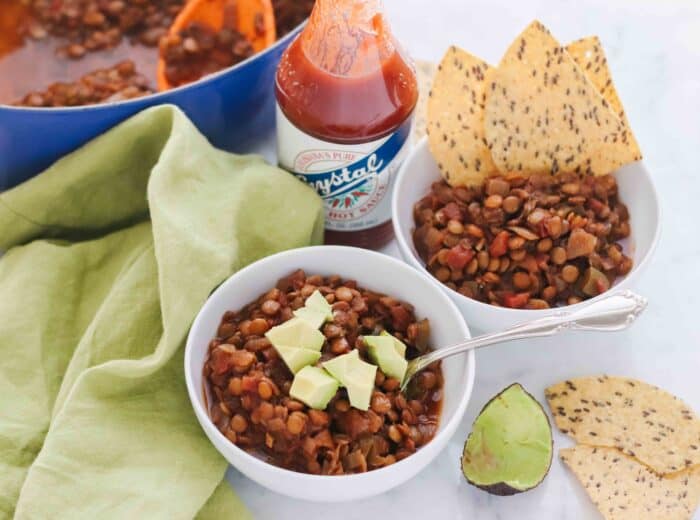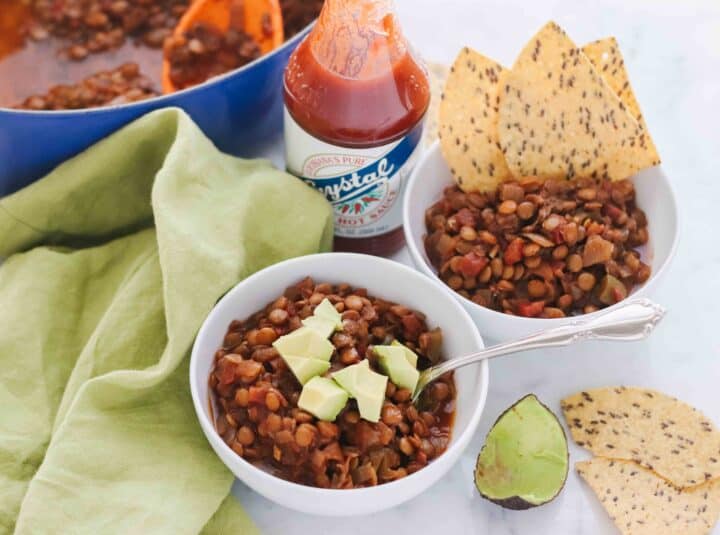 About Lentil Chili
Less than $5 to serve 4 people?! Yes, please!
While I am typically more of a beef chili or turkey chili kind of fan, I can get behind this Lentil Chili since it's so easy to make, budget-friendly, and very hearty.
A two-cup serving is almost too much for me sometimes, especially when it's topped with cheese (my preferred topping of choice for this lentil chili recipe) and/or avocados or tortilla chips.
Another thing that is great about it is that it comes together in about an hour, and it can be made on the stovetop or in the Instant Pot (or pressure cooker). I prefer the Instant Pot if you have one because I think chili tastes better the longer it has to cook. However, it really is delicious either way.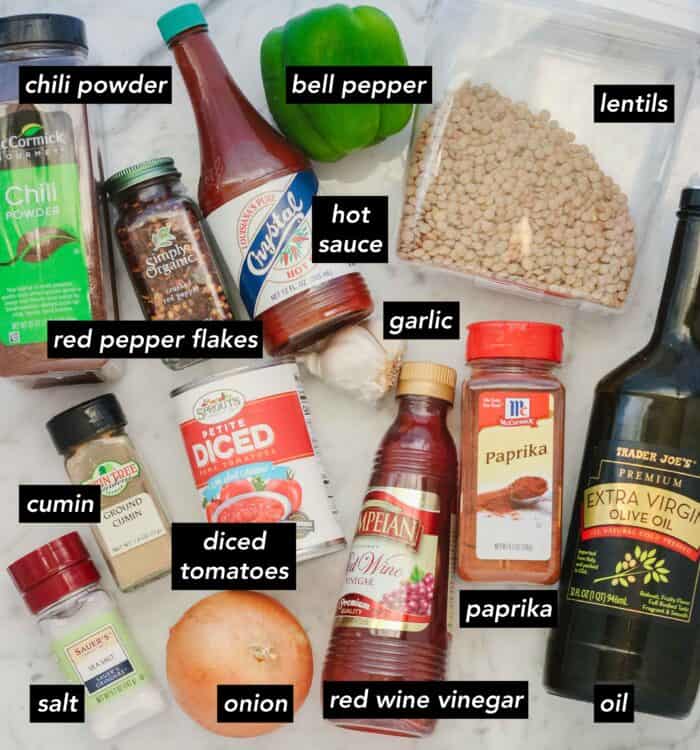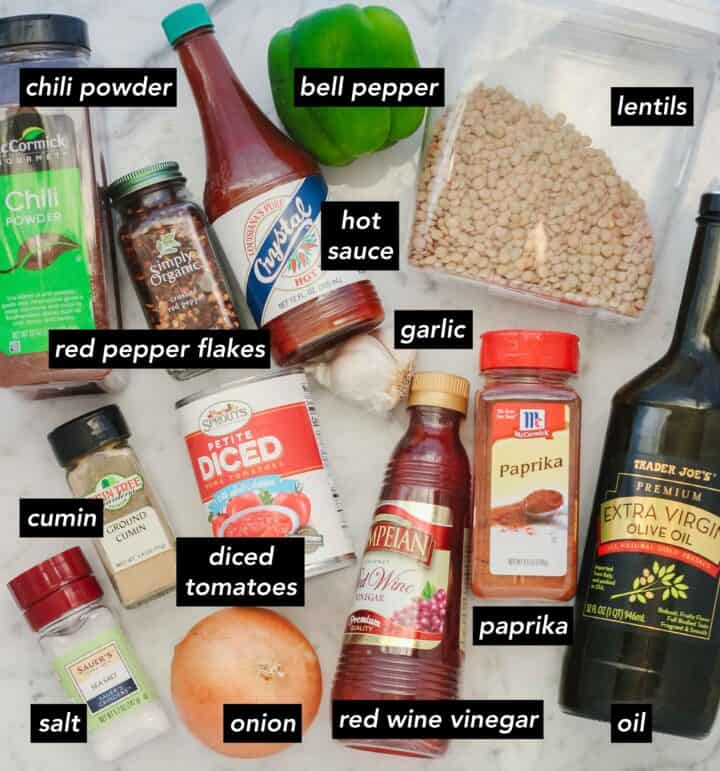 Ingredients
Oil: Olive oil and avocado oil are my usual go-to's for cooking, especially in a soup when you don't want it to overpower the flavor. But another mild-flavored oil would work here like canola oil or vegetable oil. If you don't want this to be vegan/vegetarian, you could use butter or bacon grease in place of the oil.
Onions: Yellow, white, red, or sweet onions are all great in this chili recipe, so use whatever you prefer or have on hand.
Bell peppers: You can certainly use any color bell pepper you prefer. I simply choose green bell peppers because they are the most budget-friendly, and I like their mildly bitter flavor over the sweet red bell pepper.
Garlic: Fresh or powdered garlic work equally well. Use whatever you have on hand.
Spices: Chili powder, cumin, paprika, red pepper flakes, and salt season this Lentil Chili recipe. I tried it with only chili powder and cumin, and it felt like it was missing something so I recommend using all four spices. However, red pepper flakes or paprika could be omitted to make this chili milder.
Canned Tomatoes: Petite diced tomatoes, preferably no salt added, are my favorite canned tomatoes to use. I am not a huge fan of having very large chunks of tomatoes in my soups and chilis, so the petite diced tomatoes help prevent that. Also, I like no salt added tomatoes so
Lentils: Dried green lentils are used in this recipe because they hold up better when cooking and are generally easier to find. You can use red lentils if that's what you have; however, they will likely break down. They will still taste good, but the consistency of the chili will be different (the red lentils turn mushier while the green lentils tend to retain their shape). Before cooking, sort through if you can to make sure there are no rocks or other non-lentil things in there. Do a quick rinse as well.
Liquid: Water is what I use to keep this budget-friendly and not having to worry about having broth on hand. However, using vegetable broth (to keep it vegetarian/vegan) or chicken broth would add extra deliciousness to your Vegan Lentil Chili.
Salt: I always use kosher salt in my recipes and season at the table with sea salt (or regular table salt depending on what I have available). However, any type of salt will work in this recipe.
Red Wine Vinegar: In my opinion, the red wine vinegar really brightens the flavor in this chili. Without it, it feels like something is missing. In the past, I use 2-4 tablespoons of red wine, but I don't always have that in my kitchen (or I don't want to open a bottle just for a few tablespoons of wine). Red wine is a delightful addition, but the red wine vinegar does the job without having to open a bottle of wine. Lemon or lime juice is another alternative.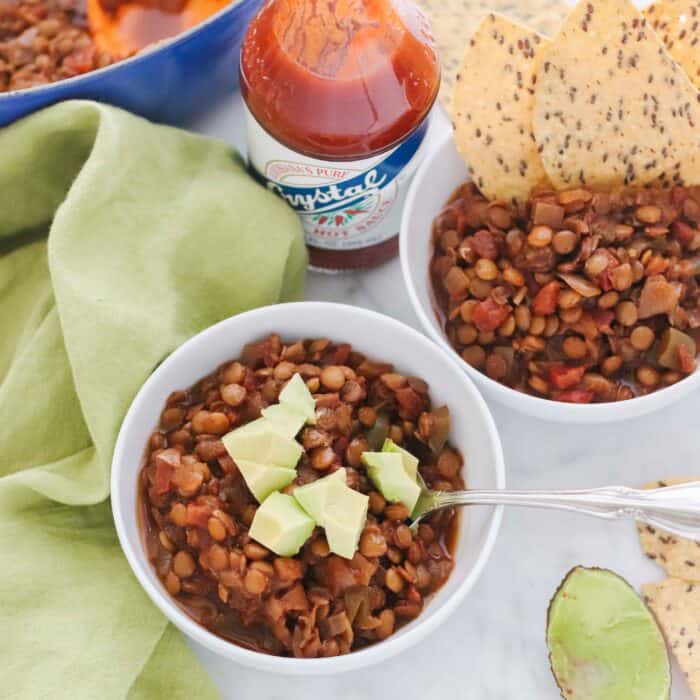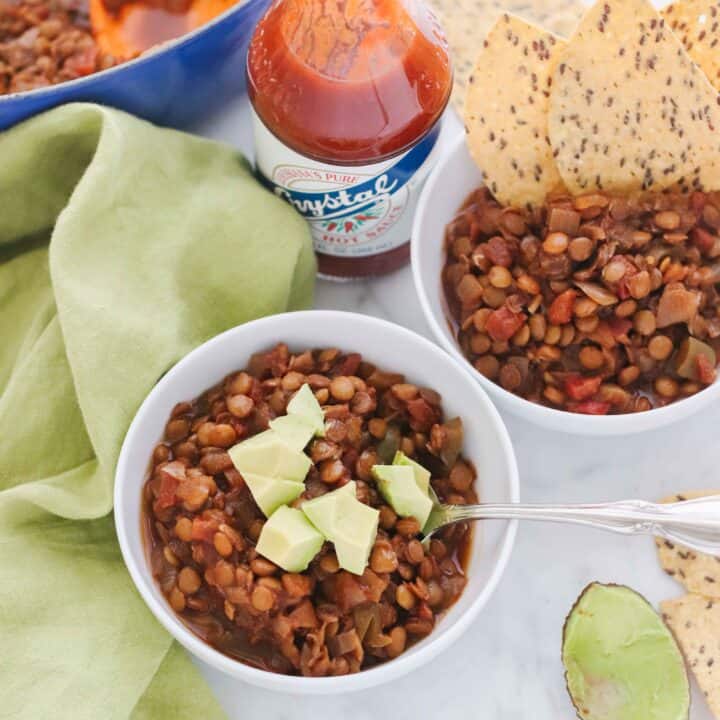 Cost of Recipe
olive oil 1 tablespoon: $0.24
onion 1 large: $0.68
green bell pepper 1 medium: $0.98
garlic 4 cloves: $0.24
chili powder 1 tablespoon: $0.25
cumin 1 ½ teaspoons: $0.20
paprika ¼ teaspoon: $0.04
red pepper flakes ¼ teaspoon: $0.05
diced tomatoes 1 can: $0.99
lentils 1 cup: $0.98
water 5 cups: $0
salt ¾ teaspoon: $0.01
red wine vinegar 1 tablespoon: $0.12
TOTAL COST: $4.78 or $1.20/serving (Based on San Diego Sprouts 2020)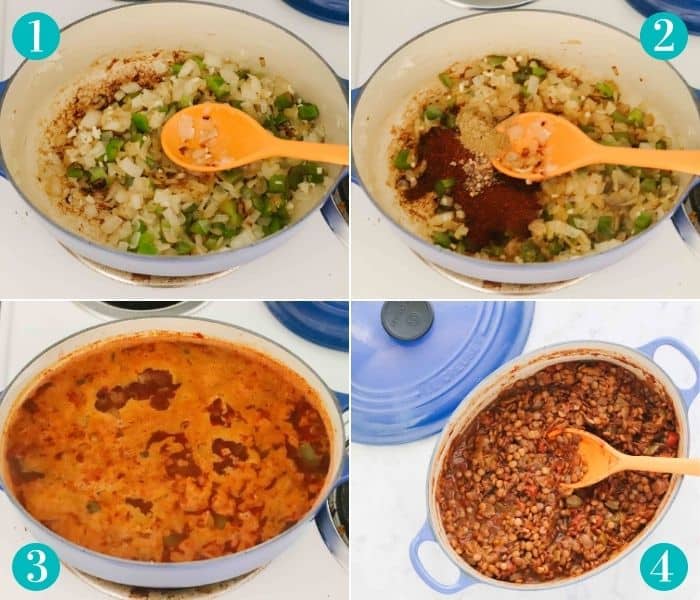 How to Make Lentil Chili
Time needed: 1 hour
It's quite simple to make lentil chili, and here are the steps to do it.
Sauté the onions and bell peppers.
Add the spices.
Stir in remaining ingredients, and simmer.
Add vinegar, and serve with desired toppings.
How to Make Instant Pot Lentil Chili
To make in the Instant Pot, turn on the Sauté function. Add oil and sauté the veggies for 5 minutes. Stir in remaining ingredients except the vinegar.
Cover, making sure to turn the valve to sealing, and turn to high pressure for 15 minutes.
Let rest for 10 minutes then release the steam, and enjoy!
Recipe Tips
Variations
Ingredient Options
Veggies: You can use two bell peppers in place of the onion + bell pepper, or vice versa. Also
Garlic: Use 1 teaspoon garlic powder in place of the four cloves of garlic if needed.
Lentils: Green lentils can be replaced with an equal amount of red lentils. However, note that the consistency will be very different, likely mushier. And you might need to add a little more water when cooking.
Red Wine Vinegar: An equal amount of lemon or lime juice can be used in place of the red wine vinegar. Or use 2-4 tablespoon red wine.
Alternative Prep & Cooking
This can be made on the stovetop or in the Instant Pot. See the recipe card below for directions for each.
How to Make Allergy Friendly
Lentil Chili is already gluten-free, dairy-free, egg-free, and soy-free. It's a vegetarian, vegan recipe that can feed a crowd without spending a lot of money.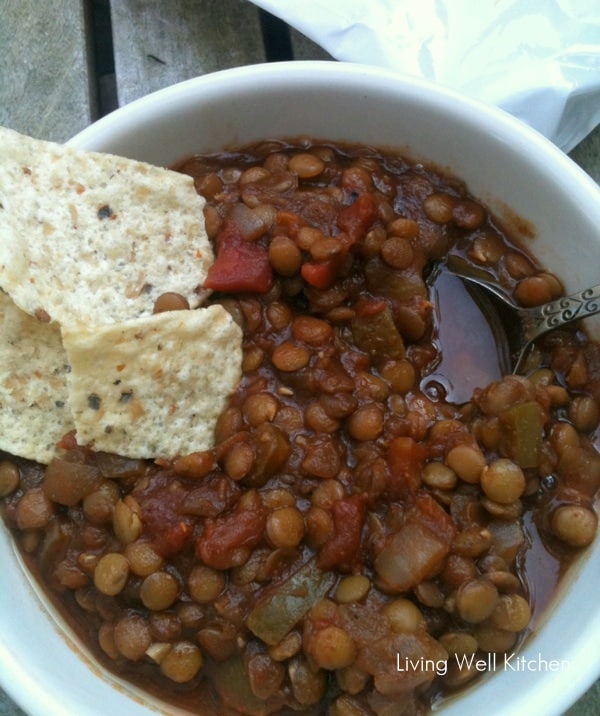 How to Fix a Mistake
Too thick: Simply add another half cup of water to the chili to thin it out. Increase by half-cup measurements until it has reached your desired thinness.
Too thin: If it's too thin, you can simmer it for a little longer uncovered so the liquid has a chance to evaporate. Or you can add a can of drained beans to thicken it.
Forgot to add an ingredient as directed: Add the ingredient whenever you realize it's missing. If it's a spice, you'll only need to add about 15 minutes of cook time. If it's a veggie or the lentils, you'll probably need about 25-30 minutes until they are soft enough.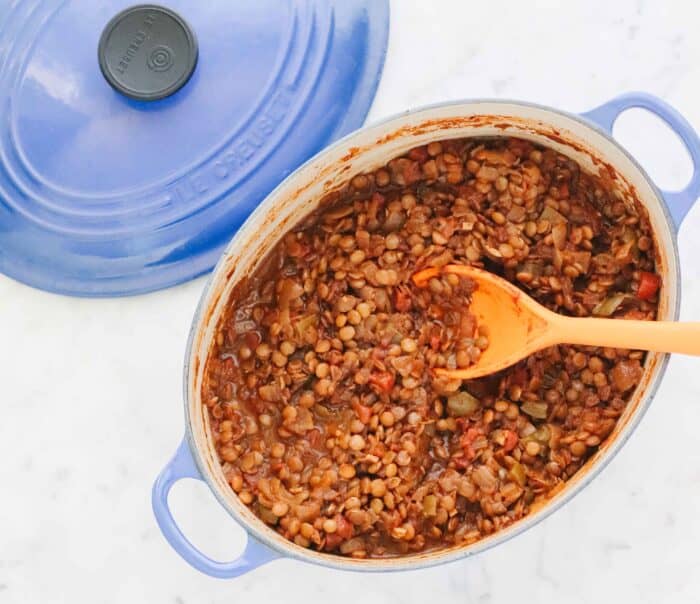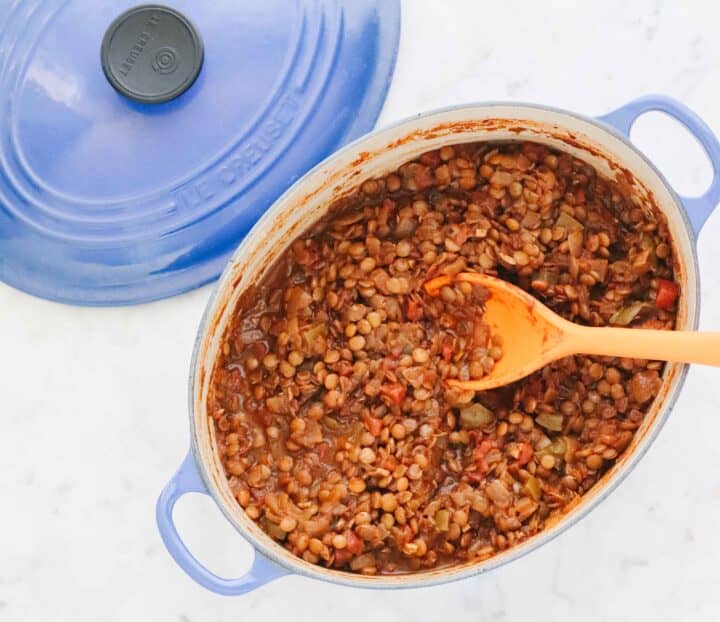 Make Ahead Ideas
Per usual, I think making chili or soup in advance is a great idea. There's no need to do anything differently. Once your Lentil Chili is ready, simply allow it to cool and transfer to glass or plastic containers. Store in the fridge or freezer.
To reheat from the fridge: Simmer in a saucepan or pot on medium-low, stirring occasionally, until warmed through. In the microwave, add to a microwave-safe bowl and cook on 100% power for 45 seconds, stirring between cooking, until warmed through.
To reheat from the freezer: Preferably defrost in fridge overnight. Add to a saucepan, and heat on medium-low, stirring occasionally, until warmed through. To reheat in microwave, cook on 50% power in 2 minute increments until defrosted. Then cook on 100% power for 45 second, stirring between, until warmed through.
Storage Suggestions
Store in an airtight container in the fridge for up to 6 days and in the freezer for up to 6 weeks.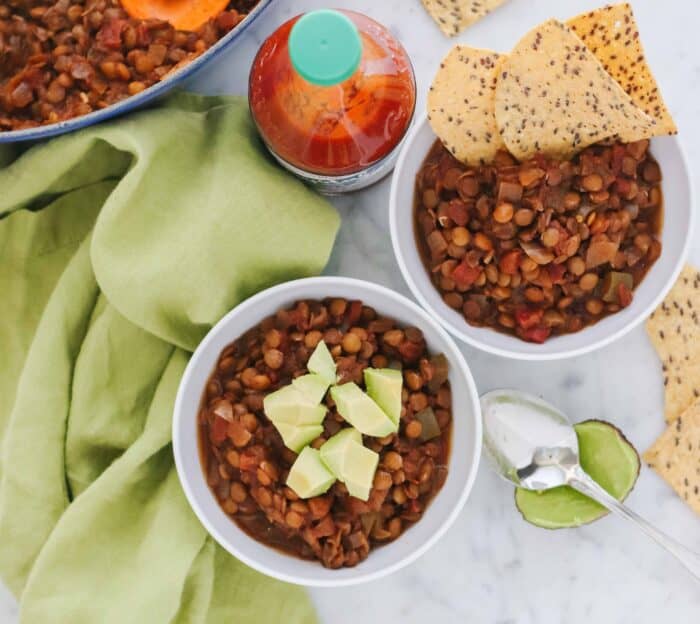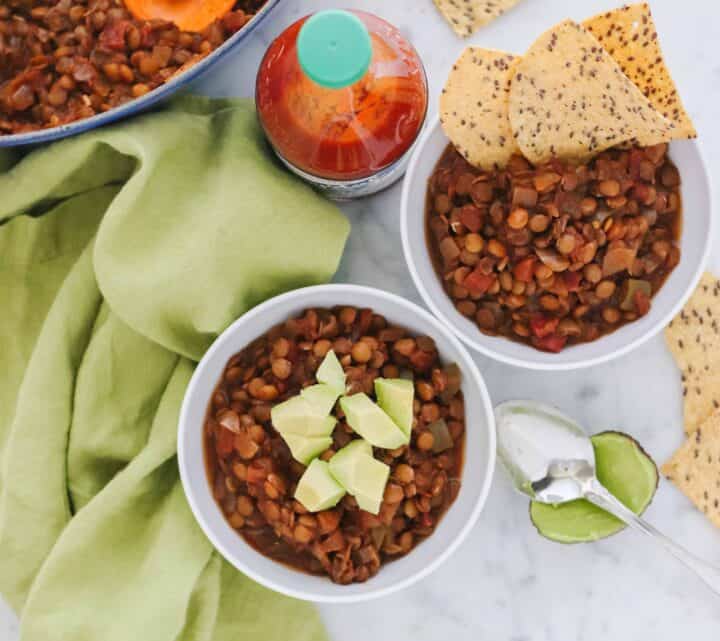 Frequently Asked Questions
Nutrition Benefits
Lentils are a tasty high-fiber, plant-based protein source. They are an excellent source of folate, potassium, thiamin (Vitamin B1), copper, phosphorous, and manganese. Lentils are also rich in polyphenols which are anti-inflammatory antioxidants.
There are also tons of vitamins, minerals, and antioxidants from the veggies and spices. Plus, the lentils + veggies give you a ton of fiber: almost ¾ of the recommended daily value for one day in a 2-cup serving.
What to Serve with Lentil Chili
Serve with whatever you like in your chili. Some ideas are chopped green onions, tortilla chips, cornbread (like Pumpkin Cornbread, Skillet Cornbread, or Southwest Cornbread), or cheese (note that regular cheese will make this no longer vegan or dairy-free, so use dairy-free cheese if you need to).
Also, I like to add hot sauce to the table to serve in case anyone wants their Lentil Chili to be spicier.
Final thoughts:
There is so much to love about this Vegan Lentil Chili recipe: it's easy to make, cooked in one pot, can be made in the stovetop or in the Instant Pot, freezes well, very budget-friendly, allergy-free, hearty, warming, and delicious.
People that don't eat meat need not be left out of chili fun, so make a big batch of this Lentil Chili to please everyone.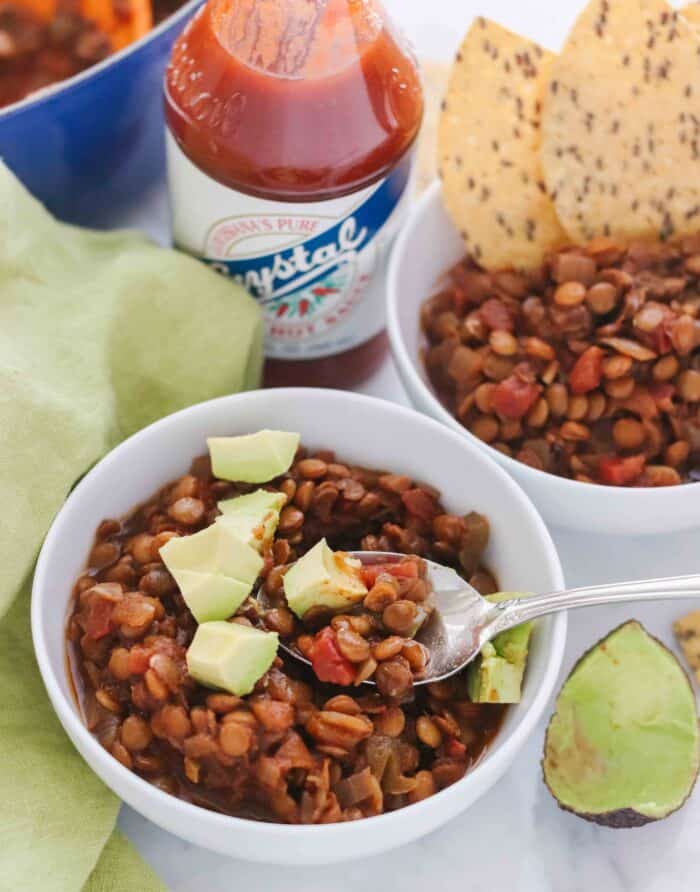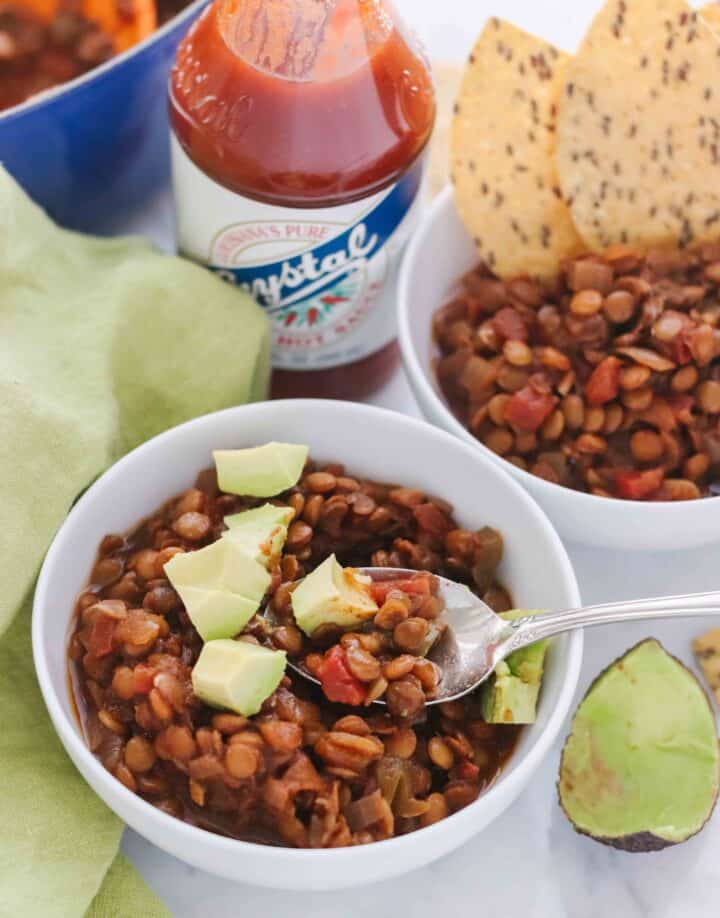 MORE CHILI RECIPES YOU'LL LOVE:
---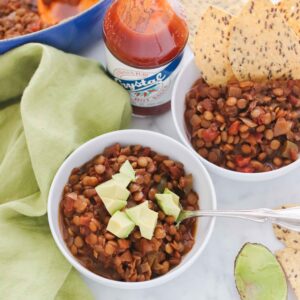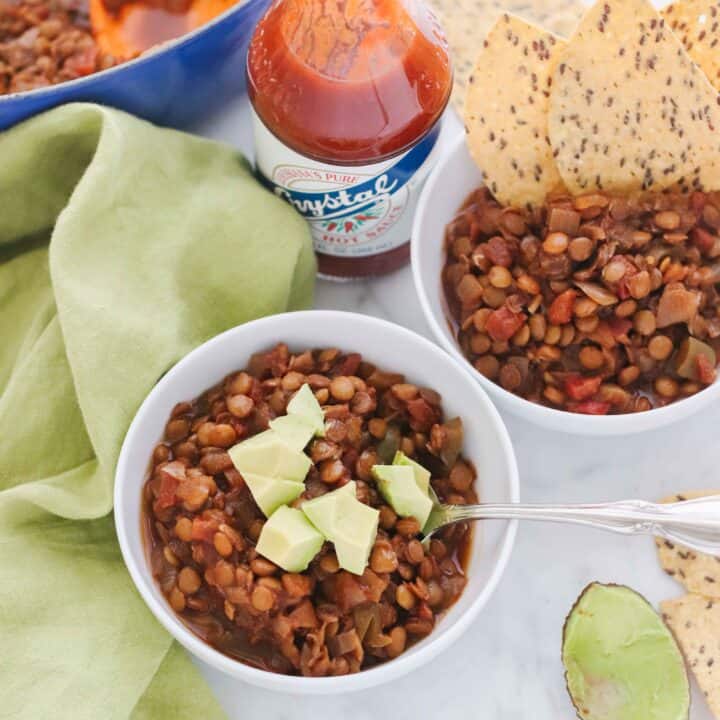 Lentil Chili
Lentil Chili recipe that is vegan, vegetarian, budget-friendly, and gluten-free. Option to make in the Instant Pot or on the stovetop
Print
Rate
Total Cost:
$4.78 or $1.20/serving
Ingredients
1

Tablespoon

olive oil

1

large

onion

diced

1

medium

green bell pepper

diced

4

cloves

garlic

minced

1

Tablespoon

chili powder

or more to taste

1 ½

teaspoons

cumin

¼

teaspoon

paprika

¼

teaspoon

red pepper flakes

15

ounce

can no-salt added diced tomatoes

undrained

1

cup

lentils

rinsed & picked over

5

cups

water

¾

teaspoon

salt

1

Tablespoon

red wine vinegar
Instructions
Heat the oil in a large soup pot over medium high heat.

Add onion & peppers, and sauté for about 7 minutes. Add in garlic, 1 tablespoon chili powder, cumin, paprika, and red pepper flakes. Stir for 30 seconds then add in tomatoes, lentils, and water.

Bring to a boil, and reduce heat to a simmer. Simmer, stirring occasionally, for about 20 minutes. Season with salt. Taste to see if you want to add more chili powder or red pepper flakes. Add gradually (by ¼ tsp) so you don't end up adding too much.

If using, stir in red wine vinegar.

Simmer another 10 minutes until it is to your desired consistency and the lentils have completely softened.
What to Use in This Recipe
Did you try this recipe?
Be sure to leave a comment & recipe rating below. Bonus points for tagging @memeinge & #livingwellkitchen on Instagram! THANK YOU! xo
[showhide type="post" more_text="Click here for Lentil Chilli Nutrition Facts" less_text="Clear Nutrition Facts"]
*
Nutrition Facts
Lentil Chili
Amount per Serving
% Daily Value*
* Percent Daily Values are based on a 2000 calorie diet.
*
[/showhide]
Meme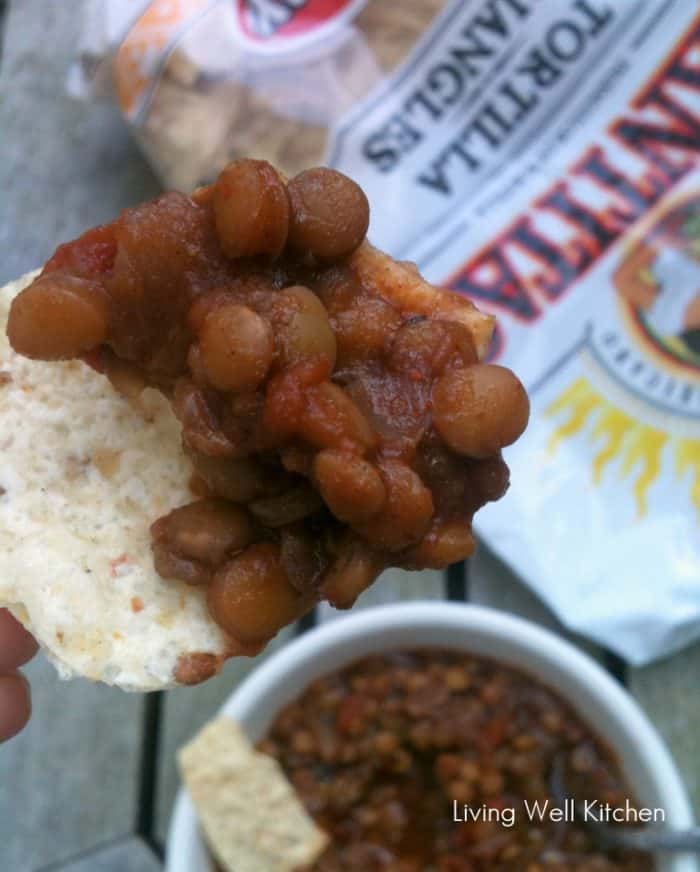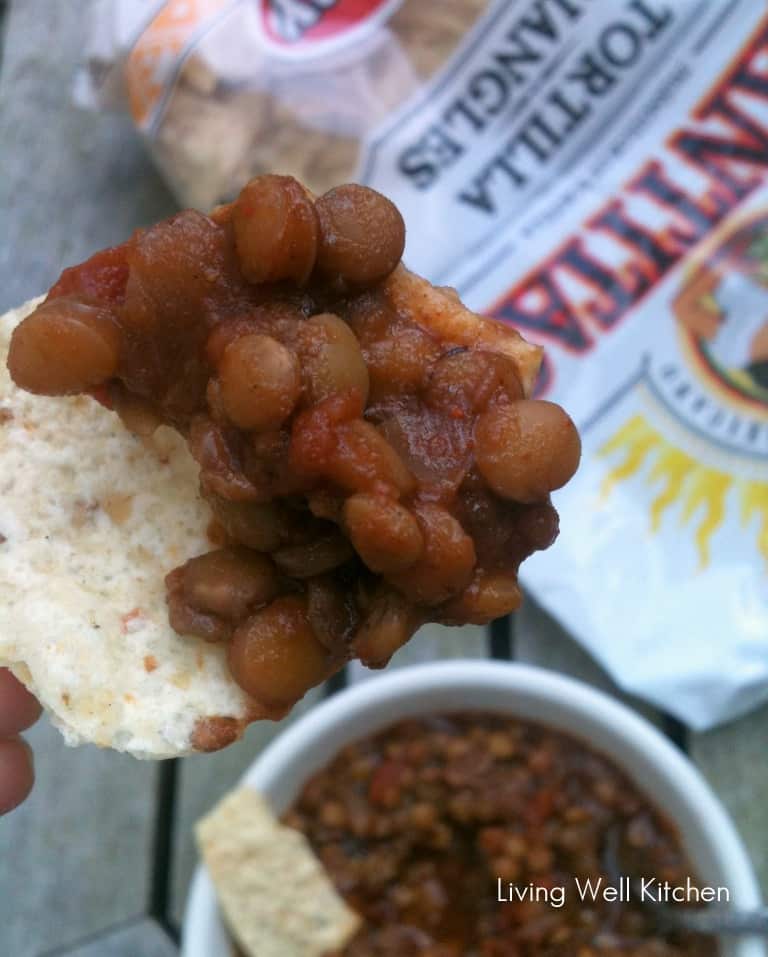 This post was originally published on November 30, 2012. Text, recipe, and photos have been updated.
Doesn't this recipe look good?! You should probably share it: