Tasty gluten-free, egg-free baked chicken fingers
Chicken fingers are probably one of the most standard items on any menu. Everyone loves chicken fingers.
I will tell you that these don't taste exactly like fried chicken fingers.
You use oatmeal for these, and while they still taste delicious, the crust isn't super crispy. To get a crispy crust, you'll probably need to use some sort of bread or cracker crumbs (which usually contain gluten). But if you can't have gluten or wheat or even eggs, you can eat these!
These won't completely replace your fried chicken fingers, but they are delicious and easy.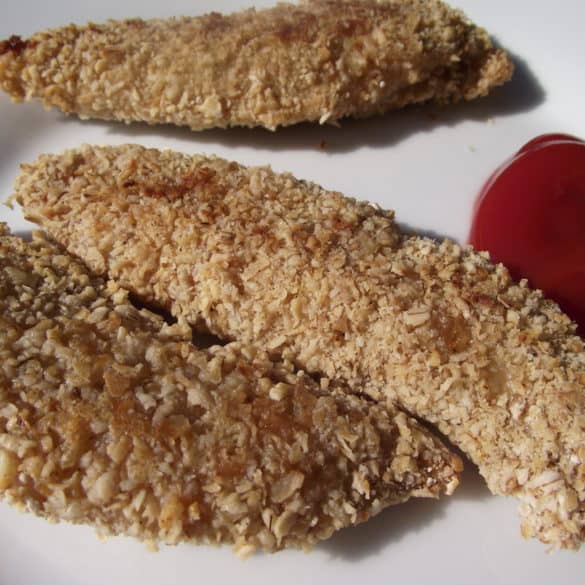 Oatmeal Crusted Chicken Fingers
Tasty gluten-free, egg-free baked chicken fingers
Print
Rate
Ingredients
Instructions
Preheat the oven to 450°F. Rub a baking sheet with ½ teaspoon oil or line with foil.

Put the oats in a food processor and process until coarsely ground. Add cheese, salt, garlic powder and pepper, and pulse a couple of times to combine. Put oat mixture in a shallow bowl.

Rub the chicken tenders with remaining 1 ½ teaspoon oil. Dredge chicken in the oat mixture. Once all the chicken has been "breaded," spray again with cooking spray and repeat the dredging process. Place chicken on prepared baking sheet.

Bake in preheated oven for 12-15 minutes or until browned, flipping tenders over half-way through cooking time. Let sit on baking sheet for 5 minutes and transfer to cooling rack. Serve and enjoy! Don't forget the ketchup
Notes
*Make sure you find oatmeal that is certified gluten-free to guarantee that there won't be any traces of wheat or gluten in them.
*Once they have completely cooled, you can transfer them to an airtight container or zip-top bag. They will keep for 2-3 days in the refrigerator and 1 month in the freezer (if well sealed). Reheat in a 300° oven until warmed through.
*Adapted from this recipe from Cooking Light on MyRecipes
What to Use in This Recipe
Did you try this recipe?
Be sure to leave a comment & recipe rating below. Bonus points for tagging @memeinge & #livingwellkitchen on Instagram! THANK YOU! xo
Meme