Liven up your macaroni and cheese with spices, sausage, and shrimp in this deliciously cheesy Cajun Mac and Cheese dish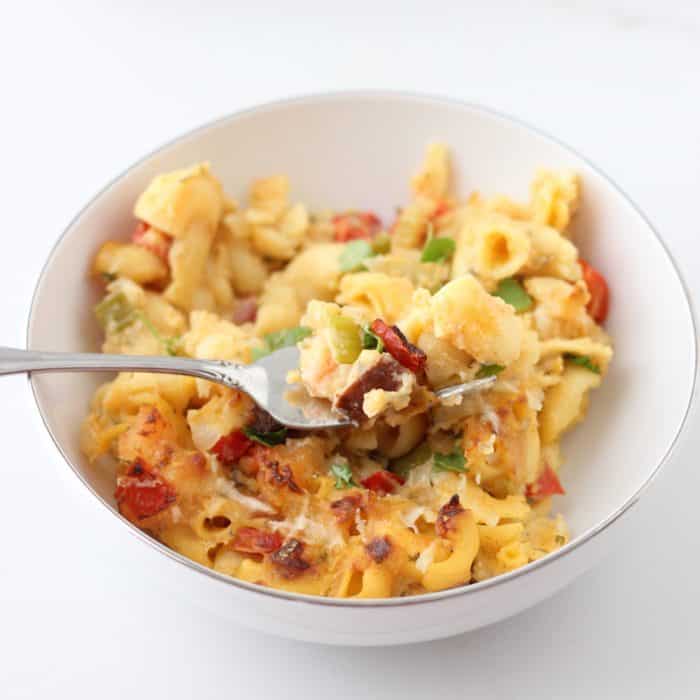 There's never a bad time for macaroni and cheese in my opinion. Like chicken pot pie, it's one of the best comfort foods you can find.
I mean, mac and cheese is awesome. Shrimp and sausage are awesome. Veggies are awesome. Put them all together and you have tripled awesome.
To be honest, I am flatout brain dead.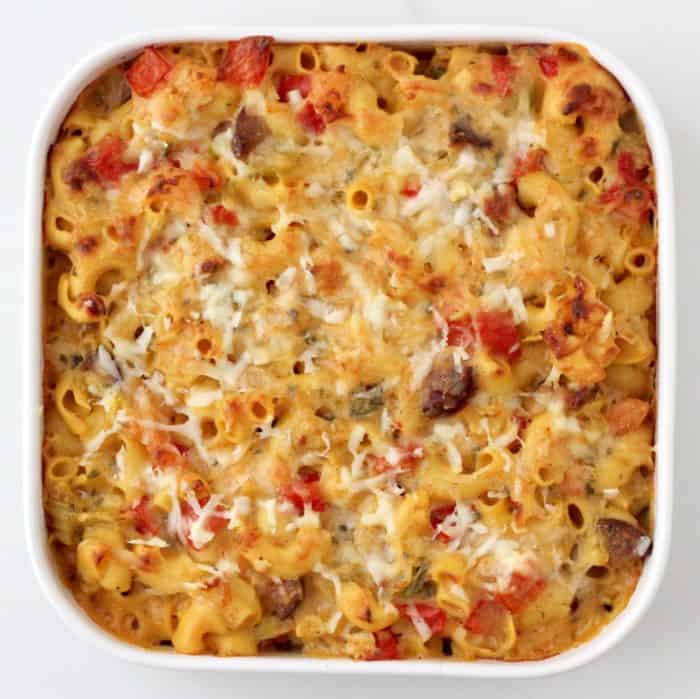 Remember how I was determined not to get sick?
Well... I got really busy and only got 7.5 to 8 hours of sleep (I need a solid 9). Then I ran out of turmeric and ginger. I also didn't have time to make another batch of soup. Lo and behold, I got sick.
So somewhere, along with my voice, my brain has gone missing. If you find my brain or my voice, please send it back to Solana Beach, CA please! I miss them.
I should have some sort of witty banter to chat about with this tasty mac and cheese, but I'm completely out of ideas.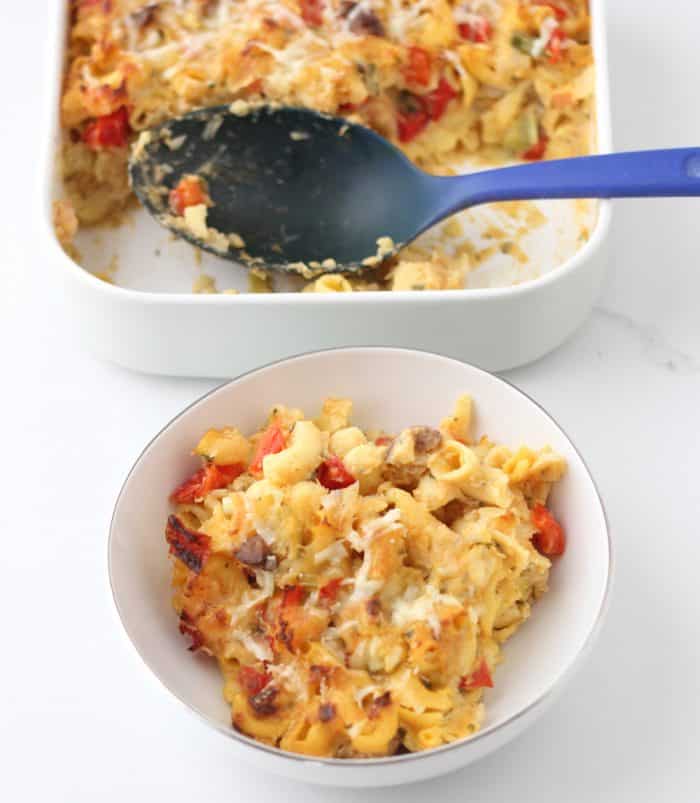 Instead of wasting your time, let's get right to that recipe: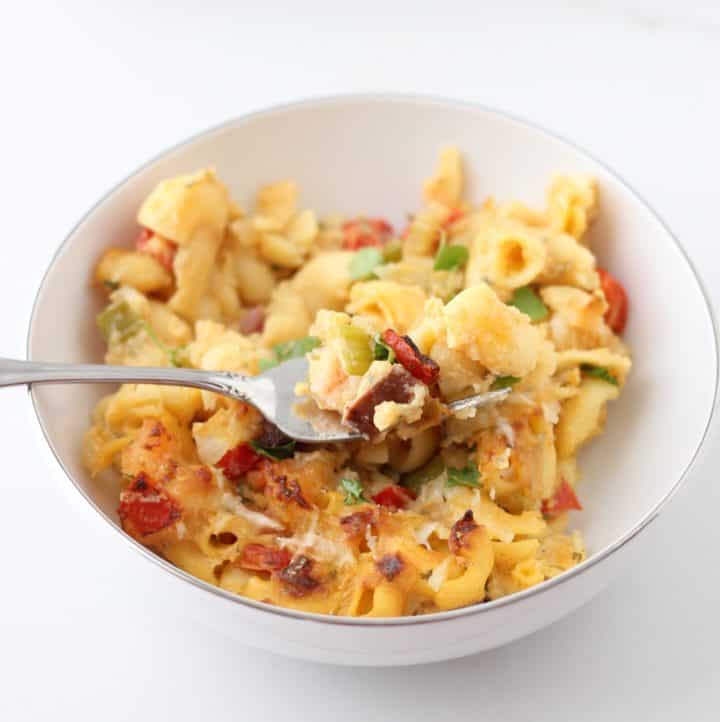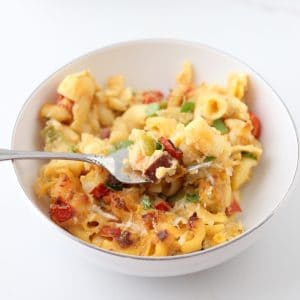 Cajun Mac and Cheese
Liven up your macaroni and cheese with spices, sausage, and shrimp in this deliciously cheesy, gluten free Cajun Mac and Cheese dish
Print
Rate
Ingredients
6

ounces

macaroni

1 3/4 cup dry

2

ounces

andouille sausage

1/2 cup sliced

1

tablespoon

oil

4

ounces

shrimp

1 cup

1

medium

onion

1 1/4 cup, diced

1

medium

bell pepper

1 1/4 cup, diced

2

stalks

celery

1/2 cup, diced

2

cloves

garlic

2 tsp, minced

1/2

teaspoon

paprika

1/2

teaspoon

cayenne pepper

1/4

teaspoon

salt

1/8

teaspoon

nutmeg

1

tablespoon

cornstarch

12

ounces

milk

1 1/2 cup

5

ounces

cheddar cheese

1 1/4 cup, shredded

1

ounce

parmesan cheese

1/4 cup, shredded
Instructions
Preheat the oven to 375*F.

Bring a pot of water to a boil. Boil pasta until al dente. Set aside.

Meanwhile, add the sausage to a dutch oven or large skillet with sides. Cook for about 3 minutes per side. Set aside.

Add 1 teaspoon of oil and the shrimp to the dutch oven. Cook for 2 minutes per side, and set aside. (They will be slightly undercooked and that's ok. You don't want to overcook them)

Add the remaining 2 teaspoons of oil to the dutch oven along with the onions, bell pepper, and celery. Saute for 7 minutes.

Add garlic, paprika, cayenne, salt, nutmeg, and cornstarch to the dutch oven. And stir well. Continue stirring while you slowly add in the milk, stirring constantly. Once the milk has been incorporated, cook for two minutes, stirring very often until the mixture thickens. Add in 1 cup of the cheddar cheese along with the reserved sausage and shrimp. Stir until combined.

Transfer mixture to an 8 inch square baking dish (or leave in pot if oven-safe). Top with parmesan cheese and remaining 1/4 cup cheddar. Bake for 15 to 20 minutes until cheese is bubbly and lightly browned. Optional: broil for 1 to 2 minutes to brown the cheese a little more.

Remove from oven, and enjoy!
Notes
*You can alternately use an oven safe french or dutch oven to make the sauce, and bake it in the same to keep from having to wash multiple dishes.
*Use mild sausage and/or cut back on the cayenne pepper for a more mild dish.
*Recipe was tested using gluten free chickpea pasta (and nutrition facts were calculated with this, too). Any pasta will work
*Based on this recipe
Did you try this recipe?
Be sure to leave a comment & recipe rating below. Bonus points for tagging @memeinge & #livingwellkitchen on Instagram! THANK YOU! xo
[showhide type="post" more_text="Click here for Nutrition Facts" less_text="Clear Nutrition Facts"]
*
Nutrition Facts
Cajun Mac and Cheese
Amount per Serving
% Daily Value*
* Percent Daily Values are based on a 2000 calorie diet.
*
[/showhide]
What to use in this recipe:
Meme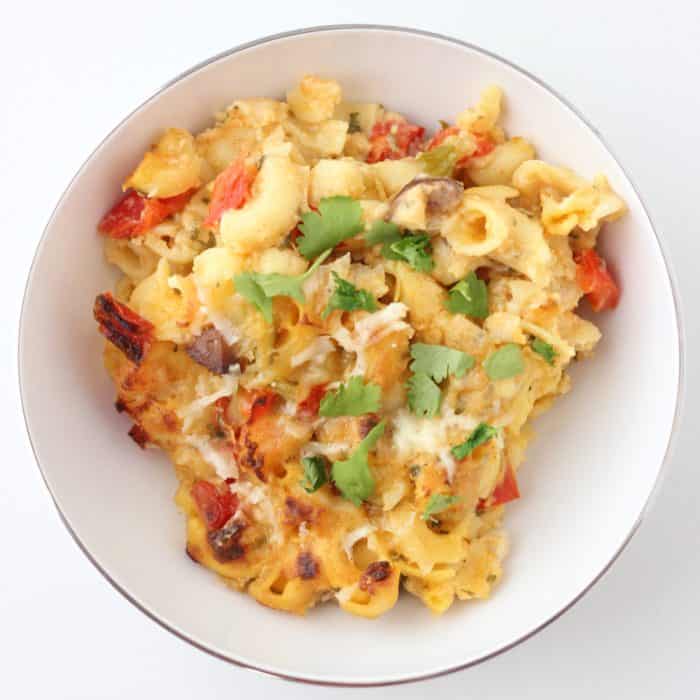 Pin for later: