Lemon Chicken Pasta Casserole is an easy meal that comes together quickly with a few make-ahead tips. Great for a weeknight, make ahead dinner.
Disclosure: I was asked to participate in the #PastaFits campaign as a member of the Healthy Aperture Blogger Network. I was compensated for my time.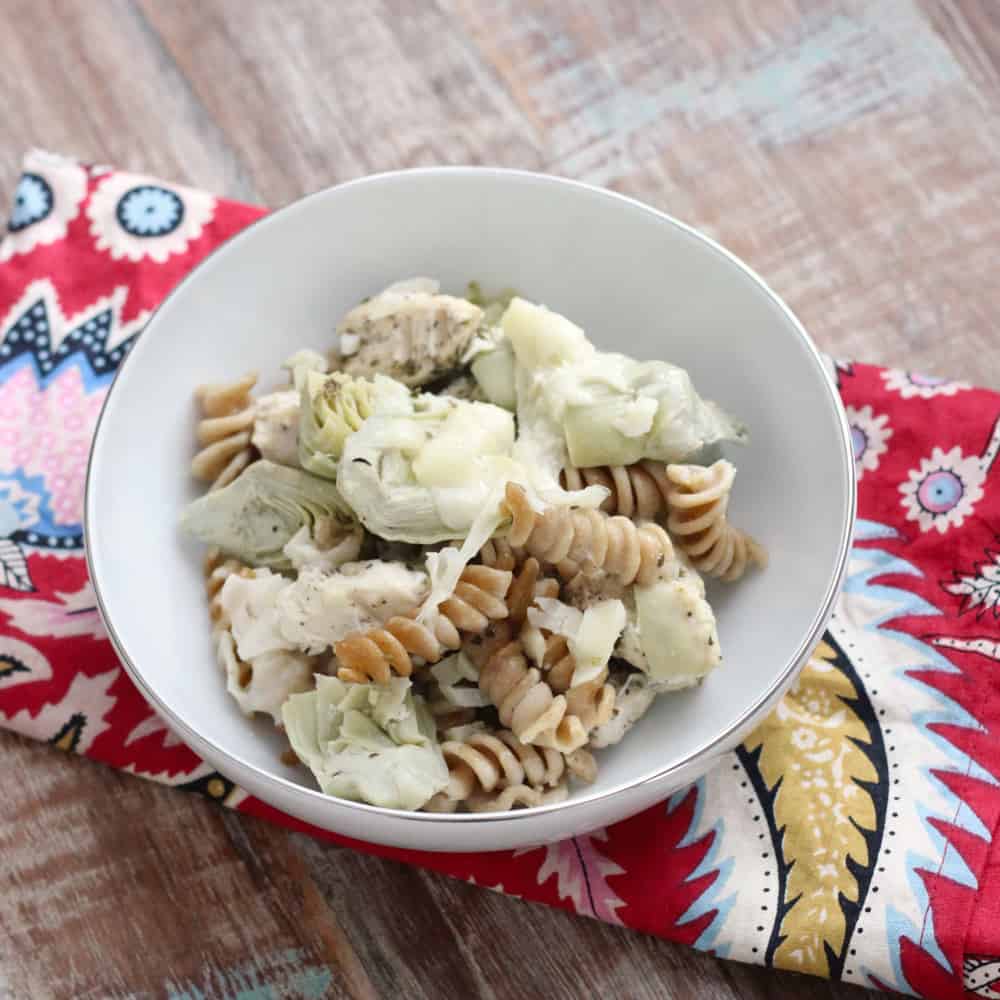 The holidays are creeping up on us whether you like it or not, and with the holidays usually comes a hectic schedule.
I always have these grand ideas that I will be really good at planning ahead. And then Sunday comes, and it seems much more appealing to rest and drink tea in my robe instead of spending all day in the kitchen.
Don't get me wrong, I love spending Sundays or any day for that matter in the kitchen.
But when life gets busy, it's nice to take a relaxing moment for yourself.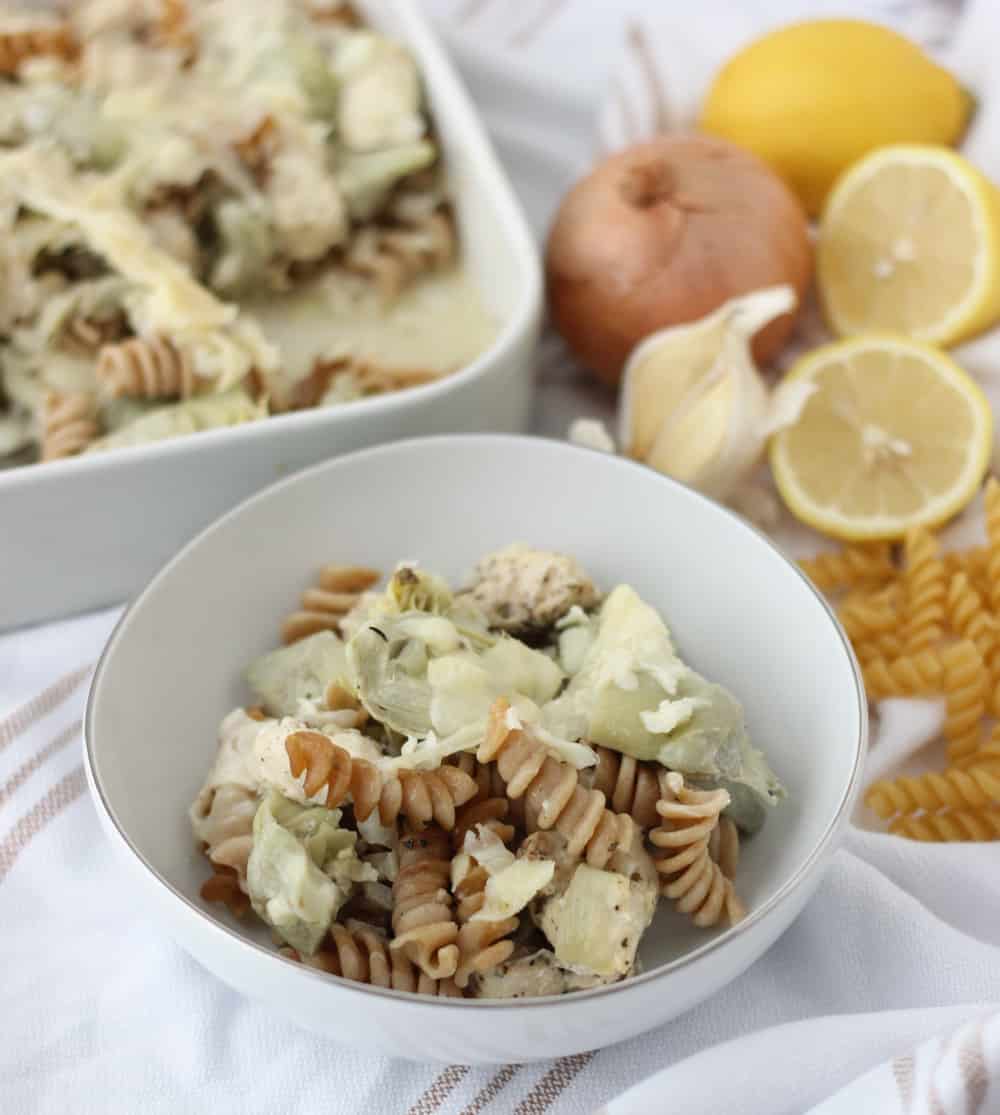 Problem is when you don't plan ahead it gets tricky to eat nourishing meals that keep you feeling good throughout the holiday season.
Thinking that you are going to cook every single weeknight can be a bit of an unrealistic expectation, but one night a week?
That I can do (and so can you!)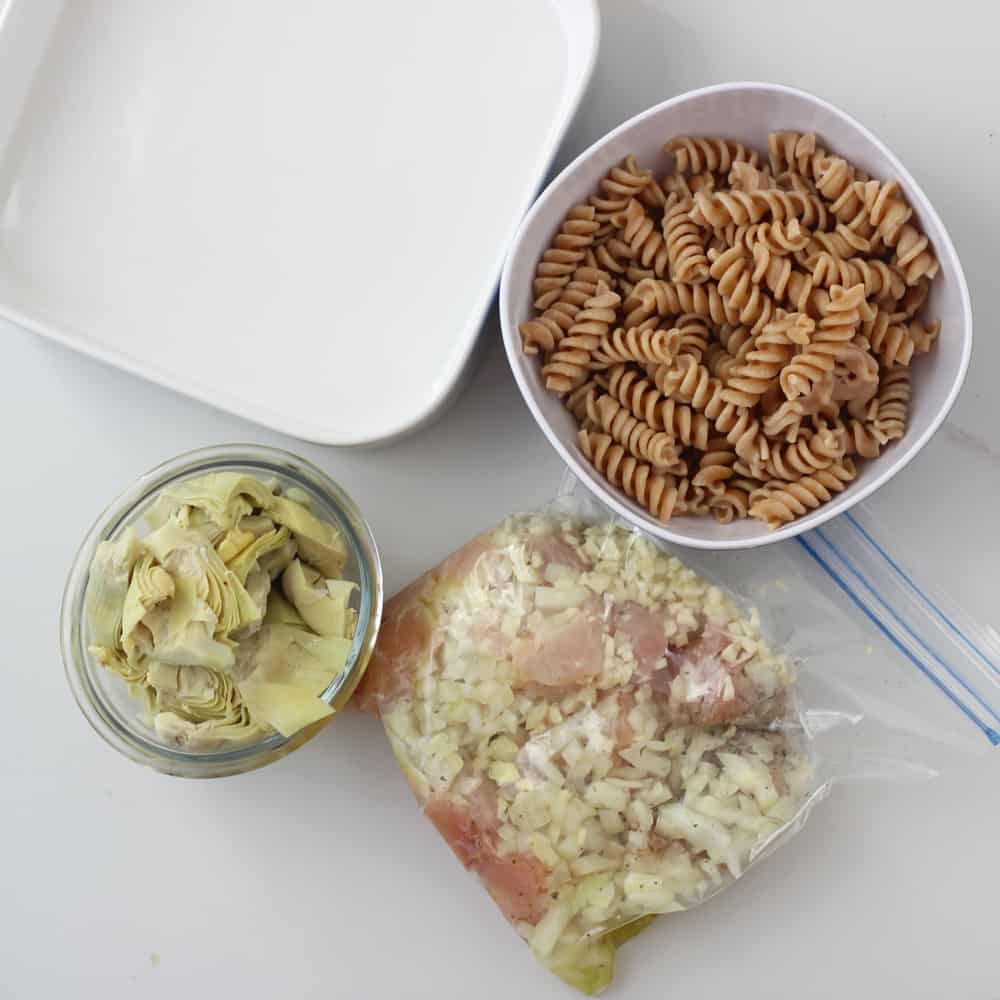 When you're already in the kitchen, just do a few extra things to make your life so much easier when your schedule gets hectic.
Some of my favorite things to do are to make extra pasta on the nights I am already cooking pasta. I like to boil extra noodles, then refrigerate them for later. You can even freeze cooked pasta!
I also like to chop extra veggies while I'm already chopping. If you're chopping an onion for a meal, why not chop another and stash it in the fridge for another night?
Same with chicken. I loathe dealing with raw chicken. Cutting up raw chicken is one of my least favorite things to do.
Instead of making myself deal with raw chicken every single time, I just buy extra chicken and cut it up all at once. You can refrigerate or freeze for later.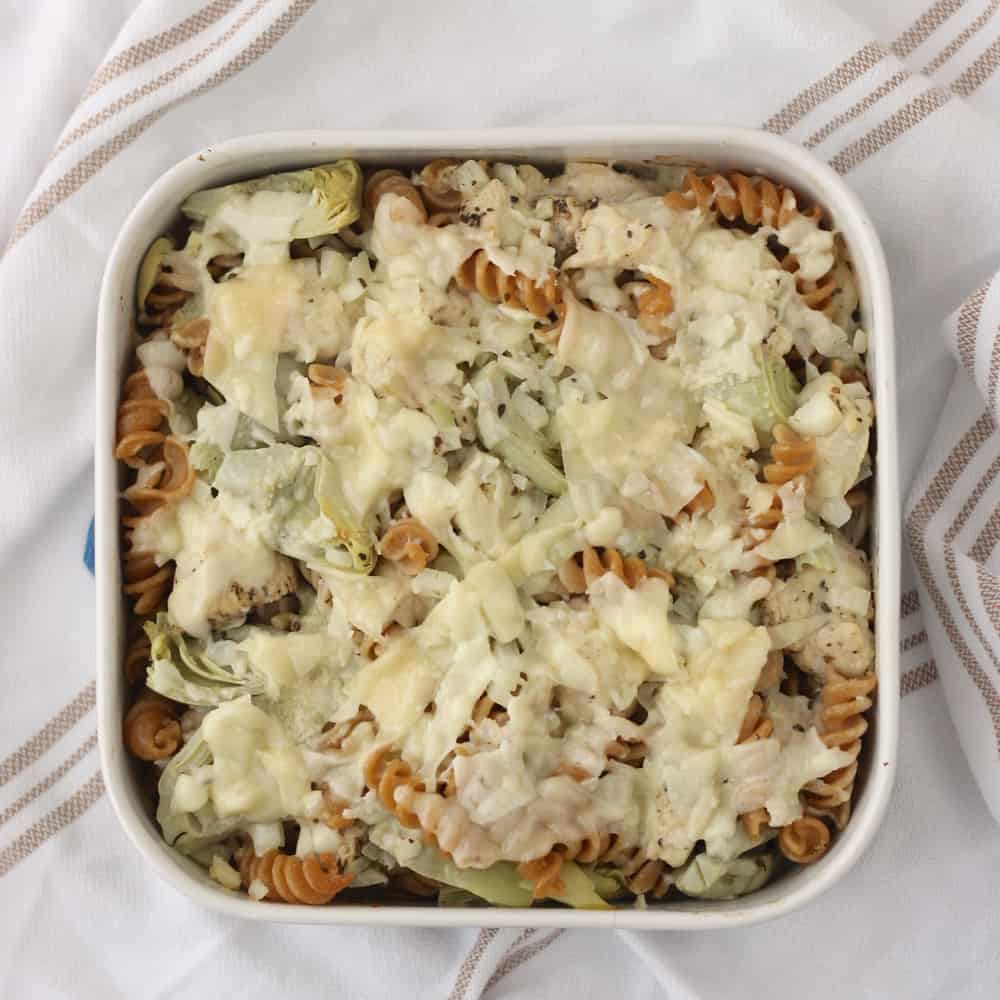 Speaking of for later, this casserole is the perfect example of those tips.
One night I was making pasta, so I made extra. The next night I made a stir-fry, and I cut up extra chicken and an onion. Then I popped the chicken and onion into a bag with some lemon, spices, and olive oil and called it a night.
The next night, I tossed together the chicken & marinade, cooked pasta, and a can of artichoke hearts. Pop the mixture into the oven for about 45 minutes, sprinkle on some cheese, and you've got yourself a very tasty casserole that took you less than 3 minutes to make (that night).
So instead of stressing that you don't have time to prepare meals in advance, take a few little steps to make your life easier for the rest of the week.
Those steps take minutes, but they save a lot of hassle and stress when you want a home cooked meal but really don't feel like pulling out the cutting board or doing much work.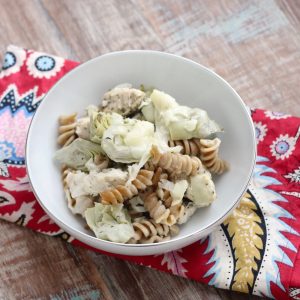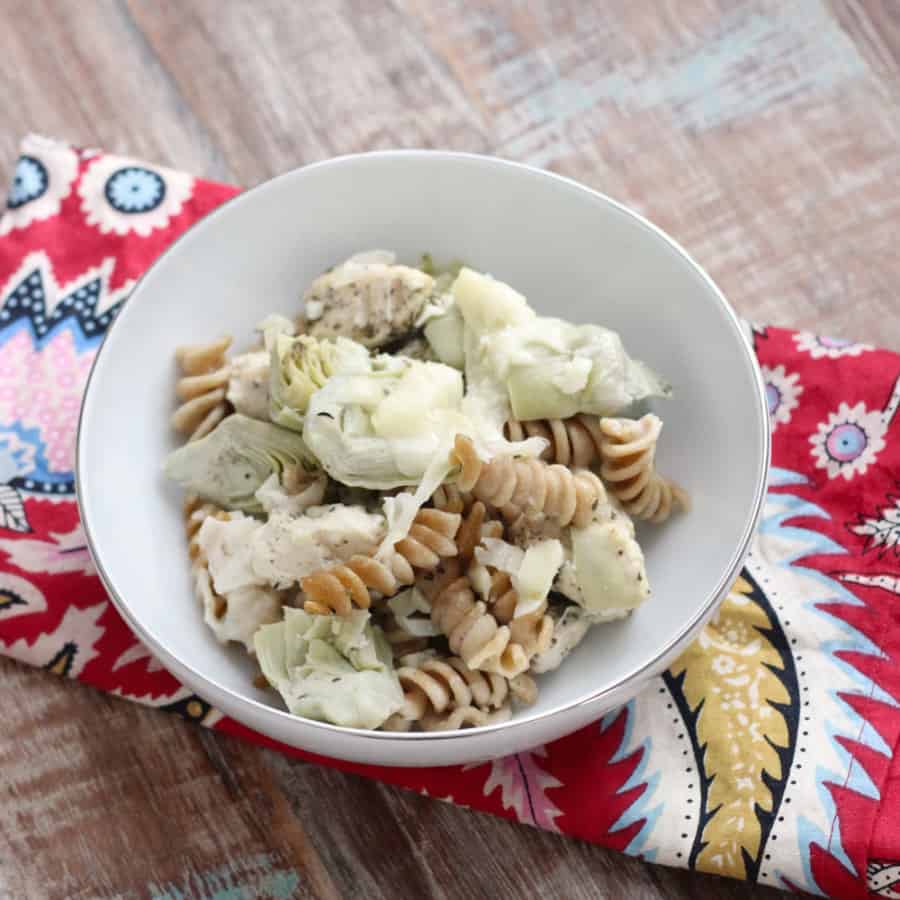 Lemon Chicken Pasta Casserole
Lemon Chicken Pasta Casserole is an easy meal that comes together quickly with a few make-ahead tips
Print
Rate
Ingredients
1

pound

chicken breast

cut up

1

cup

diced onion

about 1 small onion

1

tablespoon

minced garlic

about 2 cloves

2

tablespoon

olive oil

3

tablespoon

lemon juice

about 1 lemon

½

teaspoon

dried oregano

¼

teaspoon

dried basil

¼

teaspoon

salt

¼

teaspoon

ground black pepper

4

ounces

pasta

about 3 cups cooked, cooked

15

ounce

can quartered artichoke hearts

drained

¼

cup

grated Parmesan cheese

about 1 ounce
Instructions
Put chicken, onion, garlic, olive oil, lemon juice, dried oregano, dried basil, salt, and black pepper in a zip top bag. Mix together, and refrigerate for at least an hour or overnight.

When you're ready to prepare, preheat oven to 350*F.

Toss together chicken mixture, pasta, and artichoke hearts. Transfer to an 8 or 9 inch baking dish (about 2 quarts) and cover.

Place casserole dish on a baking sheet and transfer to preheated oven. Bake for 50 minutes, stirring halfway through cooking.


Uncover, sprinkle with cheese, and bake uncovered for 5 minutes until cheese melts.

Serve with extra cheese, lemon juice, and salt if desired. Enjoy!
Notes
*You can make the pasta before preheating the oven if desired, but it's best to use cooled cooked pasta. If I don't have leftover, I'll cook a batch when I'm already in the kitchen marinating the chicken. Then just refrigerate until you're ready to assemble
Did you try this recipe?
Be sure to leave a comment & recipe rating below. Bonus points for tagging @memeinge & #livingwellkitchen on Instagram! THANK YOU! xo
[showhide type="post" more_text="Click here for Nutrition Facts" less_text="Clear Nutrition Facts"]
*
Nutrition Facts
Lemon Chicken Pasta Casserole
Amount per Serving
% Daily Value*
* Percent Daily Values are based on a 2000 calorie diet.
*
[/showhide]
Meme
Pin for later: