Boiled peanuts in a Crock Pot are a super simple and filling snack. Great recipe for low-stress parties and tailgates since you need to start them 24 hours in advance.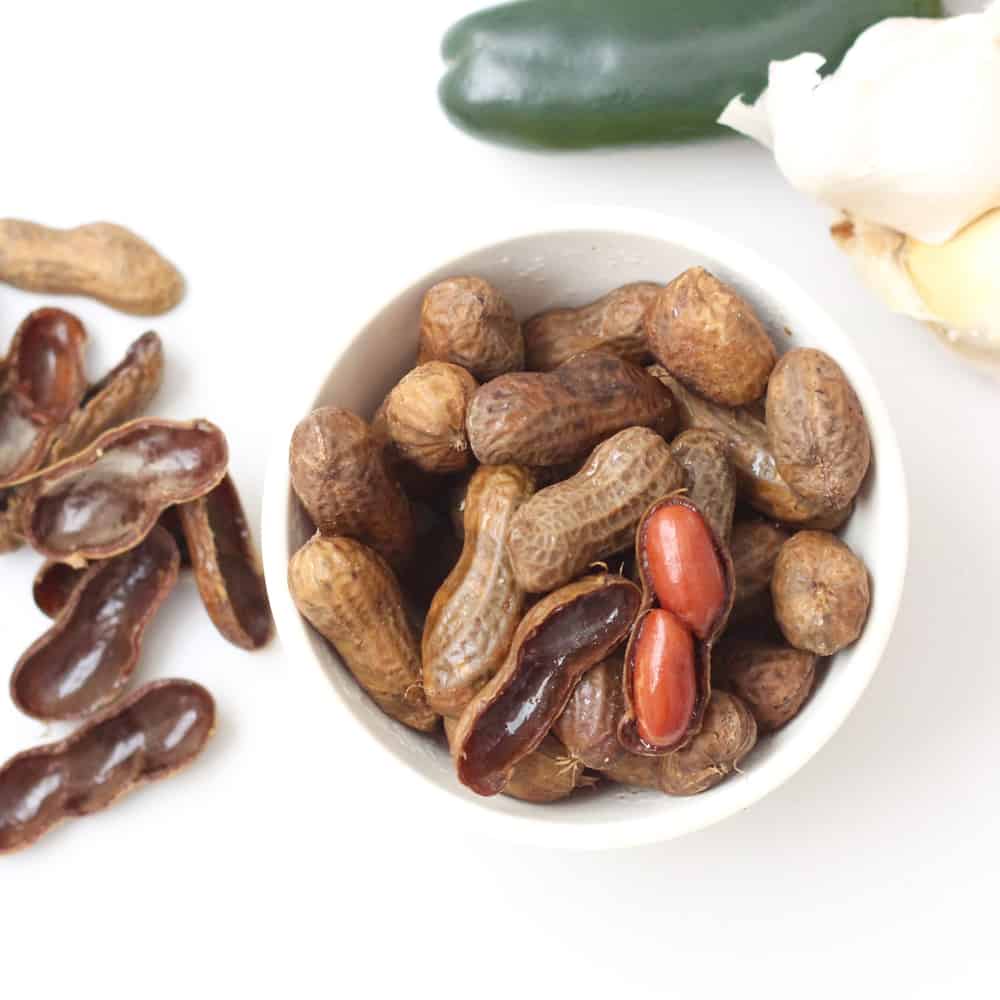 About Crock Pot Boiled Peanuts
Boiled peanuts are highly underrated. Simple, salty, and snackable.
They are a Southern staple, and you'll find them in many convenience stores, gas stations, and other roadside treasures.
You likely won't want to eat boiled peanuts on the go, unless you're stocked with napkins.
Boiled peanuts are a bit messy since they are cooked in water, and some of the water is absorbed into the peanut shell.
When you pop open the peanut shell, water will often squirt out -- which is also one of the fun parts of eating boiled peanuts.
Yet, they are great for serving at parties, tailgates, game day celebrations, or on the boat.
Despite the fact that they're called "boiled" peanuts, you'll be using a slow cooker to cook your peanuts for this recipe.
This means less work and hands-on time for you since you can simply toss everything into a slow cooker and walk away.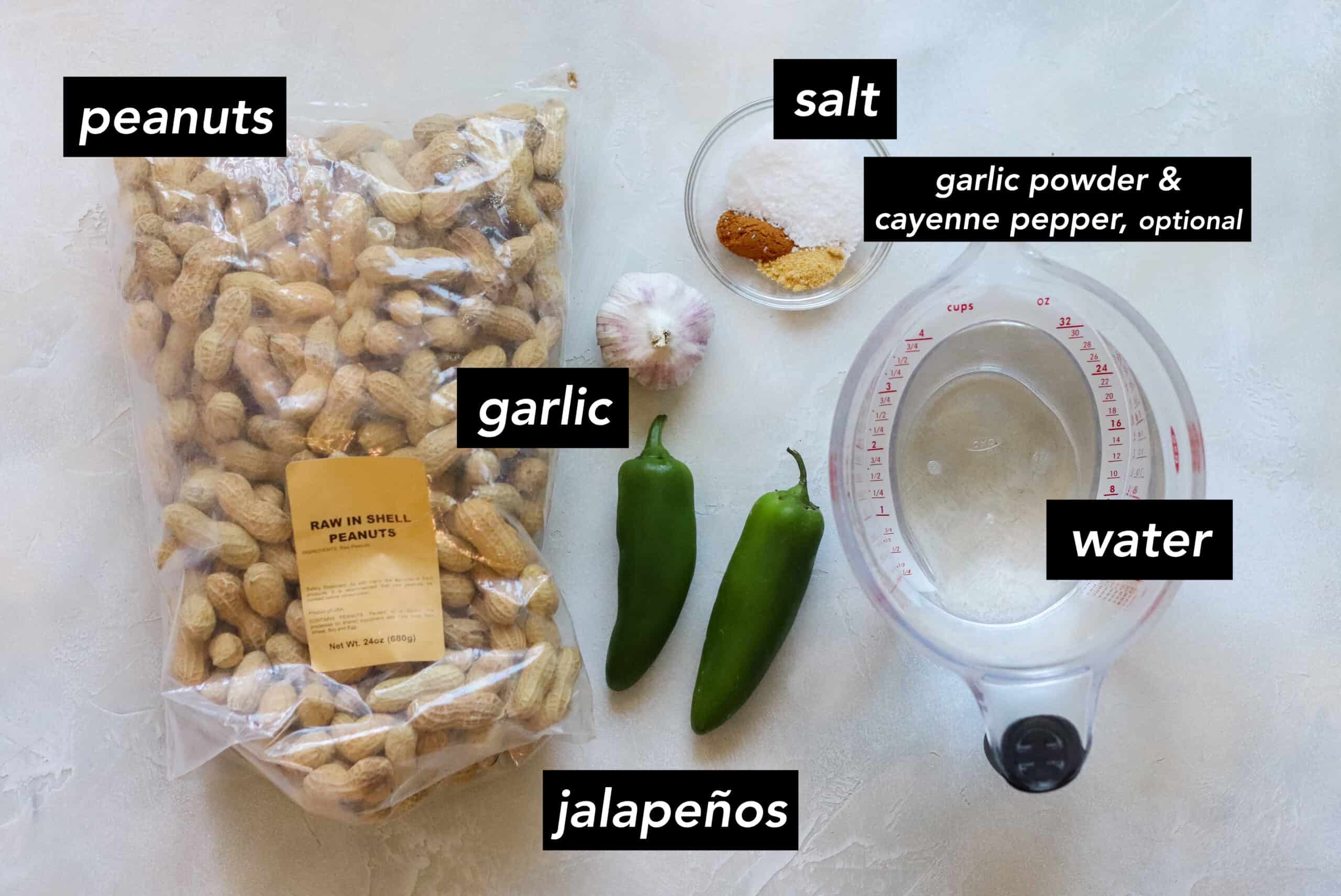 Ingredients
Peanuts: You'll want raw in-shell peanuts to make crockpot boiled peanuts. If you accidentally buy roasted in-shell peanuts, that's ok. This recipe has been tested with them, and it turned out fine.
Jalapeños: The jalapeños give your peanuts a lot of flavor and you can adjust the amount based on your personal preferences.
Garlic: For another flavor enhancer for these peanuts, you'll add fresh garlic. Garlic powder could also be used.
Salt: Boiled peanuts are pretty salty, so if you're looking for a low-sodium snack, this isn't it. If you do want to make them lower-sodium, you could use only one tablespoon of salt.
Spices: Adding garlic powder and cayenne pepper is completely optional but adds extra flavor. Onion powder, red pepper flakes, or paprika could all be used in place of these. Or omit them entirely.
Water: You need enough water to cover the peanuts by about an inch. You might have to add more water after 12 hours of cooking since the peanuts absorb some of the water. You want your peanuts covered in water, so they don't dry out while cooking.
Cost of Recipe
Raw in-shell peanuts: $7.32
Salt 3 tablespoons: $0.10
Jalapeños 2: $0.28
Garlic 4 cloves: $0.24
Garlic powder 1 teaspoon: $0.16
Cayenne pepper ½ teaspoon: $0.04
TOTAL COST: $7.90 or $0.26/serving (Based on San Diego grocery stores 2022)
Note that this is not the recipe; it's simply to show the cost breakdown of ingredients. Scroll down to the full recipe to see the specific ingredients and directions.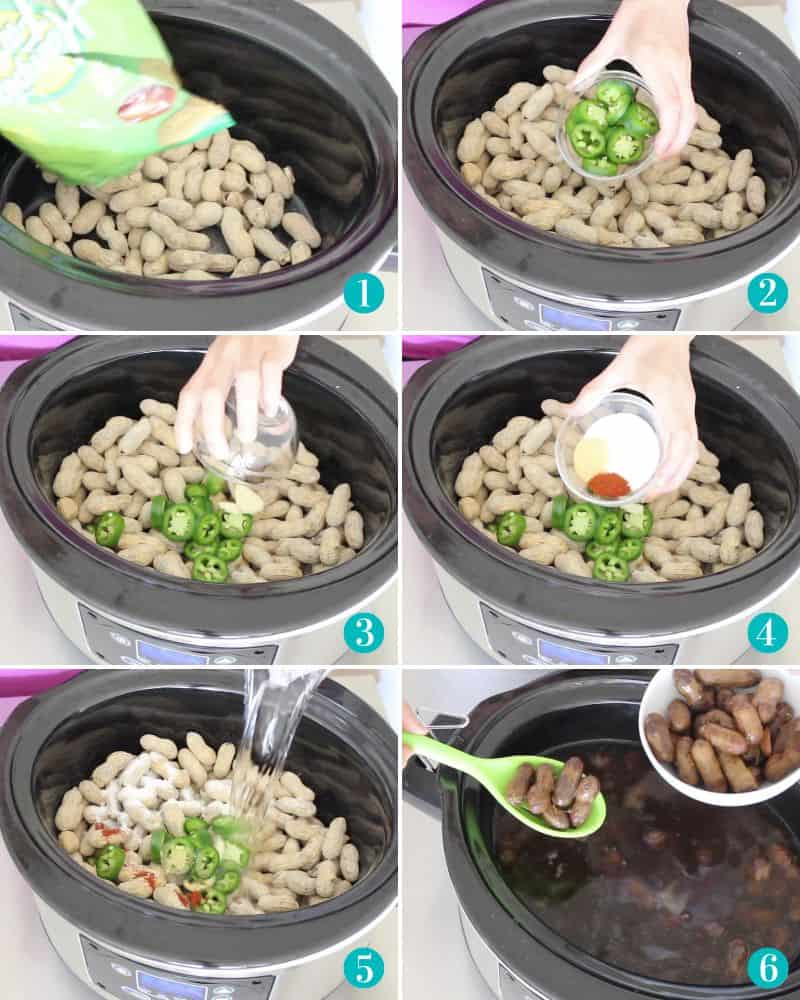 How to Make Crock Pot Boiled Peanuts
Time needed: 1 day and 5 minutes.
Making boiled peanuts in the slow cooker is super simple. Plan ahead of time though because these take 24 hours to cook.
Add peanuts to a slow cooker.
Add sliced jalapeños.
Add crushed garlic cloves.
Sprinkle with salt and spices, if using.
Pour in water to completely cover the peanuts.

Cover and cook for 12 hours. Stir and cook for another 12 hours.

Serve, and enjoy!
Slow Cooker Boiled Peanuts Recipe Tips
Variations
Ingredient Options
Jalapeños: Use 2 teaspoons of red pepper flakes or cayenne pepper in place of the two jalapeños.
Garlic: Use 2 teaspoons of garlic powder in place of the 4 cloves of garlic.
Alternative Cooking Methods
You can also prepare boiled peanuts using a large pot on the stove, but the slow cooker makes it much easier.
To make on the stove:
Add all the ingredients to a very large stock pot. Bring to a boil, cover, and reduce heat to simmer. Simmer, stirring every hour or so, for at least 8 hours or until the peanuts are soft.
How to Make Allergy-Friendly
Jalapeño Garlic Boiled Peanuts are already gluten-free, dairy-free, egg-free, and vegan/vegetarian. Obviously, since the main ingredient is peanuts, they cannot be made nut-free.
How to Fix a Mistake
Peanuts are still very crunchy: The peanuts need longer to cook, so cover and cook for at least 1-2 hours more.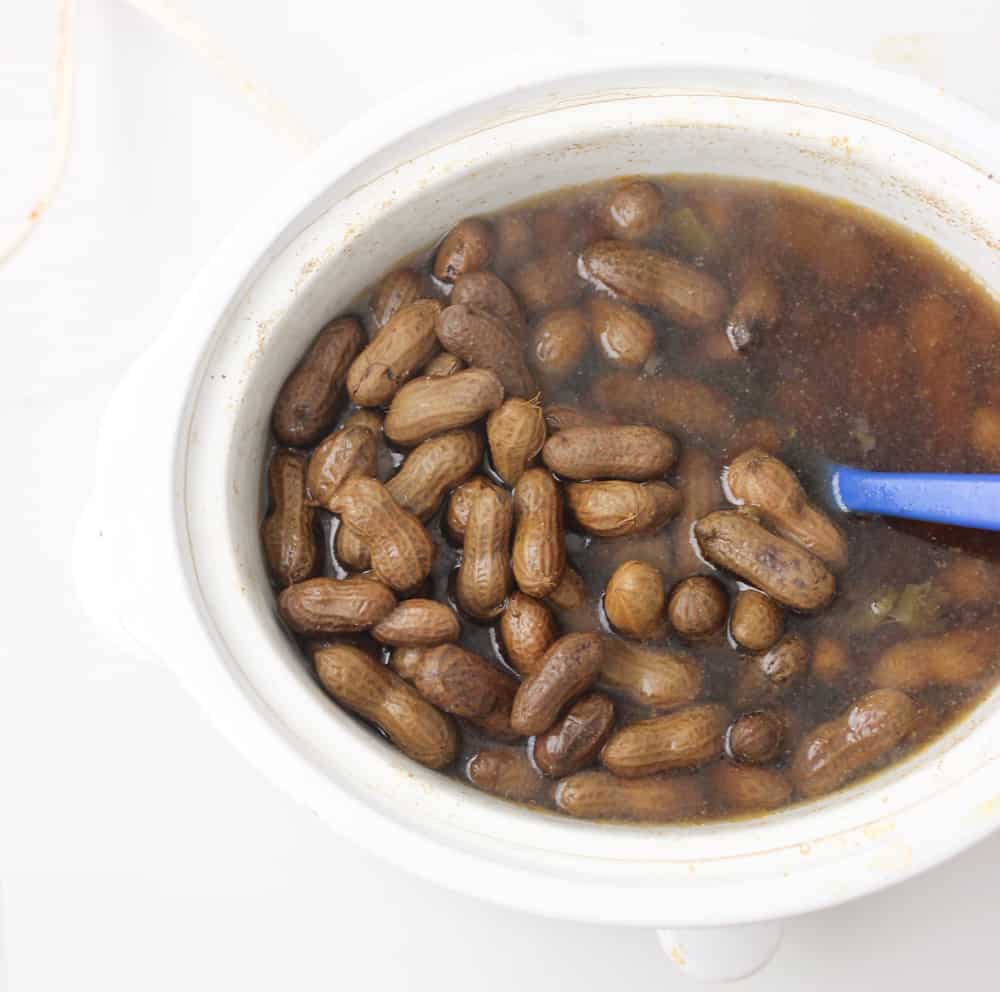 Make-Ahead Ideas
These boiled peanuts must be made ahead of time, so be sure to plan these in advance. You'll need about 24 hours for them to cook.
You can prepare these up to a week in advance and either serve cold, at room temperature or warm in a pot or slow cooker. Be sure to keep the cooking liquid with them, so they don't dry out.
Storage Suggestions
They keep in the fridge for about a week, and they also freeze well. Make sure you freeze them with a little of the cooking liquid so they don't dry out.
Frequently Asked Questions
How to make low-sodium boiled peanuts
Decrease the amount of salt to 1 tablespoon, and you'll get about 90mg of sodium per serving or about 4% of the RDA.
As the recipe is written, one serving has 237mg sodium which is 10% of the recommended amount per day.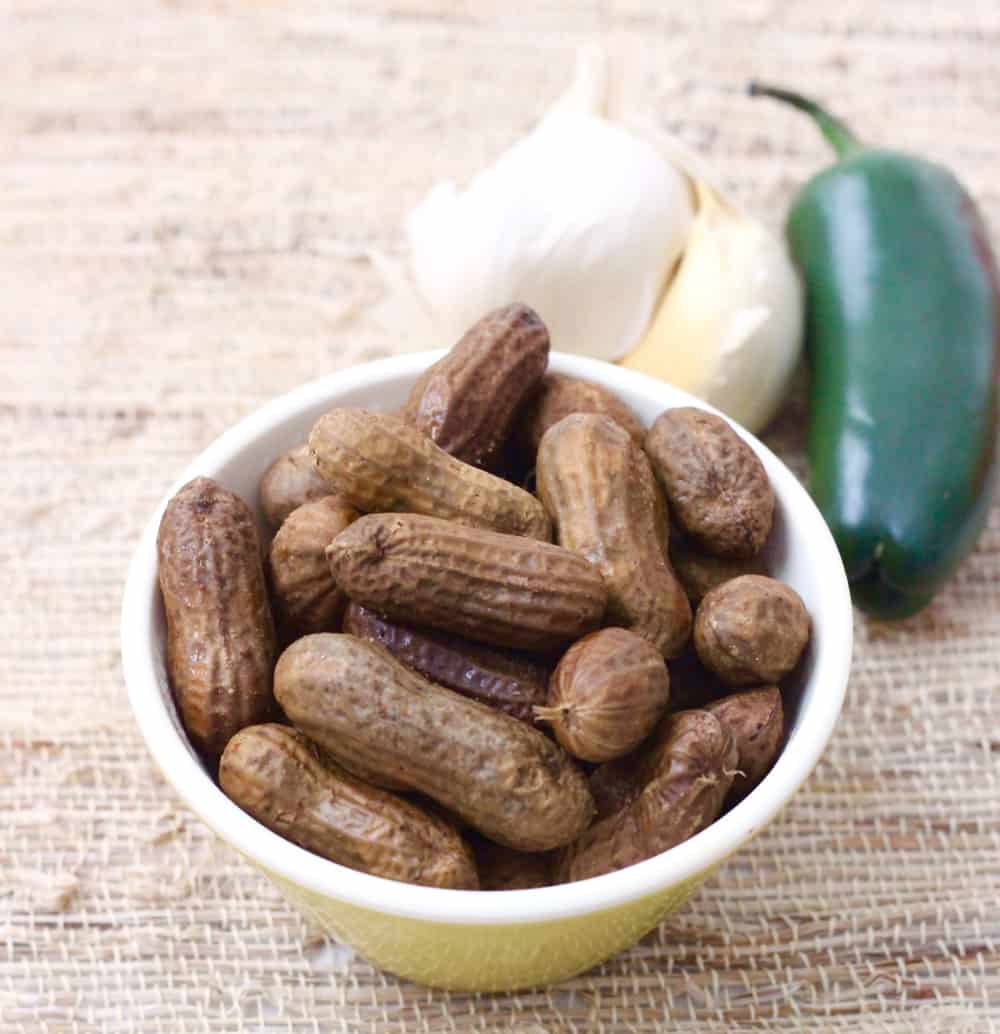 Nutrition Benefits
Peanuts are an excellent source of niacin, Vitamin E, copper, and manganese. They're a good source of biotin, magnesium, and folate.
One serving of this recipe has 6 grams of protein and 2 grams of fiber to help you feel satisfied.
While boiled peanuts are usually high in sodium, these peanuts have a lower amount than most. However, these wouldn't be recommended for someone who is trying to limit their sodium intake.
What to Serve with Jalapeño Boiled Peanuts
Boiled peanuts are a pretty salty snack and these have a nice kick to them, so I recommend an ice-cold beverage like a big glass of water, a beer, or a Yellowhammer drink. If you're serving at a party or tailgate, serve these with a few other appetizers like lower sodium salsa, hummus deviled eggs, or wasabi edamame dip.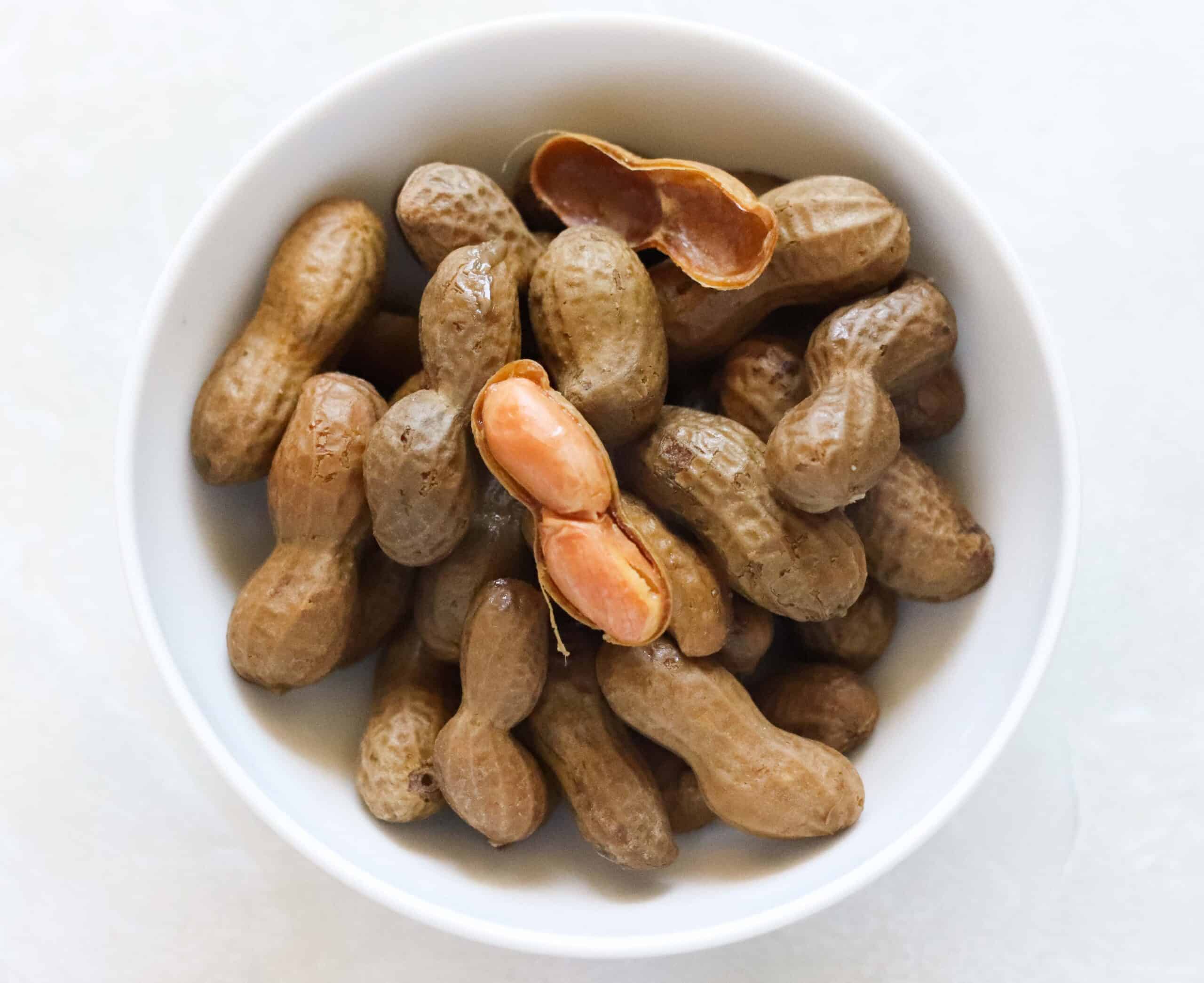 Final thoughts:
Salty and snackable, you'll love these boiled peanuts made in a slow cooker. These are highly delicious, and shelling the peanuts is really fun, especially when spicy, salty peanut liquid shoots out of each peanut.
MORE SLOW COOKER RECIPES YOU'LL LOVE: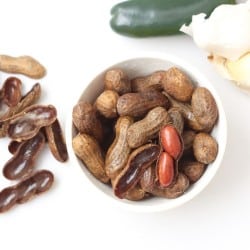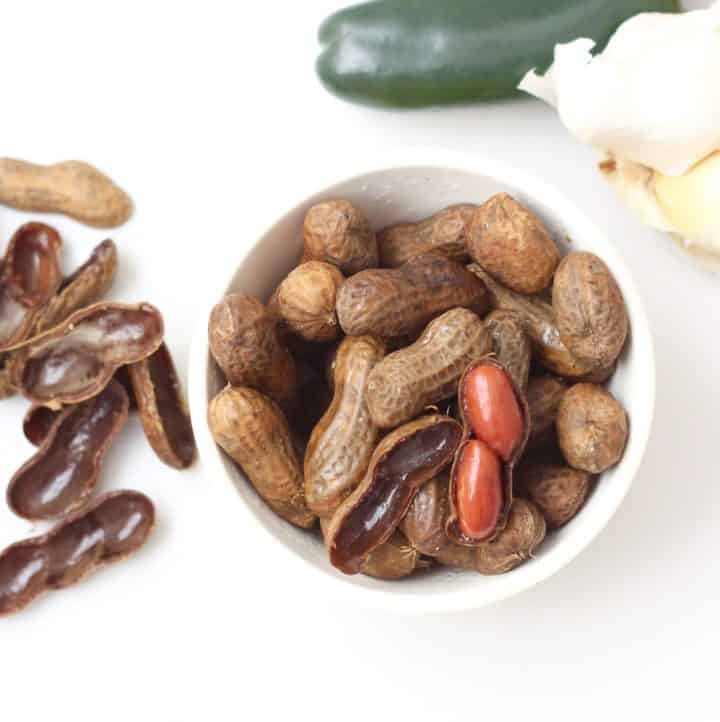 Slow Cooker Jalapeño Garlic Boiled Peanuts
Boiled peanuts in a Crock Pot are a super simple and filling snack. Great make-ahead recipe for parties and tailgates
Print
Rate
Total Cost:
$7.90 or $0.26/serving
Ingredients
2

pounds

in-shell peanuts

raw

8-10

cups

water

3

tablespoons

salt

2

small

jalapeños

chopped

4

cloves

garlic

smashed

1

teaspoon

garlic powder

optional

½

teaspoon

cayenne pepper

optional
Instructions
Toss all the ingredients into the slow cooker.

Cover. Set to High and cook for 12 hours.

Stir and add more water if necessary.

Set to Low. Cover and cook for 10-14 hours, depending on your desired tenderness of the peanuts. Enjoy!
Notes
*Refrigerate for up to 7 days, or freeze with cooking liquid for up to 3 months.
*Makes 15 cups.
*½ cup is about 12-15 peanut shells
*If needed, use a 24-ounce package of peanuts. Add only 2.5 tablespoons of salt.
What to Use in This Recipe
Did you try this recipe?
Be sure to leave a comment & recipe rating below. Bonus points for tagging @memeinge & #livingwellkitchen on Instagram! THANK YOU! xo
Meme
This post was originally published on February 25, 2016. Text, recipe, and photos have been updated.
---
Crock Pot Boiled Peanuts Nutrition Facts
Nutrition Facts
Slow Cooker Jalapeño Garlic Boiled Peanuts
Amount per Serving
% Daily Value*
* Percent Daily Values are based on a 2000 calorie diet.