These salty, spicy, garlicky Slow Cooker Jalapeño Garlic Boiled Peanuts will become your new favorite snack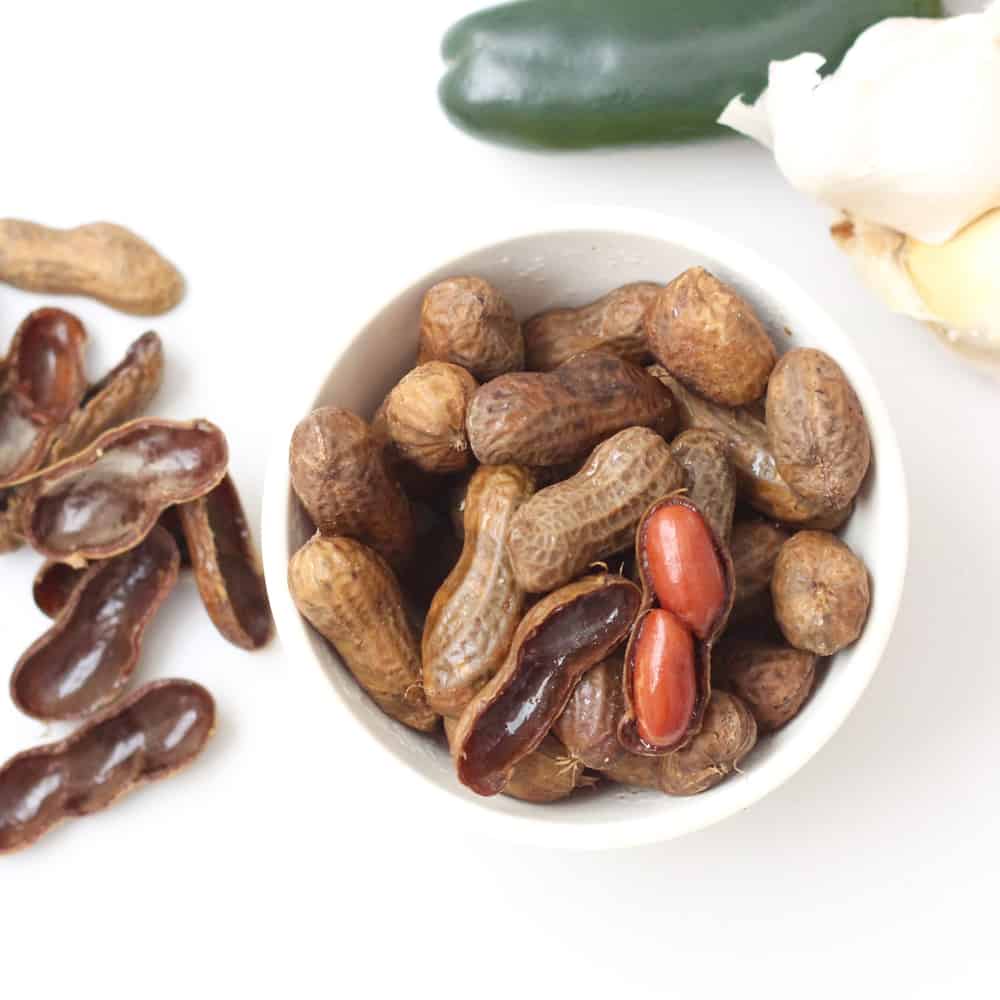 Boiled peanuts are one of the most underrated snacks in the history of snacks.
I think the only reason you can disagree with that statement is if A) you can't eat peanuts or B) you haven't had boiled peanuts in a long time (or ever).
I was in the group of people who hadn't had boiled peanuts in forever.
My dad used to make them when we were little, and I always loved them. He would pull out his giant pot and make them outside. It makes me smile to think about eating boiled peanuts in our back yard, but I'm pretty sure the last time I had a boiled peanut was in the 90's or early 2000's.

It was high time to change that fact, so I bought a bag of raw peanuts. In August. And then I forgot about them which is so unfortunate because how have I been living without boiled peanuts for so long?!?!!?
Y'all... buy a bag of peanuts, two jalapeños, and garlic as soon as possible.
That's really all you need.
I ended up adding some cayenne pepper and garlic powder for a little extra spicy garlicky punch, but it's not mandatory.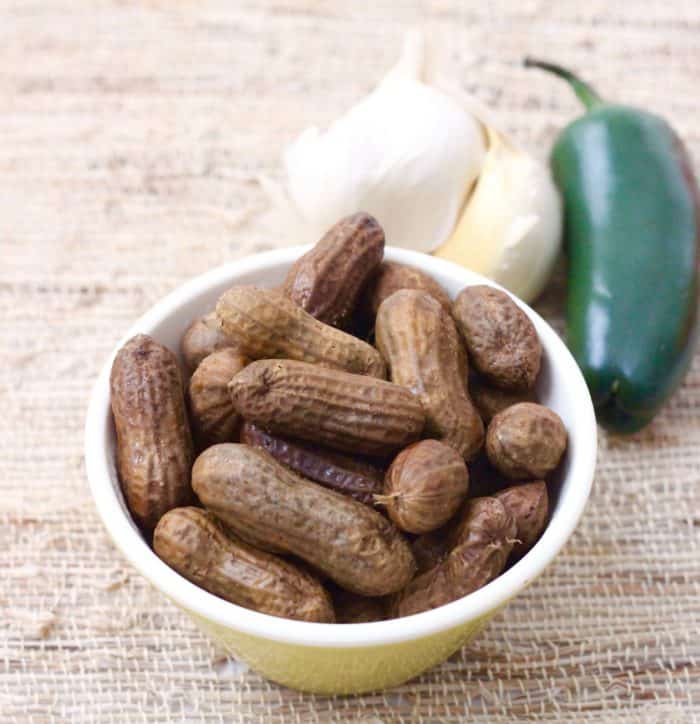 These are much easier to make than pulling out the giant pot and making a production of the peanuts. All you need is peanuts, jalapeños, garlic, water, and your slow cooker.
Talk about my kind of recipe... less than 5 ingredients (all of which are really inexpensive) and basically, no work involved.
It makes a big batch. To be honest I can't give you an exact measurement because I COULD NOT STOP EATING THEM. I would say it makes around 15 cups of boiled peanuts. [update: I made them again. This makes 14-15 cups]
Warning: make this for a group of people if you have a hard time with portion control. These are highly addicting, and shelling the peanuts is really fun, especially when spicy, salty peanut liquid shoots out of each peanut 😉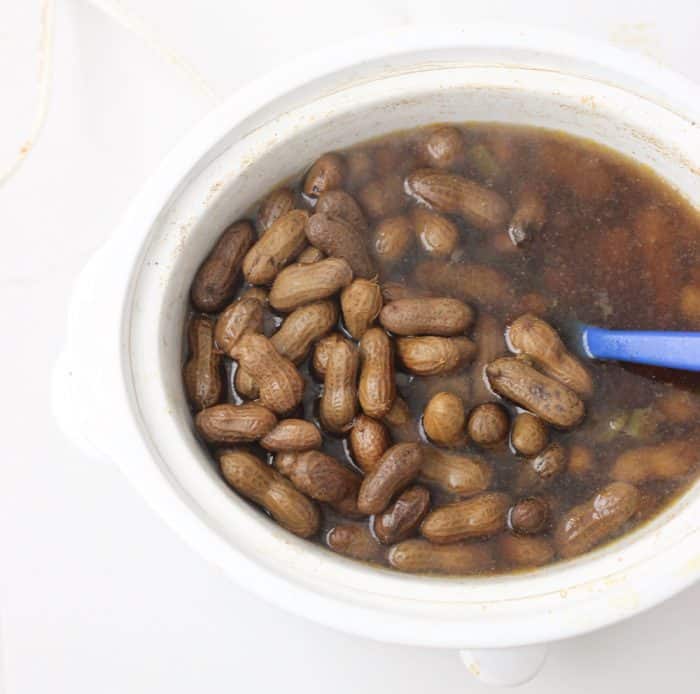 They keep in the fridge for about a week, and they also freeze well. Make sure you freeze them with a little of the cooking liquid so they don't dry out.
Just a little note: boiled peanuts are salty, so make sure you have an ice cold beer a tall glass of water hanging around to wash these down.
I reduced the salt from most recipes I found and found them to be perfectly salty.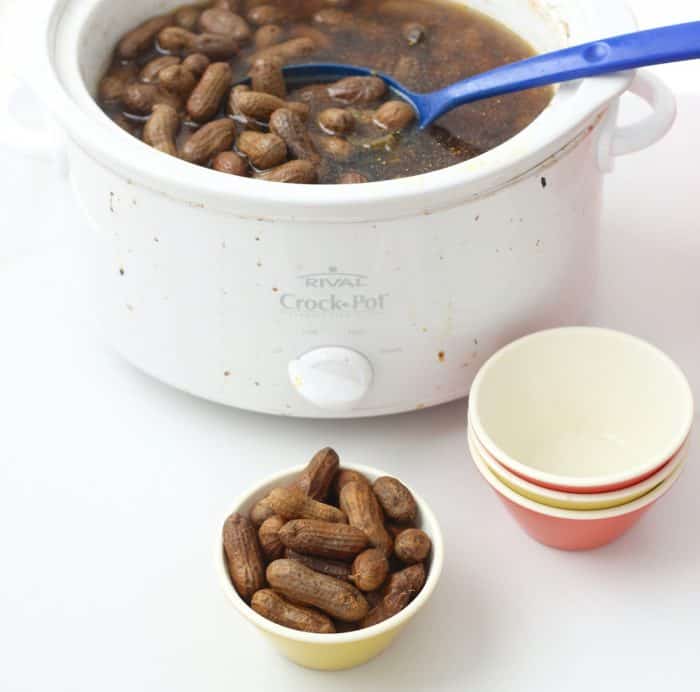 This salty, slightly spicy, garlicky snack will become your new favorite.
Toss everything in the slow cooker and come back the next day for a delightful treat! (Yes, you need to prepare these a day in advance. It'll take about 24 hours to perfection)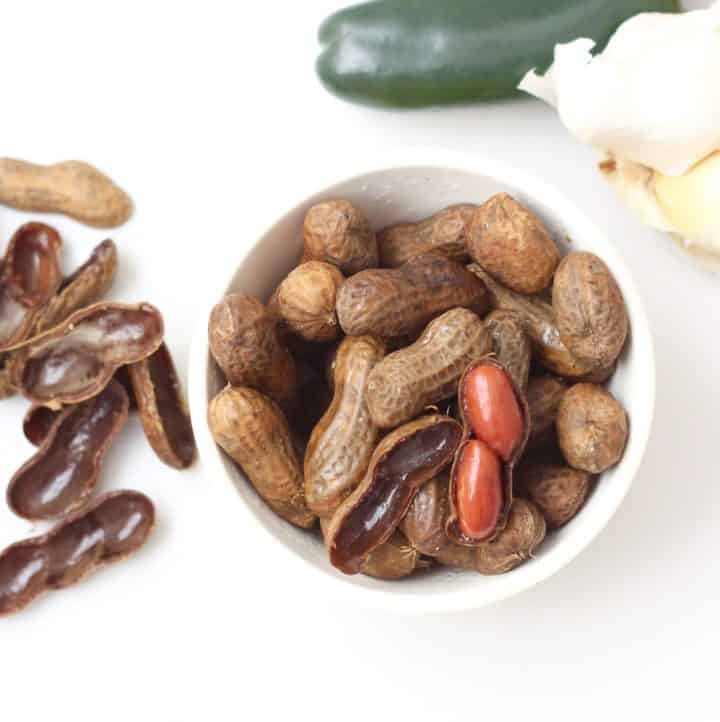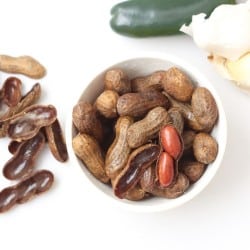 Slow Cooker Jalapeño Garlic Boiled Peanuts
These salty, spicy, garlicky Slow Cooker Jalapeño Garlic Boiled Peanuts will become your new favorite snack
Print
Rate
Ingredients
2

pounds

in-shell peanuts

raw

8-10

cups

water

3

tablespoon

salt

2

small

jalapeños

chopped

4

cloves

garlic

smashed

1

teaspoon

garlic powder

optional

1/2

teaspoon

cayenne pepper

optional
Instructions
Toss all the ingredients into the slow cooker. Cover. Set to High and cook for 12 hours.

Stir and add more water if necessary. Set to Low. Cover and cook for 10-12 hours. Enjoy!
Notes
*Refrigerate for up to 7 days, or freeze with cooking liquid for up to 3 months.
*Makes 15 cups.
*1/2 cup is about 12-15 peanut shells
What to Use in This Recipe
Did you try this recipe?
Be sure to leave a comment & recipe rating below. Bonus points for tagging @memeinge & #livingwellkitchen on Instagram! THANK YOU! xo
Meme
Pin this recipe: