These Chicken Nugget Vegetable Kabobs are simple to prepare with everything cooked in the oven. They'll make entertaining easy and are fun to serve & enjoy! Plus, you get a delicious sweet and spicy dipping sauce.
This post is sponsored by the National Frozen & Refrigerated Foods Association, however all opinions are my own.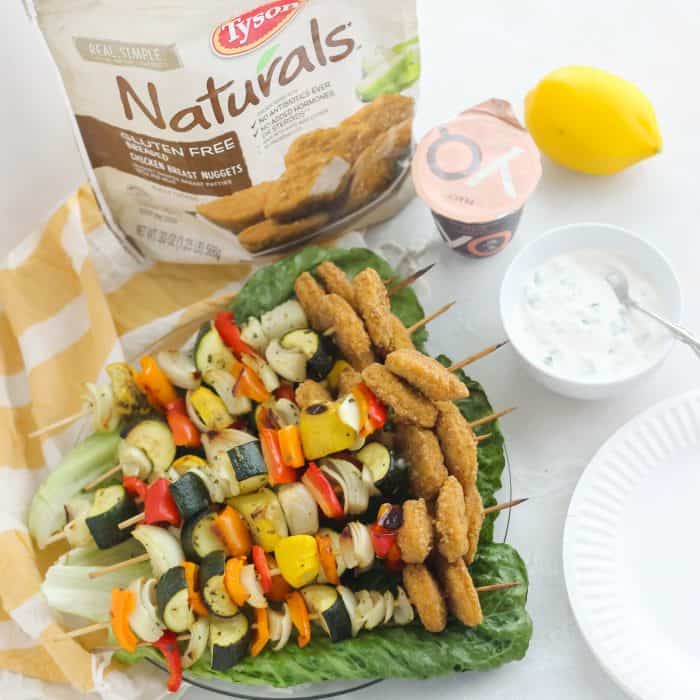 Why you should make Chicken Nugget Vegetable Kabobs in the Oven
If you're thinking that it's strange to add chicken nuggets to kabobs, think again because I think it's brilliant. And it's mighty tasty!
The wonderful thing about this recipe is that it makes life so easy, especially if you are entertaining. You can throw everything into the oven and get ready for the party while it's baking.
Plus, because the frozen chicken nuggets are already cooked and the only work you have to do is chop veggies and stir together a quick sauce, you can make this with little mess and easily enlist the help of others to help prepare.
What are Chicken Nugget Veggie Kabobs
This recipe is pretty self-explanatory, and that's the beauty of it. Vegetable kabobs with baked Tyson® Gluten Free Breaded Chicken Breast Nuggets served with a sweet and spicy YQ by Yoplait® Peach yogurt dipping sauce. YUM!
Why this recipe works
You might think it's strange to use chicken nuggets in kabobs, and I don't fault you. Even so, I highly recommend trying it! Why? Because 1) everyone likes chicken nuggets, 2) they make this meal so easy to prepare and 3) there are tons of veggies (which can be hard to find at parties).
Bonus is that these frozen chicken nuggets are wholesome, and you can keep them in your freezer to save you in a pinch. One more reason why I heart my freezer so much!
There's no need to deal with raw chicken, so your family members can help make this for you.
And then the spicy peach dipping sauce really ties it all together and gives you a fun addition to dip your kabobs instead of boring ketchup. But I like to add a bowl of ketchup in there too for options.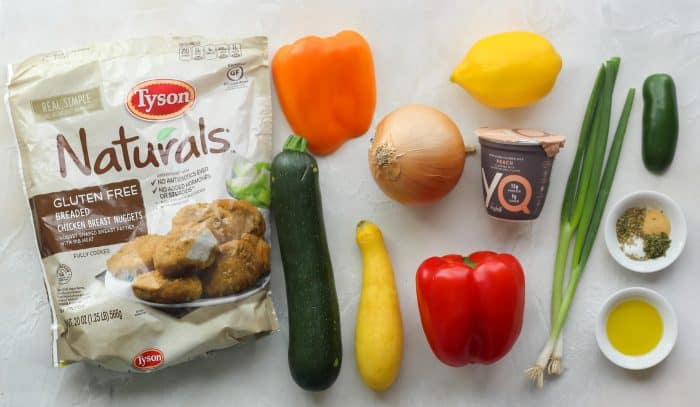 How to Make these Chicken Nugget Vegetable Kabobs
Chop your veggies and toss them in a quick marinade.
Preheat the oven.
Stir together the sauce, and refrigerate.
Thread the veggies onto the skewers, and place on a baking sheet. Bake.
Put the nuggets on a baking sheet and bake according to package directions.
Thread a few nuggets on the skewers when done if desired.
Serve with dipping sauce. Enjoy!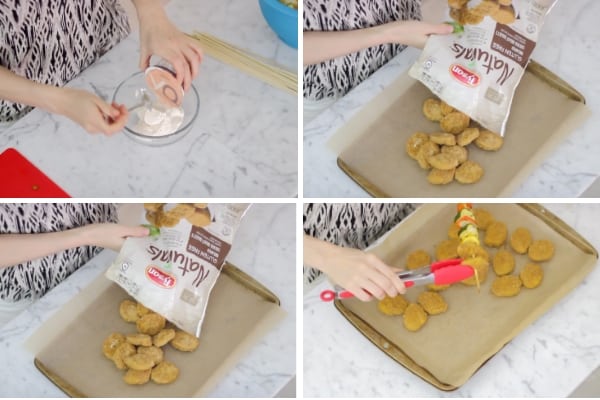 Tips for Making Chicken Nugget Vegetable Kabobs
The best ingredients for the recipe
For the chicken nuggets, I use the Tyson® Gluten Free Breaded Chicken Breast Nuggets because they are GOOD! And I love how they are gluten free (breaded in rice flour), so I there's no worrying if any of my guests have a gluten allergy.
You can also use the Whole Grain Breaded Chicken Breast Chunks or regular Chicken Nuggets [note that the recipe will no longer be gluten free].
In the dipping sauce, I chose the YQ by Yoplait® Peach yogurt. I really like how this yogurt has 15 grams of protein per container, doesn't have a ton of added sugar, and has no artificial preservatives, no artificial flavors and no colors from artificial sources. Instead it is colored with pumpkin and carrot juice. Yes, please.
The Mango would be another great flavor option for this sauce since it is slightly sweet but not too sweet.
Make Ahead Tips
To make your life easier, you can chop the veggies ahead of time up to 24 hours in advance. If you want to marinate them in advance, I recommend marinating for up to 12 hours, so they don't get soggy.
You can also prepare the sauce up to 2 days in advance. The sauce is even better if prepared ahead of time, so the flavors have time to mingle. However, the sauce is still delicious if prepared right before serving as directed in the recipe.
There is no need to do any advance prep work for the chicken nuggets. Simply cook them just before serving.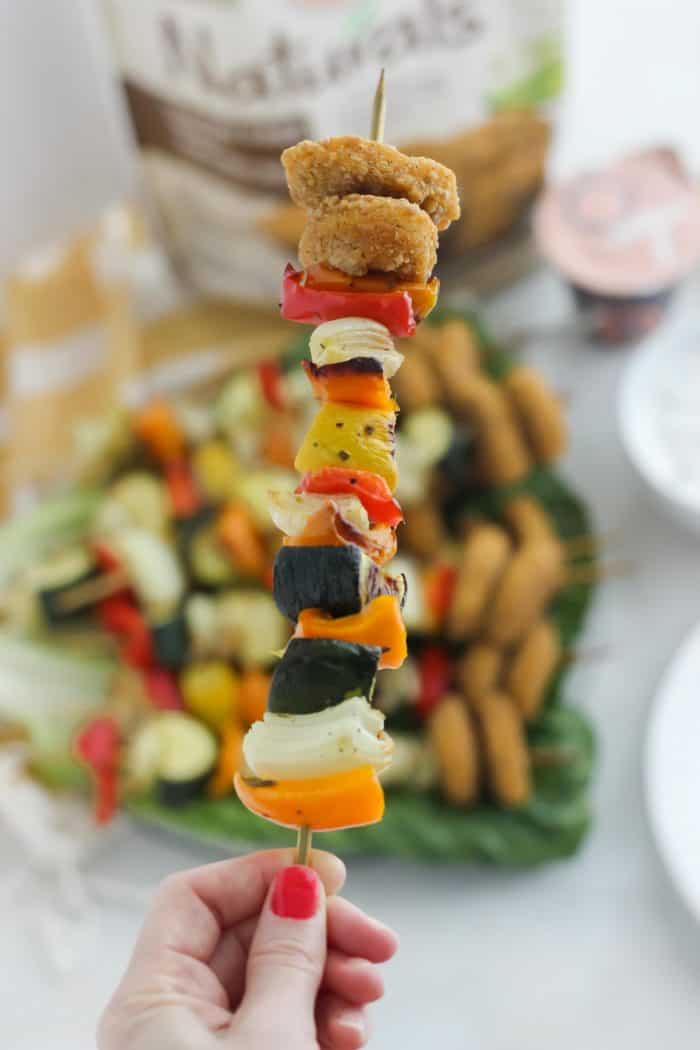 Variations
Substitutions:
You are welcome to change up the vegetables. Mushrooms and cherry or grape tomatoes also work well in kabobs.
Alternative prep & cooking methods:
The nuggets can be cooked in the microwave according to package directions, and the vegetables can be grilled.
Another alternative is to serve the vegetable kabobs alongside a plate of baked Tyson® Gluten Free Breaded Chicken Breast Nuggets and a bowl of the dipping sauce.
Also, if you are not interested in making kabobs, you can easily throw all the ingredients onto a baking sheet and roast. You'll follow the same instructions minus the threading of the veggies onto the skewers.
Storage Tips:
I prefer to remove the veggies and nuggets from the skewers and store in an airtight container for up to 4 days. If possible, store the veggies and nuggets separately, so your nuggets don't get soggy from any of the juices the veggies might release.
Frequently Asked Questions
Can you use wooden skewers in the oven?
Yes, you sure can! That's what I use when testing the recipe. You can also use bamboo skewers or metal reusable skewers.
Can you bake the nuggets on the skewers?
Yes, you can. I tried threading the frozen nuggets onto the skewers in one of my tests, and it worked just as well. However, since the nuggets are frozen, they will be a little harder to thread onto the skewers.
To make it easier, I let the nuggets thaw for 5 minutes before I added them to the skewers. Cook as directed.
What to serve with this dish
You can serve this as a complete meal since it's full of veggies and protein. Plus, the breading on the nuggets gives you carbohydrates. Another tasty addition would be to add some fries, a baked potato, or roasted potato since you can also cook those in the oven with everything else.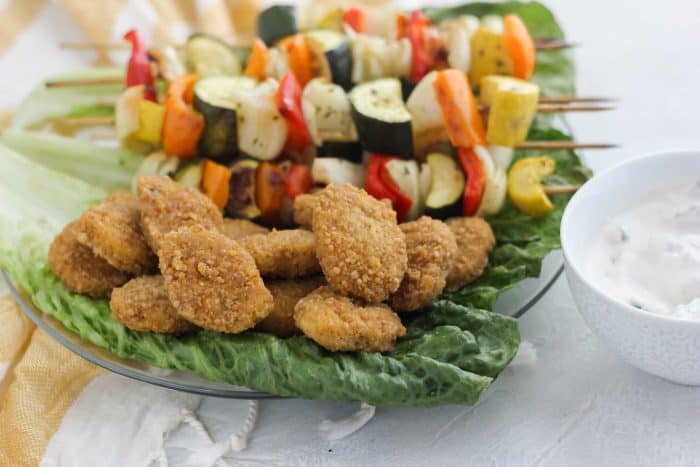 Final thoughts:
My favorite part of this recipe is how streamlined it is and how easy it makes your life when you're entertaining. Bonus points for getting lots of veggies and satisfying protein at a party.
Oh and don't feel the need to save this recipe only for parties. You can easily make this at home without the skewers for a family friendly weeknight meal!
---
MORE ENTERTAINING RECIPES YOU'LL LOVE:
---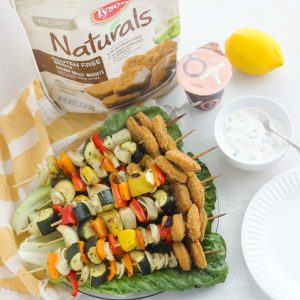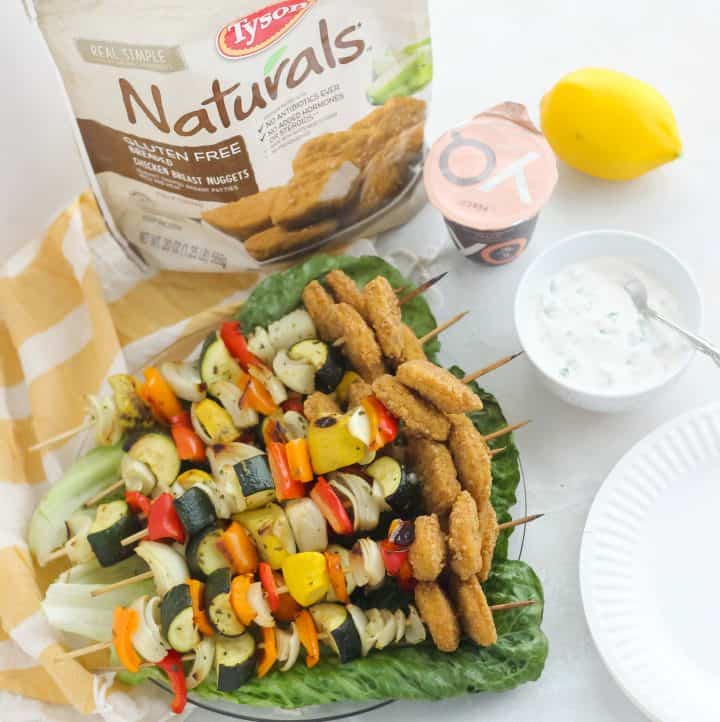 Chicken Nugget Vegetable Kabobs
These Chicken Nugget Vegetable Kabobs are simple to prepare with everything cooked in the oven. They'll make entertaining easy and are fun to serve & enjoy! Plus, you get a delicious sweet and spicy dipping sauce.
Print
Rate
Ingredients
Kabobs:
2

medium

bell peppers

any color

2

medium

onions

2

medium

zucchini

2

medium

yellow squash
Marinade:
1

tablespoon

olive oil

½

teaspoon

salt

½

teaspoon

garlic powder

½

teaspoon

dried oregano

½

teaspoon

dried parsley

4

tablespoons

lemon juice
Instructions
Chop bell peppers, onions, zucchini, and squash into 1.5-inch pieces and add to a large bowl. Add olive oil, salt, garlic powder, dried oregano, dried parsley, and 4 tablespoons lemon juice. Toss, and set aside.

Preheat oven to 425*F.

Dice green onions, and mince jalapeño.

In a medium bowl, add yogurt, green onions, jalapeño, ⅛ teaspoon salt, and 2 tablespoons lemon juice. Stir, cover, and refrigerate.

Thread vegetables onto skewers and place on baking sheet. Repeat with remaining veggies. Transfer to oven.

Put the chicken nuggets on another baking sheet, and transfer to oven.

Bake 8 minutes, and flip. Bake another 6-10 minutes until done.

If desired, thread a few chicken nuggets onto each kabob. Serve with dipping sauce and enjoy!
What to Use in This Recipe
Did you try this recipe?
Be sure to leave a comment & recipe rating below. Bonus points for tagging @memeinge & #livingwellkitchen on Instagram! THANK YOU! xo
[showhide type="post" more_text="Click here for Nutrition Facts" less_text="Clear Nutrition Facts"]
*
Nutrition Facts
Chicken Nugget Vegetable Kabobs
Amount per Serving
% Daily Value*
* Percent Daily Values are based on a 2000 calorie diet.
*
[/showhide]
---
Meme
Doesn't this recipe look good?! You should probably share it: