Shake up your boring lunch routine with this delicious, make-ahead Rosemary Lemon Tofu and Peppers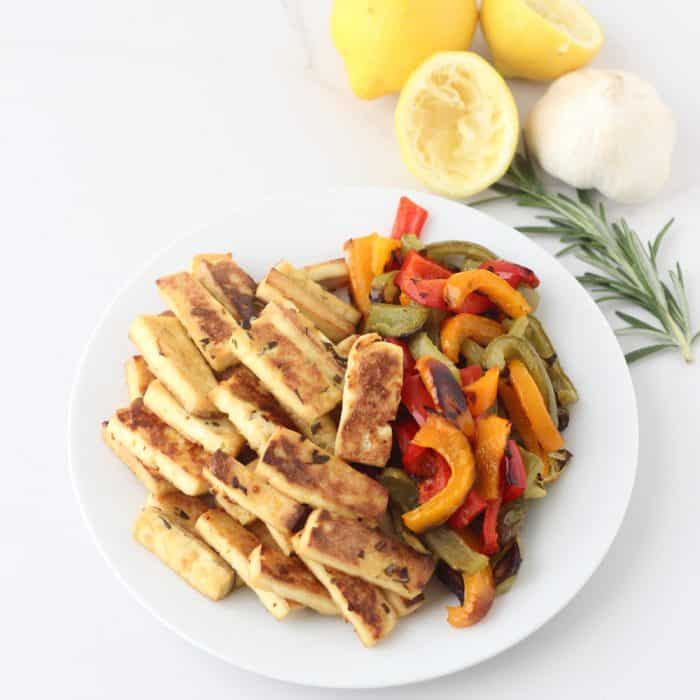 Are you so bored with your current lunch routine?
Or maybe you feel like you're spending way too much money on ordering lunch every day...
Either way, I'm here to help shake up your lunch so you feel excited for the midday meal again.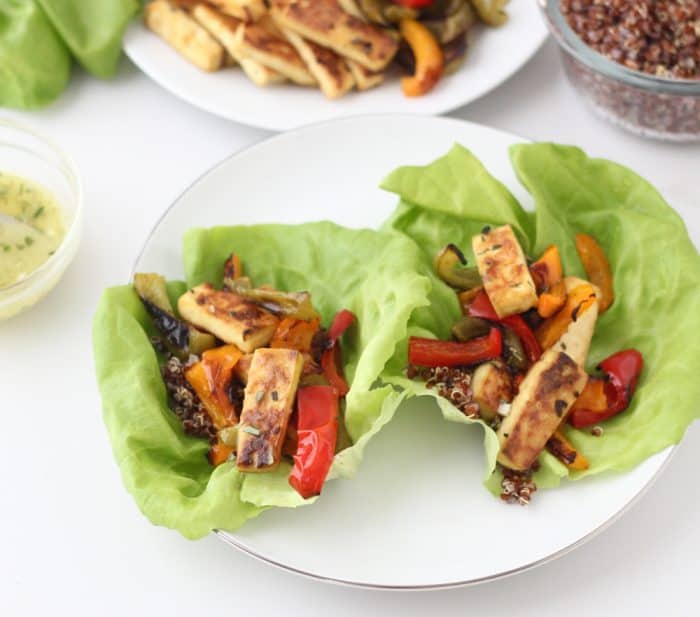 The Recipe ReDux theme for the month is "Limpin' Along for Lunch" challenging us to come up with creative new lunch ideas. So I made this tasty, make-ahead recipe that you can eat the whole week -- Rosemary Lemon Tofu and Peppers.
Before you decide I've gone crazy as I suggest tofu for lunch, let me assure you that this tofu is deeeeelicious. Seriously. This bacon-loving girl couldn't get enough of this tofu. Scouts honor.
This is best made ahead which is why it's perfect to eat for lunch. You can make the recipe and eat it during the week. The recipe makes 4 servings, so you'll have lunch for almost the entire week.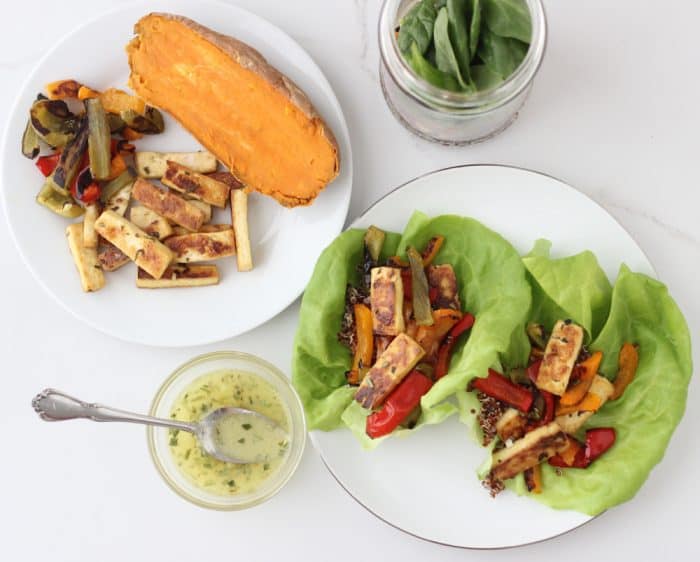 I decided to make things a little more interesting by eating the Rosemary Lemon Tofu and Peppers in different ways during the week.
I assumed you probably didn't want to eat the exact same thing every single day.
Option one is to serve over cooked quinoa. I pack this into a jar with the dressing and quinoa on the bottom, then top with the tofu and peppers, and end with some lettuce. Just pour it into a bowl when you're ready to eat.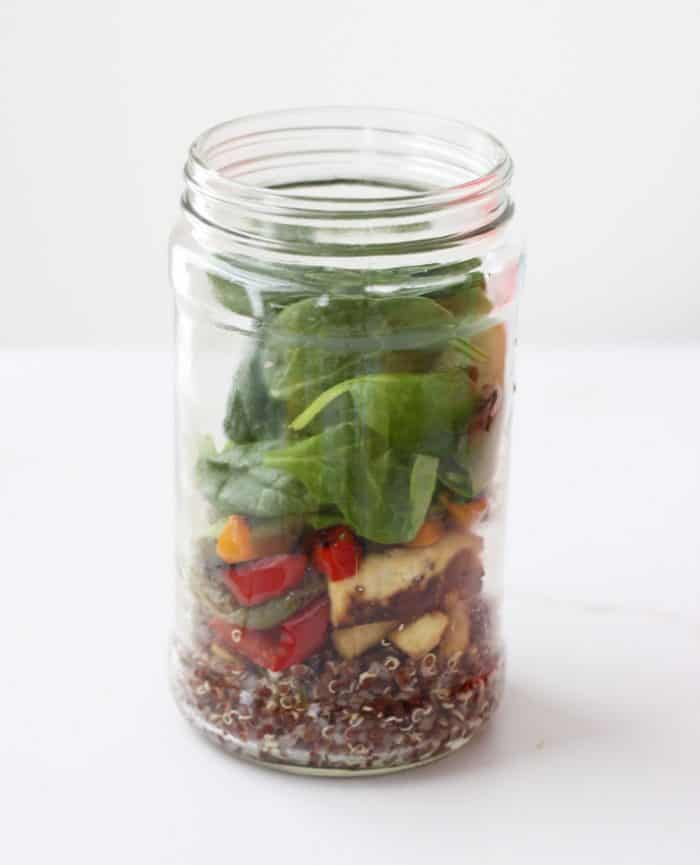 The second option is to serve in lettuce wraps. I'm all for getting in more veggies and lettuce wraps are a great way to do that.
I added some cooked quinoa because I wanted a little more substance, and quinoa helps fill you up with extra fiber and protein.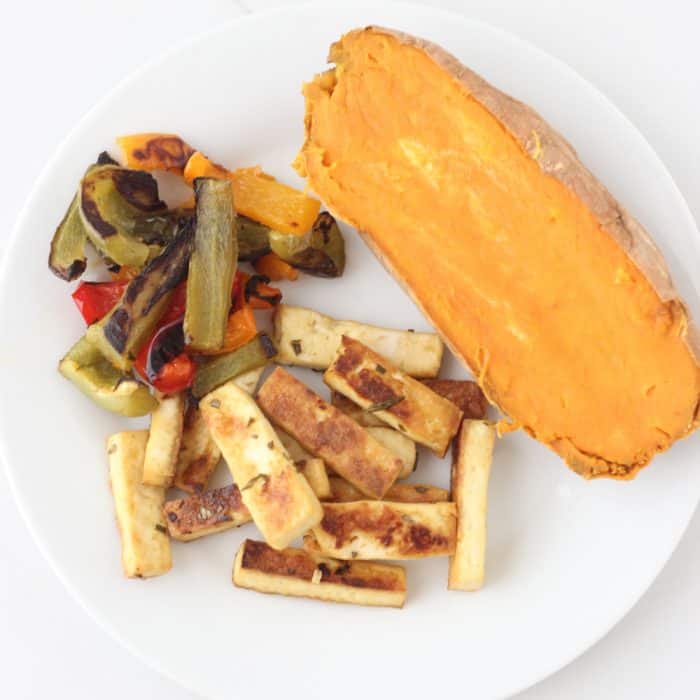 Last, I served the Rosemary Lemon Tofu with a baked sweet potato on the side. My sweet potato was massive, so I baked it while the tofu was roasting and halved it.
My favorite version is to eat the tofu & peppers in lettuce wraps.
Something about lettuce wraps makes me happy.
Maybe it's because they're a little messy and fun to eat. Or maybe it's because I'm getting extra veggies. Or maybe it's because I think they're pretty.
Whatever it may be, lettuce wraps rock!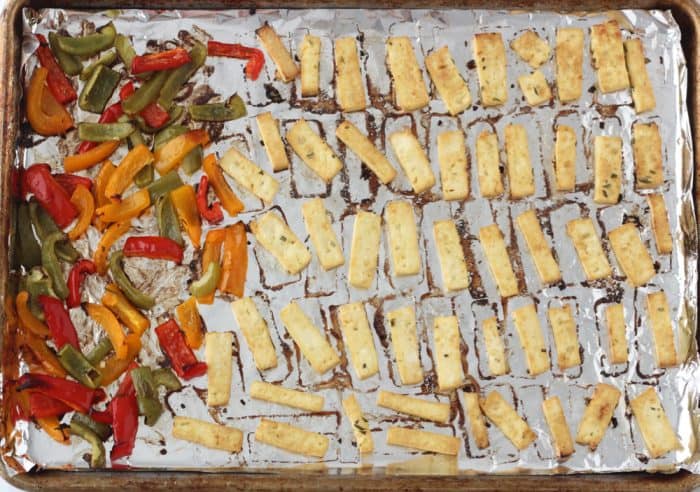 So get out of that lunch rut and try this Rosemary Lemon Tofu and Peppers. It's a great way to start adding tofu to your diet and beat lunch boredom.
Note to self: don't taste this as it comes out of the oven. Go ahead and pack your lunch for the week. Otherwise, you'll end up eating it all before you can even get it in the fridge.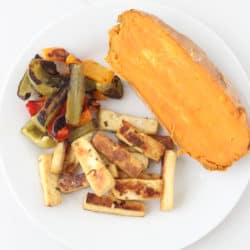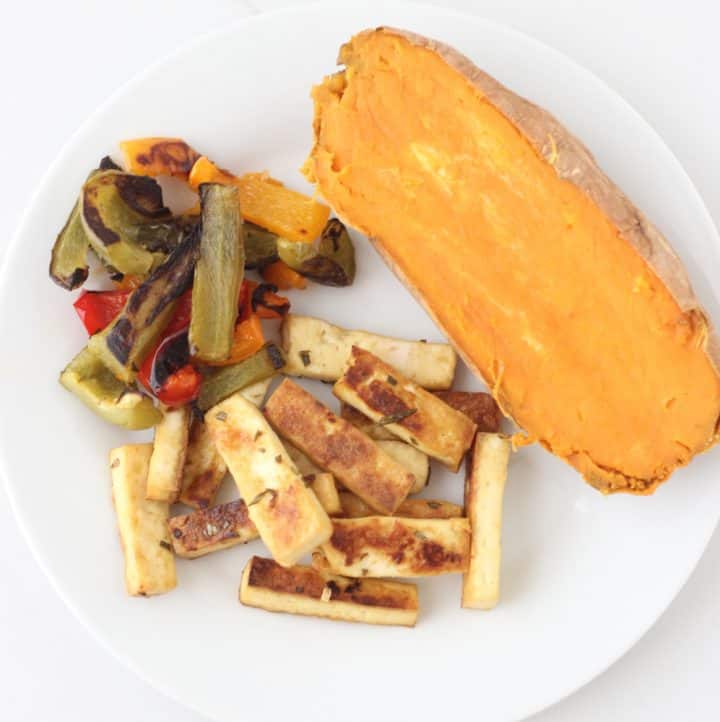 Rosemary Lemon Tofu and Peppers
Shake up your boring lunch routine with this delicious, make-ahead Rosemary Lemon Tofu and Peppers
Print
Rate
Ingredients
14

oz

extra firm tofu

¾

cup

lemon juice

from about 4 lemons

2

tablespoon

olive oil

2

teaspoon

minced fresh rosemary

1

teaspoon

minced garlic

1 clove

½

teaspoon

salt

3

cups

sliced bell peppers

from 2 large bell peppers
Instructions
Dry tofu and slice into thin 2 inch slices. Transfer to a zip-top bag or container.

In a small bowl, whisk lemon juice, olive oil, rosemary, garlic, and salt. Reserve 2 tablespoons for later. Add remaining ½ cup marinade to the tofu. Add sliced bell peppers to the container. Refrigerate for at least 30 minutes or up to overnight.

When ready to cook, preheat the oven to 425*F. Line a baking sheet with foil or parchment.

Remove tofu from marinade and place on prepared baking sheet in one layer. Add peppers to the side of the baking sheet.

Transfer to oven and bake for 15 minutes. Flip tofu and stir peppers. Roast another 15-20 minutes.


Remove from oven. Enjoy hot, fresh from the oven or save for later to eat for lunch.

Notes
*You can serve this hot or cold.
*It makes about 2 cups of tofu & 1 cup peppers, so use ½ cup tofu & ¼ cup peppers per serving.
*I use organic sprouted tofu
Did you try this recipe?
Be sure to leave a comment & recipe rating below. Bonus points for tagging @memeinge & #livingwellkitchen on Instagram! THANK YOU! xo
Meme
Pin for later: