Easy Beef Jerky Nachos take less than 35 minutes from start to finish. You will love these satisfying nachos covered in cheese, veggies and beef jerky for a well-balanced dinner!
This post is sponsored by The North American Meat Institute (NAMI), a contractor to the Beef Checkoff. All thoughts and opinions are my own. These partnerships help make Living Well Kitchen a reality, and I appreciate your support of the brands I love!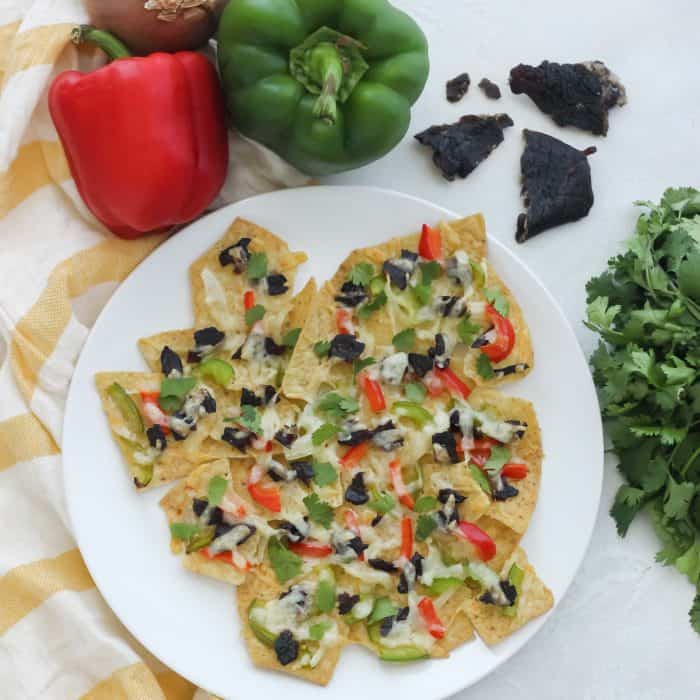 Why you should make this Beef Nachos recipe
Nachos consistently save me on weeknights when I need a quick, satisfying, and nourishing meal. They are easy to make with a nice balance of carbohydrates, protein, and fat. Plus, customizing your nachos to meet your family's needs is simple.
I typically have nachos on nights where I need something quick without much work, and despite the fact that food is my job, I have these nights at least once or twice a week.
Which means I am practically a nacho connoisseur, and when I tell you that these are my new favorite nachos, I truly mean it.
What are Beef Jerky Nachos
Beef Jerky Nachos are exactly as the name implies: nachos made with beef jerky. In a more detailed explanation, think tortilla chips covered with cheese, sliced bell peppers and onions, and bits of beef jerky. So simple, yet so good!
Why this recipe works
The balance of cheese, veggies and jerky really works here. The beef jerky has a rich flavor that is balanced with the slight sweetness of the veggies and the saltiness of the cheese & chips.
I mean, who knew that putting beef jerky on nachos would be so brilliant?! I always have beef jerky in the pantry, and I know that it's a nice source of protein. But I never thought about using it as anything other than a snack until now.
If you have the thought that beef jerky (or any processed meat) couldn't be labeled as a healthy dinner ingredient, it's time to revisit your prejudices on processed meats. Because you deserve the permission to enjoy it again!
I honestly believe that all foods have a place in a health-promoting lifestyle, but let's chat a little bit more about what processed beef really is and the benefits it has...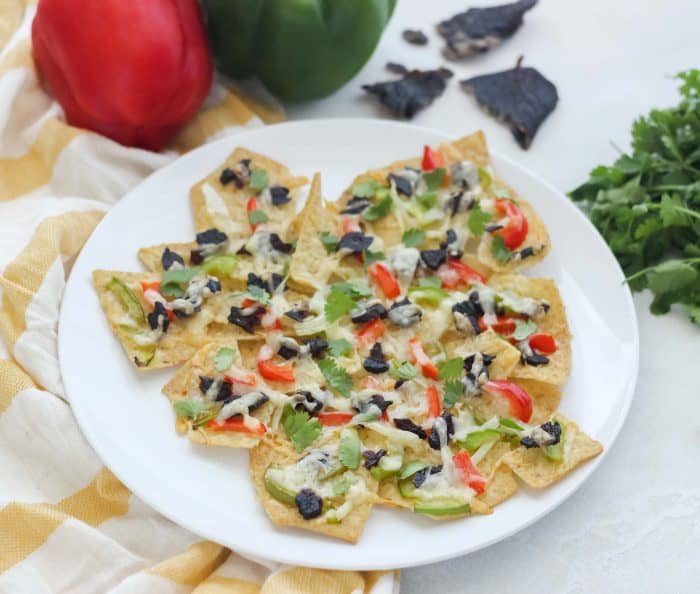 What is processed beef?
"Processed" simply means "prepared." Like the meat you prepare at home, processed meats are prepared at a plant. It is simply done on a larger scale. The chopping, grinding, seasoning, and cooking are all done for you in a plant instead of by you at home.
In turn, you get ready-to-eat beef without having to do any work. Plus, there's no worrying that you will improperly cook or prepare at home.
See? Now you know that there is no need to be deterred by the term "processed" because all it means is that all the preparation required to prepare and cook your beef has been done for you.
Is processed beef healthy?
Prepared beef is nutritionally rich in addition to the fact that it has a long shelf life making it a fabulous portable source of protein, vitamins, and minerals.
Beef is an excellent source of Vitamins B12 & B6, Niacin, Selenium, Iron, and Zinc. Plus, the zinc and iron found in beef are more bioavailable to your body.¹
How to Make Nachos in the Oven
Making these easy beef jerky nachos in the oven is super easy. Arrange tortilla chips on a baking sheet, sprinkle with some cheese, add your toppings, then cover in more cheese, and bake. Then enjoy!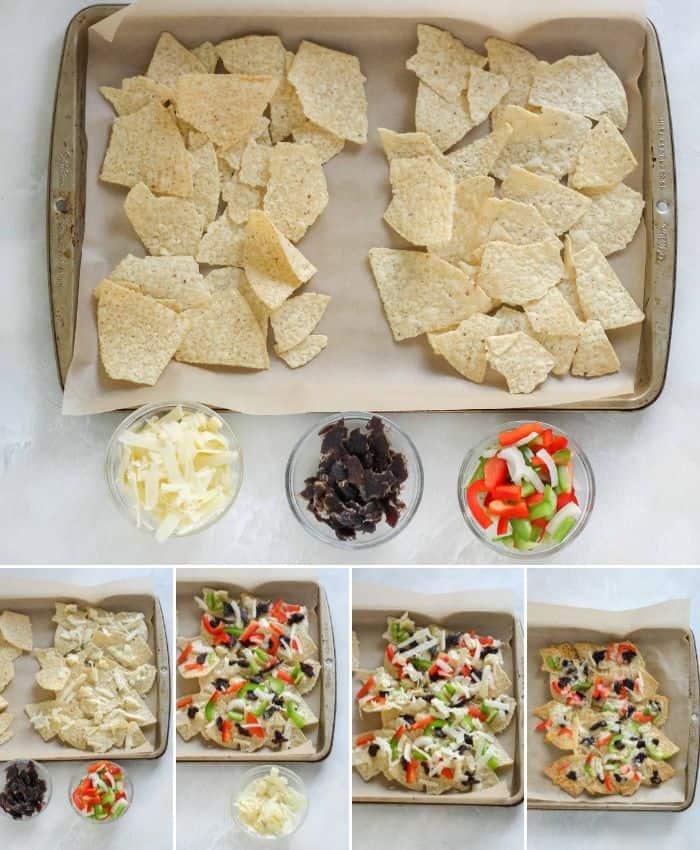 Tips for Making Beef Jerky Nachos
One of my favorite tips for making nachos, especially when serving as a meal, is to make everyone their own circle of nachos. What I mean is that you arrange one serving separate on the baking sheet from another, so no one is fighting over the nachos. Everyone gets their own pile of cheesy, dreamy nachos 🙂
The best ingredients for the beef nachos recipe
Tortilla Chips: Because we are loading the tortilla chips with cheese, veggies, and beef jerky, you want to make sure that you use the thick or restaurant style tortilla chips. Thin tortilla chips are not ideal because they will likely break when loaded with all the toppings. Look for a sturdier chip to make sure your nachos stay crispy and delicious and whole when baked.
Cheese: I prefer a basic cheddar cheese or mozzarella cheese in these tortillas. Nothing with an intense flavor that might overpower the beef jerky and veggies.
Veggies: Bell peppers and onions are my veggies of choice because you are not cooking the veggies prior to adding them to the nachos. This means you do not want to use a vegetable that releases a lot of moisture when it is cooked.
Slice them thinly so they cook and aren't completely raw when the nachos are done.
Beef Jerky: Honestly, any flavor will work here. I have used pepper as well as teriyaki, and both were delicious! Another alternative is chopping up a prepared beef stick.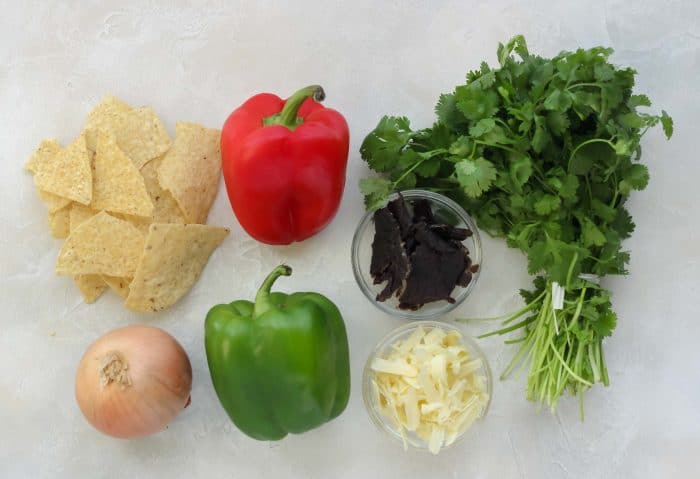 Make Ahead Tips
Because nachos are best enjoyed immediately after cooking, I highly recommend you wait until you are ready to cook to prepare these.
However, you can slice the onions and bell peppers in advance and keep them in a container in the fridge for up to 3 days until ready to use. You can also shred the cheese and tear the beef jerky into smaller pieces in advance.
Variations
Ingredient Substitutions:
If you are not a fan of onions or bell peppers, feel free to change those. Like I mention before, you want to use a vegetable that doesn't release a lot of liquid when cooking (because that could cause soggy nachos -- yuck).
For a dairy free plate of nachos, be sure to use non-dairy cheese. And if you need these to be gluten free, check the ingredients to ensure the beef jerky and tortilla chips are gluten free. You can also use a prepared beef stick as those are typically gluten free.
Storage Tips:
If you have leftovers, store them in an airtight container in the fridge for up to 3 days. Reheat on a baking sheet in the oven on 300*F until warmed through. When I reheat nachos, I like to sprinkle on a little extra cheese right before reheating to bring them back to life.
What to serve with this dish
These nachos are very satisfying served alone, but you can add sliced veggies or a salad on the side for some extra nutrients. I will usually have a few sliced veggies leftover from the ones I chopped for the nachos; I like to add those on my plate and eat them along with the nachos.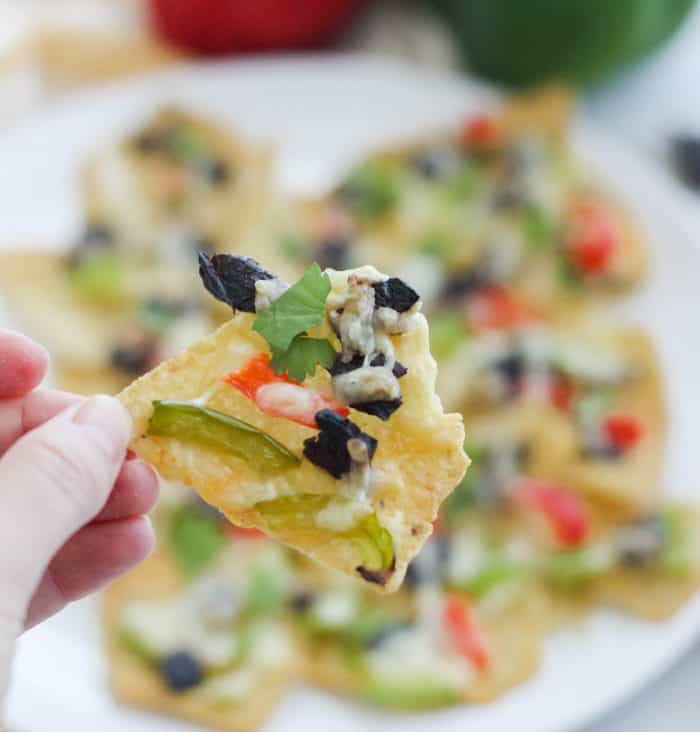 Final thoughts:
Adding beef jerky to nachos is a game changer, and I cannot believe I was only eating my beef jerky as a snack. While I will still enjoy prepared beef like beef jerky as a delicious and filling snack option, I will surely add it to my nachos and other dishes as well for an easy, budget friendly, and nourishing protein source.
---
MORE BEEF RECIPES YOU'LL LOVE:
---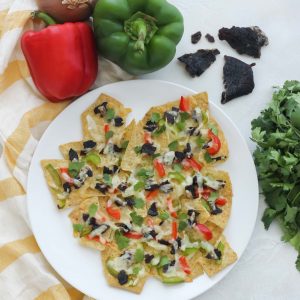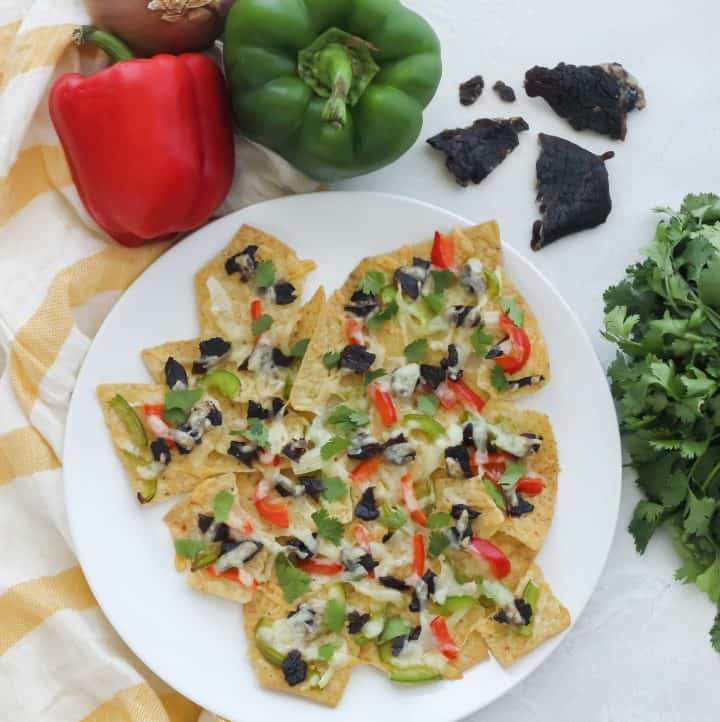 Beef Jerky Nachos
Easy beef nachos ready in under 35 minutes. You will love these satisfying nachos covered in cheese, veggies and beef jerky for a well-balanced dinner!
Print
Rate
Ingredients
6

ounces

tortilla chips

6

ounces

cheese

shredded (about 1 ½ cups)

3

ounces

beef jerky

broken into pieces (about 1 cup)

1

bell pepper

thinly sliced (about 1 ¼ cup)

½

medium onion

thinly sliced (about ¾ cup)

Cilantro

for serving (optional)
Instructions
Preheat the oven to 400*F. Line two baking sheets with parchment paper for easier cleanup.

Place an even amount of tortilla chips in 4 circles on the baking sheets. Sprinkle with half of the cheese then top with beef jerky and bell pepper & onion slices. Cover with remaining cheese and transfer to the oven.

Bake for 10-15 minutes until cheese is bubbly. Remove from the oven and sprinkle with cilantro if using. Enjoy!
What to Use in This Recipe
Did you try this recipe?
Be sure to leave a comment & recipe rating below. Bonus points for tagging @memeinge & #livingwellkitchen on Instagram! THANK YOU! xo
[showhide type="post" more_text="Click here for Nutrition Facts" less_text="Clear Nutrition Facts"]
*
Nutrition Facts
Beef Jerky Nachos
Amount per Serving
% Daily Value*
* Percent Daily Values are based on a 2000 calorie diet.
*
[/showhide]
---
¹Hunt JR. Bioavailability of iron, zinc, and other trace minerals from vegetarian diets. Am J Clin Nutr. 2003; 78, Issue 3: 633S–639S. https://academic.oup.com/ajcn/article/78/3/633S/4690005 Accessed March 29, 2018.

Meme
Doesn't this recipe look good?! You should probably share it: