Simple heart health promoting ingredients, tons of veggies, and easy clean up make this Salmon en Papillote recipe a dream come true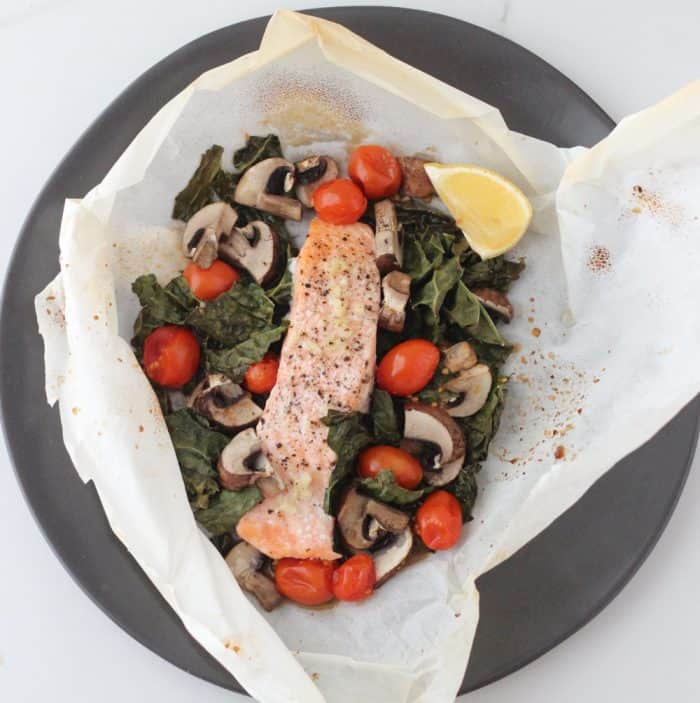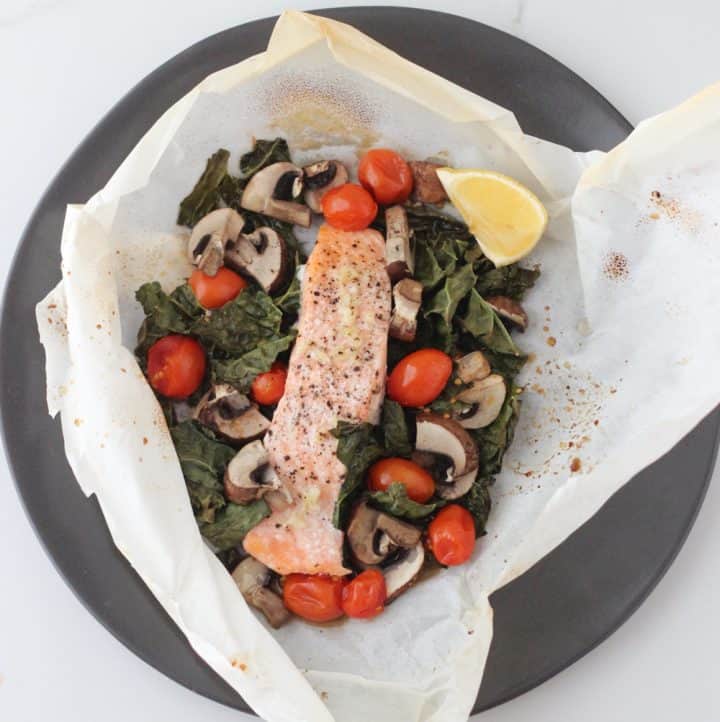 February is probably my least favorite month. Luckily, there are a few things February has to offer that make the (almost always) cold month more enjoyable.
While I'm not a huge proponent of Valentine's Day, I do like all the hearts and red & pink decorations. I'm a sucker for girly things, and I'm not ashamed to admit it.
Another great thing about Valentine's Day is chocolate. No, I'm not thinking about boxed chocolate; no thank you. I'm talking dark, good, real chocolate... yum!! I've been on a chocolate drinking kick lately -- chocolate in my smoothies, boozy hot chocolate, chocolate cream fizz... plus I put it in my pancakes.
[clickToTweet tweet="Salmon en Papillote is a dream come true: simple ingredients, tons of veggies + easy clean up" quote="Salmon en Papillote is a dream come true: simple ingredients, tons of veggies + easy clean up"]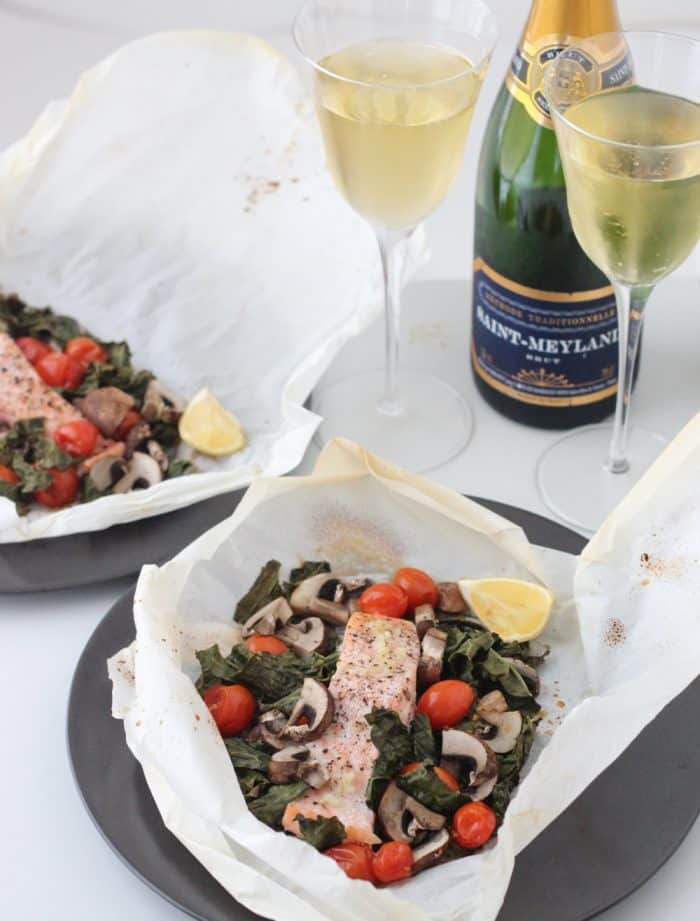 February is also heart health month (more hearts!), so I want to focus on foods that promote heart health. Salmon is probably one of my favorite heart health promoting foods.
It's packed with omega 3 fatty acids, lean protein, and tons of vitamins & minerals like Vitamin B12, Vitamin D, and selenium. Not only is it good for your heart, it's good for your hair & skin, too (yay for tasty food that makes my skin & hair look pretty).
Salmon sometimes gets a bad rap though. Maybe you've had a bad experience, and it wasn't cooked right or tasted fishy. I agree that I'd be skeptical to try again.
However, don't let one bad experience deter you from this dish because holy moly is it good!
The whole time I was eating, I couldn't help but think how much I loved this recipe. It's one of those meals that after your first bite you start to feel a little sad because you know eventually you'll be finished and there will be no more 🙁
Oh wait, you're not dramatic like that? Hmm... well let's get back to hearts
Remember how I said I liked hearts? Well, this dish even has a heart-shaped cooking vessel! And you don't have to buy anything special; you only need parchment paper and scissors.
Cooking in parchment paper is a lot easier when you cut the parchment paper into a heart shape (it has less paper that you have to fold). Yay for hearts!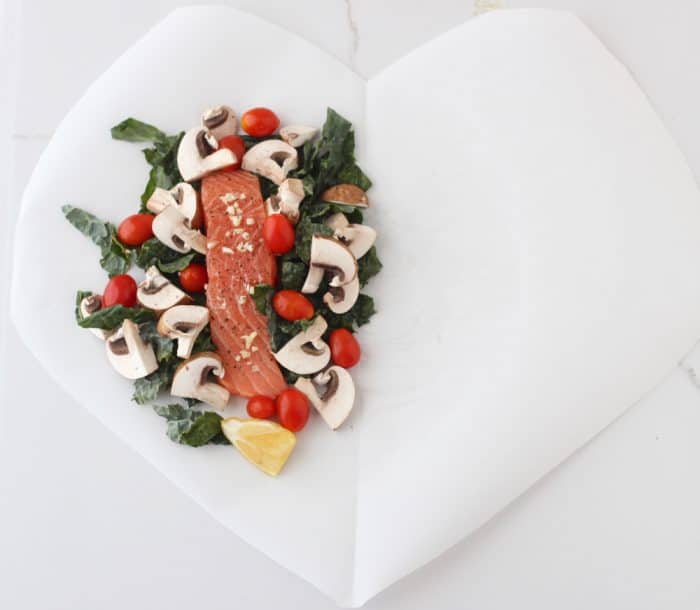 Running the risk of sounding like an infomercial, this recipe keeps getting better!
The ingredients are simple, there's a ton of veggies, and (my personal fave) you can throw away the parchment paper when you're done. No washing the baking sheet. Just throw everything into the parchment paper, wrap it up tight, pop on a baking sheet, and then enjoy knowing that you have no dishes to clean.
I added some cooked rice into the packet after cooking for some carbohydrates. The tomatoes & mushrooms release their juices which were quite tasty when soaked up by the rice. A slice of bread would be a good addition, too, or leave it out altogether.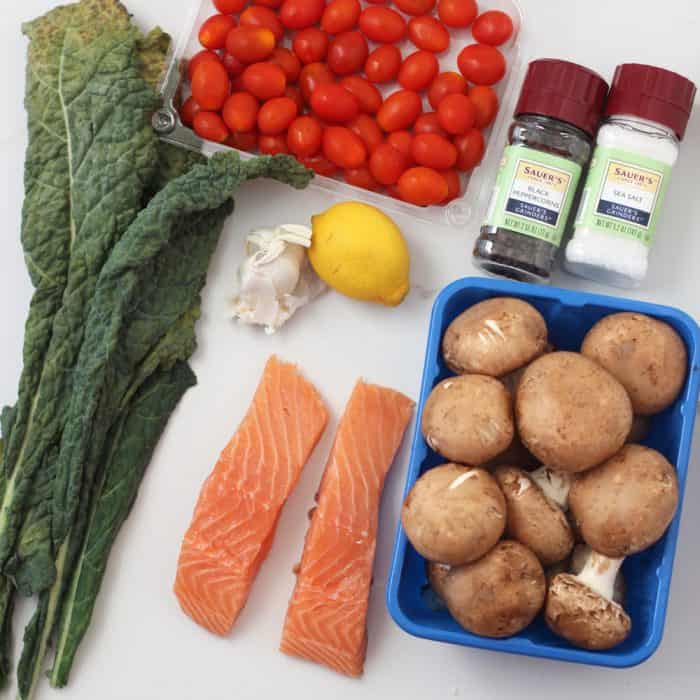 You might notice that there is no butter or oil. I tested one with a little olive oil and one without anything, and I couldn't tell the difference between the two which is why I left it out. I don't think it needs it; it's as rich and buttery and delicious without the added oil.
A few other things to note, I recommend getting wild Alaskan salmon. Farmed salmon is not the best choice, especially when it's from another country.
If your salmon has the skin on, remove it because it'll get soggy in the parchment paper, and nobody wants soggy salmon skin. (I just gagged a little bit. Moving on)
Easy clean up, tons of veggies, and heart/skin/hair improving salmon is the way to my heart, y'all. This salmon dish is the way to my heart (insert Smiling face with heart-shaped eyes emoji)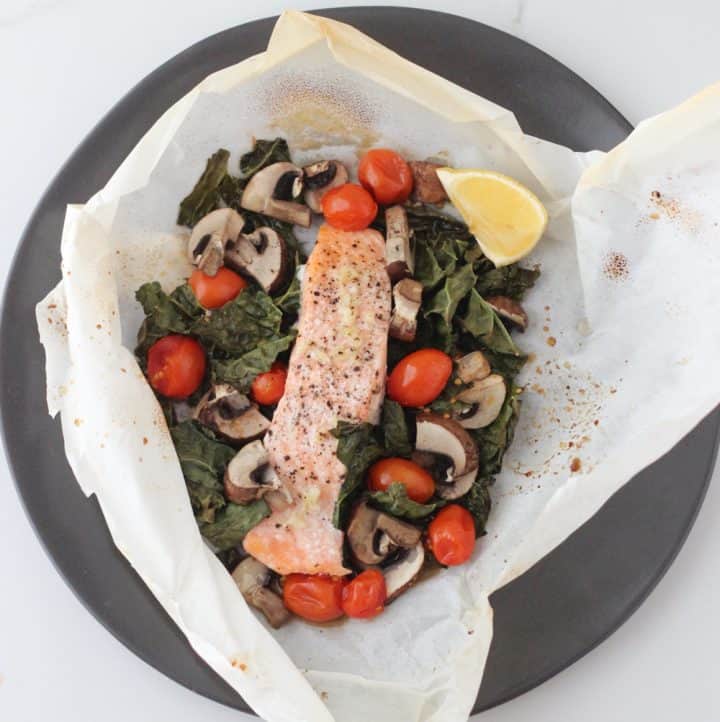 Salmon en Papillote
Simple heart health promoting ingredients, tons of veggies, and easy clean up make this Salmon en Papillote recipe a dream come true
Print
Rate
Ingredients
2

salmon filets

4-6 ounce, skin removed

4

ounces

grape tomatoes

6

ounces

kale

chopped

4

ounces

mushrooms

chopped

1

clove

garlic

minced

¼

teaspoon

salt

⅛

teaspoon

pepper

2

lemon slices
Instructions
Preheat the oven to 425*F.

Take 2 pieces of parchment and fold each in half. Cut the top & bottom parts off to form a heart.

Open the parchment and place on a baking sheet. Fill one half of the parchment with one piece of salmon and half of the tomatoes, kale, mushrooms, and garlic. Season with half of the salt & pepper. Try to keep everything pretty close to the fold.

Fold other half over and starting with the top part of the heart, fold in small sections to close off the packet. Repeat with the other piece of parchment and remaining ingredients.

Bake for 15 minutes in preheated oven. Remove from oven, and carefully open parchment. Serve with a slice of lemon, and enjoy!
Notes
*For the parchment paper, you want around 15 inches x 12 inches per packet.
*I recommend getting wild Alaskan salmon instead of farmed salmon.
*4 ounces of grape tomatoes is about ¾ cup or 20 grape tomatoes
*4 ounces of mushrooms is about 1 ½ cups or 4-5 mushrooms
*6 ounces of kale is about 3 cups chopped or ½ bunch of kale
*one clove garlic is about 1 teaspoon minced
Did you try this recipe?
Be sure to leave a comment & recipe rating below. Bonus points for tagging @memeinge & #livingwellkitchen on Instagram! THANK YOU! xo

[showhide type="post" more_text="Click here for Nutrition Facts" less_text="Clear Nutrition Facts"]
*
Nutrition Facts
Salmon en Papillote
Amount per Serving
% Daily Value*
* Percent Daily Values are based on a 2000 calorie diet.
*
[/showhide]
Meme