Beef Sushi made with the flavors of a muffuletta is a tasty, fun way to change up your lunch while enjoying the convenience and benefits of processed beef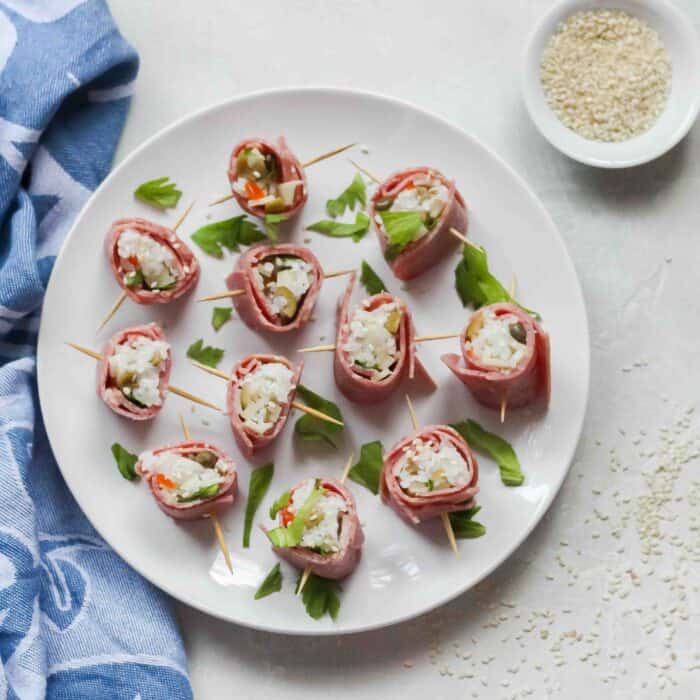 This post is sponsored by The North American Meat Institute (NAMI), a contractor to the Beef Checkoff. All thoughts and opinions are my own. These partnerships help make Living Well Kitchen a reality, and I appreciate your support of the brands I love!
About Muffuletta Beef Sushi
Feeling a little uninspired on your usual lunch routine? Well, feel bored no more because this Beefshi is here to rescue you from boring lunch! What is Beefshi, you ask. Beefshi is sushi made with beef, and it's a fun alternative that embodies the United State's love for beef and sushi.
The term "sushi" simply means vinegared rice, and it can be paired with many different ingredients like meat, seafood, and veggies. While the options to make your own sushi are limitless, you will love the flavors of this muffuletta version.
This sushi recipe is made with flavors inspired by the Muffuletta sandwich, a classic Italian sandwich popularized in New Orleans. Whether you spell it muffuletta or muffaletta doesn't matter. What matters is that you give yourself a chance to enjoy this beef sushi that is a lot easier to make at home than it is to make your own muffuletta sandwich. And while it's not the exact same thing, it has many of the components and delicious briny, savory flavors.
Thanks to the prepared beef, the only prep work you have is making the rice and slicing the ingredients. And then you can start enjoying all the flavors of a muffuletta in a unique way.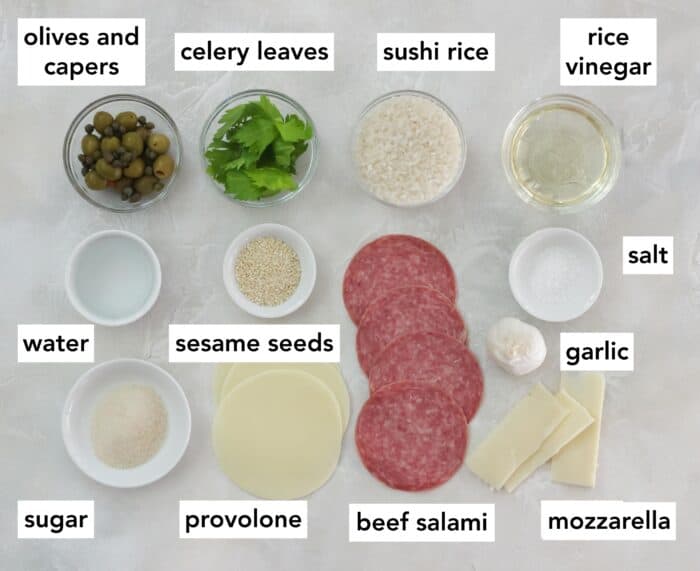 Ingredients
Rice vinegar: The rice vinegar seasons the rice and is used to help you make the sushi. You can use any type of rice vinegar you find at the store. I prefer plain rice vinegar, but seasoned or rice wine vinegar are also good alternatives.
Rice: To make sushi, it's best to use a short grain rice. It's typically labeled sushi rice or Calrose rice. I prefer white rice in my sushi, but you are welcome to use brown rice. A medium-grain California rice will also work in sushi.
Sugar: The small amount of sugar seasons the rice to give it the classic sushi rice taste and texture. I don't recommend skipping it.
Salt: The rice needs a little salt to enhance the flavor. Sea salt, kosher salt, or table salt will all work fine.
Olives: Use any type of olives you like, and you can also use a combination. The original recipe calls for a combo of kalamata olives and stuffed olives. However, I could only find pimento-stuffed olives when testing the recipe. They turned out great, so simply use the olives you have in your kitchen or can easily find in the store.
Capers: Capers really kick-up the flavor in such a small dose. Their brininess is important to give the Muffaletta Beef Sushi it's classic flavor, so it's best not to skip them. Simply buy the capers you find in the store; they are typically near the olives.
Garlic: Fresh garlic is best because you want the pungent kick it gives. In a pinch, powdered garlic could work.
Beef Salami: Look for a salami made with beef for the best version. It has a richer flavor in my opinion. You can find it in the deli section of your store, and I find it's best to have someone slice it for you at the meat counter versus buying it presliced.
Cheese: You will use part-skim mozzarella and provolone in this Muffuletta Beef Sushi roll. The best is to slice it from a block of cheese or you can buy the pre-sliced cheese if needed. I do not recommend using shredded cheese as it typically has little flavor. Also, you don't want to use a cheese with too much flavor or it could possibly overpower or negatively compete with the other flavors.
Celery leaves: The celery leaves give a touch of brightness to your Beefshi along with the classic celery flavor. Simply buy a bunch of celery (not pre-cut) and take a handful of leaves off the top for the recipe. [Celery leaves are highly underrated and great for adding flavor to most recipes, and you can also use them in Vegetable Broth or Chicken Broth]
Cost of Recipe
Rice vinegar 6 tablespoons: $0.42
Rice 1 cup: $0.85
Sugar 1 tablespoon: $0.02
Salt ¼ teaspoon: $0.01
Olives ½ cup: $2
Capers 2 teaspoons: $0.34
Garlic 1 clove: $0.06
Beef salami 4 ounces: $2.50
Part-skim mozzarella 1 ounce: $0.50
Provolone 3 thin slices: $0.90
Celery leaves ¼ cup: $0.14
TOTAL COST: $7.74 (Based on San Diego Sprouts 2020) or $1.94/serving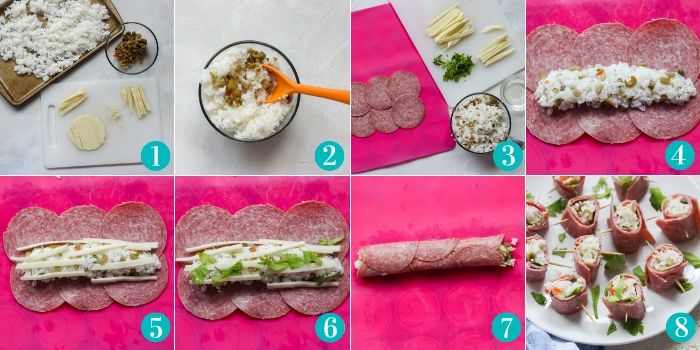 How to Make Sushi at Home
For best results, use a bamboo rolling mat to make sushi and some kind of plastic wrap, plastic bag, parchment paper, or reusable baking liner. It takes a little practice at first, but it's fun once you get the hang of it!
Prepare the sushi rice, slice the cheese, mince the garlic, dice the olives and capers, and chop the celery leaves.
Stir the olives, capers, and garlic into the sushi rice.
Place the beef salami on the bamboo mat or liner.
Fill with the rice mixture.
Top with the slice cheese.
Sprinkle with celery leaves.
Roll the sushi.
Slice and sprinkle with sesame seeds if desired. Enjoy!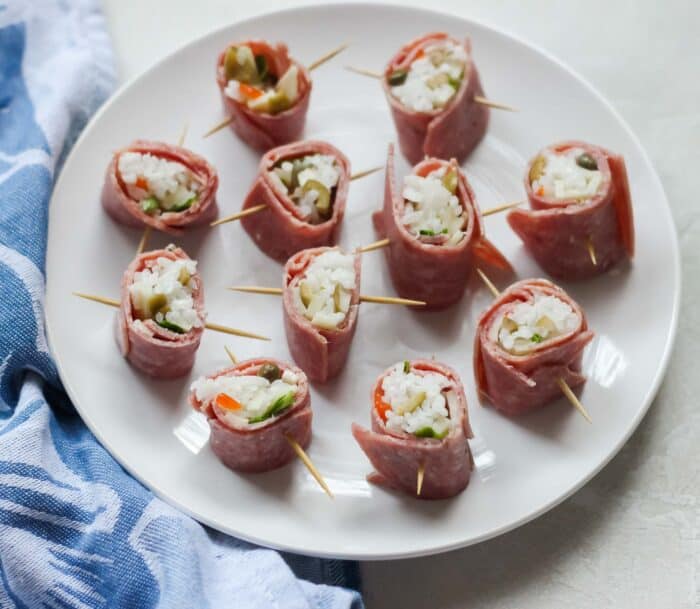 Beefshi Recipe Tips
Variations
Ingredient Options
Capers: You can substitute the capers for a few extra olives.
Cheese: If you only have one of the types of cheeses, simply double the amount. Or you can omit the cheese if desired.
Alternative Prep & Cooking
If you have leftover ingredients, I like to fill a plate with salami, top with some of the rice, a little bit of cheese, and extra olives or capers. Then I eat it like a roll-up or wrap. So delish and easy!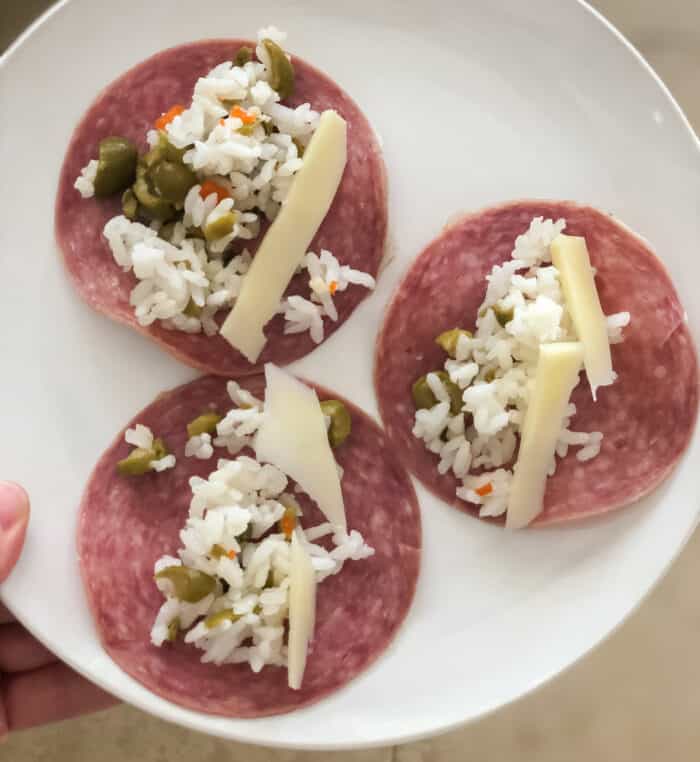 How to Make Allergy Friendly
This is already gluten free, egg free, and nut free. To make dairy free, simply skip the mozzarella and provolone. You can add a few extra olives to the rice to give your rolls a little more flavor if desired. Be sure to check the ingredients list to make sure it does not have any ingredients that you need to omit.
How to Fix a Mistake
Your sushi won't hold together: Mine had trouble holding together when the salami slices were smaller than 3 inches. The larger salami slices you can get, the better. However, you can simply use toothpicks like in the photographs to get this to hold together.
Make Ahead Ideas
Sushi is great to make ahead of time. Because this might not stay together all that well, I recommend keeping the roll intact before storing in the fridge. Then you can slice when you are ready to serve. Additionally, you can use toothpicks to secure the rolls while they are in the fridge.
Storage Suggestions
Transfer to the fridge and keep in an airtight container for up to 4 days.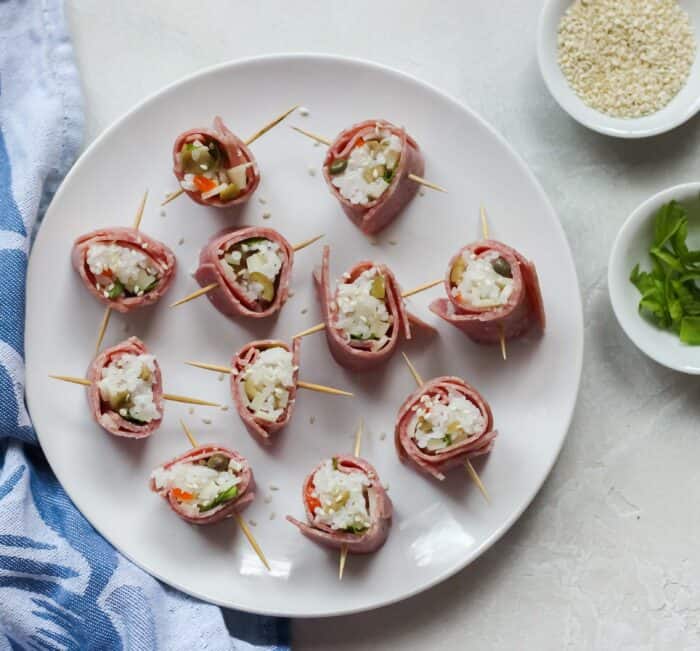 Frequently Asked Questions
Can you make sushi without a bamboo mat?
Yes, you can make sushi without a mat. However, be sure to use something that is semi-sturdy like a baking liner to help you mold the sushi together.
Can you make sushi without plastic wrap?
Yes, you sure can! Use a silicone baking mat liner, parchment paper, or waxed paper in place of the plastic wrap. For this Muffuletta Beef Sushi, the salami is oily enough that it keeps the roll from sticking to anything.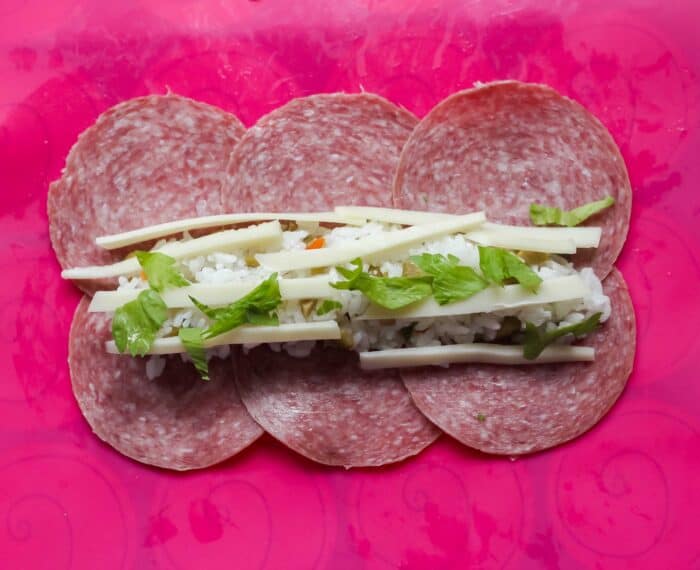 Nutrition Benefits
Processed beef typically gets a bad label, but it doesn't deserve it! First, all beef is processed. Whether it is processed at home or in a plant, meat is prepared before it can be eaten. It is simply done on a larger scale when it is processed in a plant.
One of my favorite benefits of processed beef is that it is a convenient way to enjoy nutrient-dense meat. Personally, I feel better when I am eating enough iron and zinc, and I notice a huge difference when I am lacking it. Luckily, the iron and zinc in meats, including processed beef products, are also more bioavailable to the body than when derived from vegetarian sources 1, so I like turning to processed beef to make sure I am getting the recommended amount in a day.
Additionally, the cheese adds a nice dose of calcium (one serving has over 20% of the RDA for calcium). And sushi is great to serve with veggies on the side to boost the nutrients in your meal.
What to Serve with Muffaletta Beef Sushi
If you are serving this as a lunch or dinner, I recommend adding some veggies on the side to round out your meal. Five-spice Baby Bok Choy would be delicious, or make a side salad topped with Miso Dressing. Or simply serve with some celery sticks or cucumber slices for some crunch and extra water (veggies are a good source of water, especially celery and cucumbers).
Final thoughts: Making Beefshi is really fun once you get the hang of it. Plus, it'll help you feel inspired in the kitchen again if you are tired of eating the same sandwich multiple days in a row. The flavors resembled the delicious muffuletta sandwich but have a unique flair along with the convenience of processed beef.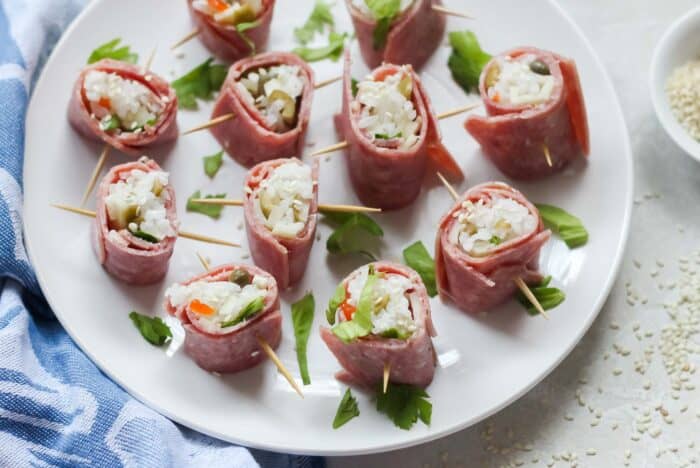 MORE BEEF RECIPES YOU'LL LOVE:
---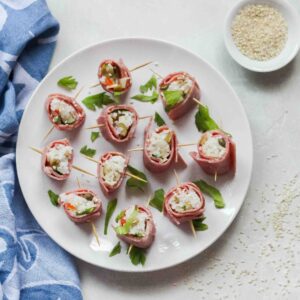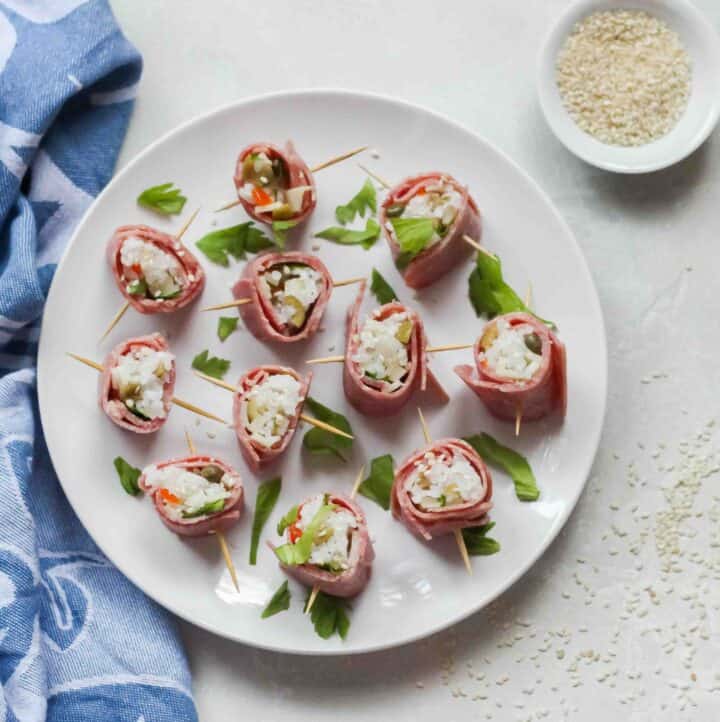 Muffuletta Beef Sushi
Beef Sushi made with the flavors of a muffuletta is a tasty, fun way to change up your lunch while enjoying the convenience and benefits of processed beef
Print
Rate
Total Cost:
$7.74 or $1.94/serving
Ingredients
Sushi Rice
1

cup

short grain rice

8.5

ounces

water

(1 cup + 1 tablespoon)

2

tablespoons

rice vinegar

1

tablespoon

sugar

¼

teaspoon

salt
Hand vinegar
1

cup

water

¼

cup

rice vinegar
Rice
½

cup

olives

stuffed green or pitted kalamata, patted dry

2

teaspoons

capers

patted dry

1

clove

garlic

minced

3

cups

prepared sushi rice
Rolls
8

slices

beef salami

thinly sliced, 4 ounces

3

slices

part-skim mozzarella

cut into sticks, 1 ounce

3

slices

provolone

cut into sticks, 2.5 ounces

¼

cup

chopped celery leaves

Toasted sesame seeds

for sprinkling
Instructions
Sushi rice
Put the rice in a bowl of cold water, and massage with your hands. Rinse, strain, and repeat one more time. Then strain, and transfer to a medium saucepan with the 8.5 ounces water.

Cover and cook on High heat until the water boil. Turn the heat to very low and cook until the water has absorbed (about 10-15 minutes). Remove from heat, keep covered, and let cool at least 15 minutes. Transfer to a baking sheet in a thin layer.

Meanwhile, stir the 2 tablespoons rice vinegar, 1 tablespoon sugar, and ¼ teaspoon salt in a small saucepan and heat over medium. Cook until the sugar is dissolved, and set aside. Pour over the rice cooling on the baking sheet.
For the hand vinegar
Stir the 1 cup of water and ¼ cup rice vinegar together, and set aside.
Rice
Stir the olives, capers, and garlic into the rice. Set aside.
Roll
Line the bamboo mat (if using) with plastic wrap or a reusable baking liner. Dip your hands in the hand vinegar, and arrange 6 slices of the beef salami on the mat, overlapping about ¼ inch.

Top with a handful of rice, leaving a 1 inch space from the edge. Top with a few slices of provolone and mozzarella. Then sprinkle with celery leaves.

Roll into a log, and slice into 6 to 8 slices. Secure with a toothpicks if needed.

Repeat with remaining ingredients, and enjoy!
What to Use in This Recipe
Did you try this recipe?
Be sure to leave a comment & recipe rating below. Bonus points for tagging @memeinge & #livingwellkitchen on Instagram! THANK YOU! xo
Based on this recipe from Beefshi website
[showhide type="post" more_text="Click here for Nutrition Facts" less_text="Clear Nutrition Facts"]
*
Nutrition Facts
Muffuletta Beef Sushi
Amount per Serving
% Daily Value*
* Percent Daily Values are based on a 2000 calorie diet.
*
[/showhide]

Meme
1. Hunt JR. Bioavailability of iron, zinc, and other trace minerals from vegetarian diets. Am J Clin Nutr. 2003; 78, Issue 3: 633S–639S. https://academic.oup.com/ajcn/article/78/3/633S/4690005 Accessed March 29, 2018.
Doesn't this recipe look good?! You should probably share it: