Avocado Egg Salad recipe with only four ingredients for a quick, nutritious, satisfying, easy, and budget-friendly lunch, breakfast, or snack.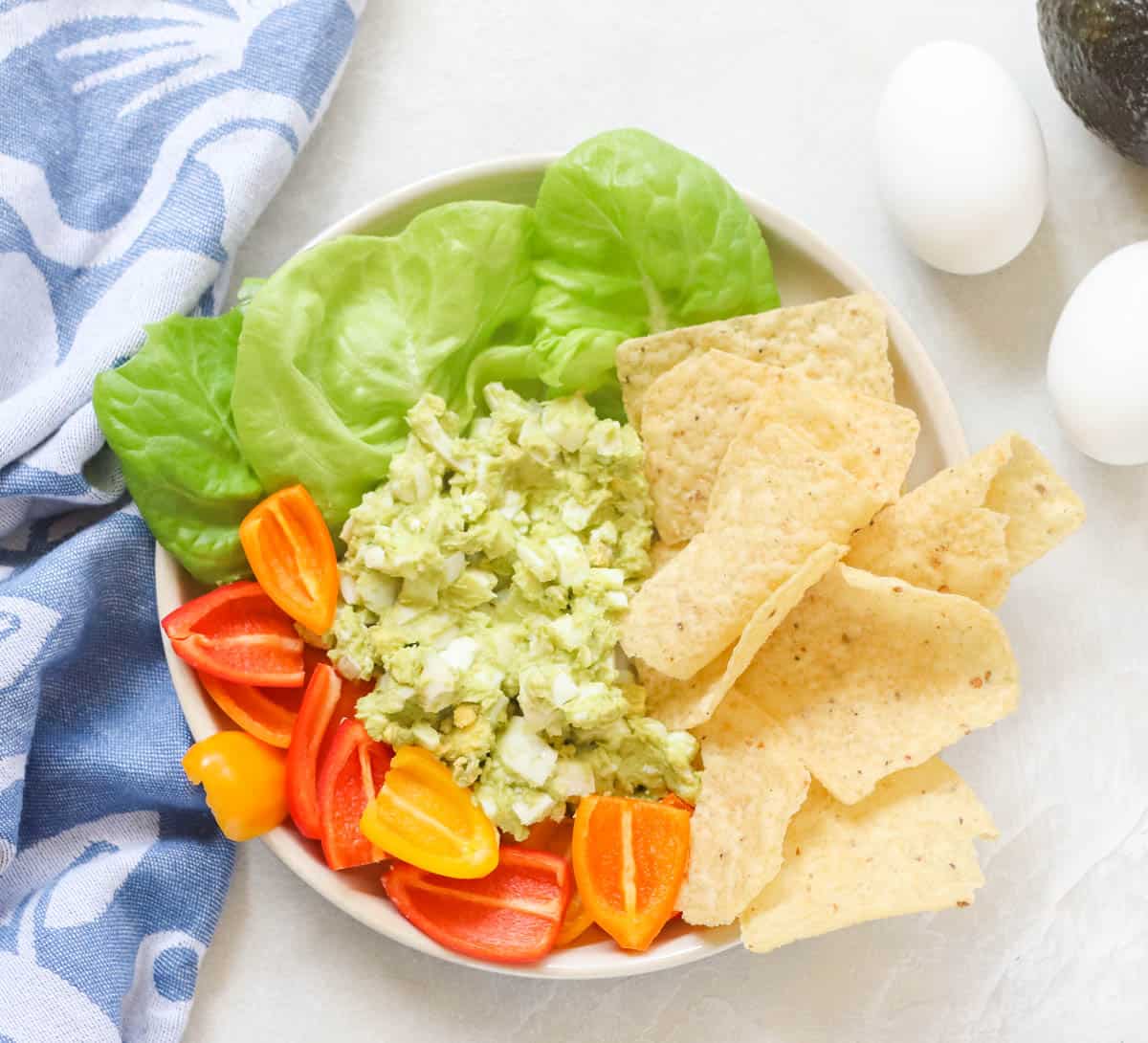 About Avocado Egg Salad
Need something delicious, filling and so easy to make? This Avocado Egg Salad is just that. I love it for breakfast, snacks, and lunch.
It's also great for your budget. For example, lunch is one of those meals that I find myself eating out more often.
It's so easy to pick up something if I don't have anything cooked at home.
Depending on the temp outside, I try to keep soup or some type of bulk salad in my fridge for a quick lunch.
For the salads, No mayo chicken salad, hummus chicken salad, pimento cheese, roasted vegetable lentil salad, caprese lentil salad, and roasted garlic tuna salad are my go-to's.
This Avocado Egg Salad is a must-have in my fridge-staples rotation.
You can serve it on toast, with crackers and sliced veggies, or in lettuce for a lettuce wrap.
If tasty, filling, and easy don't motivate you then maybe the fact that it requires 4 ingredients will.
I like to add a touch of cayenne pepper, black pepper, or white pepper, but it's optional.
The mashed avocado is used as the binder so it's an egg salad without mayo. Plus, avocado makes everything better!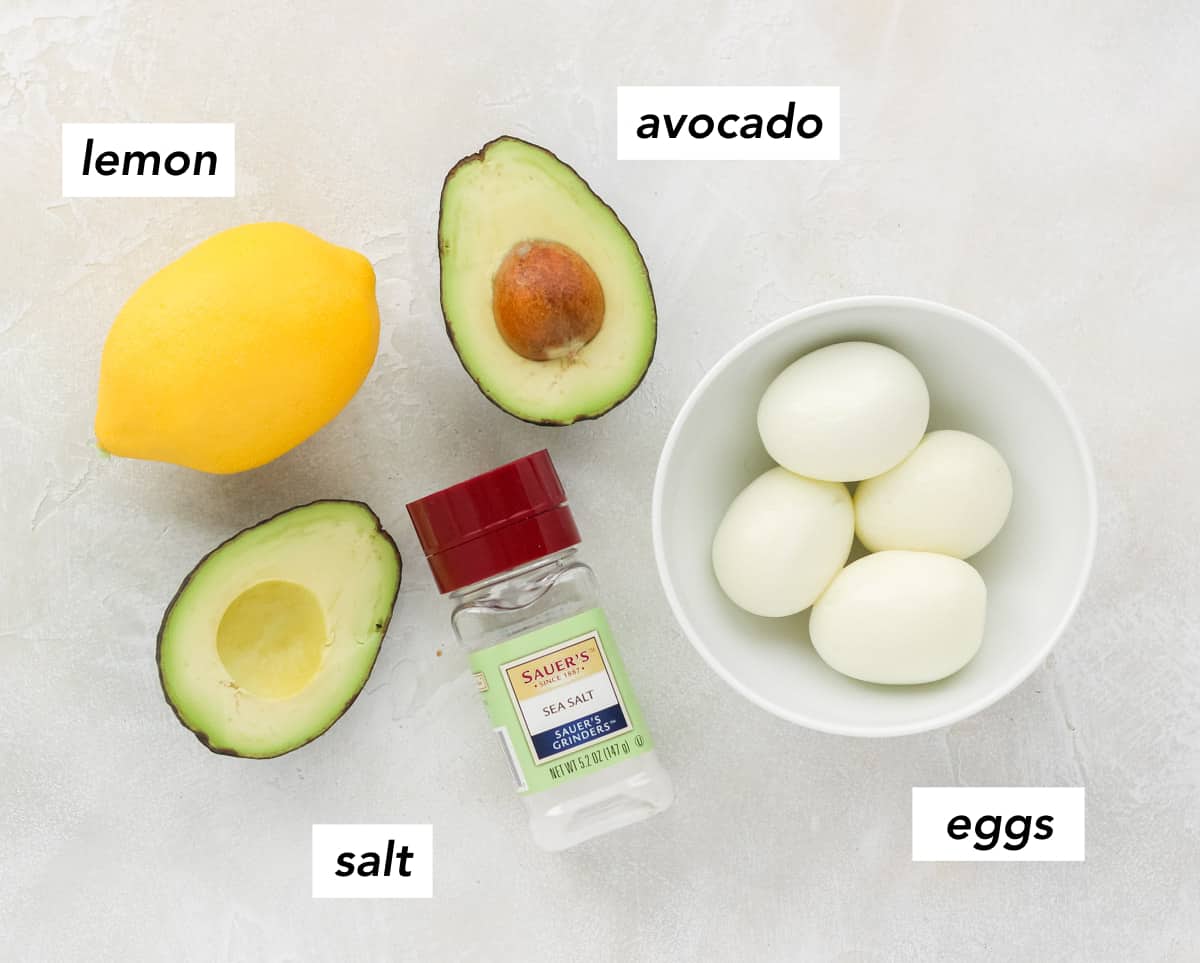 Ingredients
Hard-boiled eggs: Hard boil your eggs any way you prefer. My favorite method is using my Instant Pot to hard boil eggs, but you can do whatever works best in your opinion. To make this no-cook, buy hard-boiled eggs from the store for even less work.
Avocado: Make sure your avocado is ripe but not too ripe. To check, press on the top part around the stem area. You want it to push in with a little pressure, more so than the whole avocado but not push in too easily.
Lemon juice: Lemon juice is key to brightening the flavor as well as helping keep the avocado from immediately turning brown. Lime juice will work, too.
I have also used apple cider vinegar which was ok. However, I added a little orange zest to tone down the acidity of the vinegar.
Spices: This egg salad is a blank canvas waiting for you to add whatever spices you love. If you only have salt, it'll still taste great.
But if you have other spices, I recommend adding a little white or black pepper along with some paprika, cayenne pepper, and/or garlic powder. Note that if you add cayenne pepper or paprika, it might dull the color a little bit.
Recipe Cost
eggs 8 large: $2.88
avocado 1 large: $1
salt ¼ teaspoon: $0.01
lime juice 1 tablespoon: $0.11
TOTAL COST: $4 or $0.80/serving (Based on San Diego grocery stores 2023)
Note that this is not the recipe; it's simply to show the cost breakdown of ingredients. Scroll down to the full recipe to see the specific ingredients and directions.
How to Make Avocado Egg Salad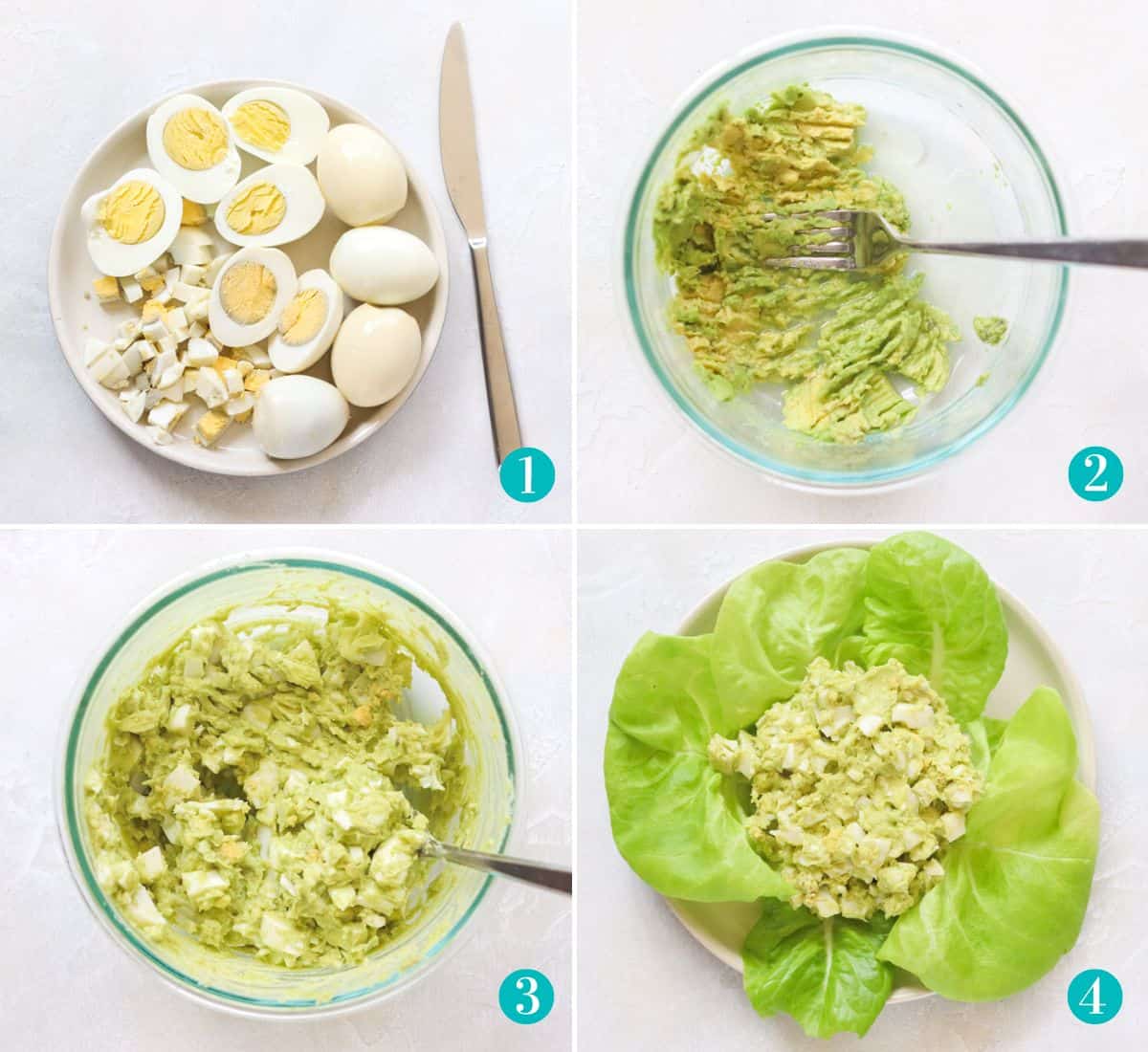 Time needed: 10 minutes.
Want to know how to make egg salad without mayo? Use avocado as the binder! Avocado Egg Salad is so simple to make; here's how:
Chop the hardboiled eggs.
Mash an avocado with lemon juice.

Season with salt.

Stir chopped boiled eggs into the avocado.
Mix together avocado and eggs.

Enjoy!
Recipe Tips
The one little caveat of this Avocado Egg Salad is that it doesn't stay a pretty green color for long.
The avocado turns a little brownish-green after a few hours, but it is still equally as tasty for a few days. Just give it a good stir, and you're good to go.
Variations
Ingredient Options
Lemon juice: you can use lime juice in place of the lemon. Also, vinegar will work, but I would use half the amount and add a little more as needed for flavor.
Flavor Substitutions
Seasoning: Add whatever spices you like to this mayo free egg salad to give it a different flavor.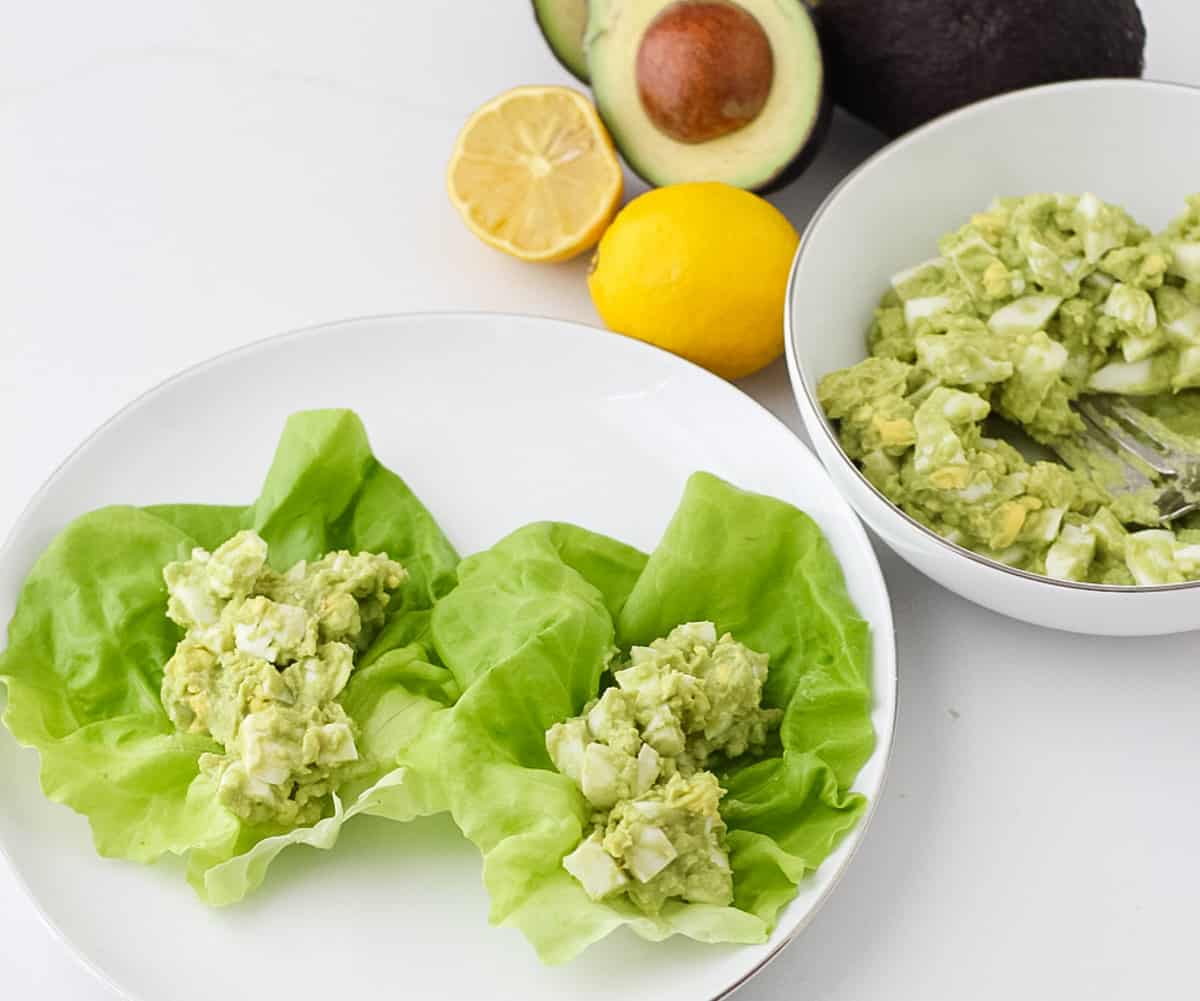 Alternative Prep
You can hard boil the eggs any way you like. I usually use my Instant Pot.
You can also buy hardboiled eggs at the store, so there's no cooking involved (or make them ahead of time).
Another option is to buy pre-made guacamole in the refrigerated section of the store, and you can use that as the binder for this egg salad.
How to Make Allergy-Friendly
This egg salad with avocado is already gluten-free, dairy-free, nut-free, and soy-free. Because of the eggs, it obviously cannot be egg-free.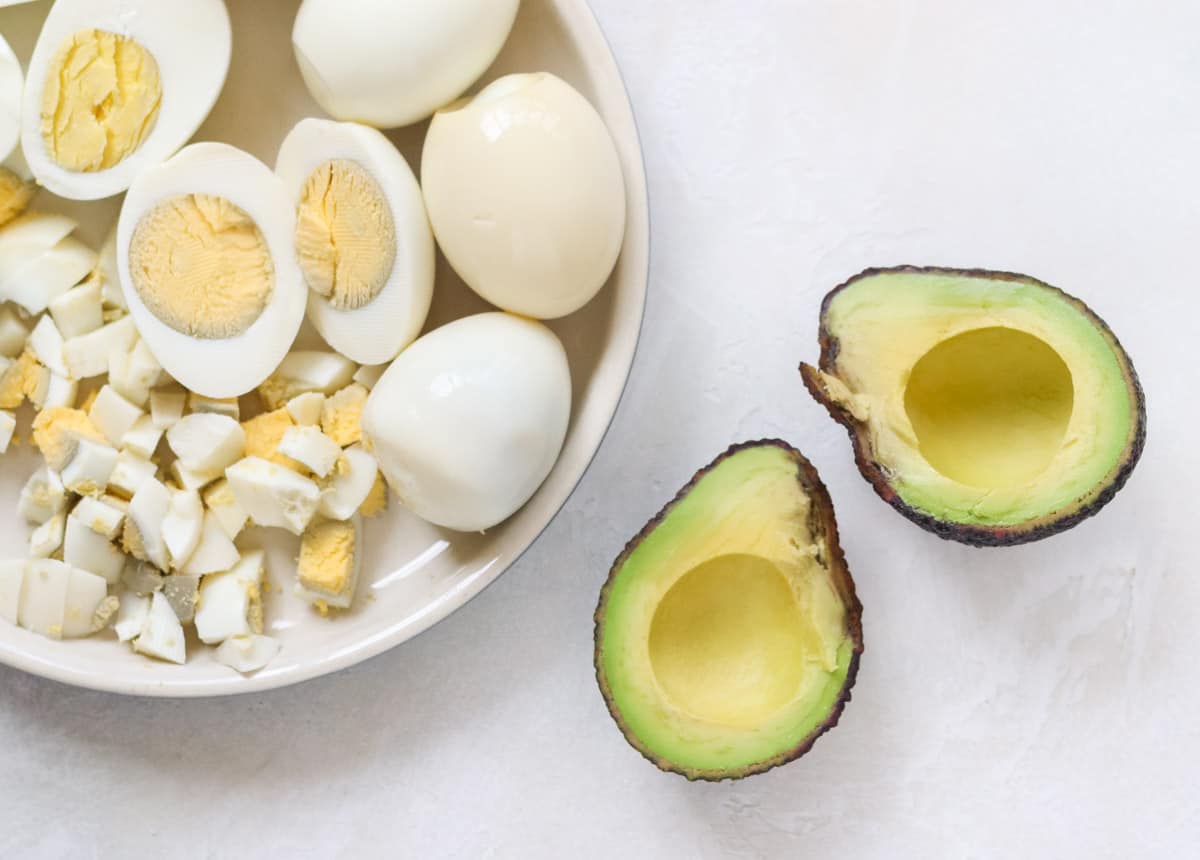 How to Fix a Mistake
Not enough avocado: If your avocado has a large seed or bad spots that need to be discarded, you might not get a full cup of mashed avocado. (See the photo above for an example)
If that's the case, start with only 5 or 6 hardboiled eggs and add more until it reaches your desired consistency.
Too much avocado: Add an extra chopped hardboiled egg. Or stir in herbs or finely diced veggies like bell peppers or celery.
Lacking flavor: Season with garlic powder, paprika, cayenne pepper, and/or black pepper. Start with ⅛ teaspoon increments.
Hard to mix: Add an extra teaspoon of lemon or lime juice. Or if you have extra avocado, stir in a few tablespoons.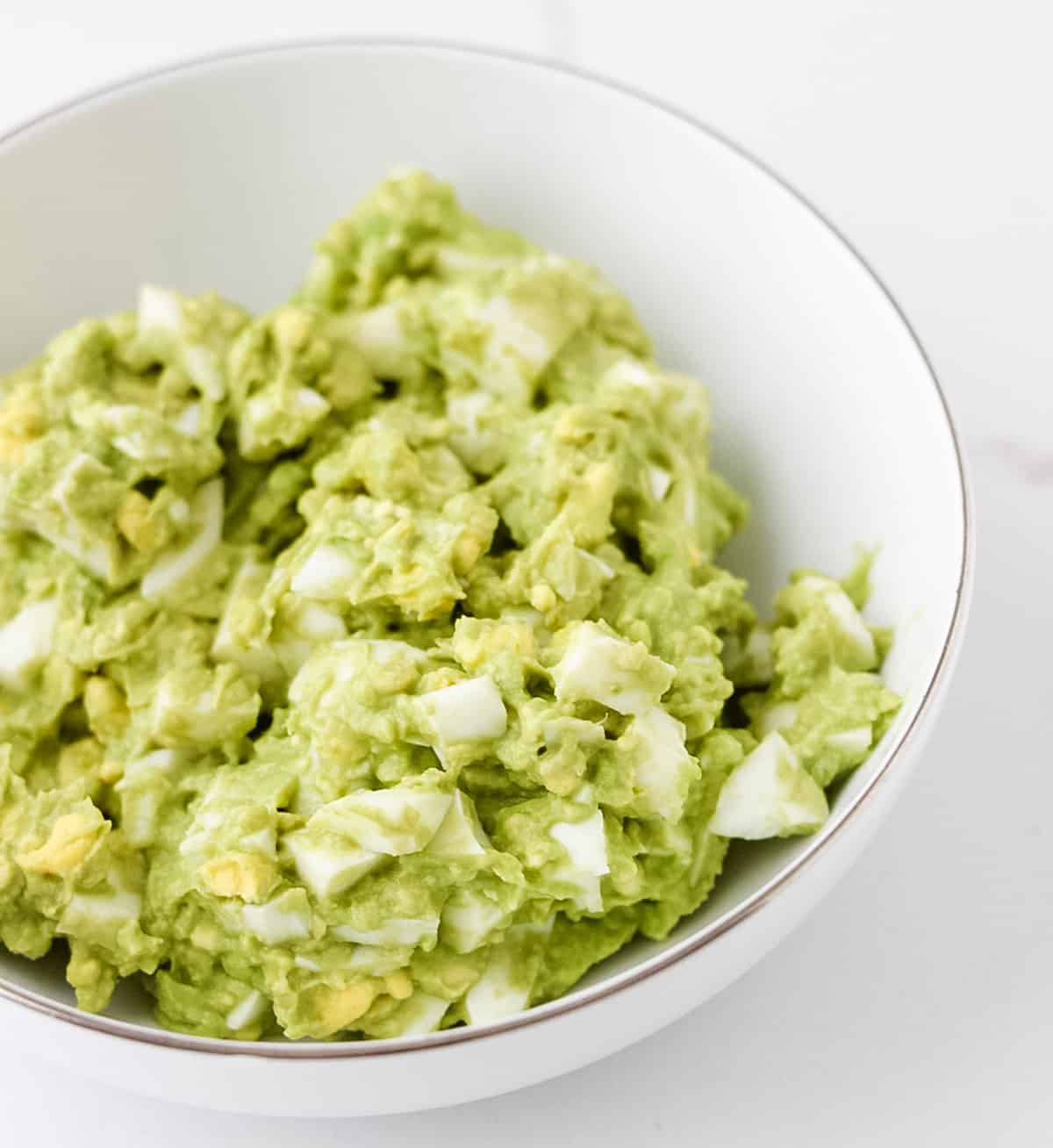 Make-Ahead Ideas
The is best enjoyed within a few hours after preparing since the avocado turns a brownish color, so I don't recommend making the avocado egg salad until right before serving.
To prepare ahead of time, hard-boil and peel the eggs in advance. Keep them in the fridge until you're ready to chop the eggs, mash the avocados, and make this salad.
Storage Suggestions
Keep this covered tightly in the fridge; I don't recommend freezing egg salad. It's best if you can cover it where no air touches the salad to keep it from turning brown.
Frequently Asked Questions
Can you freeze egg salad?
No, you cannot freeze this avocado egg salad because the eggs have a weird consistency when it defrosts.
Are eggs and avocado good together?
Absolutely! They are a delicious pair, and they are both full of beneficial nutrients for your body.
What are the health benefits of avocado egg salad?
Avocado Egg Salad is a good source of protein, choline, iron, selenium, riboflavin, Vitamin B12, and phosphorous. Plus, it has 11 grams of protein and 2 grams of fiber per serving.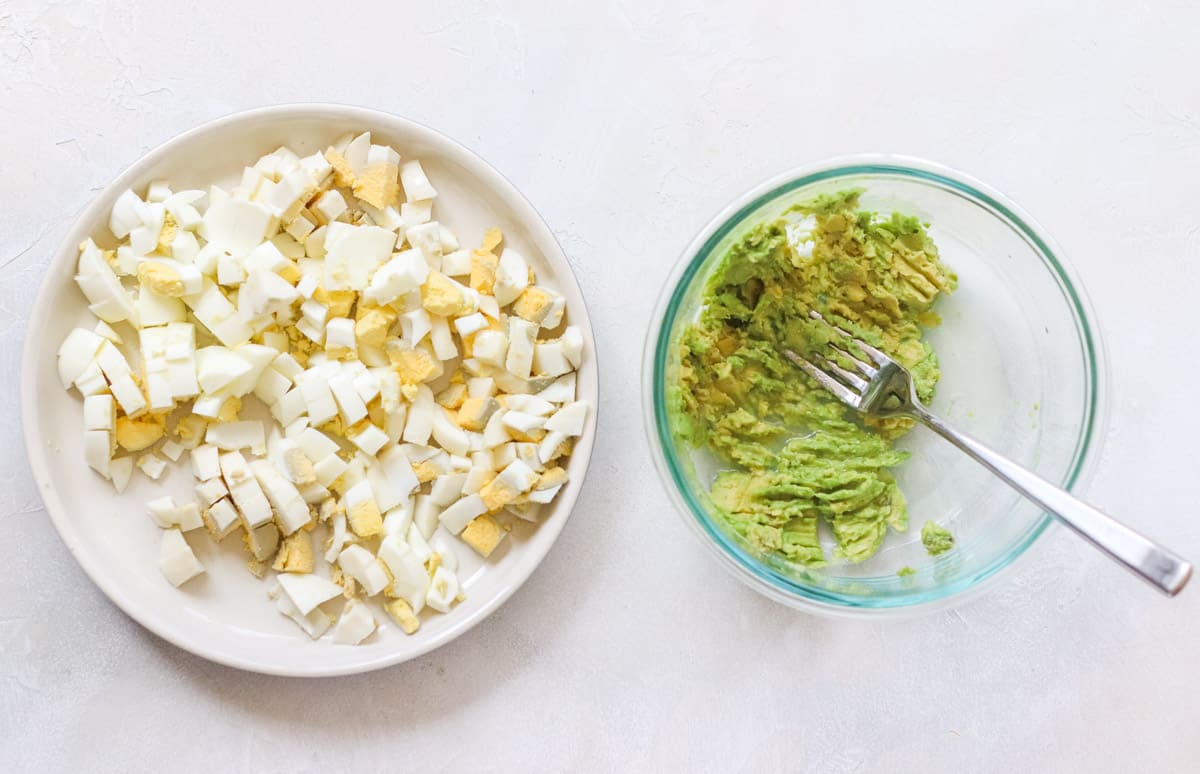 Nutrition Benefits
Avocado Egg Salad is a vegetarian source of iron and protein with 11% RDA of iron and 11 grams of protein. Plus, thanks to the avocado, each serving has 2 grams of fiber.
Eggs are an excellent source of tons of vitamins and minerals. One egg provides 25% RDA of choline, 22% RDA of selenium, 15% riboflavin, 9% RDA of Vitamin B12, and 9% RDA of phosphorous.
Avocados are full of antioxidants and phytonutrients. And they are anti-inflammatory. Avocado is high in Vitamin C, Vitamin K, Vitamin B6, folate, pantothenic acid, and potassium.
What to Serve with Avocado Egg Salad
I like serving this egg salad on toast or English muffins, and it's also delicious in lettuce wraps or straight from the bowl. Add a carbohydrate to make this a complete, filling meal.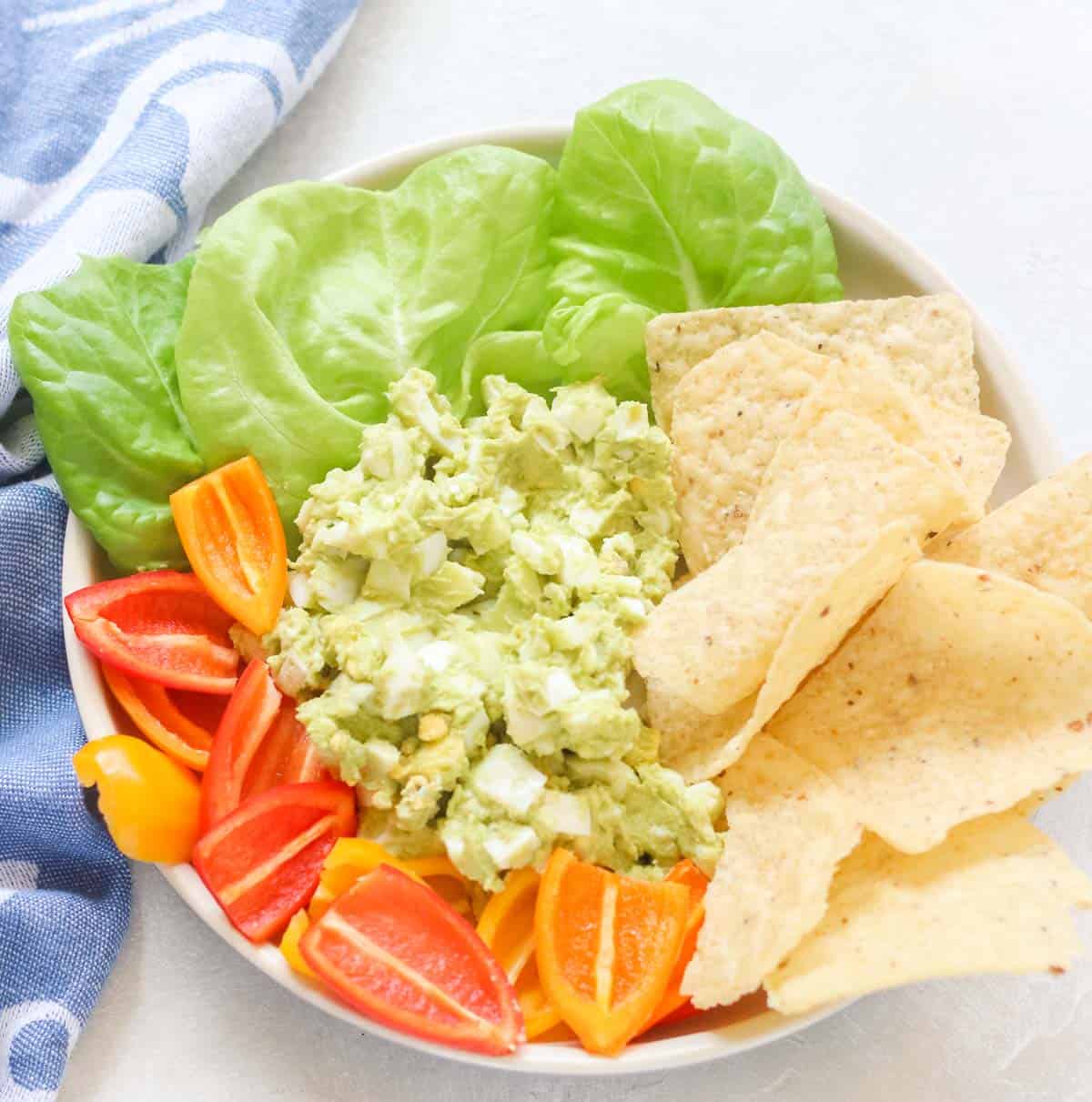 Final thoughts:
I always keep the ingredients for this recipe in my kitchen, so when I'm too lazy to cook or trying to save money on my grocery bill, this Avocado Egg Salad fits.
MORE AVOCADO RECIPES YOU'LL LOVE: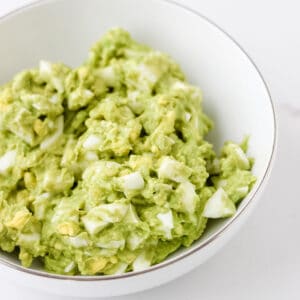 Avocado Egg Salad
Four simple, inexpensive ingredients make up this deliciously creamy, filling, and easy Avocado Egg Salad that is great for lunch, breakfast, or a snack.
Print
Rate
Total Cost:
$4 or $0.80/serving
Ingredients
8

large

eggs

hard boiled

1

large

avocado

1 cup

¼

teaspoon

salt

1

tablespoon

lemon juice

or lime juice
Instructions
Peel and chop the hard boiled eggs. Set aside.

In a small bowl, mash together the avocado, lemon juice, and salt.

Fold the chopped eggs into the avocado mixture.

Serve immediately for best presentation.
Notes
*Makes 2 to 2.5 cups.
*This recipe is easily halved.
*Hard boil your eggs any way you prefer. My personal preference is to use the Instant Pot. You can also buy hard-boiled eggs at the store to make this recipe even easier.
*The egg salad keeps, well-covered, in the fridge for up to 3 days, but it turns a darker shade of green.
What to Use in This Recipe
Did you try this recipe?
Be sure to leave a comment & recipe rating below. Bonus points for tagging @memeinge & #livingwellkitchen on Instagram! THANK YOU! xo
Meme
This post was originally published on May 16, 2016. Text, recipe, and photos have been updated.
---
Avocado Egg Salad Nutrition Facts
Nutrition Facts
Avocado Egg Salad
Amount per Serving
% Daily Value*
* Percent Daily Values are based on a 2000 calorie diet.