Easy Bananas Foster inspired toast is a tasty Mardi Gras breakfast or snack. Peanut butter toast topped with a sauce from bananas, rum, vanilla, cinnamon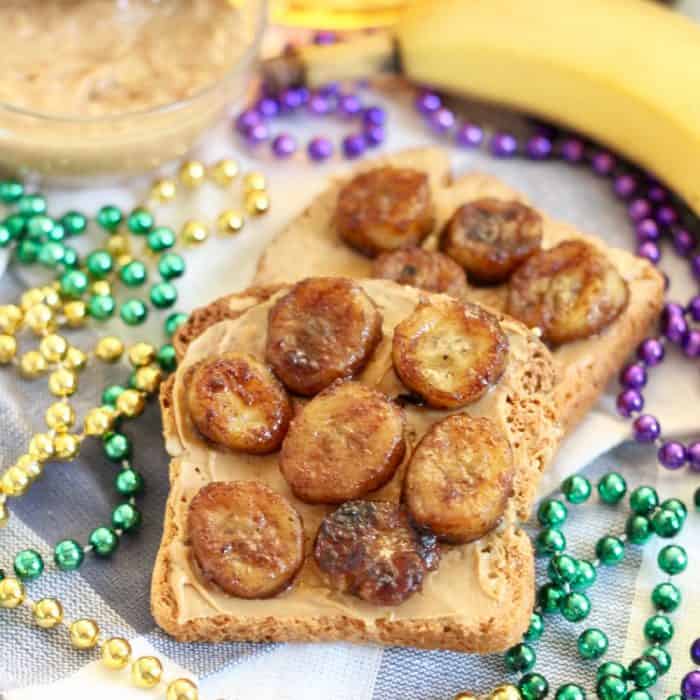 About Bananas Foster Toast
If you want to add some excitement to your regular toast, try this! This boozy breakfast is fun and festive and need not be made only on Mardi Gras Day or Toast Tuesday.
In the past, I've made Bananas Foster Protein Pancakes and those were awesome. They serve a crowd, and I only needed breakfast for one or two. This toast does the trick. [Make it even more festive by adding in a Mardi Gras Smoothie or a King Cake Smoothie!]
You get all the flavors of Bananas Foster in this toast without having to light anything on fire. Plus, there is only a little bit of brown sugar to add flavor without an excessive amount of sugar.
I'm by no means against sugar, but a lot of sugar makes me feel tired soon after eating and that's not how I want to start my day. And thanks to cooking the bananas, you bring out the fruits natural sweetness which means you don't need as much sugar in the recipe.
What is Bananas Foster
Bananas Foster originated in New Orleans at Brennan's and is a dessert of bananas in a sauce made from butter, brown sugar, cinnamon, dark rum, and banana liqueur.
The best part is the presentation because they light the alcohol on fire before serving which makes for a fun experience. And it's topped with ice cream, of course.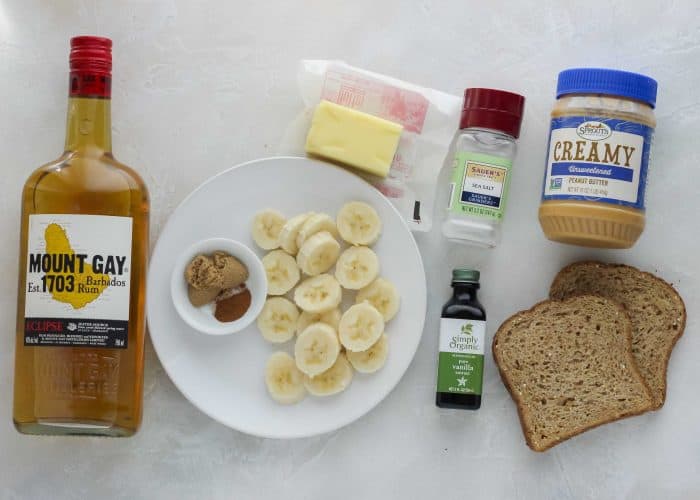 Ingredients
Oil: Avocado oil, peanut oil, and coconut oil can all be used to cook the bananas. Butter is another great option, but remember that using it will make the toast no longer dairy free.
Bananas: You want to make sure that your bananas are not too ripe. A few brown spots on your bananas and you'll probably be ok. However, your bananas will be a little mushier when cooked. They still taste great; they just won't hold up as well.
Bananas that have a smidge of green in them hold up best in my opinion.
Nut butter: As for bread and nut butter, you can use any kind you prefer. I think smooth nut butter works best since it's easier to spread, but a chunky nut butter will add some texture if you are into that.
Toast: Use any bread that you like to eat as toast.
Cost of Bananas Foster inspired toast
butter 2 teaspoons: $0.04
banana 1 medium: $0.24
brown sugar 2 teaspoons: $0.02
cinnamon ⅛ teaspoon: $0.01
vanilla extract ⅛ teaspoon: $0.07
salt: $0.01
rum 1 ounce: $0.68
bread 2 slices: $0.52
peanut butter 2 tablespoons: $0.15
TOTAL COST: $1.74 based on San Diego Sprouts 2020 or $0.87/serving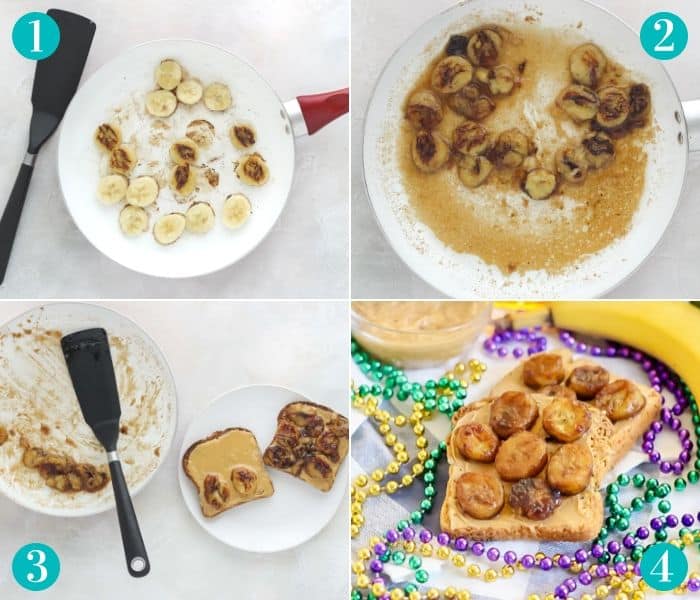 How to Make Bananas Foster Toast
Time needed: 15 minutes
Making bananas foster inspired toast is simple. Here's how:
Slice your bananas and add to a skillet with butter or oil.

Cook for a few minutes.

Add in the cinnamon, vanilla extract, brown sugar, and a little more butter and stir.

Turn off the heat and add the rum. Let sit so the sauce thickens.

Toast bread and cover in peanut butter.
Top the peanut butter toast with the bananas and sauce. Enjoy!
Tips for Making Bananas Foster Toast
This Bananas Foster Toast can be made multiple ways... with peanut butter, almond butter, any type of nut or seed butter. You can also use coconut oil or avocado oil in place of the butter to make it vegan.
After multiple different tests, I decided the combo of butter and peanut butter was my favorite. However, almond butter and coconut oil were quite tasty too, so you can definitely use those.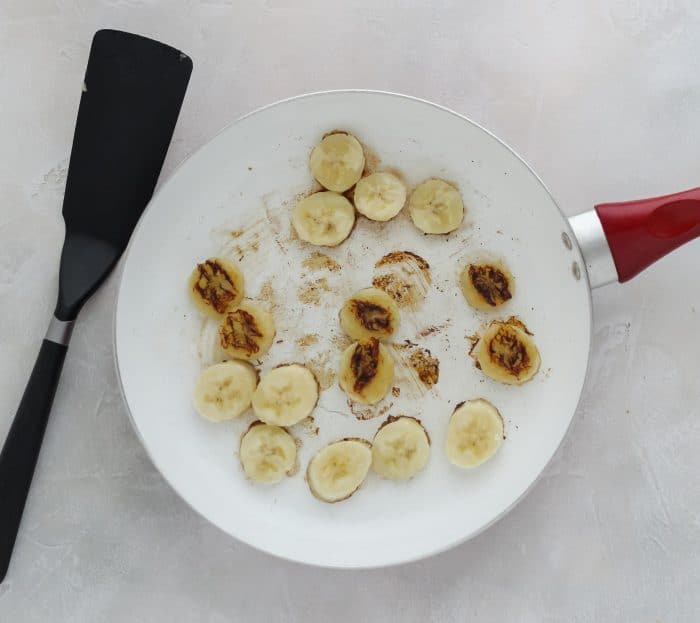 Make Ahead Tips
I don't recommend making this ahead of time because the bananas get a little mushy after cooking, but it is still tasty if you cook the bananas in advance. You will want to wait until right before serving to toast your bread and cover in peanut butter. Then top with the bananas & sauce and enjoy!
Variations
Substitutions
If you aren't interested in using rum, skip it and add an extra ⅛ teaspoon vanilla extract plus a tablespoon of water.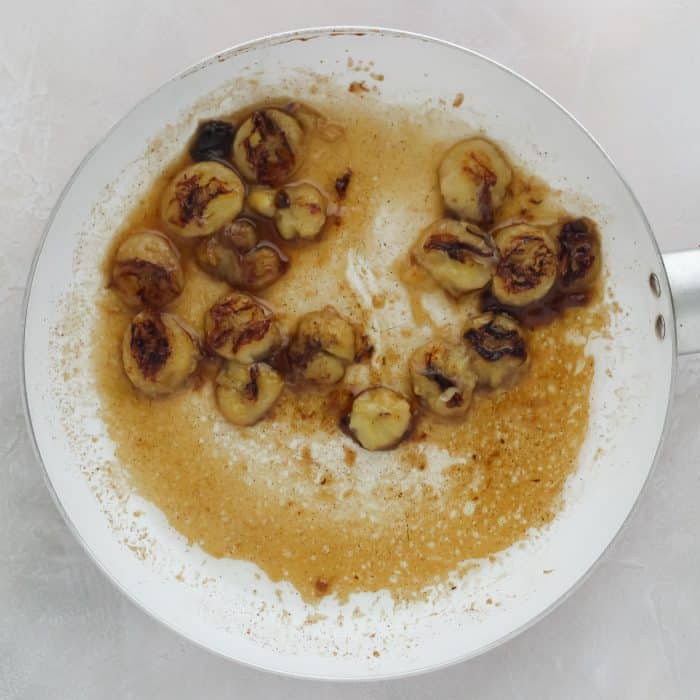 Storage Tips
The prepared toast doesn't hold up well, so try to make only enough for that moment.
Frequently Asked Questions
What kind of rum for bananas foster?
Any rum will work. I typically like to use a dark rum, but light rum tastes great in bananas foster too.
What is a bananas foster rum substitute?
You can use vanilla extract in place of the rum for this toast recipe. Use an equal amount of water and add ⅛ teaspoon vanilla or rum extract. Since you are not lighting this on fire, you don't need the alcohol like in a typical bananas foster recipe.
Can you use very ripe bananas in Bananas Foster Toast?
You can but very ripe bananas don't hold up as well when cooking, so your banana mixture will be slightly mushy.
What to serve with this dish
Originally, I intended to make both slices to serve one. However, I found that I feel more satisfied and fuller long with a side of something else like a hardboiled egg. Plus, this is pretty sweet and it's nice to balance it out with something salty.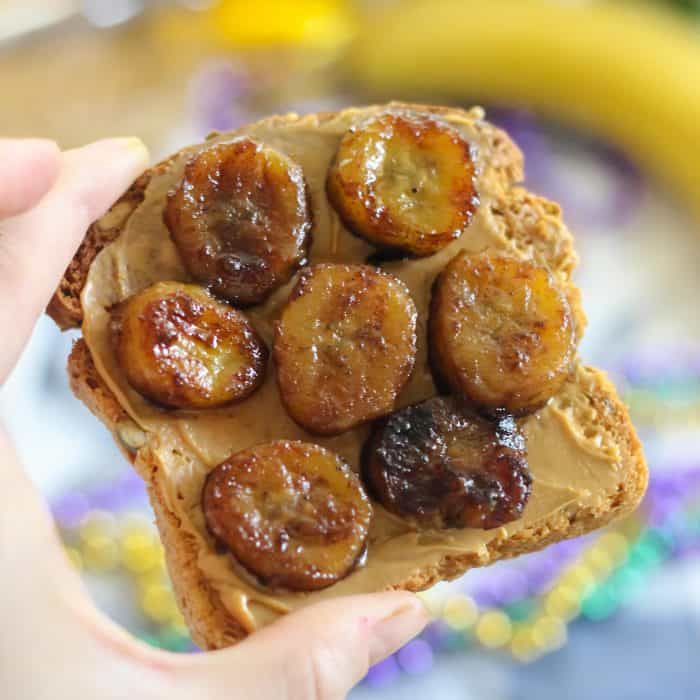 Final thoughts
This is a fun take on toast, inspired by my friend Sarah, that gives your breakfast (or lunch or dinner) a little something extra and is a way to celebrate the holiday no matter where you live.
---
MORE MARDI GRAS RECIPES YOU'LL LOVE:
---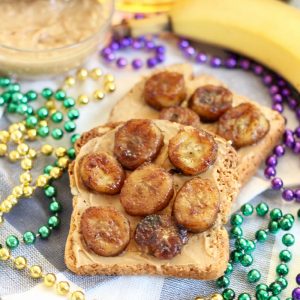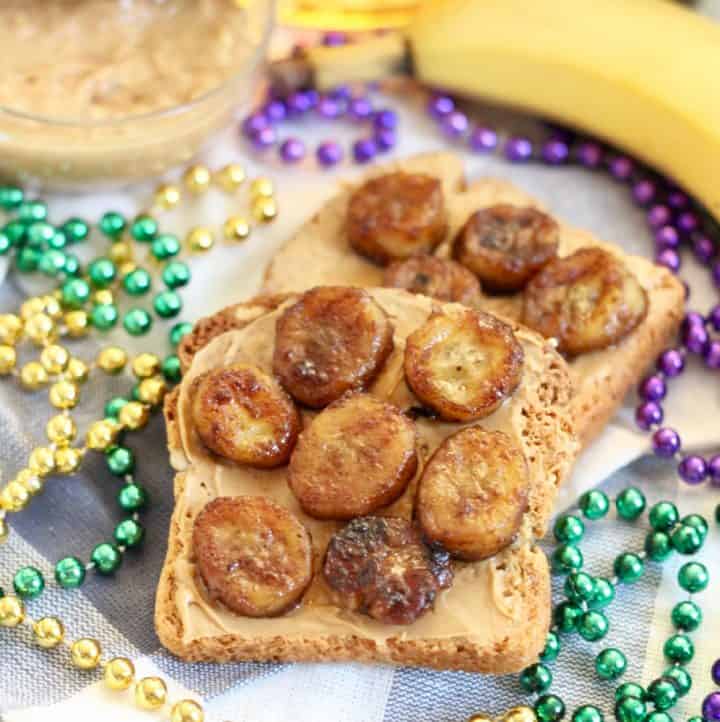 Bananas Foster Toast
Bananas Foster inspired toast that is a tasty way to celebrate Mardi Gras or to make any meal a little more fun!
Print
Rate
Total Cost:
$1.74 || $0.87/serving
Ingredients
2

teaspoons

butter

or coconut oil or avocado oil, divided

1

medium

banana

sliced

2

teaspoons

brown sugar

or maple syrup

⅛

teaspoon

cinnamon

⅛

teaspoon

vanilla extract

dash

salt

optional

1

ounce

rum

2 tablespoons

2

slices

bread

whole grain

2

tablespoons

peanut butter

or any nut or seed butter
Instructions
Heat 1 teaspoon butter in a skillet over medium high heat.

Once melted, add the bananas in one layer to the skillet and cook for about 2-4 minutes until golden on the bottom.

Flip and cook another 2 minutes.

Add remaining teaspoon of butter to the skillet. Sprinkle bananas with cinnamon and brown sugar, and add vanilla extract and salt if using.

Shake the skillet to coat bananas (or use a spatula to gently toss the bananas in the mixture).

Turn off heat and add rum. Let sit for about 5-10 minutes until a thick sauce forms.

Meanwhile, toast the bread and top each slice with about 2 teaspoons each of peanut butter.

Top peanut butter with banana slices. Enjoy immediately!
Notes
*If you aren't interested in using rum, skip it and add an extra ⅛ teaspoon vanilla extract plus a tablespoon of water.
*I prefer using bananas that have a smidge of green in them so they hold up best. Very ripe bananas will fall apart when cooking giving you a mushy banana mixture.
What to Use in This Recipe
Did you try this recipe?
Be sure to leave a comment & recipe rating below. Bonus points for tagging @memeinge & #livingwellkitchen on Instagram! THANK YOU! xo
[showhide type="post" more_text="Click here for Bananas Foster Toast Nutrition Facts" less_text="Clear Nutrition Facts"]
*
Nutrition Facts
Bananas Foster Toast
Amount per Serving
% Daily Value*
* Percent Daily Values are based on a 2000 calorie diet.
*
[/showhide]
Meme
This post was originally published February 4, 2018. Text, recipe, and photos have been updated.
Doesn't this recipe look good?! You should probably share it: