Easy Homemade Iced Chai Latte recipe to satisfy your craving for a coffeehouse chai tea latte without chai powder mixes. Make with non-dairy milk and maple syrup for a delicious vegan version.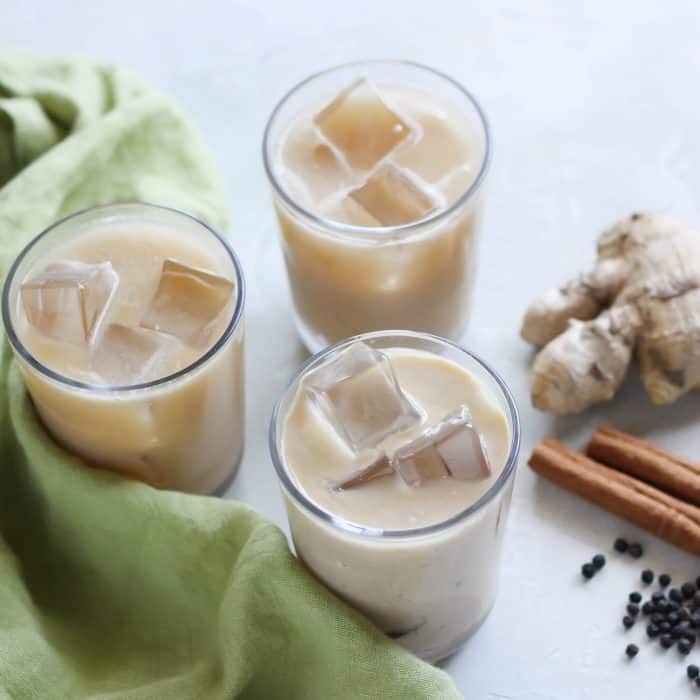 About Iced Chai Latte
First and foremost, these Iced Chai Lattes are incredible! Whenever I travel I treat myself to daily flavored teas, chai lattes, and iced coffees, but my bank account disagrees with me continuing on that trend for long term.
Instead of feeling deprived of a delicious chai latte, I make my own homemade version, and they are excellent. Creamy, sweet, and spicy. A great morning or afternoon pick me up.
Wondering what in the world I even mean by an "iced chai latte"? Well, iced chai lattes are tea-based lattes that are full of spices. You've likely seen them at a coffee or tea store. A chai latte is a creamy, sweet, spicy tea drink that is served over ice.
Black tea takes on the flavors of cinnamon, ginger, and cardamom while the peppercorns give the chai latte a touch of spiciness. The honey and milk mellow out the flavors to balance the recipe.
Many times they are called "Chai Tea Lattes," but I've seen that the word chai means tea. So wouldn't that be redundant? Tea tea latte... that's definitely not right.
So I decided to title the recipe Iced Chai Latte. But call them what you want... these things are freakin' fantastic, y'all!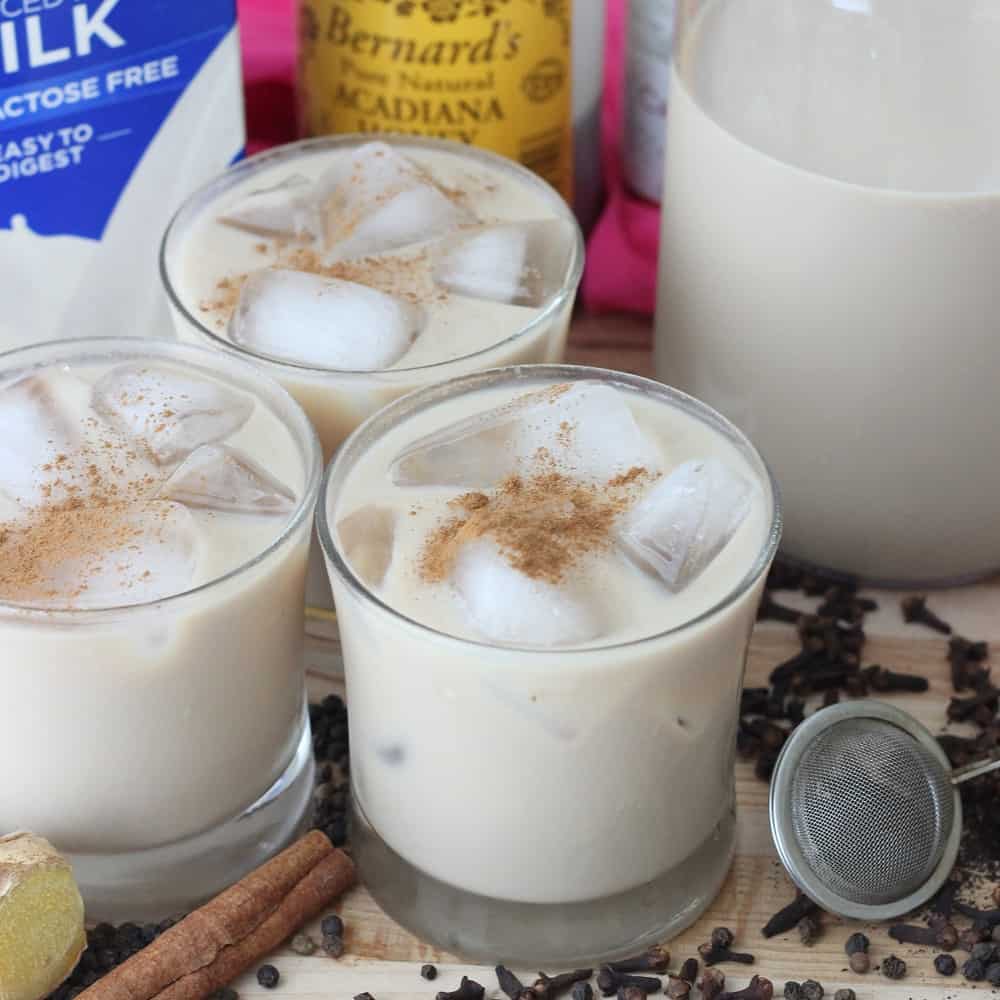 Ingredients
Spices: This recipe has cinnamon sticks and ground cinnamon for maximum cinnamon flavor.
It uses fresh ginger which I try to always keep in the fridge. If you are in a pinch, you can make these using 1 ½ teaspoons of ground ginger in place of the fresh. However, I highly recommend using the fresh ginger if you can.
Ground cardamom is a main ingredient in chai spice mixes, so it's not one to skip. Many recipes call for cardamom pods, but that's not an ingredient I regularly use which is why ground cardamom is in this recipe. It's easier to find and more budget friendly.
If you like cloves, add 6 cloves to the pot with the ginger and spices. Follow the instructions as directed.
Tea: Black tea is the tea in this recipe, and I like to use loose tea. It is usually fresher and has a better flavor. However, you can easily use a few black tea bags to make this recipe. About 6 single serve bags of tea will give you around 2 tablespoons of black tea. Feel free to adjust as needed.
Also, if you want to enjoy this chai latte any time of day, you might consider using a decaffeinated tea so the caffeine doesn't disrupt your sleep.
Sweetener: Honey is my sweetener of choice for the iced chai latte, but you can also use granulated sugar or maple syrup. Thanks to the spices and natural sweetness of milk, you don't need too much sugar to make these chai lattes taste sweet.
Milk: I typically use 2% or whole dairy milk to make these lattes. However, these are incredibly delicious when made with coconut milk. When using coconut milk, I recommend using the kind in the carton instead of the canned because it is lighter and works better when drinking.
I haven't tasted them using almond milk because I do not love almond milk and tea (or coffee) together. But this is a personal preference, and you are welcome to use almond milk in place of the dairy milk if you want.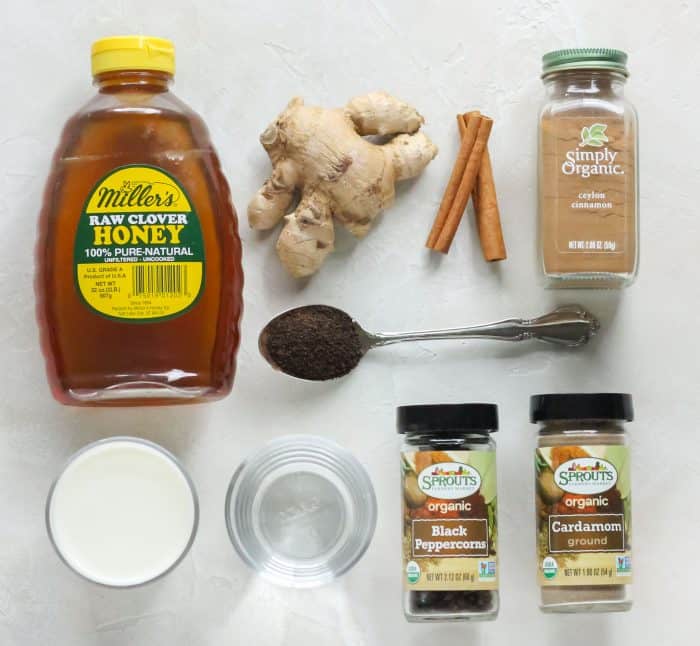 Cost of Recipe
black peppercorns 2 teaspoons: $0.30
cinnamon sticks 2: $0.72
ground cinnamon 2 teaspoons: $0.20
ground cardamom 2 teaspoons: $0.87
ginger 2 inch piece: $0.90
black tea 2 tablespoons: $0.50
honey 2 tablespoons: $0.68
milk 4 cups: $1.75
TOTAL COST: $5.92 based on (San Diego Whole Foods 2019) or $0.99/serving
How to Make an Iced Chai Latte
This recipe is quite simple to make. It takes about an hour or so, start to finish. But very little of that is hands-on activity. It just needs a little time so the spices can adequately infuse the liquid and give it that wonderful flavor.
To make these, you simply:
Add spices to a saucepan. Simmer.
Stir in the tea. Simmer.
Remove from heat, and add honey and milk.
Strain mixture and cool. Serve over ice.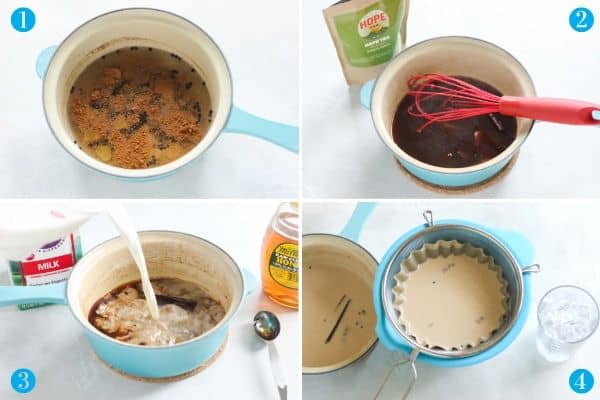 Straining the mixture
On a related note, be sure that you strain the mixture well. I use a fine mesh strainer and coffee filter. This takes a little time for the mixture to seep through, but otherwise, you will have a lot of spice sediment at the bottom of your chai lattes. Honestly, I don't find it a huge deal, but it is something to consider.
An alternative to this long straining process is to add the ground spices to a coffee filter to infuse the water [see photo above]. However, you will need to cook for twice the time to give the spices a chance to really infuse the mixture.
You can see in the photo below that I added the peppercorns and ginger to the coffee filter. I recommend leaving those out of the coffee filter and simply adding to the saucepan like the cinnamon stick because they will easily strain out when you use a fine mess strainer.
Plus, leaving them out of the coffee filter will allow you to fold the coffee filter tighter since there is less inside it which will help keep the ground spices from leaking into the water.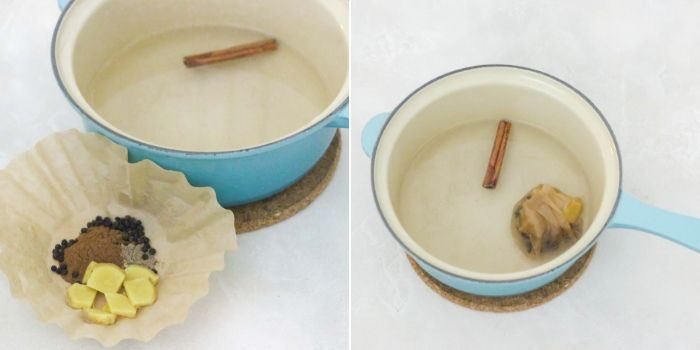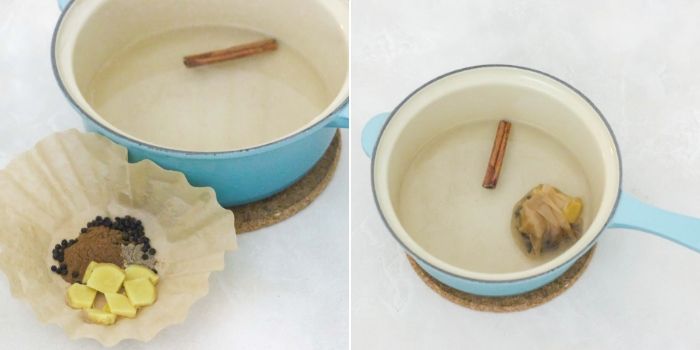 Recipe Tips
These are based off a few recipes I found but I wanted to make it with easy to find ingredients. It would be unfortunate to miss out on these amazing iced chai lattes only because you can't find cardamom pods, which is why I use ground cardamom and skip the cardamom pods. I know not everyone has those, but if you make lentil curry or chicken tikka masala, then you probably have ground cardamom.
You may want to play around with the amounts of each ingredient, but I found this version to be perfect to my taste. Just adjust as needed after you've given the spices a chance to infuse. Be careful with the peppercorns though because they will make the mixture spicier over time.
Note that the flavor will not deepen after the mixture has been strained, so make sure you like the way it tastes before you strain out the spices.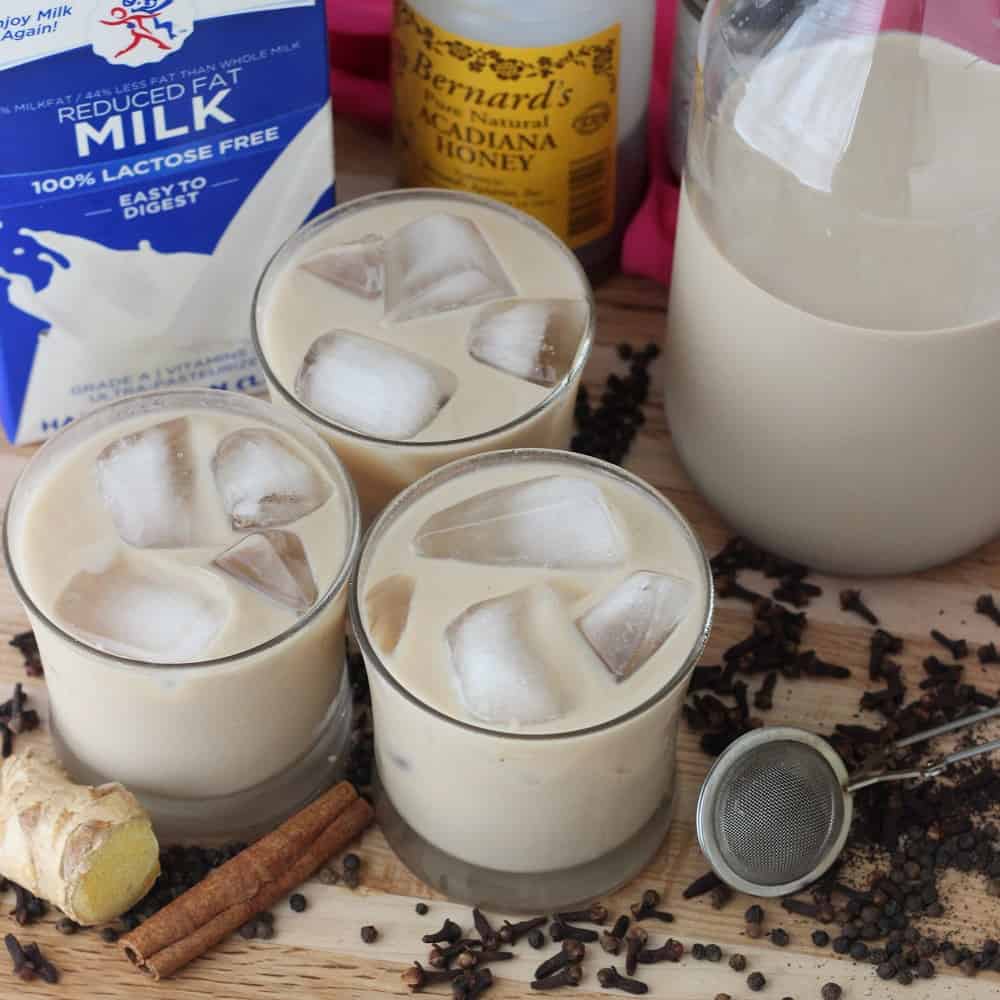 Variations
Substitutions
As mentioned, you can make these dairy free by using non-dairy milk. I recommend coconut milk, and I like to use the kind in the carton that you get from the refrigerated section (next to the dairy milk) instead of the canned coconut milk.
To make these vegan, use maple syrup or granulated sugar in place of the honey, and also use non-dairy milk.
Alternative prep & serving
Prep: If you do not have a saucepan or stove, you can make sun tea by placing the water, spices, and tea in a glass container. Cover, place in the sun and let sit for about 4 to 6 hours. Taste, and when the mixture is strong enough, strain and sweeten. Then stir in milk, and refrigerate until ready to serve.
Serving: This recipe is for iced chai lattes; however, I had one while it was still hot and loved every sip, so you can totally enjoy this recipe as warm chai lattes.
If you make these to serve warm, add an extra ½ cup water to the mixture when preparing. And reheat over medium-low heat in a small saucepan. You can also reheat in the microwave at 30 second intervals on 75% power until it reaches your desired temperature. Use a milk frother if you want these to have the foam that a normal warm latte has.
Make Ahead Ideas
These are great to make ahead of time. In fact, you have to make these ahead of time since they need to be cooled before icing them (or the ice will melt and make these watered down).
I like to make them in the evening to have for a treat for the next morning. Or I'll make them on a leisurely weekend morning to keep in the fridge all week.
Storage Tips
Keep in a glass or plastic container in the fridge for up to 4 to 5 days for dairy milk or 5 to 6 days for coconut milk.
Metal containers are not recommended for storing milk because it can cause the milk to have a metallic taste, so always use glass or plastic. I prefer glass over plastic, like this glass pitcher.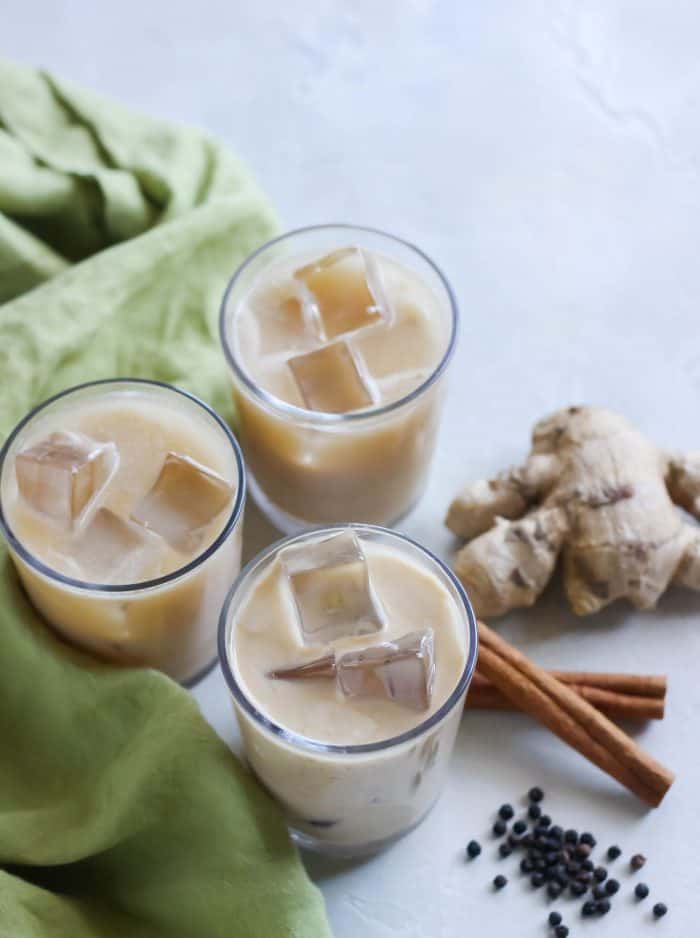 Frequently Asked Questions
Can you make iced chai lattes vegan?
Yes, you can easily make this recipe for iced chai lattes vegan. Use coconut milk for the milk and maple syrup or granulated sugar in place of the honey.
What is in an iced chai latte?
Chai latte ingredients will vary slightly based on personal preference, but the main ingredients are tea, milk, spices, and sweetener. For this recipe, I use cinnamon, ginger, cardamom, and peppercorns. Another common ingredient in chai lattes is cloves.
What does a chai latte taste like?
A chai tea latte is creamy, rich, sweet, and a little bit spicy. You are hit with the bold flavors of black tea, cinnamon, ginger, and cardamom with each sip.
How much is an iced chai latte?
A homemade iced chai latte costs about $1/serving. If you buy it from a coffeehouse, it'll cost around $4 or $5.
Is an iced chai latte healthy?
Many chai lattes are full of sugar and added flavors. However, this Iced Chai Latte recipe is made with only 2 tablespoons of sugar for the entire recipe plus it is full of nutrient rich ingredients like spices and milk.
I highly recommend making these homemade, naturally sweetened chai lattes instead of buying the mix or at a coffeehouse, so you get all the benefits it has to offer without the downsides of excess sugar or other ingredients that offer no health benefits.
Nutrition benefits
All the spices in this recipe are full of health benefits. Ginger and cardamom help with digestion; cinnamon helps manage your sweet tooth while also regulating blood sugar; peppercorns are antibacterial. They are all anti-inflammatory and packed with antioxidants and phytonutrients.
If you use dairy milk, you will get protein to build and repair muscle, skin and other body tissues; calcium to build and strengthen bones; and Vitamin D which is helpful for boosting your immune system and strengthening your bones.
Coconut milk contains a lipid, or fat, that has been shown to have anti-inflammatory and antimicrobial properties as well as boost the immune system.
What to serve with this dish
Serve these chai lattes with whatever you like. They can be served with breakfast or as an afternoon pick me with a snack. Remember that they will have caffeine (unless you use decaffeinated tea), so you don't want to drink them too late in the day if caffeine affects your sleep.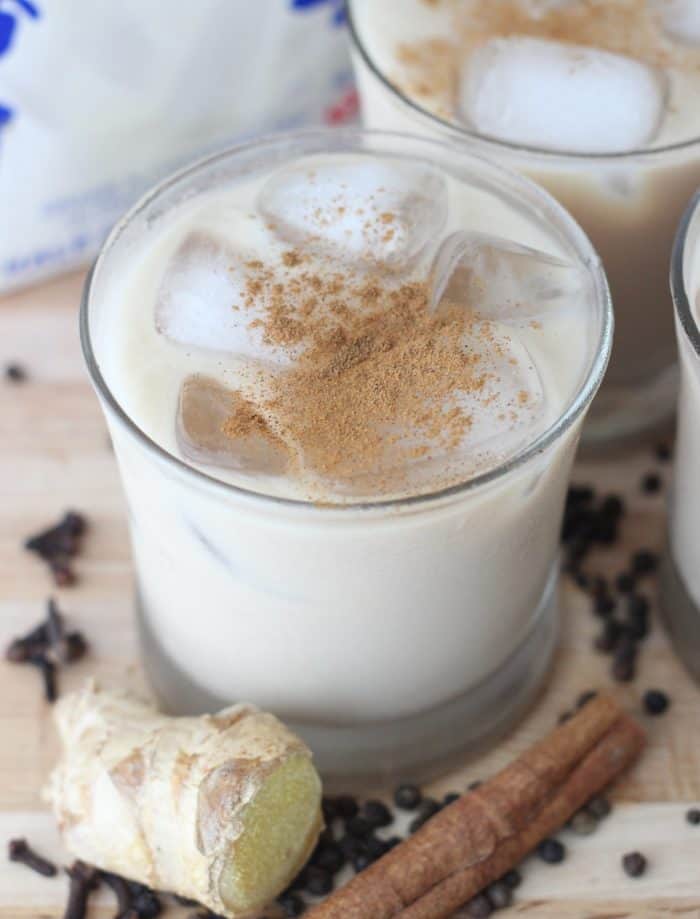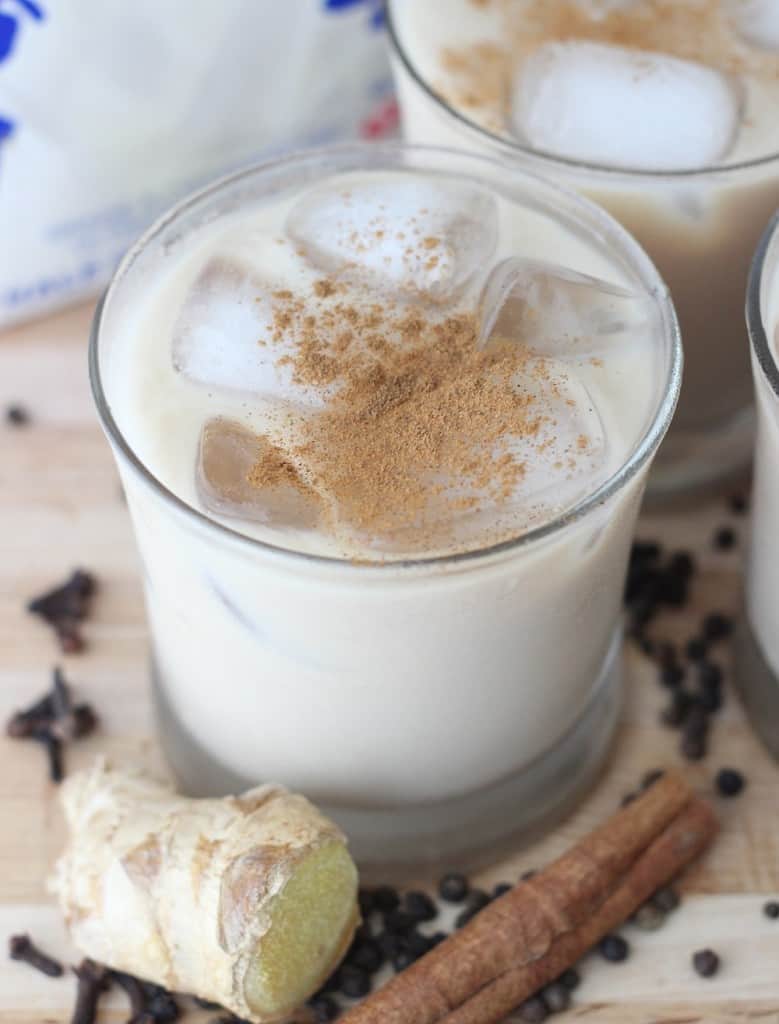 Final thoughts:
This Iced Chai Latte is rich, creamy, sweet and a little spicy. I love that the spices give it enough flavor without having to add a bunch of sweetener, and there's no need to keep a special chai mix in your kitchen to enjoy these tasty lattes. It's one of my favorite drinks to have in the fridge -- such a treat!
---
MORE TEA RECIPES YOU'LL LOVE: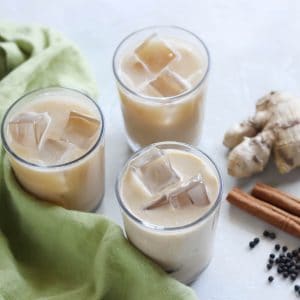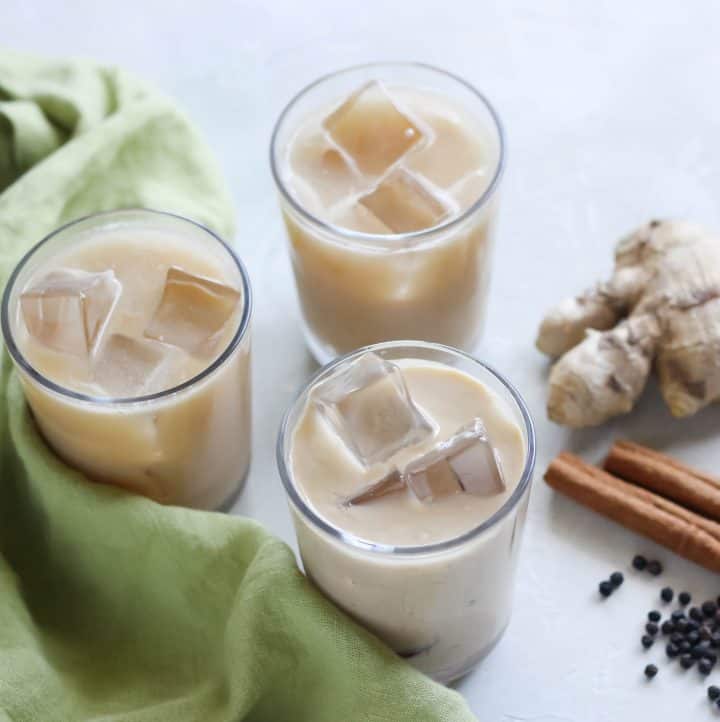 Iced Chai Latte
Easy Homemade Iced Chai Latte recipe to satisfy your craving for a chai tea latte without chai powder mixes. Make with coconut or oat milk for a vegan version.
Print
Rate
Ingredients
5

cups

water

2

teaspoon

black peppercorns

2

cinnamon sticks

2

teaspoon

ground cinnamon

2

teaspoon

ground cardamom

2

inch

piece of fresh ginger

sliced

2

tablespoons

black tea

2

tablespoons

honey

or maple syrup

4

cups

milk

whole, 2%, oat milk, or coconut milk

1

teaspoon

vanilla extract

optional
Instructions
Add water, peppercorns, cinnamon sticks, ground cinnamon, cardamom, and ginger slices to a medium saucepan. Bring to a boil, cover, and reduce heat to a simmer; stir occasionally. Simmer for 20 minutes.

Bring back to a boil and add tea. Turn heat to low and let tea infuse for 10 minutes.

Stir in the honey. Remove from heat, and stir in the milk and vanilla extract, if using. Let sit for 15-20 minutes or until cooled.

Line a strainer with a coffee filter and strain the mixture into a glass container. Store in the refrigerator.

When ready to serve, just pour over ice and add any additional sweetener if desired. You can also sprinkle with a little ground cinnamon for extra flavor.
Notes
*Makes about 6 cups.
*You can make these using 1 ½ teaspoons of ground ginger in place of the fresh. However, I highly recommend using fresh ginger if you can.
*The cinnamon sticks can be replaced by adding an extra 1 teaspoon ground cinnamon if needed.
*If you like cloves, add 6 cloves or ¼ teaspoon ground cloves to the pot with the ginger and spices. Follow the instructions as directed.
*For testing purposes, I used 2% milk, whole milk, oat milk, and coconut milk. All were delicious!
*Nutrition facts calculated using 2% milk.
Did you try this recipe?
Be sure to leave a comment & recipe rating below. Bonus points for tagging @memeinge & #livingwellkitchen on Instagram! THANK YOU! xo
*Based on Whole Foods Homemade Chai
Meme
This post was originally published June 25, 2014. Text, recipe, and photos have been update.
Doesn't this recipe look good?! You should probably share it: